Trail Mix: West
Your region's go now guide: Trek past eight lakes in Lassen Volcanic NP's high country, check out the newest national park, hike the Wonderland Trail in Rainier NP like a pro, and more.
Heading out the door? Read this article on the new Outside+ app available now on iOS devices for members! Download the app.
Frary Peak (Photo by Austin Cronnelly)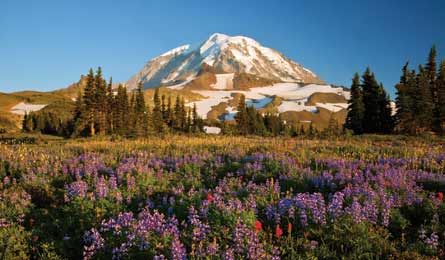 Mt. Rainier NP, WA (Photo by Kirkendall-Spring)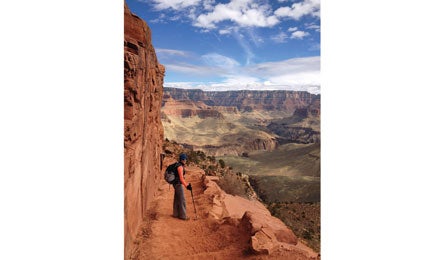 South Kaibab Trail (Photo by JJ Furuno)
Perfect Days
Salt Lake City, UT
Frary Peak
Score views, spot wildlife. This 6,596-foot peak crowns the spine of a high-desert island populated year-round by hundreds of bison and bighorn sheep. After the 6.6-mile out-and-back, stop at the Bridger Bay campgrounds to wade into the Great Salt Lake and test your buoyancy in waters up to seven times more saline than the ocean (bit.ly/BridgerBay). Trip ID26204
Portland, OR
Devils Rest
Bring Fido (leash required) to nab two Columbia River Gorge waterfalls—242-foot, stair-stepped Wahkeena Falls and delicate, 30-foot Fairy Falls—on a lush, 3.1-mile ascent through old-growth forest to a 2,400-foot promontory. On your way home, treat your pooch with a stop at Troutdale's 1,000-acre, off-leash dog park (facebook.com/SandyRiverDelta). Trip ID52372
Coeur d'Alene, ID
Gem Lake
A pristine mountain lake ringed by conifers rewards hikers on this 3.6-mile out-and-back climbing 1,000 feet in northern Idaho's Cabinet Mountains. Whet your appetite on Gorgonzola cheese fries and one of seven in-house brews at MickDuff's Brewing Company off the main drag in Sandpoint on your return to Coeur d'Alene (mickduffs.com). Trip ID992940
InstaWinner
Snap and tag your top trips #BPmag.

JJ Furuno, 38, of Portland, OR, shot this pic of his wife, Jacqueline, descending the South Kaibab Trail. "With each step, you're walking past thousands of years of erosion," he says. "It's humbling."
Local Expert
Secrets of the Wonderland Trail, Mt. Rainier National Park, WA
Doug Lorain, 50, of Portland, OR, has hiked 30,000 backcountry miles in the Pacific Northwest—enough to have serious cred when he deems the Wonderland Trail the best. "The mountain is taller, the glaciers are bigger, the trail is tougher, the streams are brawnier, the wildflowers are more abundant," he raves. On top of hiking the complete 93-mile loop six times, Lorain even wrote the route's go-to guide (One Best Hike: Mount Rainier's Wonderland Trail; $12; amazon.com). He shares his insider's tips:
>>Leave the beaten path The biggest mistake hikers make, Lorain says, is sticking to the main loop trail. "The best views in Rainier are just off the Wonderland on short side trails that often take you less than .5 mile off the main route." Lorain recommends taking boot paths to Willis Wall, Sunset Park, and Upper Spray Park.
>>Cache meals Follow the park service's shipping procedures (bit.ly/RainierShipping), and rangers will ensure that your food is at the right place at the right time—saving you pack weight.
>>Pick the right starting line Begin your trek clockwise at the lesser-known Mowich Lake trailhead in the park's northwest corner. It's easier to snag a permit, Lorain says, and there are fewer climbs early on when your pack is heaviest. Include nights at Klapatche Park (to see alpenglow on Mt. Rainier), Summerland (to see an array of wildflowers, including bistort, partridgefoot, larkspur, and monkeyflower), and Indian Bar (to see waterfalls and elk).
This Just In
America's newest national park—and California's ninth—offers 30 miles of hiking trails through geologic wonders.
After more than 100 years, Pinnacles National Monument has earned national park status. In December 2012, Congress finally upgraded this central California acreage—and it's easy to see why. Parked on top of the San Andreas Fault, Pinnacles' massive monoliths and craggy spires soar out of the chaparral-cloaked Gabilan Mountains due to horizontal tectonic shifts in the earth's surface. Check out the 26,606-acre park's sheer canyons and rock passages—not to mention 14 of California's 23 bat species and 32 resident California condors (North America's largest land birds). For a quick sampler, set out from the Bear Gulch trailhead on the 9.3-mile High Peaks Loop Trail. Crisscross streams, contour over rolling hills, and touch on all of Pinnacles' highlights: Scramble over monolithic rock formations at mile 3.6, look for condors soaring on thermals year-round at mile 4.2, explore riparian canyons at mile 5.5, and spelunk a grotto at mile 6.3. Contact (831) 389-4486; nps.gov/pinn