Trail Mix — West
Your region's go-now guide: get your heart rate up by climbing 1,500 feet in 2.4 miles in Santa Barbara, visit the newest state park in Colorado, enjoy the solitude of the Wyoming Range, and more.
Heading out the door? Read this article on the new Outside+ app available now on iOS devices for members! Download the app.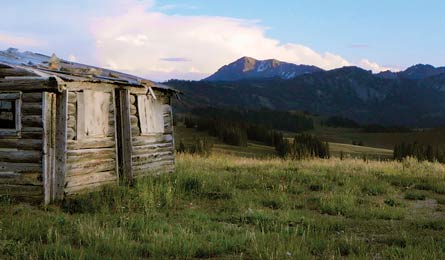 Wyoming Range NRT, Bridger-Teton NF, WY (Paul Chrisholm)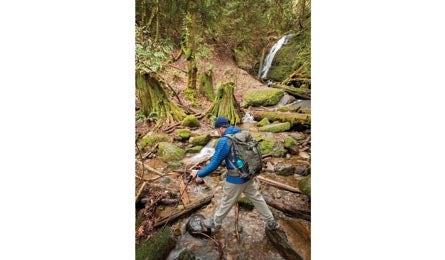 Photo by Lunstrumphotography.com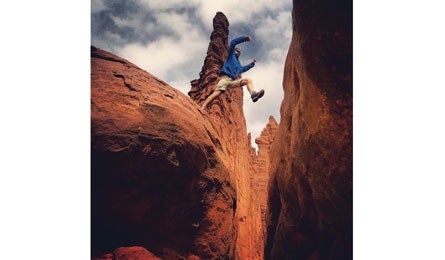 InstaWinner Richard Sterling
Perfect Days

Seattle, WA
Far Country Lookout 
Climb through a mossy forest and skirt past a 30-foot cascade on this 4-mile out-and-back to Olympic Mountain views. Then head to Mercer Slough Nature Park to tour a blueberry farm (you-pick July to September). Or, head there prehike for a guided morning canoe tour of the park (May to September; $16; ci.bellevue .wa.us). Trip ID5733

Bozeman, MT
Pioneer Falls
Follow a lush mountain drainage to a booming 35-foot waterfall on this 6.6-miler. Bring your rod and snag brown and rainbow trout in the Gallatin River at Kirk Wildlife Refuge on the return to Bozeman. (Montana fishing license required; fwp .mt.gov.) Trip ID2134222
Santa Barbara, CA
Rattlesnake Canyon
Get your blood pumping by climbing 1,500 feet in 2.4 miles up a pine- and oak-shaded canyon along a creek. Watch hang gliders soar over the canyon, and stop at Franceschi Park on your way home for a panoramic sunset view across the city to the Channel Islands 25 miles offshore (santabarbaraca.gov). Trip ID287064
Solitude Finder
Wyoming Range NRT, Bridger-Teton NF, WY

With the perks of Yellowstone—bald-topped peaks and alpine valleys—but without the glitzy resorts, tourist jams, or red tape, the Wyoming Range offers über privacy just 20 miles south of the Tetons. Drop a car at McDougal Gap and hop on the Wyoming Range National Recreation Trail (NRT) at the Bryan Flat trailhead for a four-day, 39.3-mile point-to-point through one of the state's undiscovered gems. (No need to pack for snow: This lower-elevation chunk of the NRT is usually clear in the early season.) Hike south and camp along reliable Willow Creek at mile 8.6; look for elk munching on nearby cottonwoods. (Be alert: Grizzlies have repopulated the Wyoming Range, so take precautions. Learn more at backpacker.com/bearskills.) Enjoy views of the Tetons the next day as you summit 8,850-foot Pickle Pass. Pitch camp at mile 20.6 in a meadow named for Theodore Roosevelt, who hunted the area's megafauna. Watch for moose browsing in the willows, and follow the Hoback River drainage for 2 miles. Climb out of the basin to a timbered ridge. Hike 2 miles through undulating alpine meadows and spend the night near an old homestead (pictured) at mile 27.3, beneath hulking, 10,780-foot Mt. McDougal. Next day, continue 12 miles to your car at McDougal Gap. Contact (307) 739-5500; fs.fed.us/r4/btnf
InstaWinner
Snap and share your top trips.

Richard Sterling, 26, of Grand Junction, CO, snapped this pic of buddy Nate Bachman leaping over red rocks on the Fisher Towers Trail, a 5.2-mile out-and-back 25 miles from Moab. Join in: Tag your hiking photo #BPmag on Instagram. Trip ID5643
This Just In
Colorado's latest state park offers nearly 20 miles of new high-country hiking and mountain biking.
Colorado's Front Range, already teeming with close-to-home trails, opens its newest state park this spring. Just 45 minutes southwest of downtown Denver, 3,700-acre Staunton is built around a ranch homesteaded at the turn of the 20th century by Rachel Staunton, a doctor who was paid in beadwork and pottery by Native American patients living in the area. At 10,000 feet, fir-covered hills and ponderosa- and aspen-dotted meadows provide habitat for elk, mountain lions, and rare plants like the Rocky Mountain monkeyflower (blooming mid-July). Staunton's family donated the ranch (just north of the mountain hamlet Pine Junction) to the state in 1986, but Colorado didn't begin constructing trails until 2011. The park finally opens May 18, with 19.6 miles of paths. Nearly a quarter are hiker-only; the rest allow mountain bikes and horses. From the main parking area, hike a 12-mile lollipop past 75-year-old log cabins and towering granite crags. Follow the Staunton Ranch, Bugling Elk, Marmot Passage, and Scout Line Trails to a superb viewpoint from the Lions Head cliffs, down to 100-foot-long Elk Falls, and over Staunton Park's golden meadows. Open for day use only until campsites are built, likely by 2015. Contact (303) 816-0912; bit.ly/stauntonSP
Rest in peace Spending the night in a frontcountry campground on your way to the trail? Avoid suffering another mosquito hotbed or viewless enclave by consulting CampsitePhotos.com­—a website featuring user-submitted pictures and reviews of 700 campsites (in 38 states) across the U.S.