Trail Mix — East — March 2013
Your region's go-now guide: Visit a new hikers' hostel connected to 50 miles of trail in Maine's Bigelow Mountains, see the rare Oconee bell in South Carolina's Jocassee Gorges area, explore the world's longest mapped cave system near Louisville, and more.
Heading out the door? Read this article on the new Outside+ app available now on iOS devices for members! Download the app.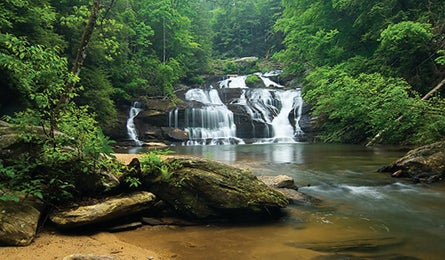 Lower Panther Falls (Photo by Carl Donohue)
Oconee Bell (Photo by Rob Travis)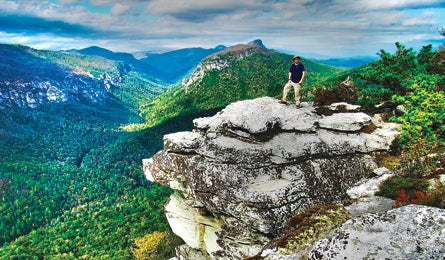 InstaWinner Ben Budd: Kyle Hunicke on Shortoff Mountain (Photo by Ben Budd)
Perfect Days
Atlanta, GA

Panther Creek Trail
Pass five waterfalls—including 50-foot Lower Panther Falls, which tumbles down a wide, tiered ledge—on this 10.8-mile out-and-back in Chattahoochee National Forest. Start early, so you can sip crisp, white Petit Manseng at Tiger Mountain Vineyards before they close at 5 p.m. (tigerwine.com). Trip ID32355
Burlington, VT

Cotton Brook Loop
Don't let snow or mud season get you down; target this erosion-resistant, 9.9-mile loop on old gravel roads on the edge of Mt. Mansfield State Forest for views of the 3,000-foot Worcester Range. Then treat yourself to a factory tour—or a scoop of Cherry Garcia—at Ben & Jerry's, just 15 minutes away from the trailhead (benjerry.com). Trip ID8335
Louisville, KY

Sal Hollow Loop, Mammoth Cave NP
Link the Sal Hollow and Buffalo Trails into a 10.5-mile loop through hardwood forest and past seasonal waterfalls across the roof of the world's longest mapped cave system. Take a cave tour in the park, of course (options range from one hour to six; tickets required), then, on your way home, cap the 
day with a ride down the state's only alpine slide ($5, kentuckyactionpark.com). Trip ID26255


This Just In
Maine's newest backcountry ecolodge connects tough climbs with cushy comforts.
Winter in western Maine just got a little less harsh, thanks to a new hikers' hostel connected to more than 50 miles of trail in the shadow of the Bigelow Mountains. The Stratton Brook Hut, which opened in December, is the fourth in a planned 12-hut, 180-mile trail system (see backpacker.com/mainehuts for a trip linking the other three). Creating each shelter requires considerable effort, including fundraising from corporate sponsors and brokering agreements with landowners, explains Nicole Freedman, director of Maine Huts and Trails, the nonprofit spearheading the project. It took about 14 months to construct Stratton Brook, which sleeps 44 and, like the system's other huts, provides showers and meals. Use it as a base for a burly winter ascent of Bigelow Mountain, hitting 4,145-foot West Peak and 4,088-foot Avery on a 9.4-mile trek (bring snowshoes or mini crampons). Or try a mellower, 12.4-mile, two-night point-to-point linking the Stratton Brook and Poplar Huts (shuttles available). Winter reservations are tight: Aim for weekdays and plan in advance (call by mid-March for winter 2013-14). Contact (207) 265-2400; mainehuts.org
See This Now 

Oconee Bells, Jocassee Gorges, SC
For more than a century, scientists thought the tiny Oconee bell was extinct. They were wrong. The rare wildflower is alive and well, but blooms only in a few counties along the North and South Carolina border. Look for it mid-March to mid-April in the Jocassee Gorges area of South Carolina. Colonies are easy to find on the mile-long Oconee Bell Nature Trail in Devil's Fork State Park, but for an overnight on a wilder route, head to the Foothills Trail on the northern edge of Lake Jocassee. Spy patches of bells along the banks of the Laurel Fork as it descends toward the lake. At mile eight, bag a primo campsite near 80-foot Laurel Fork Falls. Trip ID1357858
InstaWinner
Snap and share your top trips.
Ben Budd, 34, of Tuscaloosa, AL, took this shot of his friend Kyle Hunicke on Shortoff Mountain on day one of a 22-mile loop through Linville Gorge. "It's known as the Grand Canyon of the East," says Budd. "Winter's cold weather and dry air provide the best views." For your chance to be featured here, tag your hiking photo #BPmag on Instagram. Trip ID379572