Trail Mix: East
Your region's go-now guide.
Heading out the door? Read this article on the new Outside+ app available now on iOS devices for members! Download the app.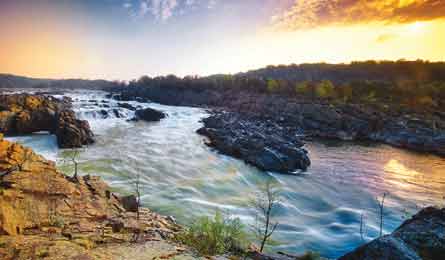 Great Falls (Photo by: Pat and Chuck Blackley)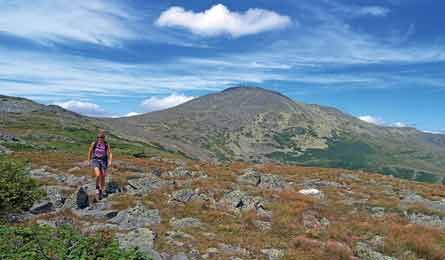 Mt. Washington, NH (Photo by: Tim Seaver)
Explore: Washington, D.C.

Great Falls Loop, Great Falls National Park

This 4.5-mile loop, just 15 miles from downtown, is perfect for a quick but dramatic nature fix. Hike along Difficult Run to views of the powerful
Potomac pouring over 20-foot cliffs at the park's eponymous falls (Trip ID 47070). Download our free smartphone app, GPS Trails, to check out a
dozen more hikes within the metro area. Get it here.
Perfect Days

Charlotte, NC Lake Loop Trail


Despite its paddling-oriented name, the National Whitewater Center offers 14 miles of hiking/mountain biking trails winding through hills along the
shores of the Catawba River. Once you've walked your fill, cool off on a stand-up paddleboard ($25; usnwc.org). Trip ID 1065612
Portland, ME Bald Mountain


Work up a sweat climbing 1,000 feet in 1.9 miles to views of faraway peaks and the three large lakes that hug Bald Mountain from the east and west.
Then spend the afternoon at nearby Smalls Falls, a series of gentle drops and 15-foot-deep swimming holes (1.usa.gov/smallsfalls).
Trip ID 1651274
Pittsburgh, PA Laurel Highlands Trail


Hike through Ohiopyle SP's hardwoods, with views down to the wide, lazy Youghiogheny River, on a 12-mile out-and-back. Then, just five miles down
the road, see the waterfall inside Frank Lloyd Wright's famous Falling Water house (fallingwater.org). Trip ID 652592

Bragging Rights

Climb New England's six highpoints.

You can complete this bucket list in a single glorious summer. "Save Katahdin for last and make a weekend of it," says BACKPACKER Senior Editor
Shannon Davis, who's tagged 49 state highpoints.
1. Connecticut Bear Mountain

2,316 feet; 6.1 miles; Trip ID 34984

The state's highest ground is actually on the southern slope of Mt. Frissell, whose 2,454-foot summit lies .1 mile into Massachusetts. But Bear
Mountain offers a better view.
2. Massachusetts Mt. Greylock

3,489 feet; 7.8 miles; Trip ID 30925

Take in the sights and scents of New England's southernmost boreal forest from a lighthouse-like memorial honoring veterans of World War I.
3. Rhode Island Jerimoth Hill

812 feet; .1 mile; Trip ID 50031

Pack crampons, ice axe, and a down jacket for the ascent–even in summer. It'll make for a funny photo atop this nondescript boulder a short
stroll from the road.
4. Maine Mt. Katahdin

5,270 feet; 10 miles; Trip ID 1361849

Make sure the mountain isn't closed due to inclement weather, and be ready for a grueling climb via a 1.1-mile ridge only three feet wide in
places, with 1,500-foot drops. Don't want to risk the famously sheer Knife Edge? Turn to page 69 for a route that offers more solitude, less thrills.
5. Vermont Mt. Mansfield

4,395 feet; 4.8 miles; Trip ID 36428

Snag vistas of Lake Champlain, the Green Mountains, and the Adirondacks as you cross the state's largest patch of alpine tundra via the Sunset Ridge Trail.
6. New Hampshire Mt. Washington

6,288 feet; 7.8 miles; Trip ID 20773

We can't do anything about the summit crowds or weather, but we have scouted the best route–fun scrambling, low traffic–to the top. Turn to page 68
for details on the 8.5-mile Huntington Ravine route.

Take Your Appetite

Share a blueberry feast with northern New Hampshire's black bears

Hundreds of wild blueberry bushes burst with ripe, delicious fruit every July and August on the glacially smoothed bedrock of 2,555-foot Mt. Hayes,
in New Hampshire's Mahoosuc Range. Get there by crossing over the Androscoggin River and following the Appalachian Trail's white blazes to the summit
(6.4 miles round-trip). You may want to gorge like the region's numerous bruins, but be polite: Don't strip a bush of all its treasure. Trip ID 1687122