Trail Mix: East
Your region's go now guide: See synchronous fireflies in Great Smoky Mountains National Park, hike through a Civil War battlefield, witness a July 4th celebration on a Vermont peak, and more.
Heading out the door? Read this article on the new Outside+ app available now on iOS devices for members! Download the app.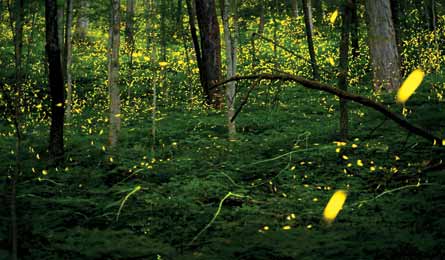 Great Smoky Mountains National Park (Photo by Stacy Champagne)
InstaWinnter Michael Williams
See This Now
See Synchronous fireflies in Great Smoky Mountains National Park
No disrespect to backyard fireflies, but their chaotic flickering pales in comparison to the choreographed light bursts inside the Smokies. For two weeks in early June, rare synchronous fireflies (Photinus carolinus) perform a luminescent mating dance—like Christmas lights flashing Morse code. The Smokies' Elkmont Campground (on the park's western edge) is ground zero for the phenomenon (attracting 12,000 firefly fans every June). But there's no need to fight the crowds.
For a private show, head to Sugarlands, an eastern valley where the West Prong Little Pigeon River cruises through a flat, thin understory—ideal topography for firefly mating, says park entomologist Becky Nichols. From the Husky Gap trailhead, follow the tame Riverview Quiet Walkway .4 mile to the riverbank. Bring a red-tinted light (white disturbs the fireflies) and expect a 10 p.m. showtime. Contact (865) 436-1200; nps.gov/grsmPerfect Days
Albany, NY
Kaaterskill High Peak
See debris from two 20th-century plane crashes en route to 180-degree Catskills views atop a 3,655-foot peak. Afterward, pick your favorite of Saugerties' dueling sweets shops: Try the hazelnut truffle at Krause's Chocolates and the sour lemon at Lucky Chocolates (krauseschocolates .com; luckychocolates .com). Trip ID 7751
Atlanta, GA
Kennesaw Mountain
This 8.5-mile lasso loop ascends a 1,808-foot summit where Confederates fought to prevent Sherman's eventual capture of Atlanta in 1864. Hiked up an appetite? On the way home, stop in Marietta for wood-fired, pit-cooked ribs at Dave Poe's BBQ (davepoes.com). Trip ID31716
Manchester, NH
South Mountain
Pass a stream and lily pad pond beneath evergreen forest on this 4.9-mile out-and-back to a 908-foot, fire tower-topped peak. Then head to Pawtuckaway Lake to swim, canoe, or kayak its 784 glassy acres (boats $10/hour; nhstateparks.org). Trip ID27260InstaWinner
Tag your trips #BPmag on Instagram.Michael Williams, 46, of Knoxville, TN, waited two hours with his wife, Pattie, atop Clingmans Dome off the Alum Cave Trail before he caught the sun burning through the clouds.See This Now
Fireworks from Mt. Mansfield, VT
Don't settle for an ordinary fireworks show this year. Instead, take a sunset hike up Vermont's tallest peak—4,395-foot Mt. Mansfield—on the Fourth to witness more than 20 communities' celebrations around the Burlington-area summit. The best part? No crowds or traffic.
Head out at 6 p.m. from Underhill State Park's Summit Ridge trailhead, and hoof it 3.3 miles up 2,500 feet to the peak's rocky summit. Pack extra layers (or even a sleeping bag), a headlamp for the descent, and a map so you can identify fireworks displays coming from towns in Vermont, New Hampshire, and New York (we recommend the Vermont Official Road Map and Guide to Vermont Attractions; free; vtattractions.org). Trip ID36428