Trail Mix: Central
Hike the border country in Big Bend NP, bring your kite on an Illinois hike, see bison duel in Wind Cave NP, and go on nine more adventures.
Heading out the door? Read this article on the new Outside+ app available now on iOS devices for members! Download the app.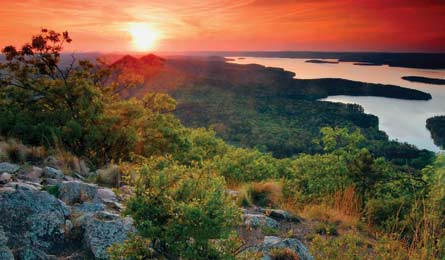 Sunset over Lake Maumelle (Photo by Paul Martin)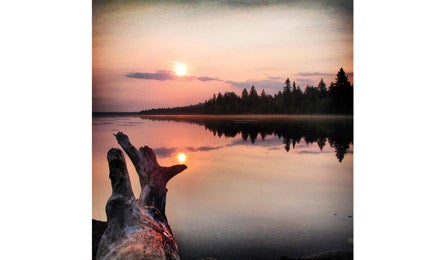 Isle Royale's Feldtmann Lake (Photo by Erik Merke)
Perfect Days
Indianapolis, IN
Whitewater Lakeshore
Bring the kids along for this gently rolling, 2.5-mile out-and-back. Hug the hardwood-shaded shoreline of a 200-acre lake to reach a wooden observation deck for views. Posthike, head to the Saddle Barn and explore the park's 9 miles of bridle trails on horseback ($25/2.5 hours, guidedtrailridesllc.com). Trip ID 255637
Little Rock, AR
Pinnacle Mountain
Work up a sweat on this 2.5-mile loop just 30 minutes from downtown. Climb 700 feet to a panorama across the Arkansas River Valley, then head to the water's edge to fish for crappie, bream, and bass year-round at Maumelle Park (Arkansas fishing license required; bit.ly/ARfishing). Trip ID43670
St. Louis, MO
Frenchman's Bluff 
Glimpse the meandering Cuivre River from a 120-foot limestone overlook before descending through shady hollows and past stone remnants of Civilian Conservation Corps-era structures on this 4.9-mile loop. On your way back to St. Louis, refresh with one of the rotating 40 draft beers or 480 bottles available at Chesterfield's International Tap House (internationaltaphouse.com). Tip ID32378InstaWinner
Snap and tag your top trips #BPmag.Erik Merke, 34, of McHenry, IL, captured this sunrise mirrored on Isle Royale's Feldtmann Lake in early June. "Not only is the lake serene, but we had it to ourselves," he says.
See This Now
Bison duel for mates in Wind Cave National Park.
Grab a gallery seat this summer amid creamy-white sego lilies, purple coneflowers, and golden sunflowers to watch the violent bison dominance show in South Dakota's Wind Cave National Park. Chocolate brown, 2,000-pound bulls butt heads and bellow to woo females between June and September every year (activity peaks in July). Follow the rolling Boland Ridge Trail up 400 feet over 2.7 miles through the sweet vanilla scent of ponderosa pine to a 3,800-foot bluff for panoramic views of the eastern half of the park, the Black Hills, Red Valley, and Battle Mountain—as well as the bison herds. (If you encounter bison on your hike, maintain a distance of at least 100 yards—bulls are belligerent and unpredictable during breeding season. If a bull's tail is upright, back away.) Check with rangers before setting out; if the herds are in the western plains of the park, see them at the aptly named Bison Flats off SD 385 near the park's southern entrance. Contact (605) 745-4207; nps.gov/wica
Pack Your Kite
Catch updrafts at the Greene Valley Forest Preserve, IL.
Escape the heat and humidity on a 3.6-mile out-and-back—and add a bit of whimsy to your day. Just 30 miles southwest of Chicago, 1,414-acre Greene Valley Forest Preserve offers 12 miles of trails through oak woodlands, wetlands (look for herons, egrets, and bobolinks), and open meadows. Hike clockwise on the Hawk Trail along a gently ascending cinder path through meadows. At 1.5 miles, turn right and follow the paved driveway .3 mile to the 190-foot-tall scenic overlook—a grassy open space with views extending to the Chicago skyline. Your kite will mimic local red-tailed hawks, which coast on the thermals all summer here. (Spot these monogamous raptors mating midair late May to early June.)
 Why the updrafts? The hill's crown and south face absorb sunlight, heating the surrounding air. The warmer, low-pressure air rises, allowing cooler air to rush in, creating wind surges. White cumulus clouds (cotton candy-like) indicate rising air and better wind, but put away your kite if you see gray cumulonimbus clouds (which predict stormy weather and a chance of lightning). Contact (630) 933-7200; dupageforest.orgNote The Scenic Overlook and Hawk Trail are only open weekends, May to October.