Meet the Hardest Partiers on the Appalachian Trail
Has the AT's party culture gone too far? Bill Donahue joins the trail's biggest blowout to find out.
Heading out the door? Read this article on the new Outside+ app available now on iOS devices for members! Download the app.
Charles Chesnutt leads a double life. In one, he works as a costumed historical guide on a cruise ship plying the Mississippi through the Big Easy. He's 37, bearded, and used to be a lawyer, which becomes clear whenever he opens his mouth. But in this crowd, Charles Chestnutt is Disney, has been ever since he hiked the length of the Appalachian Trail in 2005. And Disney is a fun-loving guy.
At the moment, around 10 p.m. on a steamy night in May, as hundreds of AT aficionados are gathered a few miles from the trail at a sprawling campground in tiny Damascus, Virginia, Disney is stalking a winding path and towing a boom box that blares electric through the nearby scrub pines. "I'm sexy and I know it," come the lyrics above a pulsing techno beat. A high, gleeful wail of synthesizers ensues, and Disney responds with a sinuous swirl of his midriff. He's not svelte, certainly, but he is peacock proud. And he's not alone. Behind him in a loose conga line are two dozen other revelers, each one bearing a bright-green glow stick necklace and a plastic cup of cheap beer, each one mouthing the lyrics of LMFAO's 2011 hit.
I got passion in my pants
And I ain't afraid to show it
(show it, show it, show it).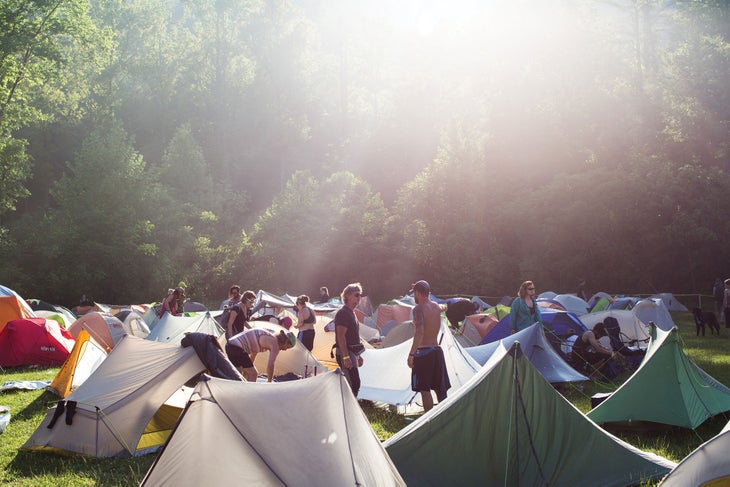 The line snakes its way into the crowd, injecting its energy into the already raucous scene. This is Trail Days, a yearly coming together of the hiker tribe for four days of fun. The festival draws thousands of trail lovers and boosters—from newbie dayhikers to grizzled Triple Crowners, from gear companies to this magazine—to the southern Virginia burg for clinics, gear repair and prizes, and music. Attendees divide up by allegiance, joining one of the long-established "camps" or, for the unaffiliated, setting up in Tent City. By day—and especially by night—it's the biggest party on any trail.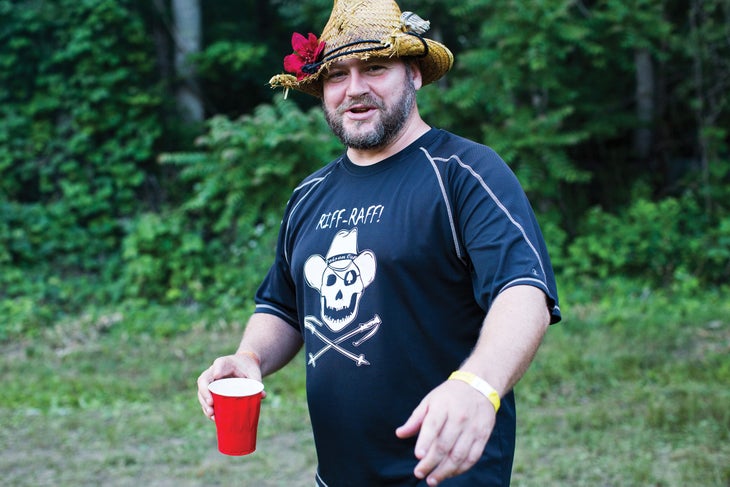 Disney represents the faction that comes here to go harder than anyone else. He's part of a crew called Riff Raff, a loose contingent of 80 or so hikers who do Trail Days with uncommon verve. Riff Raff is a rowdy bunch, established 11 years ago and roughly 75 percent male. Members gather en masse but once a year, at Trail Days, and they subject their novitiates to a formalized initiation rite. Each worthy Riff Raffer is inducted at a "shirting" ceremony, at which he is bestowed a T-shirt, usually black, with the group's insignia: a skull in a cowboy hat looming above a crossed set of trekking poles.
The AT has always been the social trail of the Triple Crown. Town, pizza, and beer are never far away. Shelters encourage hikers to camp in groups, and groups encourage more socializing. Historically, drinking and pot smoking have been mild phenomena on the trail, easily sidestepped by purists aiming to be at one with a trickling creek. But today, Riff Raff's brethren are not easily avoided. Long-haul foot traffic on the trail has doubled since 2010, now including 4,000 aspiring thru-hikers each year, many of them young and unburdened by conventional views of the backcountry experience. And there has been a culture clash.
David Miller, the author of The A.T. Guide, notes that, since 2015, nine trailside hostels and hotels have asked to be removed from his book. Many trail towns, Damascus included, prohibit hikers from pitching tents within city limits. The outcry from trail purists is mounting.
Ben Montgomery, author of Grandma Gatewood's Walk, remembers standing near the summit of Katahdin in 2012 and watching four twentysomething thru-hikers celebrate the finale of their northbound AT journey by tromping arm-in-arm through a meadow of endangered Bigelow's sedge. "They just didn't give a shit," Montgomery says. "If you have 4,000 people like that on the trail every year, the magic of the AT will die."
This angst about changing trail culture seems to be directed with particular vehemence at Riff Raff. The group has been described as an outlaw hiker gang, more like the Hell's Angels than the Sierra Club.
But if Disney is supposed to be terrorizing the other hikers at Trail Days, proclaiming his sexiness does not appear to be doing the trick. Indeed, during his stay at the festival, he will outlay some $400 buying beers for friends and strangers. And as he wends through the woods in Damascus, he is hailed and adored by Riff Raff's counterparts—by the salty old hippies of Billville and by the crystal-healing, velvet-clad romantics of Wonderland camp. These folks, too, have vast quantities of beer laid in like cordwood against an Alaskan winter, and they rise and wobble away from their campfire and join Disney in dancing. They writhe and twist awkwardly in hiking boots, ragged shorts, and ash-begrimed T-shirts. Disney grins.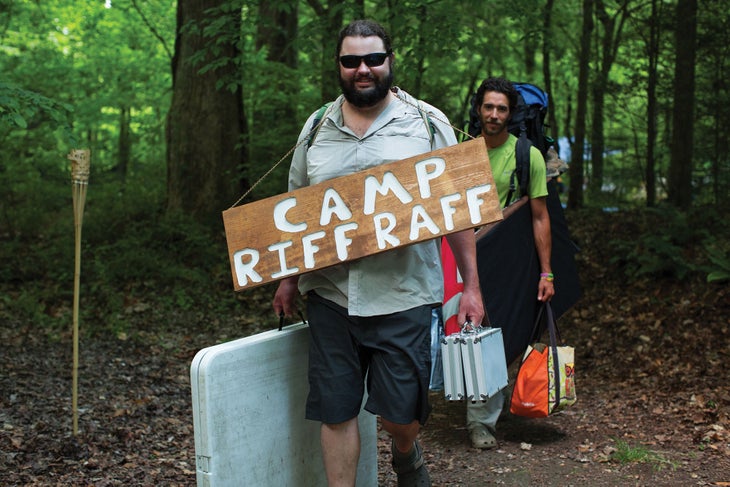 When Benton MacKaye, the AT's founder, first proposed "an Appalachian Trail" in a 1921 essay bearing that name, he famously envisioned a "wooded wilderness" retaining "much of the primal aspects of the days of Daniel Boone." But "community" was always part of his scheme. MacKaye imagined a trail that would connect a network of farms and camps where city dwellers could gather to unwind.
The trail and its users have of course evolved in many ways in the decades since, but one thing is clear: The AT has attracted legions of fans, many of whom have strong feelings about what is "good" or "bad" for the trail. To Disney's people, "Sexy and I Know It" is the sound of progress, of good humans finding bliss in the wilds. As they see it, MacKaye wanted a party in the woods.
In the early 1980s, when long-distance walking first became popular, AT thru-hikers relied on an underground booklet called "The Philosopher's Guide." The 1983 edition was printed in purple, on a mimeograph, and contained insights on, for example, the best trail snack food (Parkay margarine). The tone of The Guide is insidery and knowing. Reading it, one gets the sense that if serious partying was a thing back then, The Guide would have linked up a pub crawl of backwoods watering holes.
But drinking is scarcely mentioned, and the book actually tells readers to celebrate the completion of a thru-hike by swimming in a Maine lake, calling it "a perfect place for some soul-searching … a perfect place to feel the tinge of melancholy." Andrew Downs, Virginia regional director for the Appalachian Trail Conservancy, says, "There was partying on the trail in the '80s' and '90s, sure, but it was contained and self-policed. If you left trash, other hikers would call you out. In the past decade or so, there's been a shift, aided by social media, into a mob mentality."
"Cell phones and improved coverage allow hikers to better locate their cohorts and coordinate their party plans," Dave Miller says. "I recall one hiker telling me that he was working on an app specifically for this purpose." (No such app has launched, yet.)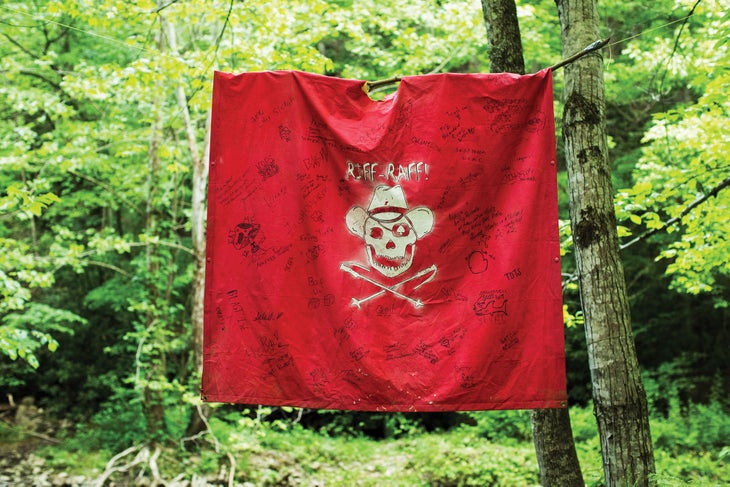 Riff Raff was born of this environment in 2006, when a sextet of uncouth young males—thru-hikers with trail names such as Six Pack, Squirrel, and Rat Puke—slouched north from Georgia, wearing blue jeans and smoking cigarettes. By the time they reached Trail Days, they were notorious—and when other hikers dismissed them as "riff raff," they took ownership of the name. They drank by their campfire each evening. Heavily. They tossed their bottles and cans into the dirt. When they left Trail Days, their party site was a mess, and it seemed that the camp would die young.
But no. For at that long-ago Trail Days, the Riff Raffers befriended another, more enterprising hiker. Steve Jennette had just graduated from Michigan State University, where he was a competitive swimmer. He was rangy and long-limbed, and he'd gotten his trail name, Superman, by virtually flying over the southern stretches of the AT.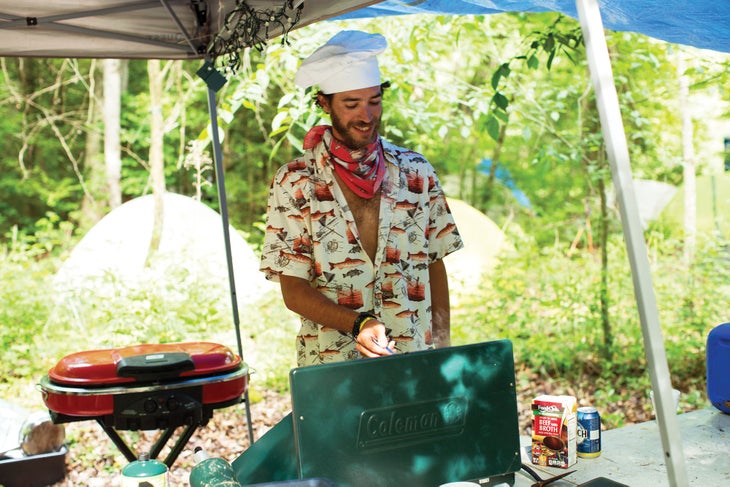 But Superman was not merely a jock. At MSU, he'd all but minored in partying, sharing a house with rugby players and throwing galas that drew 100 roisterers. There was a long-stemmed beer bong perpetually wound around the banister leading to the basement.
In 2007, Superman wasn't hiking the AT, but he took up the Riff Raff banner. He arrived in Damascus early, and then—to Riff Raffers, this moment is holy, akin to Moses bringing the stone tablets down from Mt. Sinai—he crested a small rise, into a sparse patch of forest infested, knee deep, with poison oak. "Right then," says Superman, who has a trim beard and a soft-spoken manner, "I saw the whole [camp]. I saw that we could weed out the poison oak. I saw the place for our fire pit." Yes, there were other recurring encampments at Trail Days, which was founded 31 years ago, but they were simply not Superman's speed.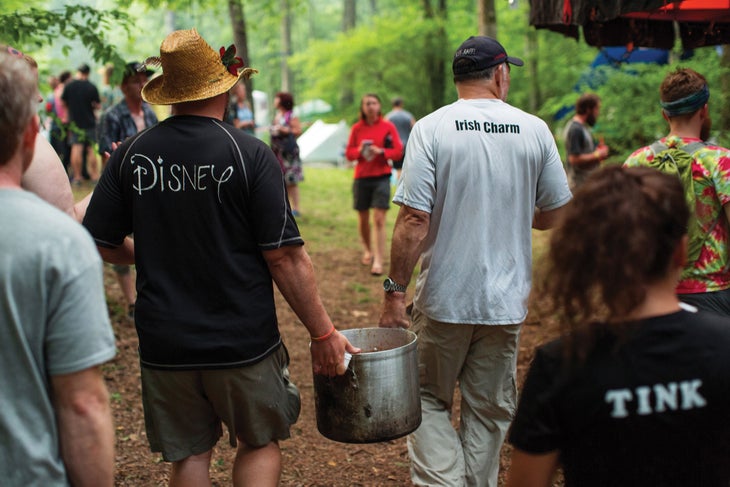 "Camp Mellow," he says, with vague derision, "is just super-old hippies. Some of them are even in their 60s, and they just sit on their asses and smoke weed." Billville is, to his mind, more dynamic. It stages massive hiker feeds, but Superman says it does no recruitment and its members are "just the same guys doing the same stuff every year, and getting older." Wonderland, meanwhile, is for "hippies who like wooden flutes." Miss Janet's camp, run by the trail's premier philosopher and guru—Janet Hensley, who drives a hiker's shuttle van along the length of the trail—is a transient collection of current-year thru-hikers.
"I wanted to make Riff Raff something that could last forever," Superman says, "and I wanted to throw the biggest party at Trail Days." In his mind's eye, he could see 200 revelers in what would become the coolest, most youth-friendly quadrant of the festival. He saw, too, that Riff Raff would be altruistic, bestowing "trail magic" on its guests in the form of free food and beer.
Indeed, Superman realized that his vision for Riff Raff was so bomber that it had better start the party early. In that same holy moment he conceived an auxiliary event, Pre Days, a four-night warm-up and a coming together of the tribe within the tribe.
When I pull in on the last afternoon of Pre Days's malt beverage marathon—a day before Trail Days—a freewheeling vibe prevails. Something like 30 shirted Riff Raffers camp in Dividing Ridge campground in Hampton, Tennessee, a stone's throw from the AT and 40 miles southwest of Damascus. Roughly 75 thru-hikers join the throng, enticed by the freebies.
In the open-air kitchen, a random array of campers chop vegetables for a one-pot chili. Heaped on the grass is a towering pile of snacks—chips, cookies, and peanut butter crackers donated by a Riff Raffer with connections to the vending industry. There's a smoky campfire and a couple self-styled troubadours sitting beside it, strumming guitars. A tranquil spirit of generosity suffuses the place.
I'm starting to think of Riff Raff as more Merry Pranksters than Hell's Angels, but then one member, insisting on anonymity, describes the camp as "the island of broken toys."
"We're not good at social situations," he says. "We don't do well in the real world, but here we're on the trajectory of making family."
Are they really that marginal? Superman is, at 34, a self-employed landscaper. Other Riff Raffers I talk to include a delivery truck driver, a high-angle rescue specialist, a carpenter, and a chef.
After night falls, I sit fireside with a bartender who's made his recent living by mixing drinks for Barnum & Bailey Circus. Joseph—that's the only name I get—is a thru-hiker drawn here by Riff Raff's "pirate" vibe. He's a lean and wiry man, a high school wrestling champ, now 40 or so, with a raspy voice and an unnerving habit of breaking spontaneously into rap incantation, replete with impromptu lyrics too crude to print. "I'm not the kind of guy you'd want to mentor your kids," he tells me. "If I get money, I spend it on strippers and whores."
The next morning, I start asking around to see what kind of trouble Riff Raff may have made in Damascus. As it turns out, the answer is none. "I've had no incidents with Riff Raff," says Mike Hounshell, Damascus's new chief of police. "Every time I've spoken to them they've been polite and courteous."
The Party moves up the trail to Damascus. When I step into Riff Raff's camp by Laurel Creek, Superman is lounging by the fire pit, wearing a Hawaiian shirt and sipping a beer with the relaxed air of a movie star on holiday. It's not immediately clear how he ended up king of the island of misfit toys, even though he's the group's de facto coordinator. It is he and Michael "G Hippie" Muzzillo who send out the emails and he who oversees the almost hourly camp cleanups. When Riff Raff enters a chili cook-off hosted by Billville, it is Superman who dons the chef's hat and toils over the camp stove, stirring a seven-alarm concoction so flaming hot that it seems it wasn't made to be eaten so much as brand tongues with Riff Raff's name.
"I was bullied mercilessly in school," he says, describing his childhood in an affluent Michigan suburb. "I guess I was an annoying know-it-all. In high school, the whole hockey team would shoot pucks at me during practice. The AT erased the part of me that got bullied," says Superman, who now lives in Florida. The trail also changed his approach to life. In 2006, after he rushed through one 11-mile section, he caught a ride from Miss Janet. She asked: "What the hell are you doing? If you hike that fast, you'll burn out long before Maine. Why not enjoy the journey?" Superman took the advice to heart, and soon made it his mission to slow other hikers down, too. He likes to "Shanghai" them. That is, convince them to drink all day with him, or to let him take them to a nearby swimming hole—whatever it takes to stop them from slogging their way through yet another 25-mile death march.
Like a college's fraternity rush, the practice is controversial. An online journal called Deep South Mountaineering alleges that at Pre Days, Riff Raffers are selective Shanghai artists: "They single out mostly females to join and welcome them to hang around." Meanwhile, on Trail Journals, one male hiker writes that at Pre Days he was "semi-kidnapped" before describing how he "snuck out" while Riff Raff was welcoming new arrivals to "their spiderweb."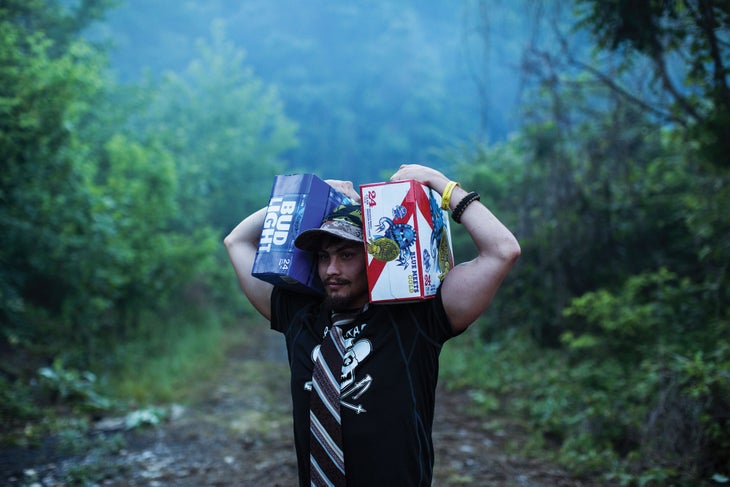 Superman admits to being gung ho about recruitment. "The only way we can keep going is by getting new hikers—fresh blood—every year," he says. Within five years, he hopes to grow the group to 150 members, all of whom should love a good party and the AT, though being an active long-haul hiker is less critical than commitment to the camp.
And at Trail Days, prospective pledges abound. The AT is awash in young people on soul-searching journeys. I catch sight of one such guy trying to insinuate himself into the group. Ty Malcom is 21 and sports, on his forehead, a fresh tattoo with green cursive letters that spell out "Lawless." He's an updated archetype—think Neal Cassady with a smartphone—and I wonder if Riff Raff is his chance to join a family or just score free booze.
Superman is wondering the same thing. "At first," he'll tell me a month later, "I thought he'd be mooching off us all week. But no, he showed initiative. He helped us drag firewood out of the forest. And he was pleasant. He had a nice smile, and he never caused anyone any grief." As such, Superman says, he's a perfect recruit. Almost. "He's pretty quiet, and I don't know if everyone would remember him. I'd need him to come back next year before we shirt him."
Despite what I've seen and heard, drinking is not what Riff Raff purports to be about. Relying on funds from Disney, Superman, and other Riff Raff leaders, the group serves an estimated 500 free meals at Pre Days each year, and during the 51 weeks a year they're not at Trail Days, Riff Raffers hike the trail to spread the ethic of trail magic, acting independently, or in pairs, like Mormon missionaries.
To Superman, trail magic is the group's signature act and he practices it often himself. Once, in Tahoe, California, he and his girlfriend ran an impromptu hostel out of a rental home and routinely took Pacific Crest Trail hikers to nearby casinos. He revels in the creative forms that his friends' magic can take. One Maine-based Riff Raffer, he tells me, likes to appoint tree branches overhanging the AT with "little baggies, each one carrying a joint and a bunch of Q-tips." Hikers need Q-tips, I'm told by way of explanation. The joint speaks for itself. They may not be the Red Cross, but they know their audience. (Pot notwithstanding, trail magic is generally considered good, but the Appalachian Trail Conference recently posted new guidelines discouraging large-scale hiker feeds that may impact the trail by causing hiker bottlenecks, and unattended coolers that invite wildlife and litter.)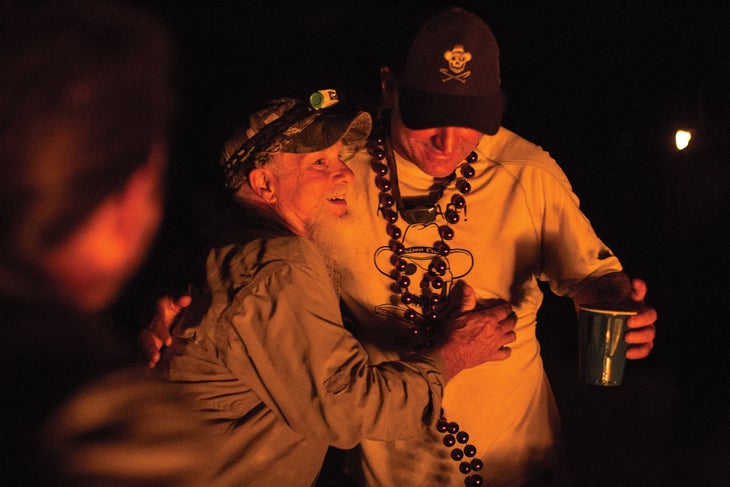 Meanwhile, the Trail Days party continues to rage. As evening falls, my attention is drawn to a blaze—"Miss Janet's Bonfire," everyone calls it, because it happens directly in front of her regal, 10-person tent. I reach the fire at about 9 p.m. and find a place in the huge crowd. It feels like it's about 150°F where I'm standing. There are legions more people closer to the burning logs, forming a tight ring. Some are pounding on drums. Others are traipsing—not dancing, really, but moving in a slow, dazed, hypnotized shuffle—around the flames. When a couple of guys throw a giant tree branch onto the pyre, sparks dance and everyone cheers.
In time, a slight guy emerges from the crowd wearing nothing but a red ski cap and black Speedo with a pack of cigarettes tucked into the waist band. His body is Magic Markered with words—Thug Life, 2 Time, No Regrets—scribed by his friends, and he is beating a snare drum. He thrashes it maniacally, leaping every now and then into the air, to let loose a bloodcurdling scream. The crowd echoes each time with a howl of its own.
Trail Days is an opt-in affair, but it's getting harder to opt out of its party scene. I'm sitting at the $5 bacon-and-eggs breakfast at the Damascus Fire Department when this becomes clear.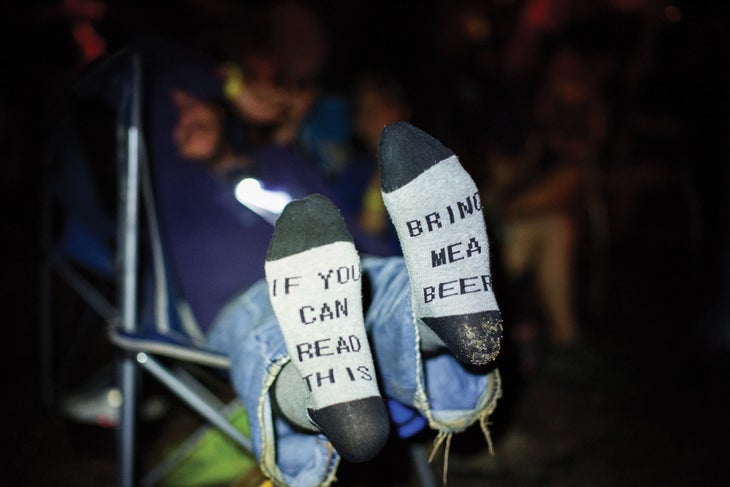 It's me and one young female thru-hiker. We share a tacit smugness to be among the living in the near-empty concrete-floored expanse, the rest being laid low by hangovers. Opting for anonymity, she speaks of Riff Raff in unkind, questioning tones. "Late last night, when I was two or three beers in," she says, "I was in Wonderland, and someone points and whispers, 'That dude's from Riff Raff.' It was like something out of 'West Side Story.' I find out that Riff Raff is exclusive—that you need to prove yourself to be one of them. It seemed just like a college fraternity to me."
But when the Riff Raffer gave her a plastic bracelet, she slipped it onto her wrist without reading its inscription: "Peace, Love, Trail Magic ♠ Riff-Raff!"
"I woke up this morning wearing the bracelet and it felt weird," she says. "This group's name was on my person." She removed the bracelet before breakfast. "I'm ready to leave," she says, clearly regretting having come in the first place.
After she's gone, I have to wonder: In the spirit of fun, does Riff Raff really need to spill so much noise into the woods? Miss Janet, for one, is sick of such questions—and of purists who complain that partying has ruined the AT. She has no official authority on the trail, and she really doesn't hike much, but she likely interacts with half of all thru-hikers each year, and she brings to each meeting a wise sensitivity she honed in her first career as a child development expert. Most of the critics, she says, are middle-aged hikers who, a generation ago, "built pyramids out of PBR cans by the riverbed. Now they're turning around and saying the AT is supposed to be a solitary experience?" she asks, incredulous.
When I meet her at the Subway in Damascus, she's living the party—and wearing a gold lamé flapper dress, poised to walk with a Great Gatsby-themed group in Trail Days's annual parade. She invokes MacKaye, the trail's progenitor, saying he actually wanted people to have fun on the trail. In his long-ago journal article, she notes, MacKaye didn't call on his readers to become ascetics and hermits; he called on them to build communities of like-minded folks linked by the trail.
The word "community" is repeated throughout MacKaye's treatise, Miss Janet stresses. "The idea," she says, "was for people to get to know one another." Trail Days in Damascus, a town that swells to welcome all AT lovers, might be the truest expression of that sentiment—and Riff Raff among its most ardent practitioners.
Miss Janet knows everyone in Damascus. As we're chatting, people keep coming up to our table to hug her, or to clutch her hand and reminisce before asking if she'll pose with them for a photo. Soon, she is spirited outside, into the parking lot, where the hiking multitudes are staging for the parade beneath a brooding gray sky, their costumes so outlandish and bright that in time I lose sight of Miss Janet and her gold lamé dress in the havoc.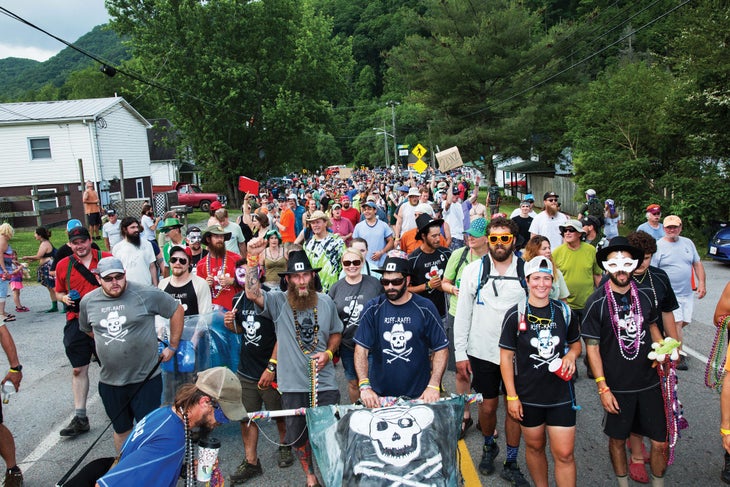 And then I stand on the sidewalk and watch the procession. At first, the hikers are divided by year of AT completion. Here's the class of 1982, represented by a single jolly, white-bearded fellow in an indigo kilt. Here are the classes of 1994, 1997, and 1999—a few earnest souls who looked like they've stepped from the pages of a vintage L.L.Bean catalog. Next come some jokesters; the banner reads "No Class of 2001. Hiker Trash."
Then, eventually, come the Riff Raffers, nearly all of them wearing skull-and-poles T-shirts with their trail names—Irish Charm, Wolfpine, Pound Puppy—printed on the back. Disney is wearing an orange-and-purple necktie over his T-shirt, and he is passing out shiny Mardi Gras beads. Everyone in Riff Raff is singing at the top of their lungs, but the sound of their a cappella chorus is so discordant, and so undercut by the spontaneous hollers of bystanders, that it takes me a minute to discern they are singing "The Star Spangled Banner."
The Classes of 2016 and 2017 follow Riff Raff, and in this sea of humanity, everyone is weaving all over the road, or taking selfies, or raising their arms high and hooting for joy as Nerf footballs loft through the sky. I watch as a young man in green polka-dot tights toots a red plastic bugle, inexpertly.
When the parade ends, rain comes down in sheets. A few miles away, on the trail that binds each of these celebrants, it is quiet, and the green leaves glisten with rainwater. It's a reminder that even the biggest party on the AT is fleeting. Soon, Riff Raff and others will clean up their camps and depart, leaving the great "wooded wilderness" of Appalachia as quiet as it ever was. 
Bill Donahue lives in New Hampshire and is a regular contributor to the magazine. He was not offered a Riff Raff shirt.