Top 3 Trail-Building Trips
Want to boost your backcountry karma? Here are three places to hike–and give back.
Heading out the door? Read this article on the new Outside+ app available now on iOS devices for members! Download the app.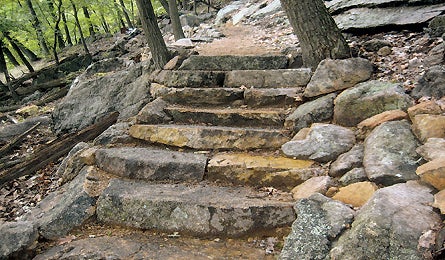 Appalachian Trail, New York-New Jersey Trail Conference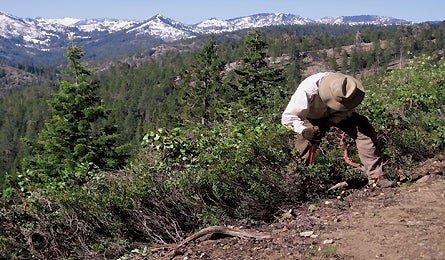 Pacific Crest Trail, Ian Nelson/PCTA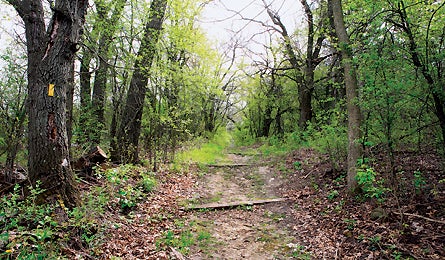 Ice Age Trail, Robert Wojtowicz/DRR.net
Trails are like public radio. Access is free, but that's largely due to dedicated volunteers. Lend a hand on one of these National Scenic Trails, and you'll help keep something we all love in tip-top shape. Pulaski-swinging not your thing? You can still hit these trails for a purely recreational weekend. We won't tell.
Appalachian Trail

Restore the AT's oldest section

A premier section of America's first National Scenic Trail snakes through New York's Bear Mountain State Park. It's the AT's most heavily trod stretch, with three million hikers pounding down it annually. Enlist for a spring overnight with the New York–New Jersey Trail Conference and stay at the organization's private camp on Lower Twin Lake. You'll reroute portions of the trail, which winds through deciduous forest to rocky outcroppings, to give damaged areas a chance to recover. You'll also build rock steps to prevent slope erosion. Alternatively, sign up for a spot on one of the crews that work five days a week from April to December. Whistle a chain-gang tune while you toil–this park narrowly missed being the site of Sing Sing Prison. nynjtc.org
The Reward

Cathryn's Tuscan Grill in Cold Spring, one block north from the Metro-North train station, serves the best calorie-restoring linguini on the Hudson. tuscangrill.com
The Way

From Palisades Parkway exit 19, take Seven Lakes Drive 3.5 miles to Bear Mountain Circle, lot 1.
Pacific Crest Trail

Shore up crumbling desert tracks

Monsoon rains erode portions of the PCT every year, especially in the section traversing the flash-flood-prone high desert of Kern County. The Pacific Crest Trail Association caps its trail-building season here with an October weekend of intensive rockwork, rebuilding washed out or sloping trails. The effort is organized by the Student Conservation Association's WildCorps. From Walker Pass Campground on CA 178, climb the PCT for five miles–from desert scrub through singleleaf piñon pines and eroded granite–to the group's basecamp. You'll carry backpacking gear and leather gloves; llamas pack in food and tools. Want to help sooner? The PCTA hosts volunteer trips along the length of the entire PCT all summer. pcta.org
The Reward

Refuel with a bacon cheese-burger

and a Class V Stout at the Kern River Brewing Company in Kernville. kernriverbrewing-company.com
The Way

From Bakersfield, head 76 miles northeast on CA 178 to Walker Pass Campground.
Ice Age Trail

Blaze new ground on a glacial moraine

The Ice Age National Scenic Trail snakes along the remains of an ancient glacier that once covered 66 percent of Wisconsin. Here, the terminal moraine mixes 200-foot-high, boulder-pocked foothills, grassy balds, and chiseled granite gorges. The Ice Age Park and Trail Foundation maintains the entire 650-mile trail and hosts volunteer events every weekend of the year. Organizers are focusing efforts on the trails' 5.5-mile Hemlock Creek Segment in northwest Wisconsin's Blue Hills region. You'll stack 1.6-billion-year-old quartzite into retaining walls, construct a 36-foot bridge, and cut switchbacks through basswood and white ash forests. Pack a pole to catch extra-large panfish in Hemlock Creek. iceagetrail.org
The Reward

After your shift, choose from 28 kinds of pie at the Norske Nook in Rice Lake. They've won 13 blue ribbons in the last five National Pie Championships. norskenook.com
The Way

From Rice Lake, go 9 miles east on WI 48 to 24th Avenue; continue 5 miles to County Road F, then 1.5 miles to Murphy Flowage picnic area.