Time Travel: Hiking Historical Homesteads in the Smokies
A unique route linking historic homesteads yields an exciting Smokies adventure for hikers and history buffs alike.
Heading out the door? Read this article on the new Outside+ app available now on iOS devices for members! Download the app.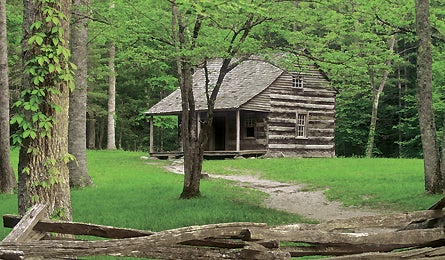 A settlers' cabin off the Cades Cove Auto Road. (Tim Seaver)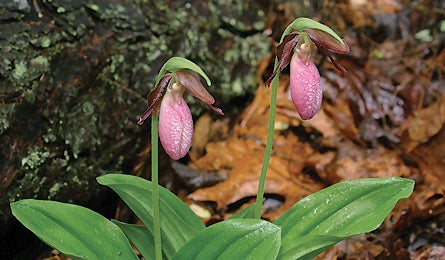 Pink Lady's Slippers (Brian F. Jorg)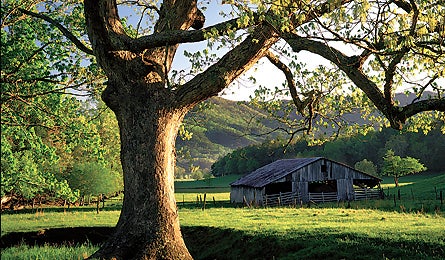 Old barns are left to deteriorate naturally. (Willard Clay)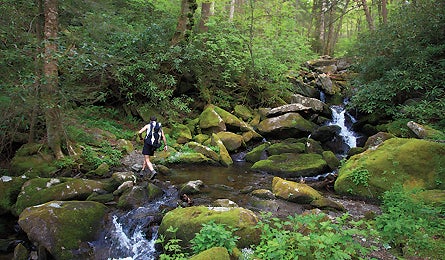 Small pools on the Maddron Bald Trail (Tim Seaver)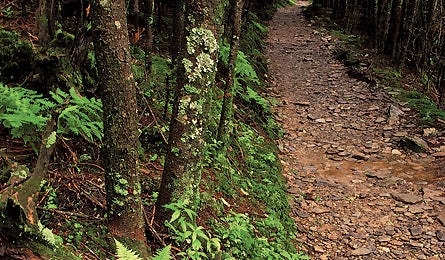 The Alum Cave Trail (Kevin Adams)
Weaving through gnarled limbs of rhododendron, I mop the sweat from my forehead and swat a cloud of gnats. We've only hiked 10 minutes, and my bare shins are crosshatched from bashing through these shiny, knee-high bushes. It's hard to believe this tangled forest was once a tamed landscape of farm fields and apple trees. Near Cosby Campground in Great Smoky Mountains National Park, farmer and 64-year Smokies resident Jimmy Bryant and I are bushwhacking to the homesite of Bryant's grandparents, who lived on this land until the early 1930s.
Glennie and Elbert Carver were among the 4,000 people displaced by the federal government when it established Great Smoky Mountains National Park on 500,000 acres of the East's largest forest in 1934. Like their neighbors, the Carvers had planted corn and raised their children here, amongst the hazy blue hills and crystalline waterfalls. When the feds came calling, many settlers reluctantly sold their land, some dispersing to small plots outside the park boundary or to nearby towns.
These days, 9 million people visit the nation's busiest national park, which boasts huge tracts of resurgent forest and grand, misty-mountain views. But few–if any–realize that entire communities once thrived where now only backcountry travelers go.
I have been roaming these woods since I was 16 and am sorry to report that in 21 years and on more than a dozen trips had never considered the true impact of clearing homesteads to make way for hikers.
Then one day I discovered Daniel S. Pierce's book, The Great Smokies: From Natural Habitat to National Park, and was floored by what I read. After learning about the sacrifice these Smokies' communities had made, I couldn't help wondering if my backcountry solitude came at too high a price. With a newfound appreciation–and a bit of guilt–I embarked on a five-day, 55-mile tour of little-known Smokies spots, once cultivated, now wild, that the Carvers and other settlers called home.
Bryant and I leave Cosby Campground on a sunny morning last April, only to stop within the first 15 minutes of our hike. We're standing in front of evidence of his family's farm–four squat walls made of moss-covered stones that formed the foundation of the apple house. Poking around knee-high blackberry briers, Bryant tells me how Elbert would travel as far away as Knoxville (60 miles distant) to sell early June apples, and points out where cattle grazed and bees produced honey.
On May 14, 1926, President Coolidge signed a bill allowing the creation of Great Smoky Mountains National Park. Almost immediately, a park commission began a push to purchase 427,000 acres from timber companies and private landowners. Glennie and Elbert reluctantly sold their land in 1928 for $10,000 (the equivalent of $686 per acre today), and were one of a few families granted a lifetime estate, allowing them to work their homestead within the park boundary. This sounds like a good deal until you realize that regulations forbade park inholders from clearing timber, hunting, and doing other things necessary to keep a farm functioning.
The Carvers continued to farm, even after Elbert was stricken with typhoid fever. As he lay dying, he told his wife to keep on. "Stay in the mountains as long as you can," he counseled. "That's where your best living will be."
"Glennie stayed as long as she could," Bryant says. But In 1940, after a seven-year-long struggle, she left.
While Glennie went quietly, others did not. Pierce writes that some settlers protested by setting destructive fires within the park. Most probably felt like Russell Whitehead, the last surviving person to have owned property in Cades Cove. At a "Tennessee Homecoming" celebration in 1986, writes Pierce, Governor Lamar Alexander introduced Whitehead (then 98), who "stood, pointed his finger at Alexander, and in four words revealed the depth of hurt and bitterness felt by many residents of the Smokies: 'You stole my land!'"
With the Carver story weighing on my mind, I leave Cosby Campground and ascend the Snake Den Ridge Trail, a thigh-sizzling path that climbs more than 3,000 feet over four miles. On one switchback, a rhododendron hallway transforms the trail into a garden of deep-green hedges with snowy blossoms the size of softballs. Beyond it, I find a secluded ravine and set up my first night's camp next to Otter Creek.
Continuing down the Maddron Bald Trail the next morning, I enter Albright Grove, one of the park's oldest forests. Even on a sunny day, the Grove is shadowy, as massive tulip trees and magnolias–one measuring 25 feet around–tower like great wood columns in a cathedral. By the 1920s, timber companies had wiped out two-thirds of the area's trees, with the bulk of destruction occurring in the western half of park. Today, though, the entire forest has mostly rebounded.
From the Maddron Bald Trail, I connect to the Old Settlers Trail and head west, following a decrepit road system that once connected a string of farms, dozens of families, and a 500-person town complete with a mercantile, hotel, churches, and a school. According to interpretive ranger Glenn Cardwell, it was also the place to buy moonshine.
On day three, Cardwell, who's been making sense of park history for 34 years, meets me where the Old Settlers Trail empties into Greenbrier Cove. I'm thrilled to discover that he descends from the most notorious family of moonshiners in Greenbrier. "Corn was a staple crop," Cardwell explains. "My family ate it, made bread out of it, used it for 101 things." During Prohibition, corn whisky could fetch $2 a gallon (today's rate: $32).
Cardwell's family had eked out a living from the early 1800s, but sold out in 1929. "They didn't understand how to bargain," he says. "My aunt and uncle took their money and put it in the bank. But before they could rebuild, Black Monday wiped them out. They had to start all over–with six kids."
As we walk, Cardwell explains that when groups such as the Southern Appalachian National Park Committee were pitching the Smokies as a park, they paid little attention to preserving communities. After all, settlements like Greenbrier weren't the type of attraction that would lure people here. Rather, park planners focused on highlighting the mountain grandeur. Inspiration for the park's creation came from jaw-dropping views from lofty peaks, like Mt. LeConte, my next stop on the Smokies homestead tour and the park's third highest summit at 6,593 feet.
I take the afternoon of day three to resupply, then head out the next morning on a shuttle to the five-mile Alum Cave Trail, the most direct route to the top of Mt. LeConte. A cold mist creeps through the hemlocks as I stand on the slope above Le Conte Lodge. Constructed in 1926, this rustic retreat is famous for its view of Gatlinburg and Pigeon Forge. But what really strikes me is that even now no roads wind to the top of Le Conte.
At the turn of the 20th century, great debates raged over what exactly should be preserved, discarded, and constructed within a national park. Certain advocates for a Smokies park, such as the Asheville Chamber of Commerce, pushed to build a great system of roads, including a skyline drive that would run the entire length of the range. To see where the road would have run, I hike southeast from Le Conte, taking the Boulevard Trail to its junction with the Appalachian Trail.
If not for Benton MacKaye, a highway would undoubtedly exist where the AT now traverses quiet ridgetops. Fortunately, the Tennessee forester and conservationist recruited his friend, Bob Marshall, then director of forestry for the Bureau of Indian Affairs, into an alliance that succeeded in squelching the idea of the skyline drive. What has been preserved is a remarkable stretch of the AT that runs along the Tennessee and North Carolina border, often hovering around 6,000 feet.
The only real signs of civilization here are the hiker shelters, like the one at Pecks Corner where I bed down for my final night. Instead of industrialized rumbling across the ridge above me, I hear only the wind in the oaks and the hiss of camp stoves outside the shelter. Yet something other than the soft murmur of thru-hikers keeps me awake. It is a image I wouldn't have if it weren't for Glenn Cardwell and the oral history he preserves of his own family.
I am stirred by the memory of walking with Cardwell through Greenbrier Cove earlier on this trip. The sun slanted through the oaks, and he slowed to show me a barely visible path on a thickly wooded slope above the confluence of several streams in Pigeon River. Sunlight broke through the trees, creating tiny prisms of light.
"They called that trail Lovers' Lane," said Cardwell. "Young people would leave church and hold hands as they walked down to the river."
As I lie in my sleeping bag–the vision of brambles shrouding the thin ribbon of earth, and the cool water sweeping though the cove–it occurs to me that for every beautiful thing preserved in this park, something else was split apart.
There's no question that I will always appreciate the beauty of these mountains, and yet my newfound knowledge changes one thing.
Often, we build bonds with wild areas by learning the names of the flowers, animals, and native trees. But here, among the misty slopes and hollows of the Smokies, the stories of a people long forgotten are the ties that bind.
Marcus Woolf is the author of the hiking guidebook Afoot & Afield: Atlanta.
Southern Revival

Trek into the past on this six-day route, which deviates from our author's but follows the Old Settlers Trail across flower-strewn balds and through a rare rock arch.
Hike it This 50-mile hike follows the same route as the author but begins at Alum Cave trailhead (1) off Newfound Gap Road and concludes with a free park shuttle back to your car. Shortly after the start, ascend slippery stone steps though Arch Rock (2), a large black chunk of slate weathered into a natural arch. Next, pass a heath bald to traverse a steep slope beneath 4,950-foot Alum Cave Bluff. At mile 4.8, top out on Mt. Le Conte (6,593 feet), the third-highest peak in the park and home to the plank board-sided LeConte Lodge (3). Overnight here ($110/pp including meals) or camp a few strides downhill at Le Conte Shelter (4).
The next day, hike above 5,500 feet on the Boulevard Trail to the Appalachian Trail (5). Swing northeast, and trek 1.1 miles to a spur trail up the treeless 5,565-foot knob of Charlies Bunion (6). Look out into a collage of forest-green ridgelines and rounded mountains. Continue on the AT for 6 miles, linking a ribbon of ridgetops. Turn right onto Hughes Ridge Trail, cross Laurel Top (7), and descend to Pecks Corner Shelter (8).
An easy day three straddles the TN/NC border, crosses Mts. Sequoyah and Chapman, and ends at the recently renovated Tricorner Knob Shelter (9).
The next morning, follow the AT 6.1 miles and turn left onto Snake Den Trail. In .7 mile, turn left onto the Maddron Bald Trail. Ahead are long-stretch views from the crown of Maddron Bald (5,212 ft.) (10). Descend 600 feet and pitch a tent at Campsite 29 (11) near the sloping banks of Otter Creek.
The trail continues west under the giant maples, beeches, and tulip trees in Albright Grove (12); see trunks with a 20-foot girth. Turn left (13) onto Old Settlers Trail, passing stone walls marking old land boundaries. Around lunchtime, detour north to the Tyson McCarter barn (14), built in 1876 (its shingled roof and log walls remain intact). Stay on Old Settlers Trail and pass several derelict chimney stacks. Campsite 33–your final night's stay–marks the homesite of Perry Ramsey (15), who lived in the park until 1930. The last day climbs over Copeland Divide and ends 6.4 miles later at Greenbrier Cove (16).