Want to Have a Better Hike? Plan Less.
Plot out a long hike too much, and it starts to feel like work. But there's a better way.
Heading out the door? Read this article on the new Outside+ app available now on iOS devices for members! Download the app.
Hiking isn't just a hobby—it's a lifestyle. Maggie Slepian tackles the hiking life—and all of the joys, problems, arguments, and weird quirks that go along with it—in her column.
I stared up at the deceptively steep climb, my calves burning after hours of trudging through soft dirt. I was deep into my thru-hike of the Colorado Trail, and my motivation was starting to flag. Silently, I did the math: Ten more miles until the Spring Creek Pass road crossing. From there, I'd hitch to Lake City before getting back on the Colorado Trail the next morning. Every step brought me closer to a shower, a real meal, and a bed.
A few hours later, I climbed out of my hitch and looked around the tiny town. Hikers were scattering to their respective motels, hostel bunks, and cabins, but No Vacancy signs blared in flashing neon up and down the narrow street. A few phone calls confirmed my fears: All of the other hikers in town had reserved lodging days ago, seeking out spots of service on ridgelines or making reservations during their last resupply, and left no room for me. As usual, I had planned on figuring it out when I got there. This time it didn't work. 
I am a major planner in day-to-day life, but on long trails, I like to improvise. There are a few things I figure out in advance: how I'm getting to the trail, what I'm carrying, and how much food I'll need for the first section. Usually this strategy works fine, but in Lake City, I got turned down over and over before hitching back to the trail in a thunderstorm. 
With the proliferation of mapping apps and packing tools like LighterPack, it's easier than ever to plan your hike out to the smallest detail. A friend of mine started a long-distance trail one day before I set out on the CT. Before she left, she sent me a photo of her first week of food, neatly laid out in columns and stacks. One column for each day, with tidy stacks of breakfast, snacks, lunch, and dinner items. I sent her a photo of the tied-up grocery bag of food I hoped would taste acceptable once I was on the trail and last me until my first resupply. I couldn't predict my pace so I didn't know if I'd make it 105 miles, or if I'd have to hitch to town at a 70-mile road crossing. Idk, I texted her. This looks like enough?? 
The downsides of my strategy are obvious, but overplanning has its cons too. Plan out your mileage, diet, and stops in advance, and you risk taking the kind of adventure you quit your job for and turning it into, well, another job. As with most things, there is a middle ground here, and that's the strategy I recommend most people take on a long hike: Find a happy medium between planning everything and totally winging it.
Planning a long hike in advance may not be realistic, either. There are so many elements at play in a long-distance backpacking trip: weather, your physical abilities, potential injuries, mental challenges, lodging, finances. Even your appetite will change. Marry yourself to a plan, and you may find yourself getting frustrated when you can't keep to it. While it's a good idea to know the distance between your resupply points, and you should absolutely have a reliable navigation plan, breaking down each mile's elevation gain probably isn't necessary or worth the effort.
Here are several elements I'd recommend planning for, and a few you can figure it out as you go. Keep in mind that there isn't one strategy that works for everyone, and tailor this to your own habits and tendencies.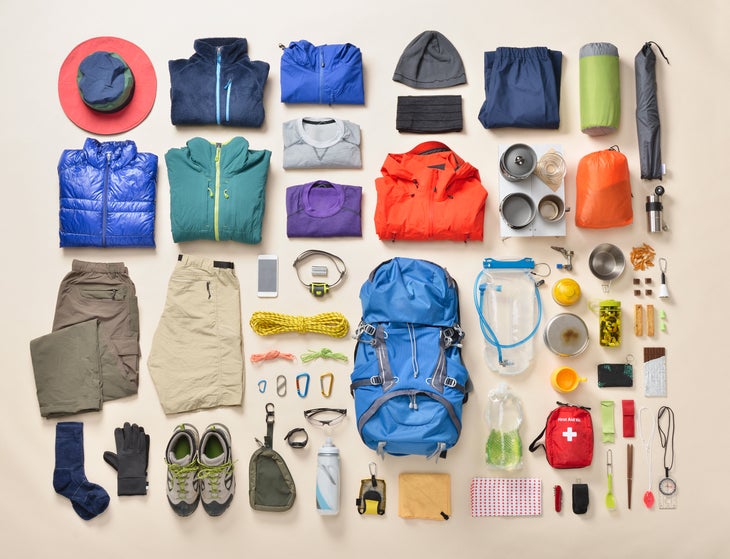 What You Should Plan
Getting to the Trail
Some trailheads are surprisingly remote, and can take a confounding combination of public transit, shuttles, and hitching to access. I always have my rides set up in advance, or have public transportation mapped out to prevent any snags in getting to the trail. If you're relying on shuttle services, reserve them far ahead of time—increasing popularity means that some shuttles are getting booked weeks in advance.
Distance to First Resupply and General Food Strategy
You don't have to plan every resupply for the duration of your thru-hike, but know the distance to your first resupply so you pack the right amount of food for that section. I also recommend knowing the overall options for the trail, and if there are any stops where you should send a resupply box. I was stuck with two gas-station resupplies on the Colorado Trail where I should have sent myself mail drops. 
Navigation 
How will you navigate on the trail? If it's on an app like Gaia or Guthook, make sure you have the GPS track downloaded, and double-check you can access the map without service. You'll want to make sure you have enough battery to get you through your longest stretches, and—especially on remote trails like the Continental Divide or Hayduke—carry a map and compass. Losing time wandering around in circles is no fun, so be sure to have your bases covered. 
What You Don't Need to Plan
Daily Mileage 
While it's smart to have a rough idea of mileage so you know how much food to carry, your pace will vary wildly on a thru-hike. Some sections will be more rugged and challenging, while others are perfect for pushing bigger miles. The good news: You'll also get in shape over the course of a long hike, meaning you will see your average mileage climb.
Getting Home From the End of the Trail 
Your pace may change over the course of your hike, and the friend or shuttle you arranged might not be available when the time comes. You could also meet people with a matching terminus plan, or other arrangements might fall into place that better match your schedule. Depending on the logistical challenges of your trail, you can leave this for a few days to a few weeks before your finish.
Town Stays 
With the exception of the lodging debacle in Lake City, I haven't had issues with figuring out my town stays when I arrive. I've found that booking lodging too far ahead of time puts me on a mileage schedule, which can feel stressful. Unless you're meeting friends or family in a trail town, I recommend planning your town stop a few days in advance at most. I saw several instances of hikers who booked nonrefundable lodging in advance, then lost money when their schedule changed.
While it's your hike, and you should hike it like you want, most hikers will be most comfortable with a middle-ground planning strategy like this one. Ditch the daily mileages and strict timelines, and you'll give yourself the freedom to create the adventure you really want—not the one you thought you did.