This Instagram Account Uses the Outdoors to Fight the Gay Loneliness Epidemic
Dr. Hitesh Tolani created Gays of National Parks to create community, but it's become so much more than that.
Heading out the door? Read this article on the new Outside+ app available now on iOS devices for members! Download the app.
Dr. Hitesh Tolani's life has always been about community and support. After his father died when Tolani was 13, leaving him and his family without legal immigration status in the U.S., he had to find the support of politicians to keep him in the country. When he was 20 and a student at Wofford College in the early 2000s, South Carolina Senator Strom Thurmond introduced a private relief bill for Tolani and his mother, Jaya, to prevent their deportation. Luckily, it worked, and he was able to remain a student in the U.S. Years later, when Tolani graduated from the University of Pennsylvania's School of Dental Medicine and matched into residency in Seattle, he drove across the country, stopping in his very first national park: Badlands. 
"I realized my eyes were like a kitchen sink, and the nature I was seeing was like a fire hose," Tolani says of his experience. "I just had to let the water spill over. I couldn't take it all in."
In the years that followed, Tolani's life started to look a lot different than it did when he was a college student in South Carolina. His passion for the outdoors got delayed by professional life: He was working in dentistry and winning awards for his innovation in the field. Also, one significant component of his life clicked into place: He realized he was gay.
Nearly a decade later, in 2022, during a trip to Acadia National Park, Tolani realized there were differences between himself and some of his straight-identifying friends. While hiking, his friends discussed marriage and moving to better school districts for their children. As a single gay man, Tolani realized they were talking about a life he did not live. 
"Everything in life is sweeter when you have someone to share it with," Tolani says. "However, as I get older, more and more of my friends have started families and can't always take off to go explore a national park with me."
Tolani found himself without community, the thing he relied on in his teenage and college years, but this time, he wanted a community of other gay and queer adults. So, in August of that year, he made it himself. Tolani went on Instagram and created the account Gays of National Parks with the purpose of highlighting LGBTQIA+ hikers or national parks visitors with shared interests, through Humans of New York-style features. 
 

 

View this post on Instagram

 
Chosen Community
Within six months, the Instagram account grew to 10,000 followers. Now, Tolani has three other friends who help him operate the account: Jeff Noel, Jason Jahn, and Joe Caiani. 
"I never thought there would be a crossover of life in the outdoors and gay life," Caiani says. "It's really exciting when you thought you were singular in a community, and then light is shed on a whole population out there who share the same passion and interests."
Noel and Jahn both submitted their stories to be featured on the account. After chatting with Tolani and seeing their professional experience could help the bigger mission—building community to combat gay loneliness—they signed on to help out with the account.
"I never felt like I fit in growing up, but I always found belonging in the outdoors," Jahn says. "[The account is] not just about nature, it's about building a community that finds common ground in open, welcoming spaces."
The best part? In nearly 500 posts on GONP that have garnered thousands of comments in total, they've only needed to delete a handful of hate comments. This account has become a safe space for adventurous gay hikers. 
"With Gays of National Parks, I have been able to find and build an LGBTQ community that also enjoys the outdoors and is willing to explore with me, encourage me to go on more trips, and share the experience with me," Tolani says.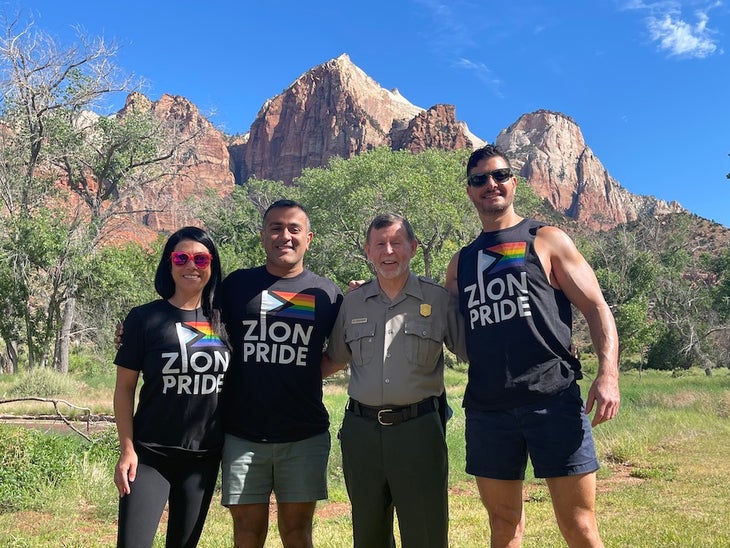 Gay Loneliness Epidemic
Gays of National Parks' impact reaches farther beyond the grid of images on the account's profile. Tolani is partnering with politicians to advocate for an unchangeable part of himself and others. 
In February 2023, Tolani represented GONP and give a presentation at a public lands conference, which had in attendance some of the most influential outdoors and public land leaders in the country, including members from the Department of the Interior, National Parks Service, Bureau of Land Management, and the U.S. Fish and Wildlife Services. He used the opportunity to talk about the epidemic of loneliness among LGBTQIA+ youth and adults.
Loneliness is common in the LGBTQ+ community, says Tolani. They're twice as likely to have mental health challenges, and 40 percent of queer youth attempt to die by suicide. In adulthood, 50 percent of lesbian, gay, and bisexual adults are single, and they spend on average 90 minutes per day on dating or hookup apps. This shows that there's a disconnect between wanting and having community. Tolani also cited a 2016 study through the parks service that found how exposure to nature can remedy these issues and the loneliness they cause. He ended the speech with a call to action: Help increase LGBTQIA+ access to public lands by designating parks as safe spaces without bias, discrimination, or potentially threatening actions. Federal lands such as national parks can be safe spaces within cities or states that prohibit activities that are essential to queer expression, such as drag.
That worked. In June, in collaboration with Gays of National Parks, Zion National Park hosted the first public pride event in a national park. 
Among the list of organizations involved in the Zion Pride event were The Southern Utah Drag Stars, a collective of drag performers who were in a legal battle against St. George City at the time of the event. In April, the city had tried to ban the Stars' all-ages-friendly drag show in a public park; a federal judge ruled in favor of the show, saying that drag is protected by the First Amendment.
"I got to know the local community members who would benefit from the change set into motion with the inaugural pride events at Zion," Caiani says. "Hearing the stories of how vital these safe spaces are and reading the headlines of how ongoing discrimination affects the people in the St. George area was very poignant."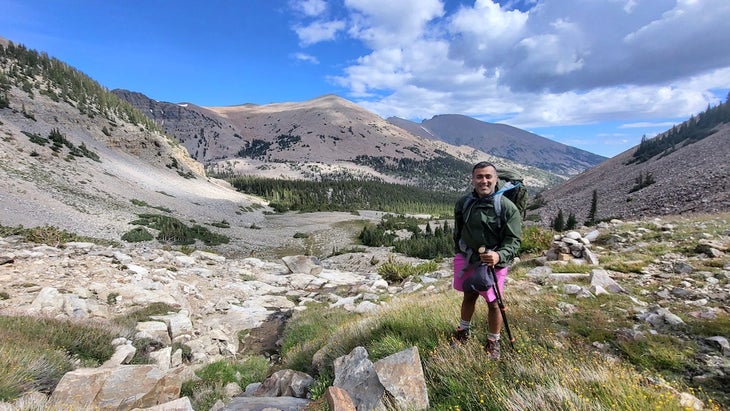 More Than Just A Feature
"Behind every story there is a real person," Tolani narrates in an Instagram reel about two gay hikers he featured. The 2,200 character limit in Instagram captions is too short to fully outline someone's lived experience, their past, their wins, their losses. It's about their humanity and celebrating queer visibility and community in the outdoors. 
"Hiking especially can be a very solo activity," Noel says. "Often you're lucky to find one or two people that you can share it with. For queer people, it can be even more isolating because maybe you don't feel safe or comfortable in a space being your authentic self. This community shows how many of us are finding joy and community in these awe-inspiring spaces."
Representation is important to any community, but especially marginalized ones that might not even consider that they could belong in a certain space. Now, the account has 11,500 followers and is the source of friendships, relationships, and hiking partnerships.
"As LGBTQ people get older, our social connections dwindle at a greater rate than our [non-LGBTQ] peers, and it's even more difficult for us to form new ones," Tolani says. "Because of the AIDS epidemic, many people in our generation don't have older gay role models. It's critical that we are visible to ourselves and that we influence each other. I am not alone, and that has given me a sense of unparalleled belonging."