The Wild Edge: Exploring Portland's Forest Park
When urban trails blend with raw wilderness, the sum is much greater than the parts.
Heading out the door? Read this article on the new Outside+ app available now on iOS devices for members! Download the app.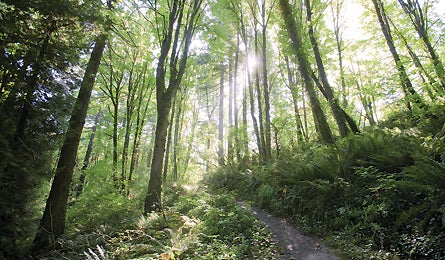 Forest Park's Birch Trail (Steve Bonini)
Lower Macleay Park, Forest Park (Steve Bonini)
The park glimmers in my mind sometimes. On hot summer days, when the sidewalk downtown is baking and the air feels dead and still, I think of the leaves on the maple trees up there in Forest Park–in the hills just west of the center of Portland, Oregon. They're almost iridescent green, and veiny, and bending in the breeze amid the evergreens. The trees are a little higher up, elevationwise, than the city's streets–kind of like heaven–and you know that, if you get up there and start walking around under those leaves, you'll feel the soft springiness of the ground. You'll feel the pine needles underfoot on the hiking trails, and it will feel like the world is suddenly breathing again.
Forest Park is the nation's largest urban woodland. It covers more than 5,000 acres, stretching on for eight miles along the cragged and steep northeast-facing slope of the Tualatin Hills. And while it's technically a city park, it's no manicured green space. It has the aura of wilderness. There are no grassy ball fields here, no swing sets. Rather, there are 70 miles of hiking paths and one route, the Wildwood Trail, which winds along for 30 miles. There are mountain bike and bridle paths. Wild elk have been sighted in Forest Park. Sword ferns often grow profusely under the trees, and in some places you can entirely escape the sound of automobiles.
Myself, I've visited Forest Park, usually to hike, once or twice a week since I moved to Portland after college twenty-odd years ago. I'm familiar with certain small rocks on the Wildwood Trail, and I know which knobby tendrils of tree roots have been worn shiny by footsteps. I've been in the park in a blizzard and when the trees were veiled in a thin fog that glided along, ghostlike, through the canopy. At times, the place can offer up the sort of aaaah! moments that we all dream of, sequestered at our desks, slaving away so as to finance the next backpacking trip to Yosemite or the Tetons, or wherever.
Therein lies the true charm–and the hard reality–of Forest Park: It's not a faraway wilderness. It's a second-growth forest set within a metropolis of 2 million people who engage in an intricate, daily dance with the wilds. Office workers stroll at lunchtime here, and kids go searching for crawdads after school. Hikers and riders and birders and runners connect with the woods, each in his own way. Maybe Forest Park is the sort of place we all need, just like we need the glamour hikes caught in our screensavers.
I wondered: What if city councils across America decided that wildlands and hiking trails were just as important as parking garages and correctional facilities? What would it look like? Last year, I decided that I would explore the whole park. I wanted to venture off the well-trodden paths close to downtown and just wander–into, say, a little stretch west of town where there are no paths, only a fire lane through tawny grass awash in the sound of nearby trains.
I wanted to discover the park in all its dimensions.
The park is still wild. In the early 1800s, when the Chinook Indians roamed through the Tualatin Hills hunting for deer and gathering berries, a traveler might come to the top of a ridge and see an elk–or perhaps a cougar or a black bear–silhouetted in the fog. You still can today. Forest Park is the easternmost sliver of a wildlife corridor that stretches on, virtually uninterrupted, some 80 miles to the coast. Neighbors lining the western edge of the park report that in winter a 90-head herd of elk often cuts through the woods, intent on foraging amid nearby gardens and fruit trees. Les Blaize, who's lived for 30 years in a ramshackle cottage surrounded on three sides by the park, recently saw a bobcat while sitting out on his deck. "It chased a squirrel up a tree," he said. "It was like lightning–three times as big as a house cat, and twice as fast."
What makes such sightings exquisite is that Forest Park's habitat is always under siege. Portland is growing–and growing cities are inherently at odds with nature. In the past dozen years, thousands of people have moved into Forest Heights, a maze of new houses just uphill from the park. And now developers plan to erect a city for 10,000 more–North Bethany–two miles from the park's boundary.
Blaize's home, which he calls Hillbilly Heights, is set amid the maze of new houses, and one afternoon I visited him. Blaize is scruffy and gnomelike with a wooly beard. He threw on some old hiking boots and we strolled through his various outbuildings–a woodshed, a barn, a cluttered office–and along a disappearing dirt road deep in the shady woods, until we saw the harsh glare of sunlight and climbed up onto a cul-de-sac. "This is what they call 'The Street of Dreams,'" Blaize hissed, invoking a trademarked realtors' slogan. "Five- to 8,000-square-foot McMansions with three-car garages. These people aren't supposed to cut down trees lining the park. It's illegal, but hey, they're just a chainsaw away from a million-dollar view."
Blaize gestured. "Look, that guy there bulldozed his property," he said. He was grouchy, yes, but he was also a remnant, one of the fine wild things in the park, besieged yet surviving. And he spoke of the animals there with love. "I have fox squirrels and gray squirrels who visit," he said. "They come all the time, and we've seen a lot more deer recently; they come for the flowers. And there are more coyotes than normal. I hear them at night. All of a sudden, you'll hear this death rattle–the coyotes hunting down prey. You'll hear a struggle, and then total silence. I like hearing all that. I like the sound of the woods."
The park is home. In 2004, a Vietnam vet–he was referred to in the local press simply as "Frank"–was discovered after living in Forest Park for four years with his daughter on his sprawling creekside settlement. "Ruth," then 12, educated herself mainly by reading old encyclopedias and Golden Books. The pair walked a new route each time they hiked out, to avoid beating a path that others might see. They had a tilled vegetable garden and a rope swing, and until police kicked them out, it was as if they were Alaskan bush hermits who just happened to shuffle down into town every so often for lunch at the soup kitchen.
And they had neighbors. One man's been camping in Forest Park for three decades. I'd heard rumors of him, and I'd seen thin plumes of smoke rising up from the hillside where he lives. But I'd never seen him.
So on a warm September day I scraped through blackberry brambles and patches of English ivy that had escaped nearby gardens, toward Damion Cunningham's camp. I was traveling with a friend. We reached Cunningham's lean-to and found piles of waterlogged books and yellowing newspaper clips. Cunningham himself was absent, so we began shouting: "Damion! Damion!"
When he arrived, Cunningham was bearing an armful of ivy–he'd use it later to build a wall out of neat ivy bales. Cunningham is 70 and thin, with a white beard and a hole-pocked wardrobe that hangs from his bony back. He deemed it critical to inform me, right off, that he was a "conservative diehard" and a refugee from a family of left-wing radicals. "They've just been drinking too much of their Al-Gore. I'm here to escape their liberal poison. If I'm up here, I won't need to jump off the Democrats' shoulders, into the next pot of Democratic merde."
Cunningham set the ivy down. Then, with callused fingers, he rummaged about in his scattershot library. "Now this book here," Cunningham said, pointing to Shakedown, a scathing biography of Jesse Jackson, "I found it in a Dumpster. Very informative. And here is Martin Luther's translation of the Bible, from 1541. I'm reading the German right alongside my English Bible. And this [a newspaper clip] is about my good Doctor Dobson [the evangelical radio host James Dobson]." Cunningham received an inheritance of $7,000 recently, and he gave every cent to Dobson. "All of us diehards," he said, "are concerned about the breakdown of the social order."
In time, my friend steered the conversation around to a less heated topic. "Damion," he said, "what do you think of this ivy?" The weed winds its way up thousands of trees here. It serves as a reminder that, even in its shadiest and most tranquil recesses, Forest Park is still choked and threatened by the corrupting forces of civilization.
"The ivy is what keeps me here. Everywhere I go I have to pull ivy," Cunningham said. "What I really need is a scythe."
Briefly, I actually considered buying him a shiny new scythe. He would use it avidly, I imagined, addressing the ivy as though it were a Biblical pestilence. Already, bales of ivy stretched on for 30 feet by his home. But as I listened–now he was talking about "the gentrification of Venetian blinds"–I had to conclude that he was doing just fine without a sharp tool.
When Cunningham led us out, he cruised nimbly up the steep slope, flailing his bent ragamuffin frame through thickets of blackberries, until we reached the trail. "Wonderful, wonderful!" he said in high-pitched, ardent tones. "A pleasure!" He wiped his nose on his sleeve. Then he plunged back into the bush. Noontime joggers padded by, music wafting softly out of their iPods.
The park can save you. Once, on a spring evening 20 years ago, I met this girl for a hike up to Pittock Mansion, a baronial estate built in 1909 by a newspaper publisher. Now part of the park, it offers up lovely rose gardens and a spectacular east-facing view of the city and even the glaciers on nearby Mt. Hood. I brought a bottle of wine and a picnic blanket; she brought grapes and a chocolate bar. We hiked up through the woods in the gathering darkness. The light was gray and thin, the hill steep with switchbacks, and as I climbed my brow filmed with sweat. I felt transported, like things were about to change in my life. I'd just finished college, and the whole new struggle of being an adult–of being a young writer and getting rejection notes–had me feeling unrooted and uncertain. But now–this girl. I'd just met her, but from the three sparkling dates that we'd shared–well, I could just tell.
We reached the lawns of the mansion. The sun was setting; our only neighbors were other couples canoodling behind various rose bushes. I set down our blanket, then corkscrewed the wine. And then the girl let slip that, actually, she'd met this other guy.
I was cordial all the way down, but for me the world went black when she said that. I went home and slammed a forty of Hamm's and slept in my clothes. The next day, amid torrential rains, I returned to Forest Park, this time walking along the principal waterway, Balch Creek. I walked uphill, so the storm-swollen creek raged through its pebble-strewn course as the overstory of fir trees gleamed green in the midday semidarkness. It felt like the surging water was filling my veins–scouring me and making me new. I thought of this line from Gerard Manley Hopkins's poem God's Grandeur: "And for all this, nature is never spent."
Ever since, while visiting the park, I've felt a silent kinship with other hikers I see coming along the path toward me. I note the lone walkers, preoccupied, their minds seemingly in a distant, meditative place even as they negotiate the trail. And I think: Does the green, mossy splendor of the park seep into them slowly in the calm of the woods? Or does it come at them the way it hit me that one time–hard, offering instant revival? I don't know, but I regard them as pilgrims.
The park keeps secrets. A few years ago, I read that somewhere deep in the park a few kids had pulled together planks and fallen tree limbs to build an obstacle course–Neverland, they called it–where they jumped from log to log, laughing. I looked for the place and asked people about Neverland. I never found it. Had it been dismantled? Did it ever exist?
One morning last fall I found another strange dreamscape in Forest Park when, with a friend, I drove west alongside the railroad tracks and parked. On a wooded shelf just above Fat Cobra Adult Video, somebody–probably a contingent of teens–had built an illicit BMX bike park. There were perhaps 20 elliptical berms, each one about five feet wide and five feet across, in a spread the size of a tennis court.
The place was deserted, though, and the berms were lightly covered with vines, abandoned. My friend dismissed the whole project as a destructive mess. ("Look," he said, "at how they hacked up these tree roots.") But I knew that we were standing in some fanatical kid's notion of heaven on earth. All the construction had been done with shovels and picks. It must have taken hundreds of man-hours. And yet I could find only one tire track in the mud of the berms.
What happened? Where were these BMX kids now? It struck me that every square mile of Forest Park had probably played host to some secret and half-baked adventure. The Portland Humpin' Hash House Harriers run on the park's trails (and off-piste) almost every Tuesday, and whenever a Tuesday happens to fall on the twenty-second of the month (two-two) the harriers all wear tutus. Is there video footage of these shenanigans? There is not.
Perhaps this is a good thing, for in a city as big as Portland, it's nice to live undetected–in the woods and out of sight–even for a few hours.
The park is loved. There's probably no one who knows Forest Park better than Fred Nilsen. The park's chief arborist for 22 years until his 2008 retirement, Nilsen can meander to almost any spot here and feel the familiarity someone else might feel reading the newspaper in his bathrobe at home. He speaks of vegetation the way others might speak of their children. When I strolled along Balch Creek with him last fall, he kind of mumbled to himself, taking account. "Now here's poison oak," he said. "That's perfectly natural; it's not invasive. And look at these ferns. They're dry. This time of year, the forest is getting a little tired. We're just about ready for beddy-by, aren't we?"
Nilsen is 58 and sinewy fit, with a white beard and a wry grin. When he ran Forest Park, he exercised a loose-limbed generosity. He didn't kick out the homeless; rather, he befriended them and cajoled them to minimize campfires. When he encountered mountain bikers on hiker-only trails, he drew them aside for an amiable chat.
The park still isn't very regulated–the city just doesn't have the funds. But somehow it works. You can find volunteers pulling ivy, organized by the Forest Park Conservancy, a nonprofit. Or you can run across droves of hikers on a busy path and feel at peace in the crowd. A happy and vaguely miraculous vibe prevails.
People are always trying to bestow their respects on Forest Park, which can make Nilsen ornery. As we hiked along, Nilsen stopped and complained, "Now, here's a horse chestnut tree, of all things," he said. "It was probably planted. Someone thought they were helping, and now look at this one here"–a small chestnut sapling. It soon became clear that Nilsen was preoccupied with a Platonic ideal: He wanted a pristine park, devoid of invasive species and vibrant with primeval Northwest plants: trillium, Solomon's seal, Oregon grape. "What you want," he said, "is an ecosystem that's dense and robust–complex. But we live in a city. A dog goes off leash, the soil's disturbed, and weeds come in. Someone builds a patio upstream, there's erosion, and more disturbance."
Inevitably, there are other frustrations swirling around Forest Park. Mountain bikers insist that they get no respect–that their 10-mile trail network should be augmented. Others worry that new housing developments will squeeze Forest Park's elk onto such tiny islands of habitat that they won't survive.
Such fears are not unreasonable: Forest Park will never be Yellowstone. But perhaps it's the park's very vulnerability that will save it. People love the place because it's so improbable, this wilderness in the city; they marvel over how it is at once familiar and vast.
As Nilsen and I hiked, he told me that over the years he has walked more than 10,000 miles in the park. "But sometimes," he said, "I'll find myself in a part of the park I've never seen. It happened last winter, when I went out to meet maintenance crews. They told me, 'Go over this rise, then into that little canyon,' and suddenly, on the way there, I'd be in a new place, and I thought, 'Wow, there's more to learn, more to know about the land and what happens if people interact with it."
We were hiking in a scarcely traveled part of Forest Park by now–bushwhacking our way through dry thickets of salmonberries. Nilsen stopped now and bent over. "I knew we were in wild ginger," he said, plucking a leaf. "I could smell it."
We got to a tiny pool of water and, strangely, I heard something splashing. I thought at first that it was a fish leaping, but as we approached I realized the splashing was regular–every five seconds or so. In the middle of nowhere, there was a little pipe sticking up, geysering springwater. Nilsen, too, was surprised. "It's possible that I've never been right here before," he said.
We crossed a dry creekbed and began walking uphill, along a remnant path. It was overgrown and it curlicued along on the hillside. Neither of us knew exactly where it was going.
"I like the sphagnum moss here," Nilsen said. We pressed on, lost for a moment in the big woods.
Bill Donahue's "Walking the Talk" appeared in August 2008.