The Sustainable Travel Guide to Adventures in Michigan
With an abundant coastline, green initiatives guiding change on both peninsulas, and trail-filled forests that cover more than half the state, Michigan is made for eco-minded travelers
If sustainable summer adventures rank high on your list, don't look past Michigan. Get your fill of human-powered activities on thousands of miles of trails for biking, hiking, and even paddling. Or power your road trip with electricity as you explore the world's longest freshwater coastline. Whether you spend your time in cities, on remote islands, or everywhere in between, you'll have your pick of eco-conscious businesses to help you minimize your carbon footprint with sustainable lodging options and locally sourced, plant-based food. "My home state really shines when it comes to sustainable tourism," says Michigan local and sustainable travel expert Emily Kay. "I've seen so many businesses and towns come together to take care of our beautiful state." Here are some of the best low-impact ways to explore Michigan in summer. 
Take an EV Road Trip Around Lake Michigan
With access to four of the Great Lakes and countless smaller bodies of water, Michigan racks up more than 3,200 miles of shoreline—an impressive claim for a landlocked state. Road-tripping that many miles in a standard vehicle would produce about one metric ton of emissions. For a more sustainable option, plan your trip along the Lake Michigan EV Circuit Tour. The route connects 1,100 miles of drivable shoreline with reliable EV charging stations. "I will never get enough of the coastal towns along the shore of Lake Michigan," says Kay. "The drive is incredibly scenic, with historic lighthouses and vineyards along the way. Plus, you'll get to enjoy some of Michigan's best beaches and state parks."
Don't Miss: Kay recommends spending the day at Sleeping Bear Dunes National Lakeshore near Traverse City. "The 450-foot bluffs give you a unique vantage point for some of the most spectacular views of Lake Michigan," she says.
Plan Human-Powered Adventures
Michigan has earned its spot on the bucket lists of many outdoor lovers, especially when it comes to summer activities. "Since living here, I can honestly say there hasn't been a day that's gone by where we haven't enjoyed nature and the setting around us in some way, shape, or form," says Kay. "It's just a huge part of life in Michigan." From waterfalls and lakes to hundreds of acres of virgin forests, there's no shortage of beautiful destinations to explore. Paddle the Chain of Lakes Water Trail, which links 12 lakes over 100-plus miles of maintained trails. Don't have time for a multiday paddle? Explore one or two sections of the trail. Each segment is rated based on difficulty, so you can choose based on your group's comfort level. 
Michigan's 2,500-mile rail trail system also offers plenty of opportunities for seeing the state by bike or on foot. Check out the 17-mile Leelanau Trail, between Suttons Bay and Traverse City, which winds past cherry orchards, vineyards, and lakes. In winter, the trail is groomed for cross-country skiing and fat-tire biking. When you're ready to power down for the day, check out Headlands or Keweenaw dark sky parks. "Both are designated areas with minimal light pollution, which makes them prime spots for stargazing," Kay says.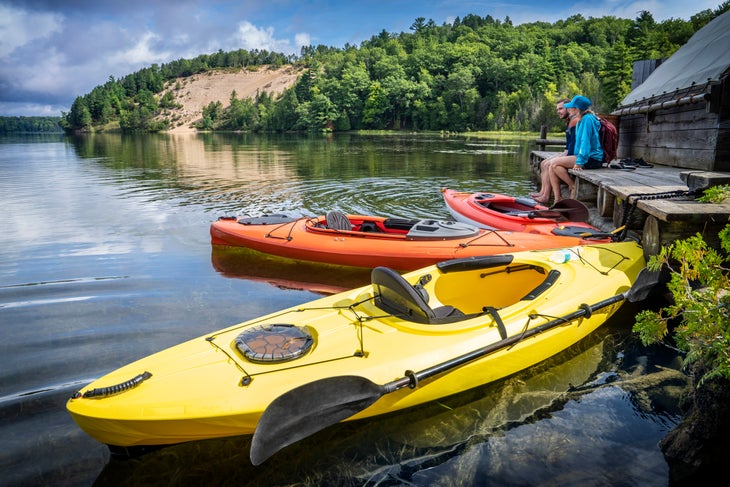 Visit an Emissions-Free Island
Situated between Michigan's Upper and Lower peninsulas, Mackinac Island offers visitors a unique and sustainable travel experience. To preserve its historic charm, Mackinac Island has prohibited motor vehicles since 1898. Instead, take a 20-minute ferry ride from St. Ignace or Mackinaw City. Then, get around the 3.8-square-mile island on foot, by bicycle, or in horse-drawn taxis. "My family always rents bikes when we visit Mackinac Island," says Kay. "My favorite activity is riding the loop trail around the island—about 8.2 miles." Most accommodations provide bikes, and rentals are available at local bike shops. "We've even rented a tandem bike before. It was a blast."
Nearly 80 percent of the island is part of Mackinac Island State Park, which preserves lush forests, towering bluffs, and rugged beaches. Hike or bike along more than 70 miles of trails to discover otherworldly limestone rock formations, including the famous 146-foot Arch Rock on the north side of the island. In town, pedal past Victorian architecture and pop into quaint shops, where you can pick up souvenirs from local artisans.
Don't Miss: Head to Round Island Kitchen for "farm to ferry" dining that features local produce, lake-caught fish, and other sustainably sourced ingredients.
Eat Local and Plant-Based
Thanks to a weather pattern known as the lake effect—where cold air that flows over the warmer lake water gathers moisture and storms onto its shores—Michigan has a thriving agricultural industry. And local chefs take advantage. Michigan's food scene is brimming with standout restaurants specializing in farm-to-table and plant-based cuisine. The Detroit Street Filling Station in Ann Arbor is a vegan hotspot. Try the raspberry-basil grilled cheese, made with cashew cream cheese and provolone-style vegan cheese. In Grand Rapids, Brewery Vivant leads the way in sustainable business practices as the world's first LEED-certified microbrewery. Grab a locally sourced bite paired with European-inspired beers. The menu is updated daily with seasonal beer and food specials.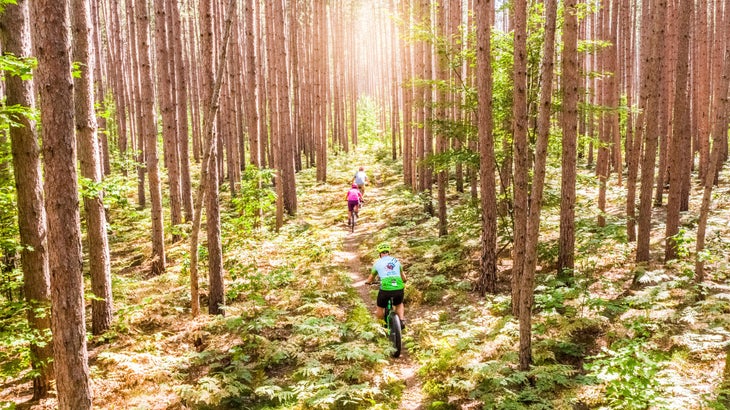 Stay at Eco-Friendly Lodging
Michigan offers a range of sustainable lodging options that can help minimize your environmental impact. Crystal Mountain's LEED-certified spa and fitness center in Thompsonville is one of just a handful of eco-friendly spas in the Midwest. The pedestrian- and bike-friendly resort community focuses on reducing emissions through sustainable energy sources and conservation practices. Its electricity provider, Cherryland Electric, powers the entire resort with over 60 percent zero-carbon electricity. Take a ride on the high-speed chairlift. Plug into five complimentary EV charging stations. And enjoy the in-ground closed-loop geothermal heating and cooling system at the resort's new Inn Residences. The El Moore Lodge in Detroit strives to use 80 percent less energy and produce 80 percent less waste than standard hotels. During construction, the property maintained as much of the original building materials as possible and sourced salvaged materials from around the city with Detroit Reuse. The on-site native plants garden is open to the public and maintained using a 4,250-gallon rainwater recapture system and neighborhood compost.
Tip: LEED certification isn't limited to hotels. Look for other LEED-certified businesses, including the Downtown Market and art museum in Grand Rapids and Huntington Place convention center in Detroit.
---
The Michigan Economic Development Corporation is the state's marketing arm and lead advocate for business and community development with a focus on growing Michigan's economy. For more information on the MEDC and its initiatives, visit MichiganBusiness.org.  For Pure Michigan® tourism information, your trip begins at Michigan.org. Join the conversation on Facebook, Instagram, Pinterest, TikTok, and Twitter.