The Manual: How to Explore a Slot Canyon
Explore these redrock mysteries safely with expert tips on gear and technique.
Heading out the door? Read this article on the new Outside+ app available now on iOS devices for members! Download the app.
Choose the Right Trip | Avoid Flash Floods | Master 3 Moves

Avoid Potholes | Gear Up
CHOOSE THE RIGHT TRIP

Early fall's dry, warm weather offers ideal conditions for canyoneering–but you still have to be careful about getting in over your head. Like rock climbs, slot canyons are rated for difficulty. Consider these four ratings when researching trips (start with the American Canyoneering Association at canyoneering.net); novices should opt for class 1 or 2, A or B canyons. Always check current conditions with rangers or local guides.
Technical rating

Class 1: Hiking; no rope necessary

Class 2: Scrambling; rope optional for handline or easy climbing

Class 3: Rappelling required

Class 4: Advanced ropework, multipitch rappels, exposed climbing required
Danger (no rating = average risk)

R: More risk than average (such as rock- fall, strong current, or large drops)

X: Extreme risk; experts only
Water

Class A: Dry hiking or wading

Class B: Swimming, no current

Class C: Current and waterfalls
Time commitment

I: Requires two to three hours

II: Normally requires half a day

III: Requires most of a day

IV: Expect a long day; start early

V: Overnight; takes a day and a half

VI: Expect more than one night
Choose the Right Trip | Avoid Flash Floods | Master 3 Moves

Avoid Potholes | Gear Up
AVOID FLASH FLOODS

Sudden, roaring torrents can be deadly for hikers trapped inside narrow slots. Here's how to stay high and dry.
Weather Always check the forecast for the canyon and the surrounding watershed before departure–heavy storms miles away can trigger catastrophic runoff. Rain likely? Postpone the trip. Get an early start in mid- to late summer, during thunderstorm season. Visit water.usgs.gov/waterwatch for flood watches and recent precipitation reports.
Preparation Identify escape routes on a canyon map in case of bad weather.
Prediction Watch for thunderclouds building on the horizon and get out of the canyon if they appear. Know the signs of an impending flash flood–sudden increase in water depth or speed, water turning muddy or dark, floating debris, and a jet enginelike roar–and get to high ground immediately if you detect them.
Choose the Right Trip | Avoid Flash Floods | Master 3 Moves

Avoid Potholes | Gear Up
MASTER 3 CANYONEERING MOVES
Flat-footing

When ascending, descending, or traversing angled slabs, place the entire sole of your shoe on the rock. Slightly bend your knees and keep your weight over your feet. "The goal is to maximize friction," says David Black, a 15-year ACA-certified canyon guide.
Stemming

To climb over obstacles (boulders, water holes) or descend drops in narrow slots, scissor your legs and push them into opposite walls. Press your hands into each wall and move your feet up one at a time. Repeat. "The opposing forces and friction act like brakes," Black says.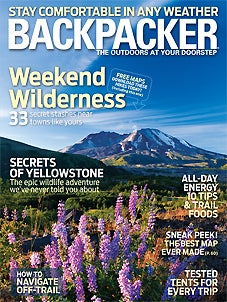 Chimneying

Move upward in a very narrow slot by pressing your back, hands, and butt against the wall behind you. Push both feet against the facing wall. Slide your back and butt up, then step your feet up to match. Repeat.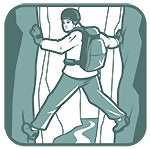 Choose the Right Trip | Avoid Flash Floods | Master 3 Moves

Avoid Potholes | Gear Up
Stay Away From Keeper Potholes

A dry or partially full pothole (or bowl-shaped depression) can trap you if its edges are too high to reach once you drop inside. To avoid these "keepers," test water depth by lowering rope into several spots and checking the watermark. If you can touch bottom, you'll be able to stand on a partner's shoulders or get a boost out. Too deep? Check if you can stem across it or traverse a side ledge. "Often, you'll find shelves running just underneath the water's surface," says Black. No safe way across? Turn back.
Choose the Right Trip | Avoid Flash Floods | Master 3 Moves

Avoid Potholes | Gear Up
GEAR UP
Pack Streamlined models with mesh panels and drain holes (such as Imlay Canyon Gear packs)
Wetsuit 3mm, Farmer John-style, for cool, wet canyons. Rule of thumb: You need one if the combined water/air temp is below 120°F. Also: neoprene gloves (or dishwashing gloves) and socks or booties
Footwear Mesh shoes that cover your toes and have good arch support and grippy rubber soles (such as the Five Ten Canyoneer)
Helmet Always: scrambling + loose rock = high risk for a head injury
Water protection Dry bags or plastic, screw-top kegs (we like Imlay Canyon Gear's 3.5-liter Dry Keg). Budget option: Triple-bag items in garbage or zip-top bags.