Summer Adventure Atlas: 50 Hikes / 50 States
When you're planning a weekend outing, you don't want good, you want the best. Well, here's perfect. These hikes tour the deepest backcountry, best views, and quietest wilderness areas in every state.
Heading out the door? Read this article on the new Outside+ app available now on iOS devices for members! Download the app.
Vishnu Temple, Grand Canyon National Park (Ed Callaert)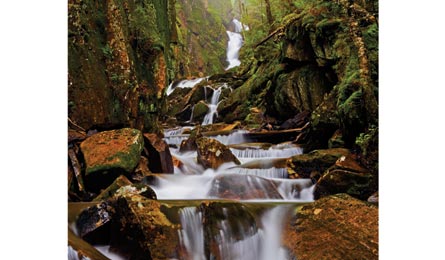 The Brothers Trail to Huntington Cascade (Jeffery Newcomer)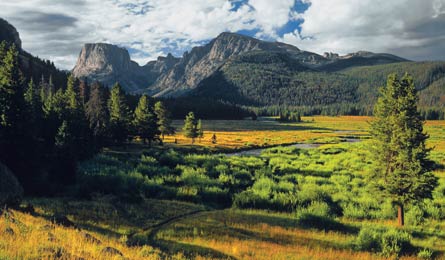 Square Top Mountain, Wyoming (Eric Wunrow)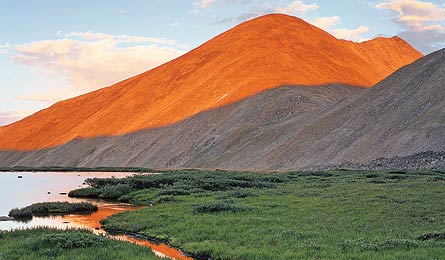 Mt. Yale, viewed from Denny Creek (John Fielder)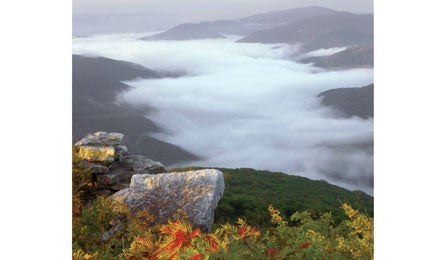 Roaring Plains Wilderness, West Virginia (Jonathan Jessup)
ALABAMA

Conecuh Trail

Conecuh National Forest

Explore lush cypress bogs.
Here's one hike where flat is synonymous with fun. This 23-mile deep South circuit weaves among cypress bogs, fragrant cedar and holly forests, and Alabama's densest collection of spring-fed ponds (aka swimming holes). From the Conecuh trailhead at Open Pond, an hour south of Montgomery, hike southeast past Buck Pond on a counterclockwise route around the 4.6-mile South Loop. You'll visit Five Runs Creek and Blue Spring, a turquoise-tinted pool that begs a dip. Hang a right at the junction to follow a four-mile connector trail, which extends north past Blue Pond to the North Loop, and hike 3.5 miles west to camp near Mossy Ponds and its cypress pillars (pack deet). Day two, continue past pitcher plants and longleaf pines to retrace your steps on the connector trail. MapConecuh TrailMap ($4, see contact) Contact (334) 222-2555; fs.usda.gov/alabama

ALASKA

Mt. Ripinsky Trail

Haines State Forest

Hike to fjord-wide views.
This lung-busting stairway to the heavens rises 4,800 feet over 10 miles and follows a ridge to four miles of open tundra with unobstructed views over a sea of glaciated peaks. You can dayhike it, but this point-to-point is best savored overnight, says Alaska Mountain Guides' Eli Fierer. Follow the 7-Mile Saddle Trail, which ascends past giant sitka spruces before reaching treeline at the 2,400-foot-high saddle, a brown bear hangout (the spring tundra grasses and late-summer berries are good snacks). Traipse through fields of pink fireweed (mid-June through July) to Peak 3,920, the hike's high point, then plunge down the cliffy east side (an anchored chain offers security). Camp at Jones Gap, a verdant hollow 4.7 miles from the start. Next day, continue over 3,563-foot Mt. Ripinski for more blown-open panoramas of the Chilkat and Chilkoot Rivers before descending rainforest to Young Road, in Haines. MapHaines State Forests Mt. Ripinsky Trail System (free at trailhead) or USGS quad Skagway B-2 ($8, store.usgs.gov*) Contact (907) 766-2120; seatrails.org

ARIZONA

Haunted Canyon Trail

Superstition Wilderness Area

Discover a hidden oasis.
If you can only do one hike in Arizona, you'd be hard-pressed to beat the Grand Canyon classic Grandview Loop (see right). But for under-the-radar solitude, our local scouts look outside the Grand to Haunted Canyon. "It's so lush and quiet, you won't believe you're in the Sonoran Desert, an hour's drive from Phoenix," says Annette McGivney, BACKPACKER's Southwest editor. This 12.6-mile hike starts with a weave through desert scrub at 3,140 feet with panoramas of the boot leather-colored Superstition Mountains sawing into the sky. After bouncing over a series of dry ridges, the route drops to follow an unnamed creek, winding among oaks and sycamores. At six miles, take a spur .1 mile south to Tony Ranch, a 1913 cabin near a spring. Fill up, then continue .2 mile to camp beneath the abandoned ranch's shade trees. Next day, retrace your steps, or continue west on the faint Bull Basin Trail four miles to Bull Basin, one of the Supes' most remote corners. Map Beartooth Publishing Superstition Wilderness Outdoor Recreation Map ($12, beartoothpublishing.com) Contact (928) 402-6200; fs.usda.gov/tonto

ARKANSAS

Ozark Highlands Trail

Fairview Rec. Area to Haw Creek Falls

Explore waterfalls and a natural arch.
This 21-mile point-to-point hike rambles through rock gardens, splashes across clear streams, and visits the 30-foot-long Hurricane Creek Natural Bridge. From Fairview Recreation Area at 2,170 feet, descend through oaks, hickories, and shortleaf pine, and camp beside Hurricane Creek at 10.2 miles. On day two, pass crumbling homesteads, Hurricane Creek's sandstone span, and Haw Creek Falls, a six-foot cascade that extends shore to shore and spills into muscle-soothing pools. MapOHT maps 10, 11, and 12 (free, ouachitamaps.com/OHT.html) Contact (870) 446-5122; hikearkansas.com

CALIFORNIA

Kibbie Ridge Trail

Yosemite National Park

Get Sierra beauty all to yourself.
"It's my top overnight in the Sierra," says Merrill McCauley, a Yosemite park ranger. From the Kibbie Ridge trailhead, at 5,880 feet in the Stanislaus National Forest, follow the Kibbie Ridge Trail past Shingle Spring before climbing 400 feet to the ridge. At 2.5 miles, skirt a marsh zipping with dragonflies in summer, then climb through Jeffrey pines to Lookout Point and its views west into the yawning canyon carved by Cherry Creek. At the national park boundary (mile six), the open ridge looks over a choppy sea of 7,000-foot, glacier-buffed granite domes. In another six miles, cut south off-trail to drop down to Many Island Lake. Camp on the north end for the best views and water access (you can swim to the nearest islands). Bring a tripod for sunset shots and mountains in the liquid mirror. Next day, regain the trail and continue two miles west to Boundary Lake, a pristine pool where the croaking of Yosemite toads echoes within the granite basin. Then retrace your steps down the ridge to the trailhead. Map Tom Harrison's Yosemite National Park ($9, tomharrisonmaps.com) Contact fs.usda.gov/stanislaus

COLORADO

Denny and North Cottonwood Creeks

Collegiate Peaks Wilderness

View the state's densest quiver of 14ers.
This 167,584-acre wilderness in central Colorado contains more Fourteeners (eight) than any other wilderness in the Lower 48, and this 24-mile route surveys the whole lot­. It also passes within easy striking distance of one of them, says Keith Baker, an owner of The Trailhead gear shop in Buena Vista. From the North Cottonwood Creek trailhead, hike west on the Horn Fork Trail and pick up Browns Pass Trail to Kroenke Lake, four miles in at 11,516 feet. Then zigzag across the Continental Divide to 12,420-foot Browns Pass (mile five) and blown-open views of Mts. Harvard (14,420 feet), Columbia (14,073 feet) and Yale (14,196 feet). To the west, the immense Texas Creek Basin yawns beneath you and frames the deeply chiseled flanks of the Three Apostles, an evocative rock formation. Hike south from the pass on the Denny Creek Trail, following the 1.5-mile-long spur to Hartenstein Lake for a 12.5-mile first day. Rise early the next morning, regain the Denny Creek Trail, and hike south .7 mile to the Mt. Yale Trail junction. Go east for four miles, climbing over open tundra to reach Yale's broad summit, then descend via Denny Creek to your car. Map Trails Illustrated Buena Vista/Collegiate Peaks ($12, natgeomaps.com) Contact (719) 539-3591; fs.usda.gov/psicc

CONNECTICUT

Appalachian Trail

Salisbury to the Massachusetts border

Bag the state's highest summit.
The state's loftiest walking—and bird's-eye views—await on this stretch of the Appalachian Trail through Connecticut's northwest corner, says David Roberts of Connecticut's Appalachian Mountain Club chapter. This 14-miler (round-trip) starts at CT 41 and heads north on a 2.7-mile ascent gaining 1,000 feet to Lion's Head, where panoramas unfold over lakes and farmlands to the south and east. Continue 3.3 miles to 2,316-foot Bear Mountain, the highest peak in Connecticut. Cross over the Connecticut/Massachusetts border and pitch a tent at Sages Ravine, a forested valley with a clear brook. Turn back on day two. MapMassachusetts/Connecticut Guide ($28, atctrailstore.org) Contact appalachiantrail.org

DELAWARE

Cypress Branch

Blackbird State Forest

Claim a secret campsite.
Strictly speaking, backpacking is all but impossible in tiny Delaware (state parks prohibit backcountry camping), making the Cypress Branch Shelter, nestled in hardwood forest 40 miles south of Wilmington, one of the state's hottest finds. Bonus: Most residents head out of state for trekking, so it's rarely crowded. The unnamed trail to it follows a creek before cutting through oak, hickory, poplar, and maple stands. It's only 1.5 mostly flat miles to the three-sided shelter overlooking a 15-acre beaver pond where eagles hunt and mallards cruise. Permit Free, pick up at forest office (302-653-6505) Map Get the Cypress Complex map when you pick up your permit. Contact dda.delaware.gov/forestry

FLORIDA

The Florida Trail

Big Cypress National Preserve

Stalk swampland panthers.
This 15-mile south Florida circuit borrows a leg of the Florida Trail and tacks on a blue-blazed connector to loop through cypress, pine flatwoods (the most extensive forest ecosystem in the state), open prairie, and oak hammock. "This is a real wilderness escape," says Florida Trail Association board member David Denham. It's also prime real estate for alligators, black bears, and Florida panthers—species that need room to roam. From the mile marker 63 trailhead on I-75 (Alligator Alley), hike 5.7 miles north on the orange-blazed Florida Trail. It parallels a ditch that's "full of alligators," says Denham. Hang a right on a blue-blazed footpath and cruise through marshes, grasslands, and cypress (habitats change with the slightest variation in elevation). Pitch a tent at Panther Camp and keep your eyes peeled. Area hikers have spotted two here (there are only 50 to 70 statewide). Next day, follow the trail south to the Florida Trail. Permit Free at trailhead Map Florida Trail Big Cypress North and South ($6, floridatrail.org) Contact (352) 378-8823; floridatrail.org

GEORGIA

Coosa Backcountry Trail

Vogel State Park

Tackle Georgia's toughest terrain.
Talk about a sneak route. This rugged, 13-mile loop passes beneath Blood Mountain, one of the state's most-trod peaks, but summits other, people-free balds instead. Go counterclockwise for easier climbing (the circuit includes more than a mile of cumulative elevation gain). From Backcountry trailhead, hike west on Bear Hair Gap Trail to Coosa Backcountry Trail, which stairclimbs over ledges to 4,338-foot Slaughter Mountain and Wildcat Knob. Camp at Coosa Bald, just off-trail at mile 5.4, for views over the emerald rollers. In the morning, continue the ride north, negotiating mossy streams and craggy descents before returning. Permit Required (free at the visitor center) MapNorth Georgia WMA Map ($8, atlanticmapping.com) Contact (706) 745-2628; gastateparks.org/Vogel

HAWAII

Muliwai Trail

Kohala Forest Preserve

Munch papaya under swaying palms.



This weekend is worth two on the mainland. The Big Island's 17-mile (round-trip) Muliwai Trail visits black-sand beaches, paradisiacal waterfalls—and groves of guava, papaya, and avocado trees that provide a five-star feast. Roll seven miles over dry, forested ridgelines and lush stream valleys to camp under swaying palms beachside at Waimanu Valley. Then follow a trailless route (marked by colored surveyor's tape) an hour upvalley to Waiilikahi Falls, an 800-footer plunging into a too-good-to-be-true swimming hole. Enjoy, then fruit-pick back by the same route. Permit Required ($18/night, camping.ehawaii.gov) MapMuliwai Trail (free, 808-974-4221) Contact hawaiitrails.org

IDAHO

Alice-Toxaway Loop

Sawtooth Wilderness

Trek to the state's finest alpine scene.
Idaho locals can seem numb to a good mountain view; such scenes are a dime a hundred in this wild state. But this loop brings smiles to even the most jaded. "It tours the Sawtooths' most jagged mountains," attests BACKPACKER's Northwest Editor Michael Lanza. "Plus, you get world-class camping, lakes, and waterfalls." From the Tin Cup trailhead at Pettit Lake, hike west six miles, climbing out of the forest to Alice Lake at 8,600 feet. Camp here, within sight of El Capitan's massive granite flanks and an impressively serrated horizon to the south. Next day, climb up and over a saddle to Twin Lakes, then continue over 9,390-foot Snowyside Pass to Toxaway Lake (one of the Sawtooths' biggest, at a mile long). Camp on the north or west shores for the flattest sites and best views of Snowyside Peak, and fish for brook trout in Toxaway's wide waters. Day three: Hike east 7.5 miles, passing Farley Lake and the booming waterfall just below it, to end among the wildflower meadows north of Pettit Lake. Map Earthwalk Press Sawtooth Wilderness Hiking Map and Guide ($10, boredfeet.com) Contact (208) 774-3000; fs.usda.gov/sawtooth

ILLINOIS

River-to-River Trail

Ferne Clyffe State Park to Panther's Den Wilderness

Wind among bizarre rock towers.
Southern Illinois escaped the glacial steamrolling that turned the northern end into prime farmland. Gnomelike rock towers abound. Explore them on the River-to-River Trail's 18-mile segment from Ferne Clyffe to Panthers Den, which links fern-clad waterfalls, rocky bluffs, 90-foot-long Pomona Natural Bridge (a mile-long detour north of the trail), and eerily silent hollows. MapRiver to River Trail Guide ($25, rivertorivertrail.com) Contact (618) 252-6789; fs.usda.gov/shawnee

INDIANA

Knobstone Trail

Deam Lake to Elk Creek Lake,

Clark State Forest

Tackle Midwest mountain terrain.
A bona fide butt-kicker in Indiana? Believe it: Indiana's longest trail, the Knobstone, extends 58 miles across the most (ahem, only) rugged terrain in the state. Thru-hike it and you'll gain a cumulative 10,500 feet of elevation. The 31-mile section from the southern terminus to Elk Creek includes the greatest challenges, according to Jeff Edmondson of the Indianapolis Hiking Club. "If you want a day of pushing yourself and earning that smile on your face, the Knobstone won't disappoint," he says. With switchback-free pitches, swift creek crossings, and the chance to spy sandhill cranes and wild turkeys, the Knobstone serves up a true wild-woods adventure. From Deam Lake, the forested route rolls northward over steep-sided ravines and quiet creek bottoms. Look for camping options between miles 12 and 20. Map Knobstone Trail ($4, 317-232-4180) Contact (812) 837-9536; knobstonetrail.net

IOWA

Backpack Trail

Yellow River State Forest

Discover the breadbasket's wilder side.
Deep woods instead of corn. Find them on the 25-mile Backpack Trail, which tracks through native oak on a rolling course across limestone bluffs west of the Mississippi River. Bring a rod and stalk trout at the many stream crossings, and camp pondside at Glen Wendel. Permit Fill out a registration card at the headquarters. Map Paint Creek Unit (free, 319-335-1575) Contact (563) 586-2254; iowadnr.gov/forestry/yellowriver.html

KANSAS

Elk River Hiking Trail

Elk City State Park

Trek the rock garden of the plains.
"Hiking the Elk River Trail makes you feel like you're not in Kansas anymore," says Jeannie Cornelius of the Kansas Prairie Packers. The 15-mile point-to-point squeezes through 30-foot-high rock tunnels, weaves along ragged cliffs, and climbs atop outcroppings affording views over Elk City Lake, oak-covered ridges, and rolling prairie. Camp in one of four sites at the Oak Ridge Public Use Area at the halfway point. MapElk River Hiking Trail (free, 620-336-2741) Contact (620) 331-6295; kdwp.state.ks.us

KENTUCKY

Pine Mountain Trail

Pine Mountain Trail State Park

Trace the rugged state line.



The 44-mile PMT slices through a never-logged forest and hugs the

cliff-studded ridge dividing this state from Virginia. Hike the 16-mile Highland Section, connecting a string of rocky knobs. From the trailhead on US 119, three hours southeast of Lexington, hike northeast, shimmying through the Lemon Squeezer (a narrow rock crack at 2.3 miles) before topping out at Mar's Rock (2,950 feet) and Mayking Knob (3,248 feet, the PMT's highest point). Dig views from Stateline Knob, then descend to camp at Adena Spring Shelter for an eight-mile day. Continue past the Twin Cliffs overlook and

the Old Meade Homeplace before descending to US 23. Map (free, pinemountaintrail.com) Contact (800) 255-7275; pinemountaintrail.com


LOUISIANA

Backbone and High Ridge Trails

Kisatchie Hills Wilderness

Blaze hills and ridges to bayou views.



The Kisatchie Hills Wilderness, whose border is just 15 miles north of Alexandria, is a pocket of rocky 300-foot hilltops. From the Backbone trailhead, combine the Backbone and High Ridge Trails for a 17-miler through wild azalea and dogwoods, with views over pine-carpeted hills. Camp at Sunshine Point, an Ozarks-like bluff along the Backbone Trail 1.5 miles north of the intersection with the High Ridge Trail. You'll have bayou views straight from your tent door. Map Kisatchie Hills Wilderness (free, 318-472-1840) Contact fs.fed.us/r8/kisatchie

MAINE

Eagle Lake Tote Road-IAT

Elliotsville Plantation

Hike a future national park.



Burt's Bees founder Roxanne Quimby wants to donate her 70,000 acres (abutting Baxter State Park's eastern boundary) to the National Park Service. In the meantime, she welcomes backpackers. For fishing and mountain views, hike north 10 miles on the Eagle Lake Tote Road (now a trail) from Stacyville Road. It hugs the Wassataquoik Stream and the East Branch Penobscot River. Hang a left onto the International Appalachian Trail and hike south four miles to Lunksoos Shelter to camp with a bull's-eye of Katahdin. Continue south, hang a left onto the Deasey Mountain Trail to rejoin Tote Road, and retrace your steps for a 21-mile lasso. Map USGS quads Stacyville and Katahdin ($8 each) Contact keepmebeautiful.org

MARYLAND

Appalachian Trail

Harpers Ferry to Ed Garvey Shelter

Survey the Potomac from rocky heights.



Our AT scout Jeff Chow calls Ed Garvey "one of the nicest shelters on the trail," thanks to its glassed-in, second-story loft. Bonus: The approach hike over Weverton Cliffs delivers soaring Potomac River scenes. From Harpers Ferry, hike six miles north up some 1,200 feet to views from South Mountain before following the ridge's spine to the Garvey Hilton. Dodge crowds by going midweek, or in April—when temps are mild but hikers are few. MapMaryland/Northern Virginia Guide ($33, atctrailstore.org) Contact (703) 242-0693; appalachiantrail.org

MASSACHUSETTS

Charles River from Norfolk to Boston

Discover Mass's most pristine corridor.



"The best trip in our state isn't a hike," says Steve Silberberg, a Massachusetts-based backpacking guide (fitpacking.com). "It's a canoe trip down the Charles River to Boston from Populatic Pond, near the river's headwaters." The 60-mile overnight begins in narrow sloughs and continues through a corridor filled with warblers, towhees, and wrens. Development is scarce—and turtles and great blue herons plentiful. Go in spring for the fullest flows and fewest portages; even in high water, it's predominantly Class I with a handful of Class II pockets. Camp at Rocky Narrows Reservation at mile 32 (reserve in advance, $25, 508-785-0339, thetrustees.org). MapCharles River Canoe and Kayak Guide ($12, crwa.org/crwa_store.html) Contact crwa.org

MICHIGAN

High Country Pathway

Pigeon River Country Forest

Stroll into a sylvan paradise.



This 36-mile segment of the 80-mile-long High Country Pathway winds through Lower Peninsula birch inhabited by the largest free-roaming elk herd east of the Mississippi. From Pine Grove Campground, hike south to Clear Lake for three days of ridge-topping at 300 feet and big-country panoramas over the unspoiled Black River Valley and Grass Lake. Camp at McLavey and Shoepac Lakes. Permit Required (free at any DNR office) MapHigh Country Pathway/Pigeon River Country Forest ($9, pigeonrivercountryforest.org) Contact (989) 983-4101; dnr.state.mi.us


MINNESOTA

Sioux-Hustler Trail

Boundary Waters Canoe Area Wilderness

Hone your routefinding skills.



Paddling is the main event up here. Which is why this 26-mile backpack loop delivers never-fail solitude on a route that feels deeper than its mileage would suggest. The first 5.5 miles to Devil's Cascade (Lower Pauness Lake spills 75 feet into Little Indian Sioux River) are well-traveled; the remaining 20.5 track faintly across moose meadows, over granite crags, and past lakes echoing with loons. Permit Required May 1-September 30 (free for walk-ins at BWCAW ranger stations, $6 reservation fee at recreation.gov). MapFisher Maps F-16 ($7, fishermaps.com) Contact (218) 626-4300; bwcaw.org

MISSISSIPPI

Black Creek Trail

DeSoto National Forest

Discover the real deep South.



"It's like traveling back in time," says the Mississippi Outdoor Club's Jim Trunzler of the 41-mile Black Creek Trail, which weaves through swamps, longleaf pine forests, and oxbow lakes of the coastal plain southeast of Hattiesburg. The 17 miles from Fairley Bridge Landing (the BCT's eastern terminus) to the western edge of the Black Creek Wilderness deliver a weekend-size slice. From Fairley, hike six miles across steeper-than-expected hills, and pass the Civil War-era ghost town of Red Hill, where gravestones date from the late 1800s. Camp just beyond the wilderness boundary, near the confluence of Mill and Black Creeks (the rapids here make ideal swimming come summer). Next day, continue west for 10 miles through gnarled magnolia to MI 29. Map USGS quads Bond Pond and Barbara ($8 each) Contact (601) 528-6160; fs.fed.us/r8/miss

MISSOURI

Brushy Creek Trail

Roger Pryor Pioneer Backcountry

Hike the state's most deserted forest.



Be among the first hikers to tread the brand-new, 19-mile Brushy Creek Trail, which slices through a creek-riddled forest of old-growth cedar and hardwood in the largest undeveloped tract of Missouri's public lands. From the Himont trailhead, the Brushy Creek Trail heads west, following an old railroad bed before diving into the Brushy Creek valley and passing several natural springs. Camp at mile seven, on the banks of the emerald-hued Current River. Next day, continue along the loop as it curls northward past sandstone outcroppings and silent hollows. Map USGS quads Powder Mill Ferry, Midridge, and The Sinks ($8-15) Contact (573) 546-2450; pioneerforest.org


MONTANA

Mt. Thompson-Seton Trail

Flathead National Forest

Score Glacier-caliber views.



Jeff Metsky, a USFS forestry technician, lives 15 miles from Glacier National Park but prefers the Flathead. Sacrilege? "Not when I get the same scenery with no crowds or permit hassles," he says. His favorite spot is the summit of 7,822-foot Mt. Thompson-Seton. From the North Fork of the Flathead River, the 12-mile (one-way) trail gains 3,120 feet and "provides views into the Canadian Rockies, Glacier, Flathead, Mission, and Whitefish Ranges," says Metsky. Camp in the bowl (where snowmelt provides a good water supply) about two miles shy of the summit. Practice good food-storage etiquette and watch for grizzlies. MapUSFS Flathead Forest Glacier View District ($4, 406-758-5208, fs.fed.us/r1/flathead) Contact (406) 387-3800; fs.fed.us/r1/flathead

NEBRASKA

Rock Bluff Run and Hardrock Trails

Indian Cave State Park

Hike where Eastern forest meets prairie.



Yes, there are real woods in this famously grass-rich state. This 18-mile circuit combining the Rock Bluff Run and Hardwood Trails requires a two-mile road walk to complete, but it's a small price to pay for 16 miles of old-growth oaks and hundred-foot overlooks from bluffs above the Mighty Mo. From Trailhead 7, hike the Rock Bluff Run Trail, hop on the Hardwood Trail to Indian Cave, a shallow overhang scrawled with centuries of I Was Here's. Then backtrack and camp at the shelter perched high above the river. Next day, continue west on Hardwood to Trailhead 5 and follow the park road east to your car. Permit Required ($13, available at entrance booth) Map Indian Cave State Park (free at park office) Contact (402) 883-2575; outdoornebraska.ne.gov

NEVADA

Emerald Lake Loop

Jarbidge Wilderness

Discover a high-alpine paradise.
With its instant views of a sea of 10,000-foot peaks, Jarbidge should be crawling with hikers—but it's crazy remote. Make the eight-hour journey from Vegas (two from Boise) and it's all yours. This 20-mile circuit ventures into the scenic heart of the namesake range. From the trailhead at Pine Creek Campground, follow the Jarbidge River Trail up the V-shaped canyon eight miles to Emerald Lake and gape at the gem-green waters set against the russet flanks of craggy 10,559-foot Cougar Peak. Next day, return to the saddle above Emerald and follow Trail 019 and the West Marys River Trail. Along the way, enjoy your final views of the Jarbidge Crest before returning to the Jarbidge River Trail and the homestretch. Map USGS quads Jarbidge South and Gods Pocket Peak ($8) Contact (775) 752-3357; fs.usda.gov/htnf

NEW HAMPSHIRE

Cohos Trail

Nash Stream State Forest and Dixville Notch

Nab White Mountain views—and solitude.
Classic granite ridges, state-spanning views, and endless blueberries? Yes. Weekend crowds? No. The northern end of the range is beyond a weekend radius from Boston and New York. Your path through paradise: a 27-mile point-to-point connecting bald, 3,700-foot mountains with waterfalls and swimming holes on the Cohos Trail. It delivers "one hell of an adventure," promises Cohos Trail pioneer Kim Nilsen. From Percy Road, follow the yellow blazes northwest to the saddle between cone-shaped North and South Percy Peaks. Leave the Cohos and follow a spur to 3,418-foot-high North Percy Peak, where a four-acre blueberry barren ripens come August. Rejoin the Cohos and hike north to an established campsite in the birches at mile seven. Next morning, descend to Nash Stream Road (and two miles of road-walking on this dirt lane) before cooling off at 80-foot Pond Brook Falls. A pool at the base and kettle holes above make primo dips. Next up: Summit 3,701-foot Mt. Sugarloaf on your way to Baldhead lean-to at mile 10. Day three brings 10 miles as you cross Dixville Peak and pass the 700-foot cliffs of Table Rock. End at NH 26. MapCohos Trail Maps 4 and 5 ($15, cohostrail.org/moosemarket) Contact (603) 363-8902; cohostrail.org

NEW JERSEY

Appalachian Trail

Delaware Water Gap NRA

Hike the wild Kittatinny Ridge.
Jersey hikers are divided on which of their two main backpacking destinations reigns supreme—the AT or the Pine Barrens. But while flat, sandy trails and huge expanses of bushy pitch pines are mesmerizing, New Jersey AMC trip leader Fred Mader casts his vote for the AT's greater variety of terrain. Hike the 14-mile segment from Millbrook-Blairstown Road to Culvers Gap, and you get moss-lined streams, far-reaching peeps from bald knobs where hawks glide, and—if you follow a four-mile (round-trip) blue-blazed detour—a visit to 90-foot Buttermilk Falls, Jersey's highest. MapNew York/New Jersey Guide ($23, atctrailstore.org) Contact appalachiantrail.org

NEW MEXICO

Rio Santa Barbara to Ski Santa Fe

Pecos Wilderness

Take the low road through high peaks.
Traverse the state's flagship wilderness in a weekend? This route gets it done by following fast-passage drainages that show off the range's precipitous 13,000-foot peaks from below. Take three days to cover these 38 miles. Day one follows the Rio Santa Barbara and crests Santa Barbara Divide; camp at Truchas Lakes. Next day, hike along Trailriders Wall before dropping down to Pecos Baldy Lake and ending at a campsite just shy of Lake Johnson. Day three, trip across several creeks before descending through aspens to Ski Santa Fe. Map USGS quads Jicarita Peak, Pecos Falls, Truchas Peak, Cowles, and Aspen Basin ($8 each) Contact (505) 757-6121; fs.fed.us/r3/sfe

NEW YORK

Seward Mountain

Adirondack Park

Bag a trailless high peak.



Once you've played out the state's flagship summits, take your peakbagging skills to the next level on 4,361-foot Seward Mountain, the peak that inspired Verplanck Colvin to preserve the Adirondacks as a park. Day one: Hike 5.4 miles east on the Ward Brook Truck Trail and camp at Ward Brook Lean-To. Rise early the next day, backtrack on-trail to the third brook, where a rock cairn marks the approach to Seward, and leave the trail to hike south along the brook's east side, climbing 2,340 feet over 2.1 miles to the wooded summit (vast views over Long Lake await just past the high point). Return to the trailhead, or continue southwest two tough miles to tag 4,140-foot Mt. Donaldson and 4,040-foot Mt. Emmons—the westernmost 4,000-footer in the 'Daks. Map USGS quad Santanoni Peak ($8) Contact (800) 395-8080; adk.org

NORTH CAROLINA

Mt. Mitchell Circuit

Mt. Mitchell State Park

Summit the East's highest peak.
Forget state. This hike vies for best weekend in the East. The view from the 6,684-foot summit (highest east of the Mississippi) makes neighboring peaks look like bumps. Bag it on this 20-mile loop, a favorite of Matt Perry, a trip leader with the Piedmont Hiking and Outing Club. From Black Mountain Campground, hike 3.5 miles west on the Mountains-to-Sea Trail and camp just beyond the stream crossing at Higgins Bald. Day two tops three 6,000-foot peaks, including Mitchell. Hike south on the Commissary Trail, then north on Old Mitchell Trail to the mountaintop observation deck with views over the Blue Ridge Mountains. Continue north on the Black Mountain Crest Trail over 6,648-foot Mt. Craig and 6,581-foot Big Tom, then descend to Commissary Ridge. Hang a left, top off your water bottles, and pitch your tent. Then close the loop with Commissary Ridge and Mt. Mitchell Trails. Map USGS quad Mount Mitchell ($7) Contact (828) 675-4611; ncparks.gov


NORTH DAKOTA

Petrified Forest Trail

Theodore Roosevelt National Park

Hike vast, wildlife-filled badlands.
These plains aren't plain: Bison, pronghorn, and elk roam the scrub- and grass-covered badlands. Join them on the 14.5-mile Petrified Forest Trail and add a 12-mile detour along the Little Missouri River. From Peaceful Valley trailhead, ford the Little Mo (water levels: 701-623-4466) and follow the Petrified Forest loop west. As it arcs south, head west off-trail to camp atop the bluffs overlooking the river. Next day, head downstream to Pleasant Valley. Permit Required (free, at the South Unit Visitor Center in Medora) Map Trails Illustrated Theodore Roosevelt NP ($12, natgeomaps.com) Contact nps.gov/thro

OHIO

Vesuvius Backpack Trail

Wayne National Forest

Explore a world of water and rock.
Cliffy hills surround Lake Vesuvius, 20 minutes from Portsmouth, and the 16-mile Backpack Trail wraps beneath the most striking wrinkled limestone formations. Climb to 400 feet above the lake with intermittent views into deep hollows of beech and maple. MapWayne National Forest Hiking and Backpacking Trails ($1, fs.usda.gov/wayne) Contact (740) 534-6500; fs.usda.gov/wayne

OKLAHOMA

Ouachita Trail

Kiamichi Wilderness

Tread the state's highest hills.
Because it follows the Kiamichi River (flows year-round), this 21-mile stretch of the OT is a favorite of one of our top mappers, Charlie Williams. Starting at Queen Wilhelmina State Park, it passes a pioneer cemetery before descending to the river (camp at 12.5 miles, just before trail and river part). Next day, climb 2,543-foot Wilton Mountain, then ridge-hop to the end. Map Queen Wilhelmina, Kiamichi, and Pashubbe (free at ouachitamaps.com) Contact (918) 653-2991; friendsot.org

OREGON

Timberline Trail to Elk Cove

Mt. Hood National Forest

Nab calendar-worthy Hood views.
"With a huge cascade, views of seemingly luminous Mt. Hood, and wildflower displays, this hike puts Oregon's signature attractions into one hike," says map correspondent Claudio Berstein. From the Top Spur trailhead, follow the Timberline Trail 7.4 miles east through Cairn Basin (a great place to break). It's five more miles, fording glacial rivers (lower flows come mid-June), to Elk Cove, Bernstein's favorite view—a grandstand tableau of the Coe Glacier and Hood's north face. Camp in the trees just below. Next day, head back to Top Spur. Permit Get a Northwest Forest parking pass ($5/day or $30/year, fs.fed.us/r6/passespermits) and a free wilderness permit at the wilderness boundary. Maps Green Trails Mt. Hood ($4, greentrailsmaps.com) Contact (503) 622-3191; fs.usda.gov/mthood

PENNSYLVANIA

Black Forest Trail

Tiadaghton State Forest

Climb high for big rewards.
In a state where dense greenery often thwarts mountaintop views, one overlook seems a treat­—but this loop has 42, an average of one per mile. Of course, they don't come easy: "This may be the hardest hike in the state, but it's definitely the best," declares Ryan Mullins, president of Penn State's 90-year-old Outing Club. The southern part of the loop gains (and loses) 1,000 vertical feet five times in five miles. But your payoff is near-constant panoramas. After crossing swift but shallow Pine Creek, you'll climb two miles to a series of blueberry-lined viewpoints overlooking 215,000 acres of hemlock-carpeted hills. Camp 15 miles in. The rigors (and views) intensify at mile 25, but from the 30-mile point, good camping options and easy cruising let you appreciate exposed sandstone and the cadence of Little Slate Run and Pine Creek, the hike's end point. Plan for three days (or create shortcuts by using old fire roads as bailouts). Permit Required for campfires March 1-May 25 and Oct. 1-Dec. 1, no fee (see contact) Map Black Forest Trail ($12, 570-320-0756) Contact (570) 753-5409; dcnr.state.pa.us

RHODE ISLAND

Breakheart Pond-Mt. Tom Loop

Arcadia Management Area

Enjoy an easy backwoods ramble.
Backpacking nirvana usually doesn't come this easy. This 13.5-mile loop gains only a few hundred feet in elevation, but serves up heaps of charm by way of babbling brooks, lily-covered ponds, and rock outcrops on 430-foot Mt. Tom. From the John B. Hudson Trail, link the Breakheart and Mt. Tom Trails; camp on 370-foot Penny Hill, where open ledges afford views across shimmering ponds. Permit Required (free at park headquarters, 401-789-3094) Map USGS quad Hope Valley ($8) Contact (401) 539-2356; riparks.com

SOUTH CAROLINA

El Lieutenant Loop

Mountain Bridge Wilderness Area

Hike along a rhododendron-lined river.
Sample this coastal state's burly side on a 10-mile circuit linking Jones Gap, Bill Kimball, and Rim of the Gap Trails. From Jones Gap trailhead at 1,320 feet, pass a series of cascades­ in the Middle Saluda River before climbing to the 300-foot rock face known as El Lieutenant (El Cap's eastern subordinate). Permit Required ($17, southcarolinaparks.reserveamerica.com) Map Mountain Bridge Trail Guide ($19, southcarolinaparks.com) Contact (864) 836-3647; southcarolinaparks.com

SOUTH DAKOTA

Norbeck-Centennial Loop

Black Elk Wilderness

Dissolve into the Black Hills' rock spires.
Black Hills hikers flock to 7,242-foot Harney Peak, the state's highest—leaving the adjacent Black Elk Wilderness all but empty. Explore granite spires poking out of the conifer canopy on a 17-mile clockwise loop from Iron Creek Horse Camp trailhead, using Norbeck, Grizzly Bear Creek, Horsethief Lake, and Centennial Trails; camp on Grizzly's north side. MapNorbeck Wildlife Preserve and Black Elk Wilderness (free, see contact) Contact (605) 673-9200; fs.fed.us/r2/blackhills

TENNESSEE

Savage Gulf

South Cumberland State Park

Hike stone chutes and see waterfalls.
Map correspondent Kelly Stewart has logged hundreds of bag nights here, and his nod for top weekender goes to a 12-mile route combining the Laurel, Big Creek Gulf, Stone Door, Greeter, and Big Creek Rim Trails. "It has the best views of Savage Gulf, a massive rock rift, and has a 120-stone-step climb to six waterfalls (depending on rainfall)," Stewart says. Camp at Alum Gap. Permit Required (free, 931-692-3887) MapSouth Cumberland Recreation Area (free at ranger station) Contact (931) 924-2980; state.tn.us

TEXAS

Lost Maples Loop

Lost Maples State Natural Area

Wander the state's watery oasis.
In a state where parched terrain often necessitates packing gallons of water, Lost Maples an hour northeast San Antonio is a dazzlingly lush exception. Plus, backcountry camping here lets you avoid the strings of day-tripping leaf-peepers who crowd the park entrance (color peaks in early November). Connect the West, West Loop, and East Trails for a 12-mile circuit through limestone canyons and the area's signature maples. Camp at secluded site F. Permit $8 per site plus $3/night per person; available at park office MapLost Maples State Natural Area (free at office) Contact (830) 966-3413; tpwd.state.tx.us

UTAH

Lone Peak Cirque

Lone Peak Wilderness Area

Sweat your way to high-alpine solitude.
Lone Peak's gorgeous, 11,253-foot spire and urban proximity would normally guarantee crowds—except that the 6,400-foot vertical climb (in five miles!) and the dearth of water up high provide a stiff barrier of entry. From the Ghost Falls trailhead in Draper, scale the steep Jacob's Ladder Trail to Lone Rock, a lumpy gray butte jutting out of the scrub. The route onward to Enniss Peak becomes unrelenting, as you gain 2,000 feet over a mile and a quarter: Vistas of Mt. Timpanogos and the Lone Peak Cirque alleviate the pain. Camp just north of Enniss, at the head of a typically dry drainage (occasionally wet in early spring) and rest your quads for the next day's summit bid. After scrambling into Lone Peak Cirque or up to the south peak (wrap around to the west for the least-exposed approach), break camp and reverse your route. Maps USGS quads Lehi, Draper, and Dromedary Peak ($8) Contact (801) 733-2660; drapertrails.com

VERMONT

Cooley Glen/Emily Proctor Loop

Breadloaf Wilderness

Climb to balsam-scented summits.
This section of the Long Trail tops three 3,000-foot summits. Turn it into a 15-mile circuit by starting with the blue-blazed Cooley Glen Trail. Go 3.2 miles to the LT. Turn right and traipse over Mts. Cleveland (3,482 feet) and Roosevelt (3,528 feet). Drop down the ridge's east side via the Clark Brook Trail, which hugs a boulder-filled stream. Camp within earshot of the babbler. Next day, regain the LT and follow it south through spruce-fir forest, cresting 3,745-foot Mt. Wilson and returning to the trailhead via the Emily Proctor Trail. Map USGS quad Lincoln ($8) Contact (802) 388-4362; fs.fed.us/r9/forests/greenmountain

VIRGINIA

Verlin Smith/Appalachian Trail Loop

G.R. Thompson Wildlife Area

See the nation's biggest trillium bloom.



These 4,000 acres of hardwoods on the east flank of Blue Mountain are rife with bear, deer, and songbirds. And despite lying just 60 miles from D.C., traffic is astonishingly light. From the Lake Thompson trailhead, take the Lake and Stone Walls Trails northwest for two miles to the intersection with the AT. Follow the white blazes south for five miles and camp at Manassas Gap Shelter. Next day, hike east on the Verlin Smith Trail, which slices through swaths of trillium—the nation's densest concentration of this May-blooming white wildflower, numbering some 30 million—before descending past springs and butterfly-filled meadows to Lake Thompson to close the 12-mile loop. Map USGS quad Charlottesville ($8) Contact (540) 899-4169; dgif.virginia.gov/wmas

WASHINGTON

Long Island

Willapa National Wildlife Refuge

Hike for clams and oysters.
Washingtonians swarm volcanic peaks like bees to a hive, making the coast an empty (and refreshing) paradise. Pack a bottle of Riesling and a recipe for pasta alle vongole, then sea-kayak across a 500-foot sliver of sea to 5,640-acre Long Island, famous for its luxe camping and shellfish. Twelve-plus miles of former logging roads spider over the island and connect five campgrounds containing 21 hike-in sites. Nab one at Smoky Hollow, 2.5 miles from the landing and a prime clamming spot. Skirt salt marshes where Roosevelt elk graze, follow the mile-long Trail of the Ancient Cedars through giant trees 14 feet in diameter, and shuck Manilas for a tentside five-star dinner. Permit Required in September only (free, 360-484-3482) Map USGS quad Long Island ($4) Contact fws.gov/willapa

WEST VIRGINIA

Roaring Plains Trail

Roaring Plains West Wilderness

Trek across a wild plateau.
Bouncing between 3,000 and 4,770 feet high, the Roaring Plains is a wind-hammered plateau above the Potomac Valley with skybox views of Seneca Rocks and the Allegheny Front. Trip through its meadows, mountain laurel thickets, and flagged spruce on this 11-mile horseshoe. From Bonner Mountain Road, follow the Flatrock Run Trail (climbing 2,200 feet, the greatest vertical gain of any official trail in WV) for five miles to the Roaring Plains Trail. Hike east a half-mile and camp on the high plain within sight of Mt. Porte Crayon's wooded summit, the highest point in the wilderness. Day two, continue east along the sheer cliffs towering above North Fork and meet the Boars Nest Trail, which descends to FR 19 and a 1.2-mile road walk to the trailhead. Map USGS quad Laneville ($8) Contact (304) 257-4488; fs.usda.gov

WISCONSIN

Ice Age National Scenic Trail

Yellow River Wildlife Area

Howl with Northwoods wolves.
Timber wolves favor the wild Yellow River headwaters, where you can still find huge swaths of uncrowded forest. Join them on this 13-mile (one-way) segment of the Ice Age Trail: From North Fork of the Yellow River, meander southwest on a flat course through birch and hemlock to Jerry Lake. MapChequamegon-Nicolet National Forests Visitor Map ($12, store.usgs.gov) Contact (715) 748-4875; fs.fed.us/r9/cnnf


WYOMING

Green River Lakes to Square Top Mountain

Bridger Wilderness

Savor matchless Wind Rivers solitude.
Long approaches—and determined bands of climbers, fishermen, and horsepackers—are hallmarks of the remote and epic Wind River Range, but this route detours away from the pack by veering off-trail to a high-mountain tarn. From busy Green River Lakes trailhead, follow the Highline Trail south four miles. Just past Upper Green River Lake, ford the slow, sandy-bottomed Green River. Then continue south, hiking off-trail up the Martin Creek drainage. You'll climb gently from meadows through pines, aspens, and talus fields. Finally, scramble up to the small bench where Marten Lake sits. Pitch your tent here for a 14-mile day. Next morning, retrace your steps—or turn the out-and-back into a loop by scrambling 1,600 feet up the steep, obvious gully to Square Top's tundra-covered shoulder. Unbeatable views of the entire range accompany your hike to the 11,581-foot summit, with Green River Lakes shining in the east and glaciers gleaming in the west. Descend via Granite Lake, on Square Top's more-popular east side, and loop back to Green River Lakes via the Continental Divide Trail for 21 total miles. Map Earthwalk Press Northern Wind River Range ($10, wildirisclimbing.com) Contact (307) 367-4326; fs.fed.us/r4/btnf