Secrets Of Saguaro National Park
The name doesn't say it all: Arizona's premier cactus preserve conceals a cool mountain escape.
Heading out the door? Read this article on the new Outside+ app available now on iOS devices for members! Download the app.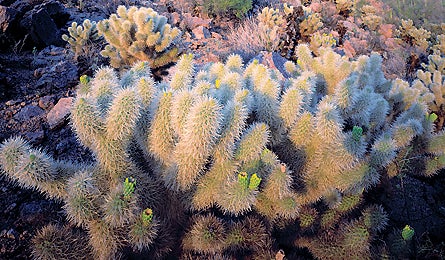 Saguaro NP is home to 50 species of cacti. (Mark Lisk)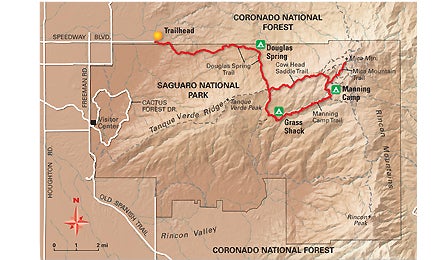 Map by International Mapping Associates
Few people know that southern Arizona has a national park, too. And that's the way locals like it. Saguaro (sah-WAH-roh) pulls in 93 percent fewer visitors than the Grand Canyon, most of them dayhikers, and its sky islands–verdant mountain ranges rising dramatically from the barren valley floor–are as much as 30 degrees cooler than the surrounding desert. Translation: easily attained solitude, a welcome break from triple-digit temps, and no elbowing for choice campsites. On this three-day, 28.5-mile reverse lollipop route, you'll accumulate nearly 10,000 feet of elevation gain as you rise and fall through six different ecosystems of cacti and pines rife with mountain lions and bears, and vistas so long you'll swear you can see the curvature of the earth. Mica Mountain, the highest sky island on the trek, is so close to Tucson and its 515,000 people that it might as well be considered another skyscraper. What's more startling is how easy it is to rise above it all.
Friday | Saturday | Sunday | Plan It
FRIDAY

The first day's a quad-buster as you hike 11 miles and several thousand feet into the Rincon Mountain forests. Get a mid-morning start at the Douglas Spring trailhead at the east end of Tucson's East Speedway Boulevard. The landscape bristles with prickly pear, teddy bear cholla, and giant saguaro cacti. Saguaros can live to be more than 150 years old–count their arms; it can take 75 years for just one to form. You'll climb from the sandy valley into rocky grasslands with 8,664-foot Mica Mountain rising to the south and the prominent Santa Catalina range to the north. After 5.7 miles, fill up with water from Douglas Spring before following the trail steeply past a series of ravines as you move up Mica's northern flank, shaded by piñon and ponderosa pines. At eight miles, you'll reach Cow Head Saddle, at 6,200 feet on Mica's ridgeline. There's a trail junction: Go straight and descend about 700 feet to your first night's camp, Grass Shack, with its three tent sites and an intermittent stream shaded by gnarly oaks and fragrant junipers.
Friday | Saturday | Sunday | Plan It
SATURDAY

You'll spend this day filling your memory card with sweeping vistas of southern Arizona's craggy, copper colored mountains. In the morning, continue your ascent of Mica by following the Manning Camp Trail eastward a little more than four miles, passing through oaks and piñon as you climb toward the peak. At Devils Bathtub Trail, bear left and ascend steeply one mile to Manning Camp and a reliable spring. After watering up, grab an energy bar, ditch your pack (you'll camp here), and set out to explore Mica's broad summit on a network of short, interconnecting trails. It's an easygoing five-mile ramble to Spud Rock, Reef Rock, Mica Meadow, and Mica Secondary, each with unforgettable views of saguaro-filled valleys. Return to Manning Camp, the largest backcountry campground in the park, with six sites and a year-round water source.
Friday | Saturday | Sunday | Plan It
SUNDAY

You've got a 12-mile hike back to the desert flats and your car. No worries, though, it's all downhill. Set out from Manning Camp along the Cow Head Saddle Trail, dropping nearly 2,000 feet to the Douglas Spring Trail. Turn right into the canyon you ascended just two days earlier, snap some panoramics of the craggy Santa Catalinas, and arrive at the trailhead in no time. Easy access goes both ways; stop by Tucson McGraw's Cantina (tucsonmcgraws.com) on Houghton Road, a park staff favorite, for margaritas and ribs. It's only 10 minutes away.
Friday | Saturday | Sunday | Plan It
Plan It

Map and Guide

Grab Trails Illustrated #237 Saguaro National Park ($12, natgeomaps.com) and Saguaro National Park and Santa Catalina Mountains, by Bruce Grubbs ($15, falcon.com).
Season
Year-round (expect snow up high in winter, hot temps down low in summer).
Permits

Required ($6/night); available first come, first served at the visitor center, or reserve up to two months in advance (520-733-5153; nps.gov/sagu).
The Way

In Tucson, take East Speedway Boulevard 17.5 miles to the trailhead.
Friday | Saturday | Sunday | Plan It