Right Place, Perfect Time: Olympic's Spring Waterfalls
Hike through a wild water park in Enchanted Valley.
Heading out the door? Read this article on the new Outside+ app available now on iOS devices for members! Download the app.
Distance: 27 miles
Time: 2-4 days
Elevation gain: 4,641 feet
In spring, Olympic National Park divides into two different worlds: the lower river valleys, which become a hiker heaven inundated by snowmelt, and the high country, still buried under feet of the white stuff. Tap into the best of both by hiking through the rainforest along the East Fork of the Quinault River while a massive network of ephemeral streams cascades down sheer rock walls beneath 6,911-foot Chimney Peak, creating an amphitheater of falls.
The endpoint of this trek, Enchanted Valley, is aptly named. Black bears, Roosevelt elk, and harlequin ducks are regular visitors; the backcountry campsites there have front-row seats to several waterfalls dropping hundreds of feet down a cliff-fronted ridge of dark grey rock. The Enchanted Valley Chalet, currently closed due to erosion by the river, is on the National Historic Register of Places and completes a scene that has changed little since it served as an Aircraft Warning Station during World War 2. Though the skies are often cloudy, the rushing Quinault River and moss-hung trees stand out even in the mist, and the roar of the cascades across the valley rings out even through clouds. On a sunny day, the mountain views are hard to beat. Head into the rainforest for a weekend or more spent exploring all this valley has to offer.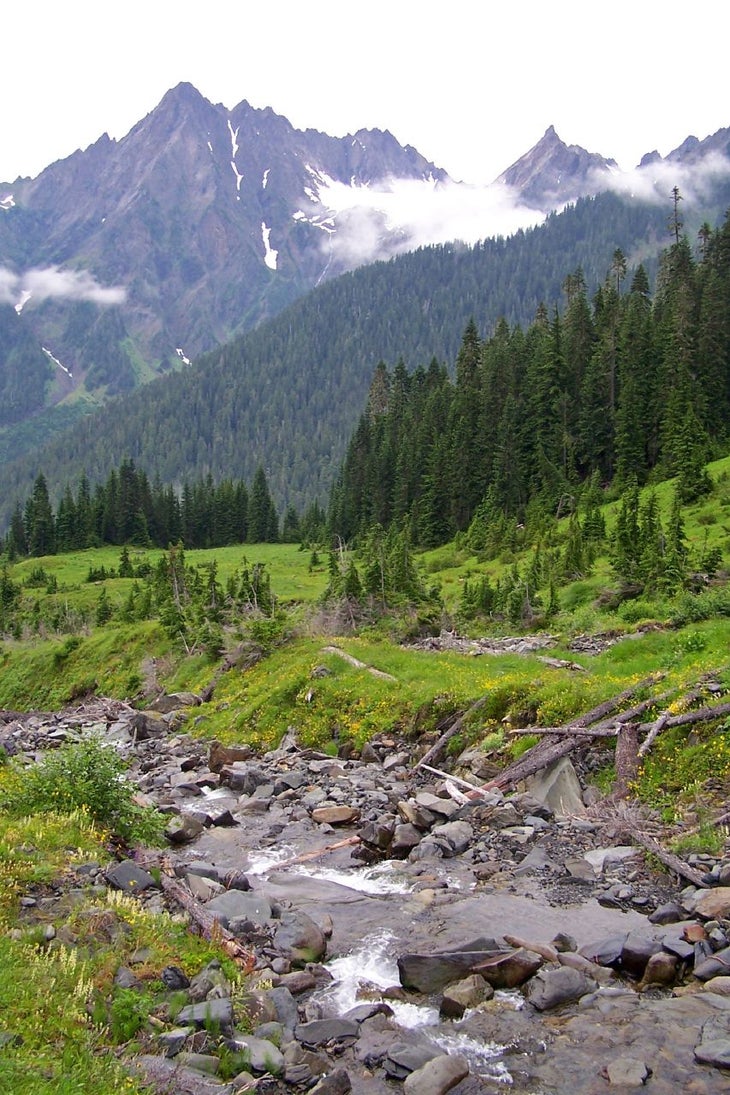 The Trail
Start at Graves Creek Campground. At the first junction, go left, continuing on the abandoned road that serves as this section of trail. At mile 2 the road turns to singletrack, descending steeply through thick forest to a picturesque bridge over the East Fork Quinalt. From there, the trail parallels the river, winding through a mixed forest of alders, maples, and enormous firs. At mile 6.7 cross O'Neil Creek to O'Neil Creek Camp, a good stopping point for an easy first day if you extend this trip beyond a weekend. The next campsites are at Pyrite Creek at mile 9.5, which has twelve established sites. Camp in established sites with bear wire at the Enchanted Valley backcountry camping area. The best sites, though, are at Enchanted Valley, 13.5 miles from the trailhead. Bears are commonly found in the area, so store your food well. You can reserve your sites and wilderness permit online up to six months in advance.
A Unique Ecosystem
Temperate rainforest is found in only a few spots around the world: Chile, New Zealand, Southern Australia, and the northwest United States. The rainforests of Olympic National Park once lined the coast from southern Oregon to Alaska, but logging, urban development, and other human activities have destroyed all but a few isolated areas. Olympic National Park protects one such remnant, where old-growth trees persist and hikers can experience this fascinating ecosystem. 12-14 feet of rain per year and temperatures that rarely deviate from between 32 and 80 degrees Fahrenheit set the stage for an explosion of plant growth. One important component of this forest is epiphytes, plants that grow around or on trees. In Olympic, these include mosses, ferns, and lichens. The oldest trees in Olympic's river valleys, often hung with epiphytes far into the canopy, can live for hundreds of years and reach heights of 250 feet and circumferences of 60 feet.