Finding Life After the Best Job in the Outdoors
For two decades, Rick Sanger worked as a backcountry ranger in Sequoia and Kings Canyon National Park. When it ended, it took his sense of meaning with it.
Heading out the door? Read this article on the new Outside+ app available now on iOS devices for members! Download the app.
The email arrived out of the blue and cracked a dark shell that had encompassed my life, suddenly allowing a shaft of light into my darkness. The message from Eric Blehm asked, "Would you be interested in being my photographer on an ascent of Mt. Morgenson?" Oh. Hell. Yes.
His question wasn't the usual, "Where's your ranger station this summer?" How many times had I been hit by that one over the past three years? Well-meaning inquiries that caused my jaw to clench and my heart to drop. On good days I could squeeze out a short answer, "right here." Then I'd force a smile and walk away before my grief embarrassed me.
For 20 seasons I'd wandered the sparkling wilderness of Sequoia and Kings Canyon National Parks as one of 15 backcountry rangers. Sprinkled throughout a roadless wonderland roughly the size of Rhode Island, we were each assigned an isolated patrol "cabin" (think large plywood box) that served as our home during the immersive four-month season. Our patrol areas often topped 50,000 square acres and took more than a day to traverse.
It was a life steeped in beauty. Enchanted by the sizzling boundary between blazing blue sky and the green-needled branches of lodgepole pines, I filled my water buckets from pristine springs and hefted them with muscles tanned and toned from mountain living. I woke with the chickaree's chatter and eased into each morning with anticipation for the day's adventure, whether a mellow exploration or a grand challenge. The summer's passing was ticked off by the early season song of the hermit thrush, the bloom and fade of Jeffrey shooting stars, the height of the corn lilies, the late season calming of the stream's frenzy. My wanderings were serenaded by the calls of chick-a-dees (be here now!) and perfumed by the mysterious smells that accompany streams as they skip and wander downhill. And I was always prepared.
The parks contain the highest peak and deepest canyon in the Lower 48: a universe of places to explore—and in which to disappear. I needed to be ready at any time to depart on a quick search for someone who didn't turn up in camp, or hike through the night to assess a fractured femur. In 1996 one of our own went missing and we searched for weeks without success. Randy Morgenson was a veteran ranger and a role model in my young eyes. He grew up in Yosemite and had been a seasonal ranger his entire adult life. His remains weren't found until five years later.
But I felt safer and far more at home among the mountains than anywhere else. The wilderness reflected my moods, teased my pride, bolstered my spirit. And far from being isolated, I felt connected to people from around the world. I eased visitors into the spirit of the place, offered route suggestions, passed on weather forecasts, repaired boots, supplied a little extra food, or just lent a compassionate ear. Under the open sky, people's hearts come out to play.
After 20 years the lay and texture of the land felt tangible in my mind. I always knew exactly where I was and could navigate the ranger routes to anywhere else. I'd logged 8,000 miles. My life had magic and meaning.
I was completely unprepared for it to end.
When it did, I was as lost as a tenderfoot. Like Randy, who had been depressed and dissatisfied before he disappeared back in '96, I had been gazing at the scenery without looking where I was going and suddenly all was dark and disorienting.
Mountains are magic, but mountains with a lover are the best. In 2006 I met Suzanne—a yoga instructor with a free spirit, curly hair, and a love of adventure. She visited me for a few days at my duty station near Pear Lake, a romantic log cabin with a western exposure that bestowed glorious sunsets and warm evenings. On the evening she arrived, I washed her hair on the warm granite slabs outside the cabin, rinsing out the shampoo with a flood of heated water poured from a metal bucket. The next day we hiked to Moose Lake, leaving at 6 p.m. I didn't know she'd never been off trail. At midnight, we were on our butts, inching down a steep slope to our final camp, when she suddenly exclaimed "If I die, my mom will hunt you down and kill you!" Later, she told me it was the best date of her life.
"You mean Type II fun?" I asked. "Only fun after it's over?"
"Nope," she clarified, "that was just fun. Type 1 fun."
Suzanne joined me each summer after that. As her competence and confidence increased, she became my de facto co-ranger. "I was made for this!" she once announced. "You are so lucky you met me." My reply, since there are only a handful of backcountry rangers, was "No, you are lucky to have met me." In 2009 we were married in a backcountry meadow with the trail crew attending (cummerbunds made from burlap feed sacks). The decision to have a child seemed harmless enough; we'd just have the little one along with us. And so our daughter was conceived in 2013 at Charlotte Lake Ranger Station.
Charlotte was born in May 2014. Staying home that summer was clearly best for us all, but it was challenging. It was typical for me to be worn down in the spring by a year's worth of projects squeezed into the winter months at home. But that year, nesting projects had been added to the usual list and culminated in the care of a newborn daughter. I headed into the summer in a sleep-deprived haze, doing what I could to build up a home-based business I'd started a few years prior, making specialized equipment for Ayurvedic practitioners. I was grateful, at least, that working at home allowed Charlotte and I to get to know each other. I hung in there knowing we'd be in the backcountry again soon enough.
The following summer, when Charlotte was a year old, we returned to the mountains. On June 6, 2015, Suzanne and I slowly climbed toward 12,000-foot Kearsarge pass with Charlotte on her mama's back. A late storm was darkening the sky, but ahead of us was a summer filled with promise. I smiled, imagining our daughter as a toddler exploring meadows of Jeffrey shooting stars. Just over the top of the pass and out of the wind, Suzanne hunkered down to nurse Charlotte. I held up a poncho to shelter them from the gently falling snow. Later, after six hours of hiking, we came to the shore of Charlotte Lake. The last golden light of the day streamed in under the clouds and lit the mist rising off the water. We squinted into the glow, as if trying to better see a luminous treasure. I was giddy with excitement as we made our way around the lake to the 200-square-foot, one-room cabin. Inside, we found a mountain of boxes: summer supplies we had meticulously prepared during the preceding months. These had arrived by mule string a few days earlier, for which I was enduringly grateful to our mule-skinner colleagues. I built a fire in the small woodstove, we settled in, and I fell asleep with a deep sense of accomplishment and safety. I was where I loved to be with those I loved most. We were warm, safe, and ready.
That summer we danced in the cabin, did yoga in the meadow, and explored the wilderness through a toddler's eyes. Charlotte rode on Suzanne's back waving to visitors or slept deeply, drugged by the rhythm of mamma's stride. By the end of the summer, Charlotte could name 10 animals in the guidebook (by signing) and follow after me with a hiking pole saying, "Hike! Hike! Hike!" I had shown her the best life could offer and it was just going to get better.
At least, that was my version. Back home I slowly realized Suzanne's version was different, one wrought with a sense of isolation, constant worry, and bone-deep physical and emotional exhaustion. She longed to be with other moms, to eat fresh, organic vegetables. She was "over it." She was Not Going Back. But… that meant… I wasn't going back. We were a family, and in my mind, returning to the backcountry alone was not an option. What my mind knew was in direct opposition with what my heart desperately wanted, creating a poison that started to eat my gut.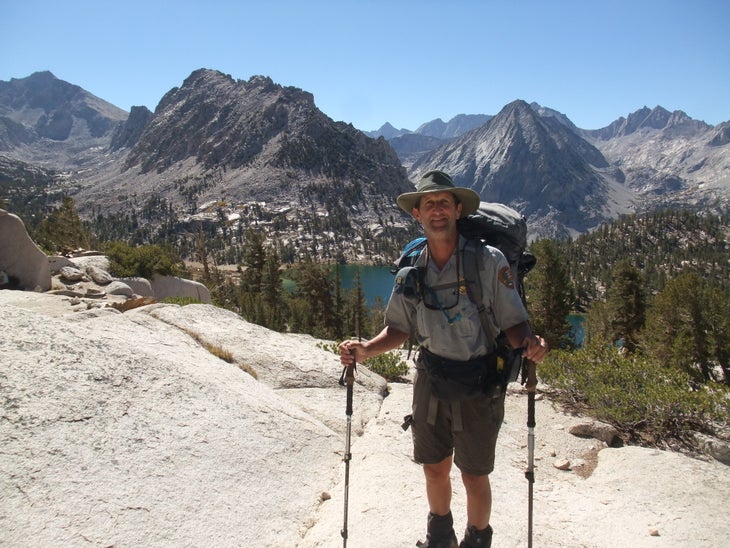 I dreaded the arrival of February. Decision time. I knew I'd be getting a call from my park supervisor with the ritual exchange and an offer of a summer position, the position I'd occupied for so long. But when February came and the phone rang I had made no decision and had no peace.
"Will you be returning this summer?" he asked. It was a new supervisor, there was none of the usual small talk. The conundrum flared red hot. The only answer possible was "no."
"OK, Rick. Thanks." Line dead. Twenty years. I gazed at the linoleum edge of my desk.
Eventually I got up and went back to what I'd been doing since we returned home: laundry (diapers), dishes, maintaining everything that surrounds an overwhelmed mother with a nursing daughter—only this time there was no summer wellspring as a motivational carrot. I spent a lot of time working in my unheated basement and sitting in front of the computer, trying to build up my home business. I was far from meeting our expenses. I tried to stay on task, but my being kept seeking a way back to the park. I sure couldn't justify it financially, but I so yearned to sit on a rock that had been placed there 80,000 years earlier by a retreating glacier. I needed to repair the side railing yet I ached to wake up under blue sky with the day and the wilderness stretching out in endless promise. There was another order to fill. I struggled to stay focused. I started waking up at 3 a.m. with my heart racing in panic, grief, regret, resentment.
Slowly, I realized that natural beauty wasn't the only thing I missed. "Being a ranger" was my short answer to "who Rick was." In losing this, I lost my sense of self. I've always felt on the fringe of society, and rangering gave me a label I could lean on for legitimacy. My work had an immediate effect on people's lives. Even in the off-season, I wore hiking boots and ranger pants. Now I was just some dude taking up space.
Charlotte had friends now. Two-year-olds were turning three. I went to the parties. The other dads, much younger than me, held beers. The moms set out dishes, responded to outbursts of crying, coaxed their kids to share, and between bursts of laughter, nervously compared notes about child-rearing. Helium balloons got loose. Ice cream melted. I smiled when required and stayed with jaw clenched until I could leave without pretext.
The months went by. One day we took a walk along an irrigation ditch that wandered through some trees and meadows. I was repulsed by the concrete lining of the ditch and the noise from the highway. It wasn't at all like the pristine, sphagnum moss-lined spring I had found once, emerald green beneath the granite spires. The disparity of what was and what could be created an overwhelming wave that swept me away from the present. I hid in my fantasies and memories: Glen Pass at midnight under the blazing stars, my tiny cabin, the flickering fire in the stove.
I had experienced something extraordinary that I could not return to. Something like walking on the moon. I wondered if astronauts felt this way. Coincidently, I came across an article about Buzz Aldrin (second person to walk on the moon), who after leaving NASA experienced clinical depression, alcoholism, and divorce.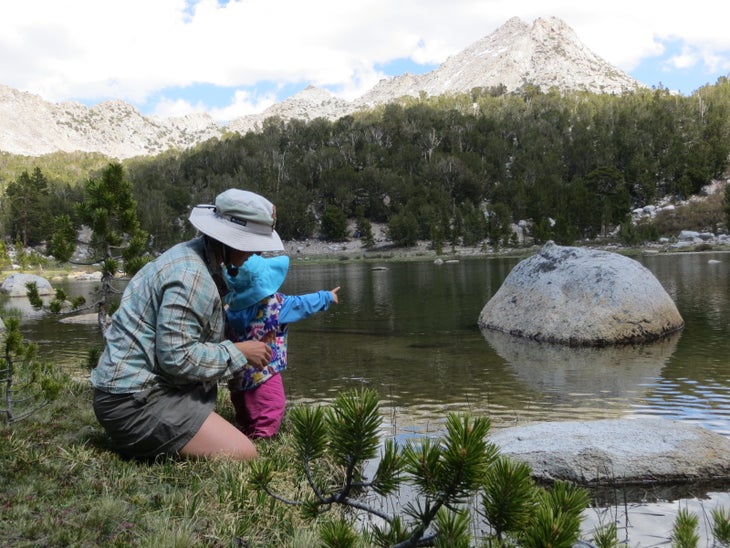 The months went by. I cried a lot. I reached out to other ex-rangers with an email: I wrote of the "…spirit that touched us all… Hell, hugged us so tightly to its chest for so many years that I'm not quite sure what to do now I don't have it."
George Durkee, who had been a backcountry ranger for 40-plus years, wrote back, "And, oh yeah, don't think about the backcountry. As Randy once observed, there's no such thing as a happy ex-backcountry ranger. I watch a lot of kitten videos. Very soothing."
Sandy Graban wrote, "The celebration of spirit that Rick speaks of is for all of us our Being. There is this essential thing that few share. Mostly no one else knows, and it kicks me in the gut at chosen times."
Dena Paolilli took 11 months to reply. "Last summer, I was too depressed not being in the backcountry to even respond to this email thread but felt honored that I was included …"
And of course, there was Randy. When I met him, he felt professionally unappreciated and ill-compensated. His marriage was unraveling and he was struggling with childhood wounds. He was looking for meaning and inspiration to take him into the next phase of life. But he could offer me no advice now. He was gone, his death a mystery the mountains would never give up. Maybe it was that emotional struggle that had killed him. I felt the ease and lure of death.
It didn't help that I felt more isolated than I ever had in the mountains. Suzanne was 150 percent focused on keeping Charlotte happy and healthy. She didn't want to be a bad mother; she bathed Charlotte in a waterfall of attention and affection. I was 2 feet away and dry as a bone. She accused me of not being present. I accused her of shutting me out. I felt I had lost two loves: Suzanne and the Sierra.
A year passed. I submitted an application for the 2017 season. I had no idea how it could work out, but I had to do something. A major shift in personnel had been occurring at the park like no other in 20 years, which made the application process oddly unfamiliar: like arriving home for Christmas only to find some other family had moved into your house. Perhaps that for which I so deeply yearned no longer existed.
As the months passed, I steeled myself and focused on my business. I just needed to work harder. I concentrated on preparations to exhibit my products at an upcoming professional conference. Some sales would help.
Two days before flying to the conference, I got a call from the park. A job offer. A late job offer. I'd have one week to prepare for the summer—preparations that took three months in 2015.
I slammed into another wall of confusion. Suzanne was steadfast in not wanting to go—and clear about all the reasons why a summer in the Sierra didn't make sense. It was less clear to me. But what was clear was this: If I threw my parka in a backpack and bought a few cases of ramen I'd likely lose my wife, my family, and my business. Still I waffled. What were those things worth if I wasn't able to enjoy them? And this was my last chance: Not returning to the park this time would lead to the lapse of critical certifications.
Again, I said "no." I couldn't abandon my family, couldn't leave them adrift in a small boat.
All summer I questioned that decision. I imagined the three of us in that small boat. Maybe it was my weight that was making the boat so unseaworthy. Maybe if I had left, they would have rigged their jackets into a sail and found an island paradise. I pushed through the questions, kept at my work, and fought against a lung condition which confounded veteran pulmonologists. I struggled for inspiration in both breath and spirit. I sought therapy of all sorts, from antibiotics to shaman healers.
Another year passed. Early in 2018, I was on the phone with my mother, telling her about Buzz Aldrin and musing about others who might have felt similar: combat vets perhaps, or Olympic athletes… "Or a lot of my colleagues," she interrupted, "who should have retired a lot sooner than they did for fear of losing their identity as doctors."
Duh. I got it. Everyone experiences this—it's called loss. And eventually, we all lose everything.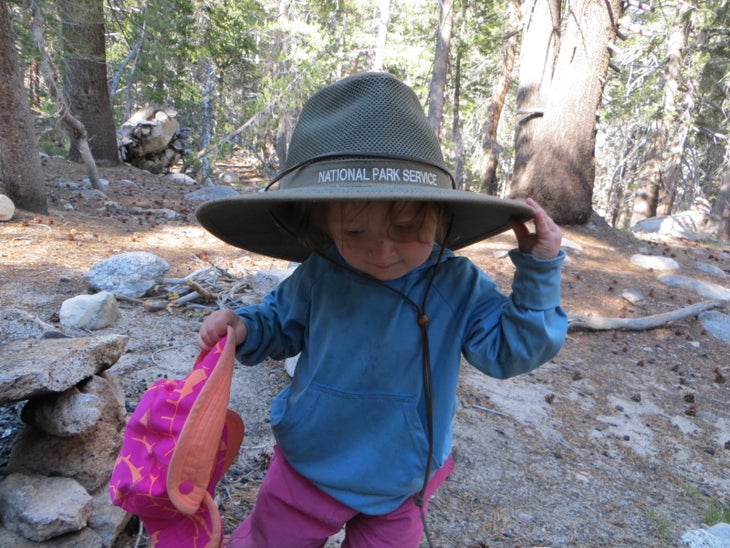 A friend of mine used to be a trapeze artist with Cirque du Soleil. She had leapt into the void, twirling mid-air in front of hundreds of thousands of people. She could relate. "We have a saying in the circus," she said. I leaned in close, anticipating a cool piece of entertainer wisdom. "Don't lament the show being over. Be grateful you were a part of it."
I managed a straight face for a moment, but only a moment, "That's no circus saying!" I laughed, "that's life!" But I had yet to cross over the bridge from loss to gratitude.
I applied for the 2018 season out of habit. This time I was rejected with a form letter. Ouch. Two months after that was when Eric's email arrived with an invitation to climb Mt. Morgenson, a previously unnamed peak, nearly 14,000 feet high, that rangers had unofficially named as a tribute to Randy Morgenson. Would I join him? I sent a reply without hesitation.
"Oh. Hell. Yes." I sat up at my keyboard and looked around, smiling. The room was a little brighter. Within a few days I got out a map. I started researching routes. I planned out a training regime. I replaced thread-bare equipment and clothing. I strategized about how to acclimatize, how to increase the odds of getting an old, out of shape, depressed ranger with a chronic cough to 14,000 feet. I spent hours on Google Earth considering routes. I chose one camp to include a stunning view of Mt. Morgenson and Mt. Whitney. I found apps that showed where the sun and moon were going to be and was astounded to discover that our trip would coincide with the full moon and that the moon would rise over Mt. Whitney from that camp. It was cosmically synchronous!
My research wasn't limited to geography. I also came across another astronaut story: Alan Bean. He became impassioned with painting after leaving NASA, describing himself as an "artist that once was an astronaut." He fared far better than Buzz. I pondered who I was deep down beneath all the labels. Who have I always been? I dug and dug but couldn't get past the ranger thing. But… maybe… I didn't need to get past it. I'm a ranger and always have been, always will be: kind, competent, resourceful, celebrating my strength, seeking out bits of nature's magic and wanting to gift them to others.
Reaching the top of Mt. Morgenson took everything I had. Yet it gave me many times that in return. Sure, I had a plan for the climb, but ultimately the mountains decide the outcome and any element of success is a gift to be accepted with humility and gratitude. This time the gift was from Randy, too.
I won't be submitting a park application this year—the first time since 1993. My business has nearly doubled over last year and I'm coming close to covering my family's expenses. I found an herbal tincture that has reduced my cough drastically. I can breathe again. I take short walks each morning, and while there is no lakeshore near our Grass Valley home, it's in the foothills and I can feel the Sierras in the air. One night, I had a dream that I was stationed in a cabin at the top of Mt. Whitney that had four glass walls and unbelievable views. As I write this, Suzanne came in and put her head on my shoulder.
I attended a 4-year-old's birthday party last night. It was New Year's Eve. I had a spirited conversation about the philosophy of photography with another dad and watched my daughter pick out a bow for her hair. She considered her choice carefully with the help of another 4-year-old, then placed it carefully on her head using a mirror—arranging it amongst the 11 others already there. My heart sweetened; I smiled spontaneously and I had no desire to sneak away early.
Is my struggle over? No. But now I see it in a different light.
When I luxuriate in the Grandeur Of It All spread out before me from some lofty and remote mountain ridgeline, I'm well aware that my exultant feeling arises from more than the view. It comes from the determination and struggle that got me up the hill, and ultimately, it comes from the sum of my entire life to that moment.
I have to trust that my journey through this deep valley will lead me to the highest view of all, perhaps to one of blinding ecstasy. Sometimes our trail is exhilarating, sometimes it seems likely it will destroy us. Sometimes loss comes all at once, sometimes it's spread out. Perhaps someday I'll look back and think the past three-year struggle was just Type II fun.
Out hiking last week, I picked up a stone and asked my friend, "Know what kind of rock this is?"
"Granite," he said. "Igneous."
"Nope." I replied. "It's metamorphic—it'll change you."
During his two decades as a backcountry ranger, Rick Sanger earned a Valor Award and an award for Exemplary Service from the Department of the Interior.
Read Eric Blehm's story about his and Rick's hike to Mt. Morgenson in the July/August issue of BACKPACKER, on newsstands now. Learn more about the disappearance of Randy Morgensen here. 
And for information on The Last Season, Blehm's book about Morgenson, visit http://www.ericblehm.com/.