Perfect Substitutes: Crowd-Free Destinations
You know that the big-name parks draw big-time crowds. But each of those outdoor icons has a lesser-known replacement that offers some of the same classic features and epic scenery–and you get it all to yourself.
Heading out the door? Read this article on the new Outside+ app available now on iOS devices for members! Download the app.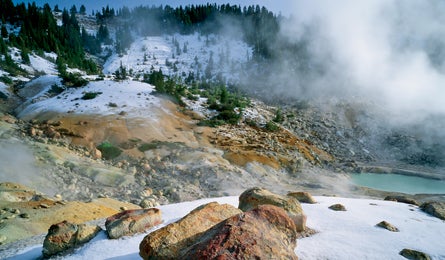 Pyrite Lake, Lassen Volcanic NP (Larry Ulrich)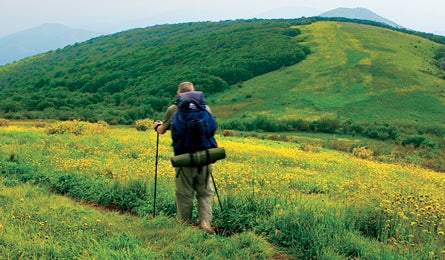 Big Bald, Pigsah NF (Willie Johnson)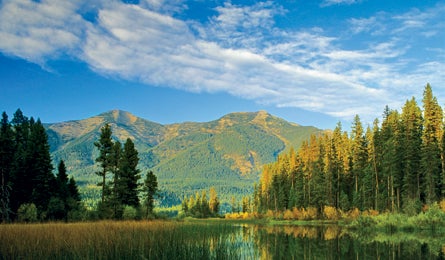 Swan Lake, Bob Marshall Wilderness (Chuck Haney)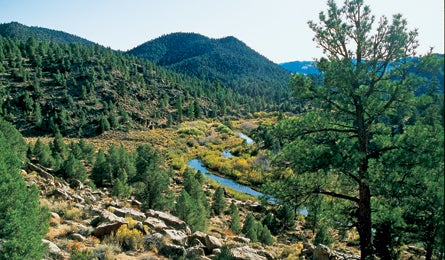 Dome Land Wilderness (George Wuerthner)
Lassen Volcanic National Park, CA | Pigsah National Forest, NC | Bob Marshall Wilderness Complex, MT | Dome Land Wilderness, CA | Mahoosuc Mountains, ME | Algonquin Provincial Park, Ontario | Owyhee Uplands, ID/OR
The numbers don't lie: Backpackers are brand-conscious about hiking destinations. On summer weekends, the marquee parks–Great Smoky, Grand Canyon, Yosemite–are understandably crammed with people, frontcountry and back. Go in peak season, and you run the risk of paying retail for that park brand.
We can get it for you wholesale. The fact is that popular hiking spots like New Hampshire's White Mountains can be replicated elsewhere. The rugged hiking above treeline for which the Whites are renowned can be duplicated 25 miles away in Maine. Yellowstone's otherworldly thermal features have a proxy in northern California. Glacier's dose of active ingredients–mountain crags and megafauna–comes undiluted in another Montana wilderness.
So consider switching brands. You might forfeit some justifiably famous photo ops, but it's yours for less: less crowding, less red tape, less frustration–and more bang for your backpacking buck.
Lassen Volcanic National Park, CA | Pigsah National Forest, NC | Bob Marshall Wilderness Complex, MT | Dome Land Wilderness, CA | Mahoosuc Mountains, ME | Algonquin Provincial Park, Ontario | Owyhee Uplands, ID/OR
Swap out: Yellowstone National Park

Swap in: Lassen Volcanic National Park, CA
Geology isn't measured by the eon at Lassen; it's a current event. Fumaroles hiss, mudpots burp, and backcountry lakes bubble. A hint of rotten-egg hydrogen sulfide occasionally wafts on the breeze. The mountain itself is a temperamental toddler, formed 27,000 years ago–yesterday, in geologic terms–and it erupted as recently as 1915. Earth's violent process of tectonic recycling is on display here (mostly for the exclusive benefit of backpackers) as at no other park in the Lower 48 but one: Yellowstone. At both parks, a plume of molten rock from deep within the planet sits perilously close to the surface. Periodic eruptions mark the landscape, making Lassen a showroom for the full volcanic product line, including hydrothermal features and examples of four types of volcanoes–plug dome, shield, cinder cone, and composite. Naturally, all this action gets geologists worked up about the place. "It's very exciting to have all of these volcanoes in such proximity, and have so much recent material to examine," says Dot Loftrom, coauthor of Geology Trails of Northern California.
Backpackers can get worked up over the 150 trail miles, and the fact that the park flies below the tourist radar. "Lassen's where we go on Memorial Day and other holidays because it's so uncrowded," says Richard Bothwell, the "chief fun officer" for San Francisco's Outdoor Adventure Club. "We'll lead groups to the top of a cinder cone with a panoramic of lava beds and colored dunes, and it blows people away."
2 Days

That great stringer of scenic beads, the Pacific Crest Trail, slices through the park's center, from Badger Flat to Little Willow Lake. An 18-mile shuttle trek brings you close to fascinating geothermal features, like the bubbling, highly acidic cauldrons in Devils Kitchen (a highly recommended 4-mile round-trip detour); Boiling Springs Lake, which simmers at 125°F; and Terminal Geyser, a steam vent that warms and odorizes its immediate surroundings. The PCT is relatively flat here, so the miles go easily. Camp in near Twin Lakes, or beside any of the creeks feeding into Corral Meadow.
3 Days

Call this the firewater tour, heavy on volcanic relics and loaded with lakes. The secluded 30-mile route starts at an unnamed trailhead just inside the park's southern boundary in the Warner Valley, and ascends steeply from inside an ancient caldera to an elevated plateau. Cruise past Juniper Lake through forests of lodgepole pine to camp on Snag Lake's north shore, where you can poke around the Fantastic Lava Beds, enormous flows of black basalt that oozed from the base of nearby Cinder Cone in 1650. (The lava dammed a stream, forming Snag Lake.) The next day, scuttle through loose cinder up and over stark Cinder Cone for views of Lassen and other, lesser volcanoes. After rounding Butte Lake, spin off toward Widow Lake into the park's emptiest quadrant. The trail to Red Cinder Cone, which also eventually leads to a camp beside Jakey Lake, soon becomes faint, demanding routefinding skills. Finish by retracing your steps from the first day around Juniper Lake.
Plan It

Pair the 1:48,000 Lassen Volcanic National Park map ($9) with Tracy Salcedo's Hiking Lassen Volcanic National Park ($15).
Lassen Volcanic National Park, CA | Pigsah National Forest, NC | Bob Marshall Wilderness Complex, MT | Dome Land Wilderness, CA | Mahoosuc Mountains, ME | Algonquin Provincial Park, Ontario | Owyhee Uplands, ID/OR
Swap out: Great Smoky Mountains National Park

Swap in: Pisgah National Forest, NC
Gray wolves, grizzly bears, bald eagles. To the ranks of great comebacks in the annals of natural history, add the names of two wildernesses in the southern Appalachians. By World War II, the areas that would become the Middle Prong and Shining Rock Wildernesses appeared to be down for the count, the land denuded, burned, and eroded. Hike its verdant coves and mile-high balds today, and you'd never guess this picturesque landscape was such a wasteland just six decades ago.
The Middle Prong–Shining Rock complex is just one highlight in Pisgah, which sprawls across half a million acres in the Blue Ridge and Appalachian Mountains. From the deep cleft of Linville Gorge up north to Looking Glass Rock's granite dome in the south, Pisgah offers scenic diversity unrivaled in the southern Appalachians. Except, that is, for the neighboring national park, visible on a clear day from 6,410-foot Balsam Knob in the Middle Prong Wilderness.
Pitting Pisgah against Great Smoky is like comparing Babe Ruth to Hank Aaron. Pisgah has 850 miles of footpaths, including 138 miles of the Appalachian Trail. Great Smoky has 800, with 69 AT miles. Pisgah tops out at 6,440-foot Potato Hill; Great Smoky at 6,643-foot Clingmans Dome. Pisgah boasts the national-caliber Art Loeb and Mountains-to-Sea Trails. Great Smoky counters with a diversity of plant life unequaled in North America. In terms of crowds and bureaucratic hassle, though, there's no contest: Great Smoky, with 10 million annual visitors and a restrictive permit system, loses by a landslide.
2 Days

North of Hot Springs, NC, the AT doubles back on itself, traveling south and east to arc around one of the state's largest remaining roadless areas and a seldom-visited gem, the Shelton Laurel Backcountry Area. This forest is deep and well-watered, the ridges steep and loaded with bear dens. Waterfalls abound and hemlock and tulip poplars attain outsized proportions in hidden hollows. Piece together a 15-mile backpack loop, half of it rolling along the 4,000-foot crest of the aptly named Bald Mountains, by using the AT to link the Jerry Miller and Green Ridge Trails. At Bearwallow Gap, detour less than a mile south on the newly rerouted AT along a knife-edge ridge to Blackstack Cliffs, where you can admire eastern Tennessee's blue, mauve, and purple ridges.
Plan It

The Appalachian Ranger District (828-622-3202) has free trail guides. Also get the Appalachian Trail Conservancy's map set 133, Tennessee–North Carolina ($12; atctrailstore.org).
3 Days

Wilderness does not always equate solitude; witness the deservedly popular Shining Rock Wilderness. Hikers flock to the Rock for extended above-treeline hang time on the Art Loeb Trail, which tags five 6,000-footers between Black Balsam Knob and Cold Mountain. The 360-degree views from grassy summits are too good to be missed, which is precisely why we include the best 3 miles of the Art Loeb on our 20-mile circuit. But when everyone else heads for the camp-o-ree at Shining Rock Gap, you'll indulge in total privacy by veering off into the wildest sections of the two wildernesses. This route uses the Mountains-to-Sea, Art Loeb, and Investor Gap Trails to close the V created by the Fork Mountain and Fork Ridge Trails. You'll stay above 5,000 feet much of the route. After slicing through stands of red spruce and yellow birch and pockets of stunted beech, you'll scoot, blinking, into bright sunlight on grassy knolls. Start either at Black Balsam Knob trailhead (highest in the East) or at Sunburst Campground, depending on whether you like your monster climbs coming or going. Pack spare water bottles so you can dry-camp near Green Knob, in the Middle Prong, or Birdstand Mountain in Shining Rock.
Plan It

Use Trails Illustrated 780, Pisgah National Forest ($10), and/or USGS quads Sam Knob and Shining Rock.
Lassen Volcanic National Park, CA | Pigsah National Forest, NC | Bob Marshall Wilderness Complex, MT | Dome Land Wilderness, CA | Mahoosuc Mountains, ME | Algonquin Provincial Park, Ontario | Owyhee Uplands, ID/OR
Swap out: Glacier National Park

Swap in: Bob Marshall Wilderness Complex, MT
Grizzlies have no respect for boundaries. If the land is big, humans few, and food abundant, they'll claim it, whether it's national parkland or federal wilderness. In the Lower 48, the Bob is one of the few places wild enough to satisfy a griz.
The 40-by-100-mile complex is actually three wildernesses combined–the Scapegoat, Great Bear, and Bob Marshall. Entire mountain ranges fit within its borders, as do verdant river valleys and broad prairies. At 1.5 million acres, Bob Marshall is half again as large as Glacier. And unlike that more famous neighbor to the north, in the Bob you can't simply drive a Going-to-the-Sun type road into the interior. "I'm humbled and inspired every time I get on one of the high peaks there," says Bill Cunningham, who has guided more than 200 backpacking trips in Bob Marshall for his company, High Country Adventures, in Choteau. "Everything I see within a 360-degree sweep–as far as 70 miles–is wild and unroaded. That's overpowering."
And rare. Bob Marshall is a last vestige of primeval America. Elk and moose browse its meadows and marshes; mountain goats and bighorn sheep clamber its rocky ridges; eagles, hawks, and falcons soar its thermals; cutthroat and rainbow trout swim its streams; and lynx, mountain lions, wolves, and wolverines stalk its forests. "If you want an authentic wilderness experience with less regulation," Cunningham says, "go to the Bob Marshall."
2 Days

Explore the lake country beneath glaciated peaks on a strenuous 21-mile loop into the Swan Range, on the wilderness's wet west side. The forests are thicker, trees bigger, and lakes more common here than over on the east. Starting from Holland Lake's north trailhead, hike 7 miles uphill to Upper Holland Lake and the junction with Pendant Pass Trail 457. Horse traffic can be heavy to this point, but you'll shed the pack trains by veering left to Pendant Pass, the entry into the wilderness. The trail descends gradually for 5 miles past the string of Pendant Lakes to a junction with Big Salmon Creek Trail 110. Jog north 1 mile, then left onto Sapphire Lake Trail. Climb gently to the rocky-shored Necklace Lakes. Return to Holland Lake via Necklace Pass, where the views are stellar but the descent brutal: You'll lose 3,600 feet in 4 miles. Consider adding a day to linger at Necklace Lakes.
7 Days

With 1,856 miles of trail and all that wildlife, Bob Marshall is backpacking's Costco. Load up on jumbo-sized wilderness with a suitably ambitious, 42-mile shuttle route into what Cunningham describes as "the front of the Rocky Mountain Front," inside the complex's remote Scapegoat Wilderness. This is where tilted limestone reefs crest like waves above the Great Plains. On a weeklong guided trek with High Country Adventures ($850; high-country–adventures.bigstep.com), you'll hike into a river chasm at Devils Glen, witness a forest's rebirth at the site of the huge 1988 Canyon Creek fire, explore deep caves, and spy on elk and grizzlies snacking on the alpine plateau below 9,202-foot Scapegoat Mountain. "It's the highest peak in the whole Bob," Cunningham says, "with a clear view of ranks of peaks, and then the northern Great Plains in the distance, looking like the ocean."
Plan It

Erik Molvar's Hiking Montana's Bob Marshall Wilderness ($20) has route information. For the 7-day trek, get USGS quads Benchmark, Scapegoat Mountain, Jakie Creek, Heart Lake, and Steamboat Mountain; the Rocky Mountain Ranger District (406-466-5341) has beta. For the 2-day hike, get Holland Lake, Holland Peak, and Big Salmon Lake West, and call the Swan Lake district (406-837-5081).
Lassen Volcanic National Park, CA | Pigsah National Forest, NC | Bob Marshall Wilderness Complex, MT | Dome Land Wilderness, CA | Mahoosuc Mountains, ME | Algonquin Provincial Park, Ontario | Owyhee Uplands, ID/OR
Swap out: Yosemite National Park

Swap in: Dome Land Wilderness, CA
From a vast High Sierra meadow, a lush carpet of grasses and wildflowers unfurls toward pine and fir forest. Above the trees, granite domes and spires climb more than 1,000 feet into the cloud-free sky. Trails follow the many streams entering and exiting the meadow. Sounds like Yosemite's Tuolumne, doesn't it? Guess again. It's Manter Meadow, some 250 miles to the south along the Pacific Crest Trail, in Sequoia National Forest's Dome Land Wilderness.
Here you'll find reasonable facsimiles of Yosemite's legendary landmarks. Acres of exposed granite slab abound. Bart Dome and Stegosaurus Fin may not be as big or as dramatic as their Yosemite counterparts Half Dome and Cathedral Peak, but neither do thay attract the kind of traffic seen in Curry Village.
Dome Land, with 94,695 acres at the southern tail of the Sierra Nevada, is markedly drier than Yosemite. This, plus the lower elevations (3,000 to 9,400 feet), makes it a good choice for spring and fall, when snow still clings to high-mountain locales. The wilderness has long been a favorite among rock climbers, who tramp half a day to access bolted sport routes on Bart Dome and Church Dome. "There's fantastic, heavily featured granite everywhere in Dome Land that was never polished by glaciers," says Mike Merg, owner of the adventure company Untamed Path.
Take all that granite, add forests of widely spaced piñon, lodgepole, and Jeffrey pine (and a notable absence of poison oak), and you have in Dome Land a recipe for serious off-trail exploration.
2 Days

The South Fork Kern River can run big in spring, blocking some routes. If that's the case, backpack a 22-mile route linking three monstrous meadows on the wilderness's west side. From Big Meadow, make a counterclockwise loop utilizing the Manter, Woodpecker, Machine Creek, and Sirretta Peak Trails. In recent burn areas, the blooms of penstemon, ceanothus, and other wildflowers are especially profuse. Tack on a few extra miles by detouring down Dome Land Trail to scamper to Bart Dome's base for killer views.
4 Days

Circle Dome Land's stony core on a 30-mile loop that originates at either Big Meadow, on the wilderness's west side, or Rockhouse Basin on the east, depending on snow. (Big Meadow is 2,000 feet higher, and the approach road opens later in spring.) The route skirts Manter Meadow and follows the Manter, Rockhouse, and Woodpecker Trails. Sticking exclusively to trails would take the fortitude of Odysseus, given the lure of easily climbed nearby formations like Stegosaurus Fin and Dome 8300. The scramble up 8,360-foot Rockhouse Peak's 3rd-class east face rewards with sweeping views of granite domes, spires, and fins rising like whitecaps above a green sea of pine. Access the top from the saddle between White Dome and Rockhouse Peak. Take Merg's advice and build in a layover day for scrambling to the tops of the area's many granite heights. For a prime basecamp on a sand bank, scout off-trail along perennial Trout Creek. Trails are unmaintained and can grow faint. Watch your timing; from May into June, snowmelt can make the route's two South Fork Kern River crossings untenable.
Plan It

Pair the map Dome Land Wilderness ($11; totalescape.com) with Exploring the Southern Sierra: East Side, by J.C. Jenkins ($18).
Lassen Volcanic National Park, CA | Pigsah National Forest, NC | Bob Marshall Wilderness Complex, MT | Dome Land Wilderness, CA | Mahoosuc Mountains, ME | Algonquin Provincial Park, Ontario | Owyhee Uplands, ID/OR
Swap out: The Presidential Range

Swap in: Mahoosuc Mountains, ME
What a difference a few thousand feet makes. That's the vertical divide between the Mahoosucs and the Presidentials. Both ranges claim physically challenging trails. Both boast long sections of treeless ridgetop hiking with whoa-inducing views. Though separated by the Androscoggin River and a state border, the Mahoosucs and Prezzies are kin, both part of the White Mountain system. What the Mahoosucs lack that the Dead Presidents have in abundance is foot traffic. Maybe it's that just one of its peaks exceeds 4,000 feet, but the Mahoosucs attract a fraction of the humanity that flocks to Washington and its ilk. Though smaller in stature, the Mahoosucs' sharp climbs and open summits deliver a big-mountain experience. Appalachian Trail thru-hikers know the Mahoosucs as the place where they slow to a crawl, literally: The only way through the obstacle course of boulders in Mahoosuc Notch–widely considered the hardest of the AT's 2,150 miles–is by slithering, backpack removed, through slots barely wider than Nicole Richie.
"The Mahoosucs have a reputation for being rough, but some people are still overwhelmed by their ruggedness," says Scot Holt, who spent last summer as the Appalachian Mountain Club's "Mahoosuc Rover." Not that Holt heard many complaints. "Most people are impressed by the beauty and isolation."
2 Days

The open vista from 3,870-foot Goose Eye Mountain takes in the Presidentials and Carter Dome, as well as a fair chunk of western Maine. Walk north on the Mahoosuc Trail-AT, and as you continue through wide-open heath to Fulling Mill Mountain, the hits keep coming. Holt calls these 5 miles the "beauty spot of the Mahoosucs." On a 16-mile trek utilizing the Speck Pond, Mahoosuc, and Carlo Col Trails, you'll wiggle through the Mahoosuc Notch jungle gym and splash in rock-lined Speck Pond, one of Maine's few alpine kettles. Camp at Full Goose, near the hike's midpoint, and at the end hike several miles on unpaved Success Pond Road to link trailheads.
3 Days

Big loops hereabouts are about as common as a Mainer pronouncing his R's. Which explains the buzz surrounding the 42-mile Grafton Loop Trail, scheduled to open this year (see "Thrown for a Loop," May 2006; check matc.org/glt1.htm for details). To fit an adventure into a long weekend, bite off the western half: 21 miles of freshly blazed trail that departs ME 26 to tag Sunday River Whitecap and a string of previously inaccessible peaks. The views are sublime, but trail designer Mike Cooper also has subtler treats in store. "I sought out specimen trees, glacial erratics, pretty little streams, and fern beds," he says, "that might not make it into a guidebook, but that add to the experience."
Plan It

Find everything you need to know in the Appalachian Mountain Club's White Mountain Guide ($25; outdoors.org).
Lassen Volcanic National Park, CA | Pigsah National Forest, NC | Bob Marshall Wilderness Complex, MT | Dome Land Wilderness, CA | Mahoosuc Mountains, ME | Algonquin Provincial Park, Ontario | Owyhee Uplands, ID/OR
Swap out: Boundary Waters Canoe Area Wilderness, MN

Swap in: Algonquin Provincial Park, Ontario
When canoeists dream, they conjure a North Woods tableau dotted with pristine lakes conveniently interconnected by navigable streams. The fishing is fine, the campsites waterside, and the sun-warmed granite slabs slope, as though by design, into clear, warm lakes. In other words, they dream of the Boundary Waters.
Therein lies the problem. So many people paddle this legendary Minnesota network–more than 220,000 last year–that scoring permits can be a nightmare. It's one of the busiest wildernesses in the entire federal system. For a less hectic alternative, head over the border to Algonquin. The scenery is similar–lots of exposed Canadian Shield bedrock and a mix of hardwood and boreal forests–but the scale is larger by a factor of two. Algonquin covers 1.9 million acres with 2,000 lakes and 1,302 miles of canoe routes.
Busy by Canadian standards, Algonquin gets crowds on Victoria Day and Canada Day–holidays that are off the radar in the United States. Another selling point: "The fun of going to a foreign country full of all those nice Canadians," says Gordon Baker of Algonquin Outfitters. And don't forget the favorable exchange rate.
3 Days

Two rules for slipping under Algonquin's ropes: avoid late July to late August, the busiest time, and learn to love portages. "Portages definitely weed out the riffraff," Baker says. For a long weekend, he favors the 25-mile Lake Louisa Loop, departing from Rock Lake Access. "Lake Louisa is the archetypal Algonquin lake, with a rocky shore, pine trees, and good sunset views down a long, narrow lake," he says. "For how accessible it is, it's lightly traveled." You'll reach Louisa on day two, and also visit Pen, Welcome, and Harry Lakes. Make the portages easier by renting ultralight carbon-Kevlar canoes ($43 CDN/day average; algonquinoutfitters.com).
5 Days

Tap the wilderness core of Algonquin with a motorized assist. The 20-minute water taxi to the north end of Lake Opeongo spares you more than half a day of paddling ($54 CDN per person round-trip), and drops you at the threshold of a 35-mile loop that hits island-dotted lakes and moose-filled marshes. First up is Big Crow Lake, that rare Algonquin body of water with beaches. Dayhike to a nearby stand of 300-year-old white pines and an abandoned clifftop fire tower. Proceed on to Hogan, La Muir, Big Trout, Merchant, and Happy Isle Lakes, linked by gentle rivers and several mile-long portages. Meet a prearranged taxi for the return ride down Opeongo.
Plan It Combine Canoe Routes of Algonquin Provincial Park map ($5 CDN, algonquinpark.on.ca) with A Paddler's Guide to Algonquin Park, by Kevin Callan ($20).
Lassen Volcanic National Park, CA | Pigsah National Forest, NC | Bob Marshall Wilderness Complex, MT | Dome Land Wilderness, CA | Mahoosuc Mountains, ME | Algonquin Provincial Park, Ontario | Owyhee Uplands, ID/OR
Swap out: Grand Canyon National Park

Swap in: Owyhee Uplands, ID/OR
Everyone should visit the Grand Canyon at least once, preferably by hiking below the rim. To suggest that experience can be duplicated elsewhere might sound like heresy, but here goes: For another jaw-dropping desert-canyon adventure, check out the Owyhee Uplands.
Oh-why-what? Exactly. This high-desert region's obscurity is a big selling point. Spilling out of southwest Idaho into Nevada and Oregon, the Owyhee Uplands comprise one of the least developed areas in the Lower 48. Juniper-covered plateaus set atop sagebrush tablelands create a sense of limitless open space. Snowy mountains line the horizon, and the many-tentacled Owyhee and Bruneau Rivers groove the underlying basalt and rhyolite. "The Owyhee is as good as any desert landscape in the U.S.," says Sheldon Bluestein, author of Exploring Idaho's High Desert. "It's national-park-worthy."
Just don't expect national-park conveniences. With few roads and fewer trails, the Owyhee is not exactly user friendly. Bushwhacking know-how is essential, and departing the few maintained roads requires high-clearance 4-wheel-drive, topo maps and GPS, and a promising forecast in order to avoid Owyhee Gumbo 30 miles from pavement. First-timers often see it by whitewater raft, and even there the level of commitment is elevated a notch. "We run our trips in expeditionary style, with a high guide-to-guest ratio and lots of time spent scouting the rapids," says Peter Grubb, president of River Odysseys West. "We have to be conservative because of the remoteness."
2 Days

The Colorado Plateau doesn't hold the patent on fantastically sculpted redrock. Backpack the 17-mile Honeycomb Loop on easternmost Oregon's Lake Owyhee, and you'll see towers and spires more typical of southern Utah. "Toward sunset, these 400-foot walls, with all of those eroded pockets and caves in them, glow an intense red due to iron oxides in the rhyolite," says Michael Henetz, an Oregon Natural Desert Association volunteer who has hiked the Honeycombs many times.
Follow an abandoned track along Juniper Ridge to access the head of Honeycombs Canyon. Drop down to Bensley Flat, where you can water up and camp at the lake. Continue by rounding Saddle Butte, with impressive views up and down the reservoir, before picking your way up Carlton Canyon and into Painted Canyon's tight confines. Hike out of the canyon and cross-country through sagebrush back to your car. This route is rugged and trailless, and even the trailhead is difficult to find. Owyhee Lake is the only water source.
Plan It

Bring USGS quads Pelican Point and Three Fingers Rock, and a route description from Doug Lorain's Backpacking Oregon ($19).
4 Days

In the 37 miles from Three Forks to Rome, the free-flowing Owyhee River disappears into a chasm of 1,000-foot reddish-brown rhyolite cliffs. Between hair-raising class 3 to 5 rapids, you'll marvel at jagged columns and spires. Bighorn sheep roam the heights, and golden eagles coast on thermals. The rafting season on the middle section runs from mid-March to early June; that's when snowmelt from distant northern Nevada mountains cranks up rapids like Widowmaker (class 5+), which is almost always portaged. River Odysseys West is one of several outfitters ($1,345; rowinc.com).
Plan It

The waterproof Owyhee & Bruneau Rivers Systems Boating Guide ($18, nrsweb.com) offers mile-by-mile details.