For These Refugee Women, the Trail is a Sanctuary
The outdoors are powerful medicine—and the Refugee Women's Network is helping displaced hikers get back to it.
Photo: Lynsey Weatherspoon
Heading out the door? Read this article on the new Outside+ app available now on iOS devices for members! Download the app.
On a muggy Georgia morning in July, a small group of hikers huddle around a log by the side of a trail. Underneath sprouts a solitary mushroom. It looks a lot like ones I've eaten before in fancy restaurants, with a thin top and a fanned underside. But this particular fungus is slightly grayer than anything I've seen in a risotto, with a mottling that seems foreboding.
"It looks like a chantarelle," says Rama, who remembers collecting mushrooms as a child in Nepal. Another one of the hikers is worried it might be poisonous; a third is trying to use an app on her phone to identify it. After a minute or so contemplating the cost-benefit analysis, we decide to leave the mushroom for some more mycologically-aware hikers and dash off to catch up to the group.
The mushroom may not be particularly remarkable, but the company is. This morning, I've joined Rama and about 20 other women for a 2-mile morning hike to a waterfall in the Cascade Springs Nature Preserve in southwest Atlanta. Like all the other women here, Rama is a refugee. But, like the other women here, she's also not defined by the worst moments of her life or the things that she left behind when she fled Nepal. Now she's an American, a hiker, and a trail guide for some of the women joining the group for the first time. (I've agreed not to use her or the other hikers' last names to protect their privacy.) She's ready to advise on everything from fitting a pack around an abaya to negotiating the rooty trails down to the waterfall, but she doesn't feel confident in identifying the aforementioned mushroom.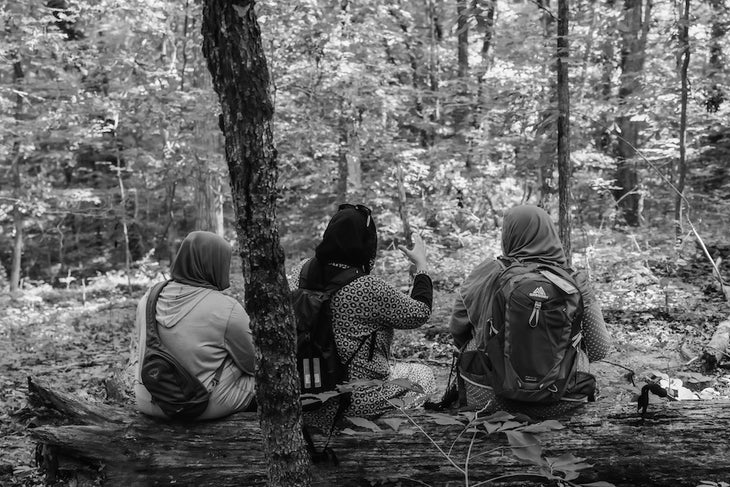 The hiking group is part of a program established last year by the Georgia Conservancy and the Refugee Women's Network, a nonprofit that uses credible messengers drawn from within refugee communities to encourage and promote healthy behavior. It's a change from the "parachute healthcare" model of the past, where outsiders dropped in to lecture residents on the ways they should change their lives, without putting in the effort to understand the barriers between people and their wellbeing. Part of RWN's community-based approach is this monthly program, which takes refugee and migrant women outside as a way of cultivating joy and removing the obstacles to outdoor access. Every month, women meet at Refuge Coffee, a shop staffed in part by refugees that serves as a hub for the city of Clarkston. The community there is more than half foreign-born, and the city has become a center for nonprofits providing a range of services to help people find their feet in the U.S. And while its trails are improving, there still aren't easily accessible ways to get into nature for the Afghan, Eritrean, Somali, and Burmese people who have made their home here.
One of the strangest things about moving to the U.S. is just how hard it can be to go for a walk, an activity which is part of everyday life in most other countries. America has much to offer for people from all over the world: Even now, almost six years into some of the most restrictive immigration policy in the nation's history, locals are overwhelmingly welcoming and helpful to new arrivals. But in many areas, decades of suburban sprawl and car-first city planning make it all but impossible to hoof it. Walkable communities, where they exist at all, are still concentrated in privileged areas, not the immigrant communities that refugees usually arrive to, and even the nearest green spaces can feel very far away.
But walking isn't just a recreational or athletic activity: For these women, as well as many other refugees, it's a communal one. Out in the woods, we rely on one another, and we come to trust one another. On the trail, I watch Iranian women translate for Afghan women, while two other hikers born thousands of miles apart in countries with rival governments help each other accommodate their new backpacks to their hijabs. Those moments might not seem like much, but over time they build the trust and reliance that are essential to living a fulfilling life.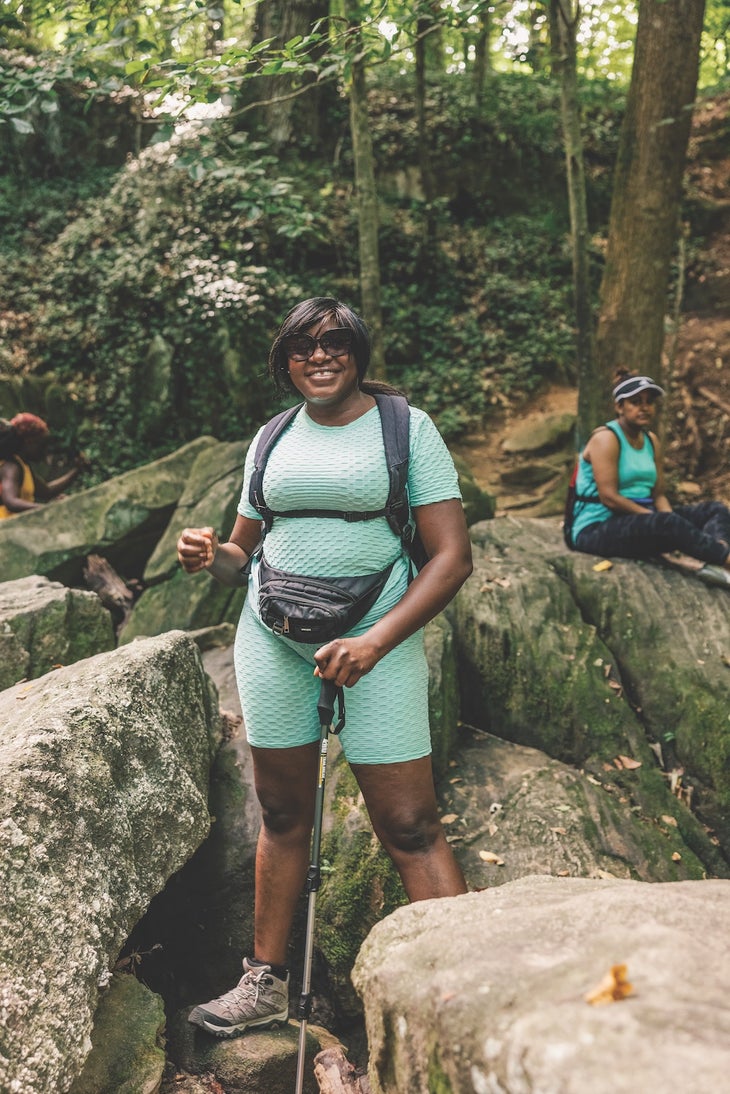 Standing in the parking lot before the hike, Mary, a former distance runner from Nigeria, shares a story with the group that makes it clear just how significant of a difference a little trail time can make. A few weeks ago, she joined women from the Georgia Appalachian Trail Society for a trip to Len Foote, a hike-in cabin in the northern part of the state. Her back hurt, she says, and she was exhausted afterward. But despite that, it was her "best night in America," she told the group.
As an athlete, Mary spent much of her life on the trail at home, but as she grew older she also grew apart from her training regime, and coming to the U.S. presented a whole new set of barriers. "You are not familiar with the laws," she says. "You don't know where you go, and you see people arrested for walking in certain areas." Our hike was taking place just a five-hour drive from Satilla Shores, where Ahmaud Arbery was murdered by three white men while jogging through a suburban neigborhood in February 2020; it's understandable that Mary and others might not feel safe in the outdoors after learning of his death. But, thanks to the support of the group, she knows where she can comfortably hike. "That is why it is very helpful being part of a group," she says, "where you know they take your safety very seriously and they do a lot of research." Now, secure in the knowledge that she and her friends are as protected as they can be on the trail, she can reconnect with the simple pleasure of exploring a new place under her own power. For the other women on the hike, Mary's is a familiar story. Many are Afghan and have watched their country crumble in the last year, their cell phones receiving troubling news from home around the clock, triggering a combination of trauma and survivors' guilt.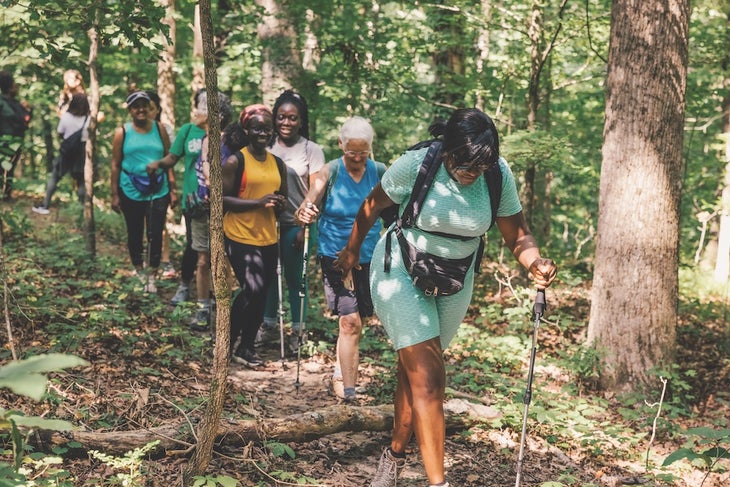 Georgia has its own history of trauma. There's a Civil War plaque at the trailhead here, and I see Confederate flags flying from houses and trucks on my way to and from our hike. Many of these women's introductions to Georgia hiking happened at Stone Mountain, birthplace of the second Ku Klux Klan and home to a Confederate monument. But on the trail, nobody talks about trauma or the troubled history of the region unless they want to. Instead, hikers share recipes, snap photos of themselves and their friends, and stop in the shade of a tree to look at pictures of each other's pets. Neela, who is hiking alone today but normally hikes with her mom, tells me that the outing is a welcome break from the grind of high school homework.
"I don't have much time," says Neela, who wants to study architectural engineering and design houses that fit into the landscape. Then, about a mile into our hike, just as we finally get our new backpacks (donated by Gregory) successfully adjusted, we realize we have gone the wrong way, and that the trail we wanted is now behind us. Here we are, a British man, an Afghan woman, and our Iranian guide, all lost in the woods. It's an experience as American as apple pie, but often harder to come by.
Getting lost in the woods, as it turns out, is good for you. During the early months of 2020, like many people, I learned a lot about myself. I learned that I can in fact sit still for a whole film if I put my mind to it, and that I actually quite enjoy gardening. I also learned, when the parks were closed and camping was prohibited, that I don't process trauma very well unless I have a trail, or a river, or a rock face to process it on. My job as a reporter has taken me to a lot of wonderful places, but it's also taken me to conflict zones and protests that the police violently broke up. The weight from that can feel like a heavy burden unless I get a few nights sleeping under the stars every couple of months to lighten the load. I don't want to be defined by the worst moments of my life either, and because of where I was born and the passport I have, I don't have to be. But the more time I spend inside, the harder and harder it is for me to be happy.
I am far from alone. Numerous anecdotes and plenty of peer-reviewed research show that nature has a special healing power for people who have experienced trauma. You don't need to go for a massive hike to experience the benefits. A study of over 20,000 participants, led by Mathew White of the European Centre for Environment & Human Health at the University of Exeter, found that people who spent two hours in one week in green spaces—which might be anything from a national park to a local dog park—were substantially more likely to report better health and psychological well-being than they had after spending no time in green spaces the week prior.
Of course, it could be that the people in White's study went outside because they were happy, rather than became happy because they went outside. But even for people predisposed to post-traumatic stress disorder, evidence suggests nature can be medicine. A study at UC Berkley showed that 84 combat veterans and 52 teenagers from underserved Bay Area communities gained significant psychological benefits from rafting trips down the American and Green rivers, including an average 29 percent reduction in PTSD symptoms and a 21 percent decrease in general stress. Researchers said that this reduction was correlated with what they called "awe"—the feeling of being part of something magnificent and bigger than oneself. They also found that awe was contagious: Boaters who paddled together seemed to share the benefits.
Perhaps that contagious awe is why Rama decided to follow Neela, Fatima, Alimina, and Golperan into the waterfall as the new hikers stood underneath the flowing water—barely a trickle by out-west standards, but a torrent for Georgia—and enjoyed the universal pleasure of cooling off on a hot day.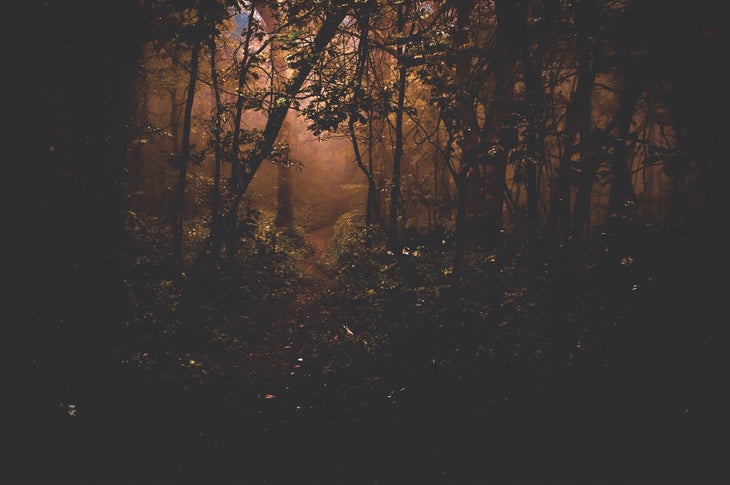 For Mary, the outdoors offer a chance to disconnect. She shared with me that she and the group had been on a 5-mile hike when news broke of the Supreme Court's decision in the Dobbs v. Jackson Women's Health Organization case, which effectively allowed states to ban abortion. "One thing I told myself was that I am glad I am not in town right now," she says. While discussion that day centered on the decision, conversations are much easier on most outings. "We get to meet new people," Mary says. "Sometimes we catch up with people we have met on the trail. We talk about different things, professional life. A lot of times we don't talk about stressful things in our life. I am able to shut every other stressful thing out and just be present at that moment for the hike. It has this powerful force that just helps you concentrate on enjoying everything nature has to provide."
For people from historically marginalized communities, even these modest pleasures can be hard to access. While outdoor recreation saw unprecedented growth in 2020, that growth was mostly among white people. According to a report commissioned by the Outdoor Industry Association, 72 percent of people participating in outdoor activities in 2020 were white, and 54 percent were men. Even two years after Americans took to the streets en masse to protest for racial justice in the wake of the murder of George Floyd by Minneapolis Police officer Derek Chauvin and the death of Breonna Taylor at the hands of three metro Louisville Police officers, the outdoors still doesn't look like America.
This is as true in Atlanta as it is everywhere else. While it's sometimes called "the city in a forest," Atlanta is still a city, and the forest parts can be hard to access, especially for the thousands of refugees who reside in the area. Before joining the hike, Dr. Na'Taki Osborne Jelks, a founder of the West Atlanta Watershed Alliance, explained to the group that it was only through decades of advocacy that the Cascade Springs park we were about to hike in was open today. The 135 acres of old growth forest had only been open from 8 a.m. to 3 p.m. Monday through Friday for years, she said. This meant that people with kids and full time jobs never got to experience the trails, trees, and waterfalls in their own backyard. After advocacy from her group, "they allowed us to have some special events on certain Saturdays," Osborne Jelks says. "People from the neighborhood came and said, 'I've lived here 30 years, and I never knew what was behind the fence out there because it's always closed.'' For 14 years, volunteers opened and closed the park gates at 7:30 a.m. and p.m. to allow locals to access the park, but it was only after the massive surge in outdoor activity following the Covid-19 pandemic that the park really began to belong to the community. Now, with the help of volunteers, it is open every day. On this Saturday morning, the parking lot is so full that the last arrivals, a group of Afghan women in a minivan, had to park in the overflow lot.
The diversity you see on the trails here, and which is so sorely lacking elsewhere, is in large part thanks to the hard work of the local community. Between the West Atlanta Watershed Alliance volunteers who offered to open and close the gates on weekends, and the community health promoters who pick up cars full of hikers at Refuge Coffee for the monthly hikes, they have created a welcoming and encouraging environment. As if that wasn't enough, RWN also bought delicious samosas for a post-hike lunch and provides different lunches each month, cooked by women from the various communities they serve.
Barriers to entry in the outdoors exist beyond the physical gates that barred the community from Cascade Springs for decades. Consider how hard it can be for a first-timer to book a wilderness permit on recreation.gov. Now imagine navigating this in a language that isn't your mother tongue and trying to set up a trip that is affordable and safe for your family. Very quickly, you'll find the task is almost insurmountable. As with so much in our society, people who come from historically marginalized communities have to work harder to get to the same places that many of us take for granted. But they still belong there. Programs like the RWN's monthly hikes help diversify the trails all around the network's Atlanta office and they serve as a model for what a well-supported community can do.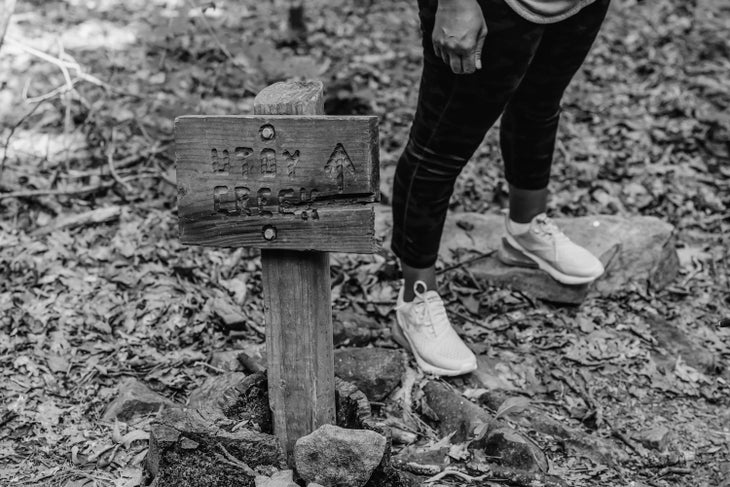 Compared to these hurdles, actual mountains are easy to climb. Over a series of monthly hikes, the women in the program get fitter, stronger, and more confident in the outdoors and in their equipment. By the fall, they're ready for the sort of overnight trips that Mary says are the best part of her time in America. On their training hikes, the emphasis isn't so much on feet climbed or miles covered as it is on being outside and enjoying the time in nature. Next month, they're joining Black birders from the Audubon Society for a clinic on birding in a local park. The miles start to come more easily once you look forward to finding what's around each corner and realize that you can handle whatever it is.
Refugees bring much more than the possessions they carry when they arrive in this country. The wealth of knowledge and experience the women on the hike share is incredible: I learned about everything from how to make properly spiced Afghan samosas to new long trails around the U.S. and the world that are now high up on my to-do list. As Temple Moore, who runs the program for the Refugee Women's Network, points out, it is important not to fall into the trap of believing that she or anyone else is introducing these women to the outdoors for the first time. Before they came to America, most of them were outside every day and often walked for miles. What Moore and the RWN do is break down the barriers that so many of us don't see, like childcare, transport, or suitable equipment and clothing that takes into account cultural and religious preferences as well as performance.
Once you take away the barriers, people can find their own healing in the outdoors. Rama shares with the group that she's always found solace in nature. Her parents passed away when she was 2, and she never had anyone else to talk to about all the difficult decisions that got her from an orphanage in Nepal to a master's degree in Oklahoma and now a career in Georgia. Even as a young girl at school, "whenever I was confused, or whenever I had no answers," she says, "I would go into the mountains and sit by the water and almost always I would get an answer." When she got a bit older, she'd take the other young girls in her school who also didn't have parents with her to find their own answers.
Upon moving to the U.S., Rama found it hard to meet people and even harder to find time alone in nature. She learned about the hiking group after meeting Temple in 2021 and now attends every month. Nahid knows just how big the world is out there. She's from Iran but has hiked all over, including a recent trip to Everest Base Camp. "Nature is my medicine," Nahid says, and she's taking strong doses of it as well. She is headed to Mount Rainier next month, and she's excited to traverse the glaciers and snow on the summit, which remind her of the mountainous terrain in her native Iran.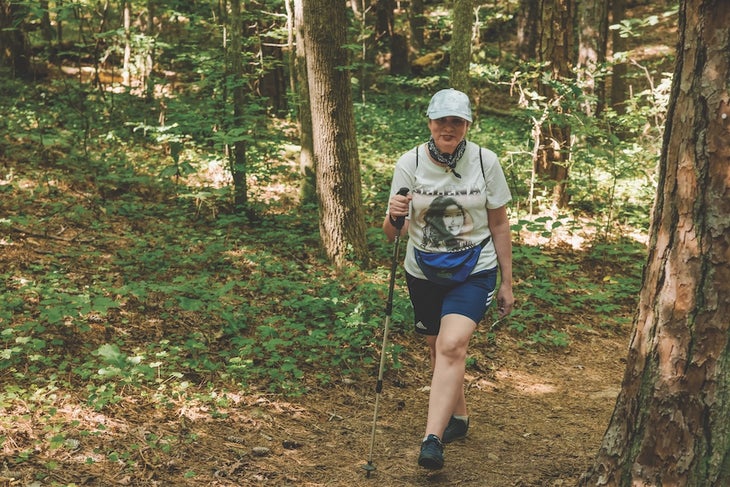 One of the volunteers on the hike is from the Georgia Appalachian Trail Club and says she would like to hike in Iran one day. Nahid tells her that the mountains are amazing. But, she adds sadly as she looks down at her manicured nails and perfectly worn-in hiking shoes, for her it's not safe to go back. Luckily, it's safe for her to hike just about anywhere else, and she seems keen to hear detailed beta on trips I've taken to Morocco, Iceland, and the Pyrenees.
Today Nahid is hiking with her former sister-in-law Goli, also from Iran. Goli isn't joined to Nahid's family by marriage anymore, but she says they are just like sisters now, and their bond is closer than ever. When Nahid is not recalling stories from the various mountains she's climbed, she's translating for a group of Afghan women (Farsi and Dari are mutually intelligible) and adjusting their new backpacks to keep the weight centered on their hips. It might seem like a simple thing, but these gestures of support, respect, and kindness go a long way towards building healthy, happy communities.
At first, Goli didn't want to come to the U.S. with her husband, and she worried about learning English. After eight months, she has a job here and a safe place to live on her own. A year ago, she could never have imagined herself hiking here, but she says that now, hitting the trail in her Selena T-shirt, she is very happy. She walked a little bit in Iran she says, "but not far, not like this." She's excited to go camping with her friends in the fall, she says, and one day, she wants a dog to take hiking with her.
After 20 minutes in the shade of the waterfall, in which we have planned Neela's future for her, been eaten alive by biting insects, and come to better know each other's pets, we set off back to the trailhead where a delicious lunch of samosas is waiting for us. By the time we get back, the trailhead is bustling and phones start to ring with kids to pick up and errands to run. But everyone seems a little lighter for having spent a few hours free from worry about anything other than what kind of mushrooms we saw, or how to find the trail we lost.