Meet the Trail Angel Pilot Who's Flying PCT Thru-Hikers Past the Snowy Sierra
As record snows in the Sierra force more and more Pacific Crest Trail thru-hikers to flip-flop, trail angels are stepping up to make sure they get where they need to go—including a hiker-pilot who's flying them there.
Heading out the door? Read this article on the new Outside+ app available now on iOS devices for members! Download the app.
As Backpacker's 2023 Pacific Crest Trail correspondent, David Gleisner is reporting on this year's PCT season as he attempts a thru-hike of his own
After a two-decade-long career as a Coast Guard rescue swimmer, Chris Hoffman was ready for a change.
He had always had a passion for flying, but his job usually saw him riding in the back of planes and helicopters rather than the cockpit. After he retired and set out on the PCT in 2022, hiking NOBO and building snowmen on every snowy pass, he decided to pursue a path he had left behind 23 years ago.
"I was on the PCT when my wife said, 'why don't you get back into commercial flying?'" Chris says.
When he was done with his hike, Hoffman bought a small plane and started logging time with an instructor and on his own, flying in and around his home in Sacramento. Once hiker season rolled around, Hoffman knew he had to get in flight hours and knew there would be hikers looking for rides. So, he thought, why not combine trail-angeling and flying?
"So many people helped me out last year, and I kinda wanted a way to give back," he says. "I can fly around and build time and help the hikers."
Since he's not yet a commercial pilot, Hoffman can't advertise or take money for rides. Instead, he reaches out to hikers in need to take them up. His first ride took a hiker from Inyokern, CA to Roseburg, OR, a 750-ish mile flight that bypassed some of the snowiest sections of trail. On the way back, he stopped in Weed, CA, where he found some wildland firefighters waiting for a callout. Naturally, he took them for a scenic ride before heading back home to Sacramento.
On the ground and in the air across California, trail angels are getting creative with how they shuttle hikers hundreds of miles north. Jay Gosuico has been helping PCT hikers get where they need to go since 2005, when he began working as a ski patroller at Sierra-at-Tahoe Resort. He would pick up Tahoe Rim Trail and PCT hikers from Echo Lake Summit and take them into town to his friend's hostel. In the 18 years since, he's learned to anticipate hikers' needs, like he did last year when he had to shuttle a group of them around a large fire closure.
"Last year, I was prepared. When the McKinney Fire hit I was like, 'oh here it is,'" Gosuico says. "With all the firsthand, real-time information and previous years of information, I could actually place myself where I would be most beneficial to hikers."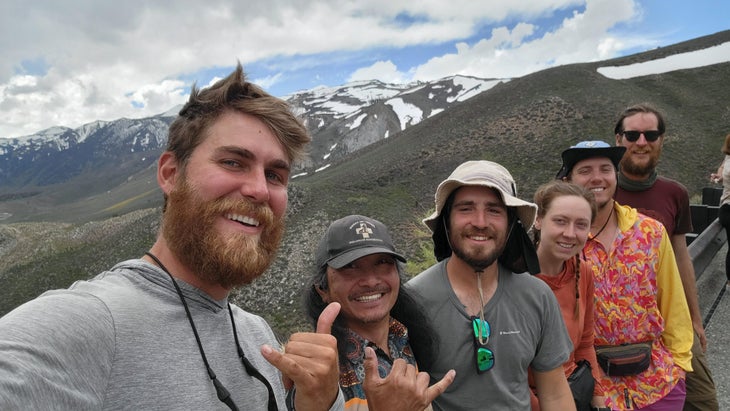 As an ER nurse, Gosuico is used to working nights, and will drive as long as he has to to help stranded hikers. Wildfires have been the main culprits in past years, prompting Gosuico to drive along the trail to shuttle hikers to safer terrain. This past winter, as the snow piled up in the Sierra, he joined forces with fellow angels to prepare for the Great Flip.
Together with other trail angels in the Quincy CA PCT Trail Angels Facebook group, Gosuico put together a plan to distribute the driving time.
"We created a pretty big relay system," he says. "We will have one trail angel drive you to the halfway point and then another trail angel will pick you up and take you the rest of the way. That way one trail angel doesn't have to do a 3-hour commute, you can just do an hour and a half commute."
Usually, Gosuico's travels are pretty straightforward, taking hikers in one direction to continue their hikes. This year, with early starters flipping and flopping "north, south, east, west" across Southern California, he's gotten things a bit out of order. He accidentally agreed to take two groups in different towns to Chester, the most common NorCal flip destination for 2023 hikers, on the same weekend. Instead of rescheduling, he decided to do both trips, and add some extra ones in there to boot.
Over 2,110 miles of driving, Gosuico took 23 hikers to destinations between Kennedy Meadows South and Chester, dropping off trail magic in Lone Pine on the way. Word about his Gosuico's drive to help hikers has spread; I found out from a trail friend, Inspector.
"This guy has been giving hikers rides all around CA," Inspector texted me. "Heart of gold dude. Roughly 20 hours of driving, and he just does these things on his days off."
In a way, he's paying it back. Both Gosuico and Hoffman took inspiration from the help and generosity they received on past trips. Furthermore, they hope their travels can help inspire others to get into trail-angeling.
"All of these [past adventures] took other people supporting me in my endeavor to do," Jay says. "They were my personal trail angels for all those adventure trips in the past. So now I can be that person for hikers that are coming up."