The First-Ever Female Eagle Scouts Are Hikers, Mentors, and So Much More
Nearly 1,000 young women make up the groundbreaking new class from the BSA.
Heading out the door? Read this article on the new Outside+ app available now on iOS devices for members! Download the app.
It's been more than three years since the Boy Scouts of America first announced that they would allow girls to join their program. In that time, scouts, parents, and observers have both applauded and challenged the organization over the decision. Now, the BSA has reached a new milestone: the first female scouts have reached its highest rank.
On Feb. 21, the BSA held a virtual celebration called "Be the Change" to celebrate the inaugural class of female Eagle Scouts. While the scouts received their credentials on a rolling basis, the organization chose to date them all Feb. 8, 2021, to commemorate the class alongside the organization's "birthday."
The Eagle Scout rank is the highest advancement that the BSA offers. In 2019, only 8 percent of all scouts earned the title. According to the "Be the Change" event, nearly 1,000 young women make up the inaugural class of female Eagle Scouts. In total, more than 140,000 young women have joined the Cub Scouts and Scouts BSA programs since they began allowing female scouts in 2018 and 2019, respectively.
"Since 1912, the Eagle Scout rank has represented a milestone of accomplishment — perhaps without equal — that is recognized across the country and even the world," according to the organization's website.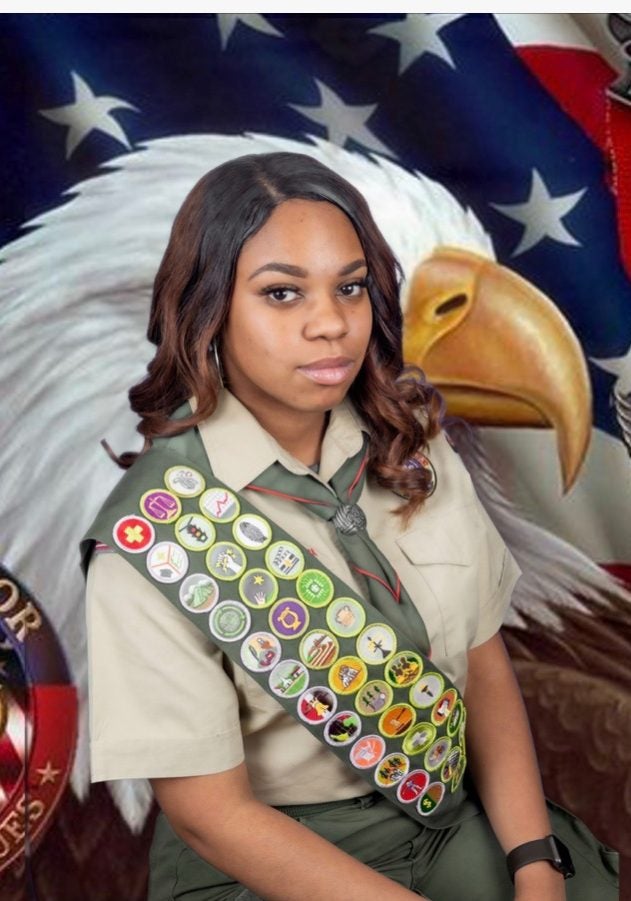 Kendall Jackson, 17, is the first female African-American Eagle Scout and was one of the honorees featured in the "Be the Change" event. For her Eagle project, Jackson led a series of workshops, seminars, and panel discussions to help high school seniors with skills like time management, networking, and health and wellness.
Jackson's brother was also a member of the BSA, earning the rank of Eagle Scout in 2011. Because of this, and because her mother Kellauna Mack was the Scoutmaster of his troop, Jackson was involved with the BSA from an early age. She says she was eager to learn, even though her achievements weren't formally recognized at the time.
"I was just happy to know that I was learning skills that I know that I would need to be better prepared for life in the future," Jackson says. "It wasn't necessarily just about being recognized."
Still, when they got the news that she would finally be able to join the organization officially, both Jackson and Mack were ecstatic.
"I started to cry and she was like, 'Why are you in tears?' I said, 'Because you now have the same opportunities that your brother has,'" Mack says.
Being an Eagle Scout often provides unique opportunities for those who can claim the title. According to a 2019 article by the Institute of Electrical and Electronics Engineers, 66 percent of astronauts had scouting experience, and 39 individual astronauts — including Neil Armstrong — were Eagle Scouts. Additionally, those who earn the rank of Eagle Scout or a Girl Scout Gold Award — the Girl Scouts' equivalent achievement — are eligible to enlist in the military two full pay grades above most recruits.
To earn the rank of Eagle Scout as of January 1, 2021, a scout must be an active Life Scout holding a leadership position in their troop for at least six months and provide multiple references who can attest to how they have lived the Scout Oath and Scout Law. They must also earn a total of 21 merit badges, including 13 required badges such as First Aid, Citizenship in the Community, and Environmental Science or Sustainability, as well as conduct a service project which benefits their community or an organization other than the BSA. Finally, scouts must participate in a Scoutmaster conference and complete a board of review. According to the BSA, a beginning scout working straight through the program could complete all the requirements to achieve Eagle in approximately 19 months, but the inaugural class had about 2 years to complete it, with a few extra months to account for the COVID-19 pandemic. 
When the BSA began allowing young women to join its programs, it faced criticism from those who believed that girls like Jackson would be better served by girls-specific programs and that the organization was not equipped to accommodate female scouts. 
In fact, the Girl Scouts of the U.S.A. have sued the BSA multiple times since the decision, alleging that using words like "scout" and "scouting" in the recruitment of young women and girls is copyright infringement.
"We applaud every organization that builds character and leadership in children, including the Girl Scouts of the U.S.A., and believe that all families and communities benefit from the opportunity to select the programs that best fit their needs," the BSA said in a statement provided to the New York Times in December.
Mack, who is also the assistant Scoutmaster of Jackson's troop, says she never had any concerns about the BSA being able to accommodate her daughter.
"I'm a Scoutmaster and I've been doing this for 22 years," Mack says. "The skills that you learn through scouting, it's about survival skills as well as life skills, and I think that anything you can teach one set of children you can teach another."
Jackson, too, says she hasn't faced any specific challenges at the BSA as a result of her gender or race, and that the organization has been very inclusive.
However, not all female Eagle Scouts had the same experience. Lily Morse, 15, earned the rank  of Eagle Scout as a Lone Scout because there were no troops for girls in her area when she joined the BSA.
Morse says that despite not being part of a troop, she still faced challenges in the BSA as a result of her gender. She says she was often called sexist, homophobic names. She also received hurtful comments from adults on the internet in response to an article commemorating her achievement. Many said she should have joined a girls'-specific organization instead, and some people accused her of cheating the requirements. One of the parents at a troop she looked at initially even said she didn't believe girls should be in the BSA because they are "too organized" and would "overpower the boys." 
All the same, Morse pushed through, focusing on her own goals rather than what others were saying.
"I was just proud that I'm doing something really amazing and cool. In the long run, it doesn't really matter what other people think about it," Morse says.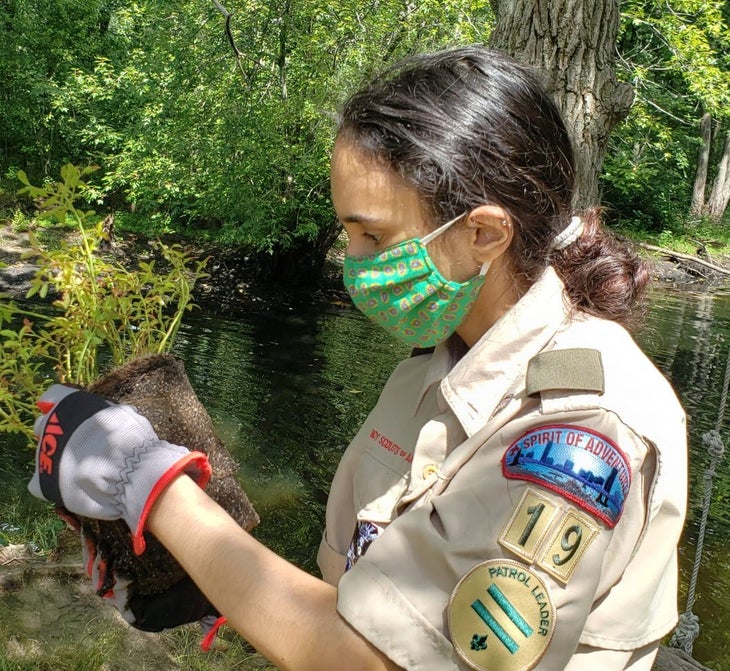 Morse says her favorite part of being a scout was completing her hiking merit badge. To earn the badge, Morse and her parents hiked the Grand Canyon rim to rim in one day.
"It was probably one of the physically hardest experiences of my life. It was just so rewarding," Morse says. "Coming down into the canyon at the start, and seeing the walls of the Grand Canyon lit up by the sun, it's so gorgeous."
She enjoyed it so much, in fact, that Morse is already planning her next trip. She says she and her dad hope to hike the Grand Canyon rim to rim to rim (that's rim to rim and back again) in just one day this fall.
Since she joined the BSA, Morse says she believes the organization has adjusted to better accommodate female scouts. Now there are more female-inclusive troops and "a lot of the kinks have worked out." In fact, Morse recently moved to Montana, where she now works with a troop of young female scouts as a mentor and leader. 
"Now that I'm kind of in a troop, I see all these people interacting with each other and it's a really kind and supportive environment," she says.
Looking forward, Morse hopes that more women join scouting and are able to not just gain strength through experience and learn new skills, but also make it a more inclusive space for people of all genders.
For some girls, the BSA and Girl Scouts weren't an either-or choice. Mira Plante is both an Eagle Scout and a recipient of the Girl Scout Gold Award.
"Girls can do this too; we're strong, we can make an impact on our own. And we're not really inherently different from boys," Plante, 19, says. "What a scout is, is not a boy or a girl. A scout is a scout because of their values, because of what they want to do in the world, and not because of their gender."
Plante says one of her favorite memories of the BSA was the first time she attended a meeting as an official member. Though she had previously attended meetings along with her younger brother, who is also a member of the BSA, she was concerned about how the troop would receive her. She had seen how angrily some had reacted to the organization's decision to include female scouts. But when she walked in for her first meeting, she says everyone started cheering.
"Everyone was so excited and all those fears completely melted away," she says. "Everyone, the adult leaders and the scouts, they treated me like any other Scout."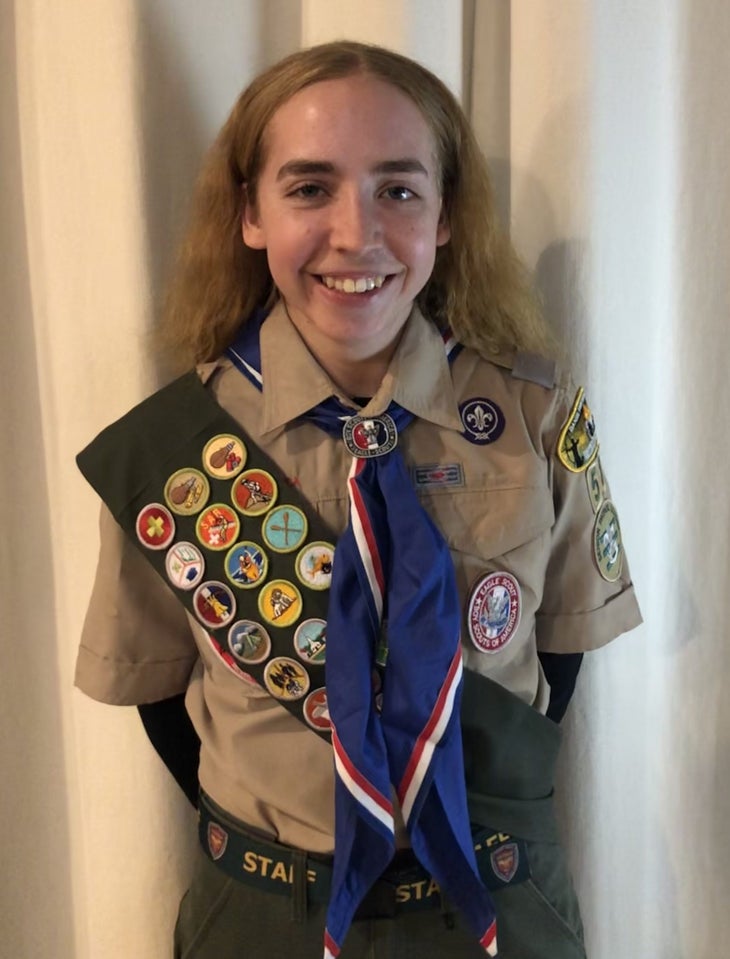 Valerie Ann Johnston, like Plante, feels that each organization has something different to offer. An Eagle Scout who attended Girl Scouts when she was younger, Johnston, 19, says that the BSA's programming was a better fit for her.
"I would say that each of the programs has a different mission. So I think it depends on what you're looking for," Johnston says.
Johnston's father, Dean Johnston, is the Scoutmaster for her troop. He says he never had concerns about young women joining the BSA given that their Venture program has been successfully co-ed for decades, and that many countries outside the United States have had gender-inclusive scouting programs for years.
For Johnston, who organized a donation drive for her local humane society for her service project, being an Eagle Scout is an honor that symbolizes her ability to communicate, persevere, and be a leader. Still, she says, scouts have unique experiences and learn important life skills regardless of whether they make the rank.
"Even if you don't get to Eagle I think there's so many life lessons and skills that you can get out of the program," she says. "It's something that will be with you your entire life."