Meet the Pacific Crest Trail Hikers Braving the Sierra's Highest Snow Year On Record
Most of this year's PCT class is skipping the snowbound Sierra and planning to come back later when conditions improve. But a small, hardy group of adventurers are pushing straight through.
Heading out the door? Read this article on the new Outside+ app available now on iOS devices for members! Download the app.
As Backpacker's 2023 Pacific Crest Trail correspondent, David Gleisner is reporting on this year's PCT season as he attempts a thru-hike of his own
We first met the Codgers on top of Trail Pass, as the morning sun started to light up the fresh snow.
David "Rumbles" Good and Joe "No Filter" Cook, known collectively as the Codgers, appeared over the forested ridge with full packs weighted with about a week of food. They said hello and chatted about their plans to exit at Kearsarge Pass, 43.2 trail miles away. Those 43.2 miles were almost completely covered in snow, both from a 300% of average winter snowfall and a recent storm that dumped another foot the week prior. 
Rumbles and No Filter, 62 and 66, are in the minority of 2023 PCT thru-hikers attempting to head straight north through the snow-covered Sierra. They were the first hikers my group saw that day, and would go on to be some of the only new faces we met in the coming weeks. In the highest snow year on record, most hikers have flipped north to Northern California or Washington, hoping to complete the Sierra later in the summer under more hospitable conditions.
For some, though, the adventure continues uninterrupted.
"I still get taken back a little bit, once you get to 10,000 ft it's been 80-90% snow," No Filter says. "What became really clear is that every time you get there, you can't expect that the trail's gonna be there in a condition that you can get through. So you have to evaluate every situation, every day, on its own merits."
For me and other hikers tackling the Sierra, this section of the PCT feels like an entirely new hike. Well-maintained trail is replaced by endless suncupped snow. Relaxed sunrise wake-ups are replaced by 2 a.m. alarms. Lightweight packs are burdened by ice axes, crampons, and extra food.
"Down in the desert we were doing 20 to 25 miles a day. Now you get up here and 10 miles is a struggle," Rumbles says. "It's tough, because you gotta put your pride in check."
Despite the ever-present difficulties, a small but mighty crew of hikers has been pushing on through the snow. We're inspired by the handful of early season groups who have already made it through, and we're always looking ahead to what challenges come next. Getting through safely and successfully requires constant learning, from firsthand experience, people in one's own group, and reports from hikers up ahead.
"It really just came down to, you had to see it with your own eyes," Rumbles says. "And the biggest thing is all the other hikers on trail. Everybody's willing to help everybody, so you get good intel."
Among the lessons I've learned so far: The best conditions come just before dawn, when the snow is still frozen enough to walk on but the surroundings are visible in the early morning light. If a raging creek crossing has upstream tributaries, those often provide better options for fording. Suncups are unforgiving, and the strategy for walking on them changes hour by hour as they melt out.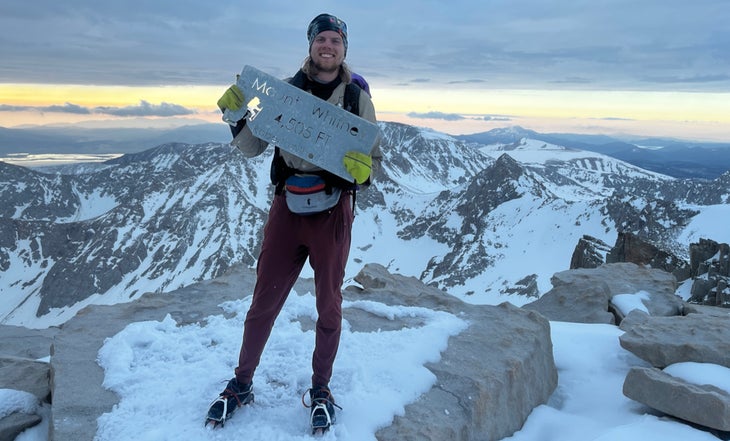 At the time of writing, I'm in Mammoth Lakes, California, where I managed to get in a ski day on the slopes of Mammoth Mountain during my zero. In the past three weeks, I and the others in my group have summited Mount Whitney, crossed over Forester Pass, navigated through 200 miles of mostly snow travel, and done some intense stream crossings to boot. 
The Sierra has held ever-changing daily challenges. One day, slushy afternoon suncups and a lack of sleep made for the longest three miles of the trail so far. The next, frozen water bottles and numb fingers accompanied a crampon-assisted climb straight up the icy headwall of Mather Pass. 
But regardless of the discomfort, frustration, and exhaustion, the rewards have always been worth it. Just as your breath is running out in the thin mountain air, you'll crest a ridge and come across a panoramic view of jagged peaks, snowy valleys, and expanses of frozen lakes. Getting to experience some of the most sought-after backpacking trail in the U.S. in near-complete solitude, surrounded by friends made on trail, is an experience all of us will remember for a lifetime.
During a stop at Vermillion Valley Resort, one employee called the hikers going through the Sierra this year "elite athletes." But the reality is, we didn't come into this with any special leg up. Many of us had never held an ice ax or put on crampons before this. For the most part, we're not professional athletes or experienced mountaineers. We're engineers, students, retirees, van-lifers – normal people out on the adventure of a lifetime. We're pushing our limits, learning to tackle new challenges everyday, and helping each other out along the way.