Peak: Mt. Whitney, CA
Check out the Mountaineer's Route of Mt. Whitney if you're looking for a challenge.
Heading out the door? Read this article on the new Outside+ app available now on iOS devices for members! Download the app.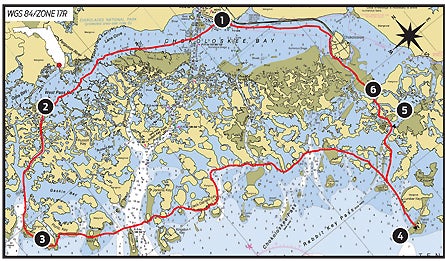 There's the easy way to summit the Lower 48's highest peak, then there's the Mountaineer's Route. After five miles of class 3 climbing stand on top at 14,505 feet, with views of lake-filled cirques and ripsaw ridgelines. Off-season: Bring ice climbing gear and a partner.
INFO Self-register for permits (free) from December to April. For May to November, enter the lottery before February 15; the Forest Service reserves 40 percent of permits for walk-ins. (760) 873-2400; fs.fed.us/r5/inyo. Trip data: backpacker.com/hikes/483527
1. Whitney Portal

0388599E 4049772N; mile .8

Veer right off main trail and follow cairns.
2. The Ledges

0387904E 4049662N; mile 1.3

Traverse features left to right. If icy, wear crampons or turn back.
3. Iceberg Lake

0385057E 4049118N; mile 3.8

Camp here (elevation: 12,730 feet ). Get an alpine start.
4. Notch on North Ridge

0384251E 4049004N; mile 4.5

Go south on ledges and gully (direct), or west on narrow trail.
5. Summit

0384407E 4048905N; mile 5

Ridgewalk north to summit. Storm coming? Get off peak fast.

*Google Earth Providers: Google, Data SIO, NOAA, U.S. Navy, NGA, GEBCO, Image DigitalGlobe, Image AMBAG, Image U.S. Geological Survey, Image USDA Farm SErvice Agency, CNES/SPOT Image.
Go Big

See more peak hikes