Peak: Mt. Washington, NH
If you don't mind the potential of extreme weather and wind, Mt. Washington is your hike.
Heading out the door? Read this article on the new Outside+ app available now on iOS devices for members! Download the app.

Savage weather and vicious wind (strongest gust: 231 mph) can turn a dayhike here into a hypothermic death march ; winter whiteouts can make cairn-hopping impossible. But don't be daunted—just come prepared. Know how to follow the route if conditions deteriorate, and don't skimp on layers and raingear. You'll switchback up 1,500 feet and scramble over boulder gardens on this 3.8-mile route. If the road is open, you'll see tourists on top, but rest easy: You can't overestimate the satisfaction of climbing what others drive. INFO No permits. (603) 356-2137; mountwashington.org. Trip data: backpacker.com/hikes/59657



1. Hermit Lake

0317495E 4903294N; mile 2.2

Check weather report at cabin before ascending above treeline.
2. Tuckerman Ravine

0316220E 4903693N; mile 3.2

Follow cairns north. Snowdrifts covering them?
3. Mt. Washington

0316172E 4904473N; mile 3.8

Cross the parking area to gain the true summit.
4. Davis Path Trail

0316163E 4903122N; mile 4.7

Stay left/southeast at junction. Take Boott Spur Trail in .6 mile.
*Google Earth Providers: Google, Data SIO, NOAA, U.S. Navy, NGA, GEBCO, Image DigitalGlobe, Image AMBAG, Image U.S. Geological Survey, Image USDA Farm SErvice Agency, CNES/SPOT Image.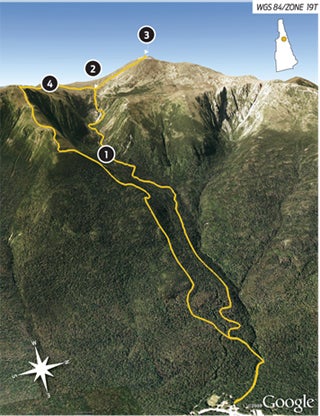 Go Big

See more peak hikes