Peak: Mt. Rainier: Disappointment Cleaver Route
This challenging climb on Mt. Rainier gains almost 2,000 feet per mile.
Heading out the door? Read this article on the new Outside+ app available now on iOS devices for members! Download the app.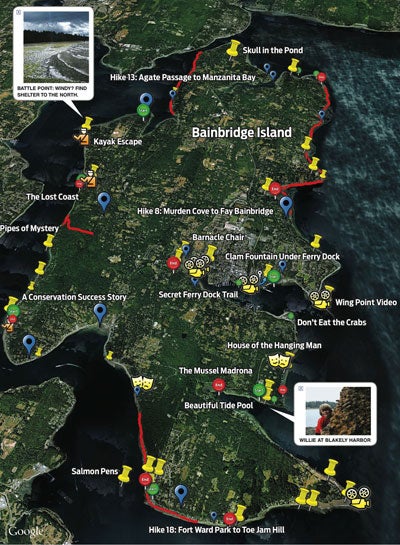 Need proof that Washington's iconic peak deserves its rep as the Lower 48's biggest and baddest mountaineering challenge? Ponder these two figures: 9,000 (the height, in feet, it rises above the lush foothills where you start hiking) and 26 (the number of glaciers on the massif, many of which you'll see from very, very close up). First-time climbers typically follow the Disappointment Cleaver Route, the mountain's most popular and least technical ascent. But you'll still need avalanche smarts and advanced glacier travel and rescue skills. No experience? Go with a guide (rmiguides.com).
The DIY plan: Ascend to Camp Muir, a mountaineers' camp at 10,000 feet. The next day, start early (by 2 a.m.), crest the crater rim by midmorning, cross to the true summit (14,410-foot Columbia Crest), and shoot hero video for post-trip bragging rights. Descend before afternoon temps increase avalanche and crevasse danger.
INFO Backcountry permit (free) and annual climbing pass ($30): 30 percent reserved for walk-ins (not more than 24 hours prior to trip). In summer, get permits at least a month in advance. (360) 569-2211; nps.gov/mora. Trip data: backpacker.com/hikes/616829
1. Paradise
0596505E 5182182N; mile 0
From the parking lot trailhead, take the Skyline Trail 1.5 miles to Panorama Point. Avoid the numerous social paths branching out into the meadows.
2. Panorama Point Trail
0596978E 5184339N; mile 2.3
Stay west of 7,385-foot McClure Rock and plant a crampon in Muir Snowfield.
3. Camp Muir
0596635E 5187659N; mile 3.9
Unofficial halfway point with stone hut, tent area for climbers (guide companies have their own digs), and well-used toilets
4. Ingraham Flats
0596478E 5188679N; mile 4.9
Side-step across Cowlitz Glacier to reach this broad, wind-stung area. Pitch a bomber tent here for a head start on Camp Muir campers.
5. Bottom of Disappointment Cleaver
0596275E 5189035N; mile 5.2
Steep, ice-covered rocks are route's crux. Don't linger; there's no room to pass, and ice conditions can deteriorate later in day.
6. Top of Disappointment Cleaver
0595902E 5189202N; mile 5.6
Rest after climbing 45-degree slopes of rock and ice, and grab a snack (eat 200 calories an hour to maintain energy).
7. Summit Crater
0594815E 5189385N; mile 6.5
After tricky passage over crevasses and ice bridges, it's a relatively easy 20-minute stroll to Columbia Crest.
Google Earth Providers: Image Province of British Columbia, Image U.S. Geological Survey, Image Digital Globe, Image IMTCAN, Image DigitalGlobe

Go Big
See more peak hikes