Our Backyard: Glen National Recreation Area
Explore slots and marvel at arches in Glen Canyon.
Heading out the door? Read this article on the new Outside+ app available now on iOS devices for members! Download the app.
OUR BACKYARD | THE EXPERTS

1. Best Float

Pack a lightweight inflatable for this 40-mile, arch-rich hike/paddle. Connect Coyote Gulch to King Mesa to Fool's Canyon. Scramble down to the Escalante River and float past Stevens Canyon (and ogle 220-foot Stevens Arch). Paddle eight miles, and return via Coyote. Best month: April.
2. Sunset View

Tackle the nine-miler to 7,379-foot Navajo Point, with views of slickrock and shimmering blue water. Start at the marina in Dangling Rope Canyon and navigate cross-country to the Kaiparowits Plateau, then the base of Navajo Point. Scramble 700 feet to the hard-earned vista.
3. Best Hike from the Rim

Pour-offs, pools, and shoreline camping make the six-mile round-trip in Wiregrass Canyon a dream. Hike from Warm Creek Road to Wahweap Bay, and scope two newly revealed rock bridges, at miles one and 2.5. Scramble through goosenecks and camp on the slickrock shore.
4. Quick Fix

The two-mile hike to Skylight Arch—with views across Lake Powell—is right off US 89. From Page, head north on 89 for 7.6 miles, turn left on an unmarked road .5 mile past mile marker 535. Continue a quarter mile and park. Hike over crumbling slickrock on Stud Horse Point to Skylight Arch.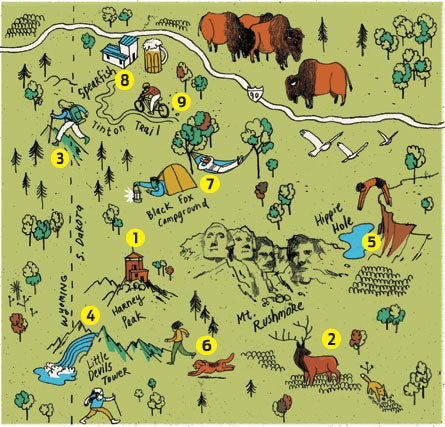 OUR BACKYARD | THE EXPERTS
5. Best Arch

Dayhikers would flock to 30-foot-high Woolsey Arch if it were easy to get to—but a six-mile, one-way scramble gaining 500 feet keeps the crowds away. From Rock Creek Bay, head north into the narrows. At the big fork at mile 4.4, take the left canyon. When you reach the abandoned oil well site, hang a right and the arch appears from the exposed bluffs.
6. Most Remote Arch

Scythe-shaped, 25-foot Diagentic Arch is hidden along the west walls of Face Canyon. It's best accessed across from Gooseneck Point, at mile 24 on the lake. From the water line, scramble 3.5 miles cross-country over slickrock littered with evening primrose and fuchsia hedgehog cacti.
7. Top Photo Op

Yes, the Corkscrew in Antelope Canyon is popular. And you should see why. Hike just under a mile on a jeep track to reach the mesmerizing slot on Navajo land. Just after high noon, sunlight beams from above, causing the sandstone to glow. Photo tip: Toss a handful of powder-fine sand in the air to accentuate the cone of light filtering in through the slot.
8. Deepest Solituday

Paddle/scramble to Clear Creek Canyon's once-submerged Cathedral in the Desert, a series of falls ending at a 400-foot-high grotto. Paddle north up the Escalante River to the second canyon on the left. Ascend 2.5 miles. Pack a 100-foot rope for rappelling ledges on the return.
9. Houseboat Dayhike

Dock in the small bay at the foot of Hole-in-the-Rock, then scramble .75 mile up the sandstone ravine to the canyon's lip, where the walls close to an arm's reach and form the famous crack. Look for blast holes and anchors from the 1880 Mormon expedition that lowered wagons down the slot.
10. Coolest Ruins

Perched 200 feet above the floor of Moqui Canyon are Ancestral Pueblo ruins so undisturbed you'd think the residents "just left to get more water for dinner," says Chris Griffin (below). From the rim, hike 8.2 miles round-trip, or make it 6.7 miles by paddling from Mile 100.
OUR BACKYARD | THE EXPERTS


Desert rat Dave Taus, 32, of San Francisco, makes annual pilgrimages to Canyon Country, exploring a remote section of southern Utah each year. His last trip? A 40-mile loop combining Coyote Gulch and the Escalante River. "Once you get into canyoneering, get an Alpacka Raft," he says. "At four pounds, they're light and water is not an obstacle."
Chris Griffin, 30, of Salt Lake is a 20-year Glen Canyon vet. His tips: Pack a gallon-plus of water and throw in a filter for desert springs, and have solid map-reading skills. "GPS is great," he says. "But missing your exit canyon turns a fun adventure into a survival situation."