Our Backyard: Chequamegon National Forest, WI
READERS' CHOICE GREAT LAKES HOME
Heading out the door? Read this article on the new Outside+ app available now on iOS devices for members! Download the app.
OUR BACKYARD | THE EXPERTS

1. Best vista

Take the North Country Trail east from County Hwy. D, south of Grand View, and roller-coaster over a series of 200-foot moraines to reach the Marengo River Valley. Take a spur south to 1,350-foot Juniper Rock, with views of the hardwood-hemlock forest below. (10 miles)



2. Best Snowshoe or Mountain Bike Trails

The Chequamegon Area Mountain Bike Association trails (300 mi., typically buried from November through March) are ground zero for fat tires and snowshoes alike. Tops: The Namakagon Trail winds 10 miles through pines and deep ravines.
3. Favorite Backpack

"The 62 miles of the North Country Trail through the Chequamegon is the most scenic and wildlife-packed stretch," says Mark Holm (below). From County Hwy. A, south of Iron River, to Mellen, you'll cross the entire national forest and have a chance to hear howls from the resident wolf pack.
4. Top Campsite

On the South Fork of the Yellow River is a hemlock grove with trees spaced hammock-length apart, loamy, spine-cradling duff, and peace only interrupted by the river's current. From FR 116, .5 mile east of Richter Lake, take the Ice Age Trail 18 miles north through meadow and marsh.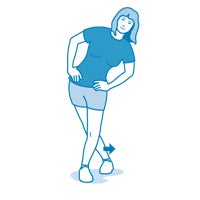 OUR BACKYARD | THE EXPERTS
5. Deepest Solitude

The 18,000-acre Headwaters Wilderness is a land of muskeg flats ringed by hardwood-topped ridges. "The lack of an established trail system dissuades casual hikers," says Jill Schroeder (below). Start on the .5-mile Scott-Shelp Lake Trail, then head northeast, off-trail, targeting the web of ridgelines for higher, drier ground.
6. Best Waterfall Hike

Score a hat trick at Copper Falls State Park, near Mellen. Choose .5- to three-mile, kid-friendly paths to see the root beer-colored Bad River plunge over Copper Falls and Brownstone Falls, both 30 feet high, into craggy, basalt canyons, and the cascading Red Granite Falls at the park's southern border.
7. Favorite Dayhike

The St. Peter's Dome-Morgan Falls Trail is less than four miles round-trip, but what it lacks in mileage it makes up for with calendar-worthy views. Go in May: Crowds are thin, migrating songbirds like scarlet tanagers and blue-headed vireos are laying over, and the 70-foot falls is running full bore. From the top, you can see 20 miles north to Lake Superior.
8. Primo Berry Picking

The sandy soil of Moquah Barrens is an ideal incubator for blueberries and wildflowers, like blazing star and sand cherry. Peaks come in June and August, respectively. Hike two miles west on FR 241 through open terrain, with low-lying foliage and sporadic jack pine stands.
OUR BACKYARD | THE EXPERTS

Jill Schroeder, 35, of Merrill, Wisconsin, grew up vacationing in the Chequamegon. "Winter here is magical, like snowshoeing through a snowglobe. But spring is a very close second, with wildflower blooms and migrating birds." Her top destination for both: "Anywhere in the Headwaters Wilderness. It's truly wild, and easy to find solitude."


Mark Holm, 63, of Lincoln, Nebraska, has hiked in Wisconsin for 20 years. "The Chequamegon is special," he says. "I like hiking in from the northwest at the Lake Ruth trailhead and hiking to Perch Lake. It's best in spring and fall when you can see new growth interacting with the old."