North America's Highest Sandbox: Great Sand Dunes National Park
The most exotic hike in the United States is smack in the middle of the country: Welcome to Great Sand Dunes National Park.
Heading out the door? Read this article on the new Outside+ app available now on iOS devices for members! Download the app.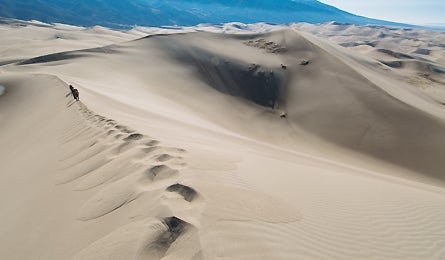 Making tracks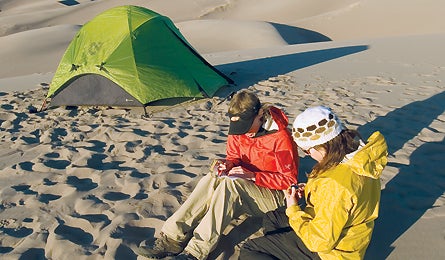 The author and pal Tracy track the evening temps (mid 40s)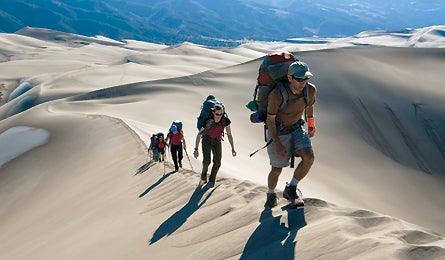 Climbing the tallest dune in the park (750 ft.)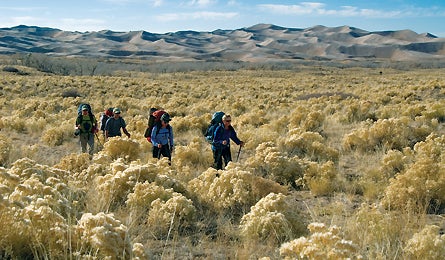 Weaving through rabbitbush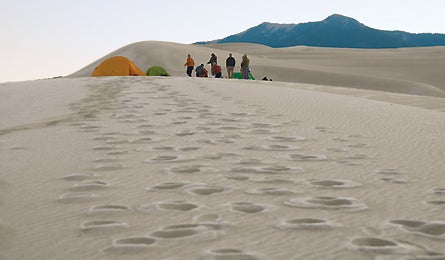 A frosty morning on "the beach"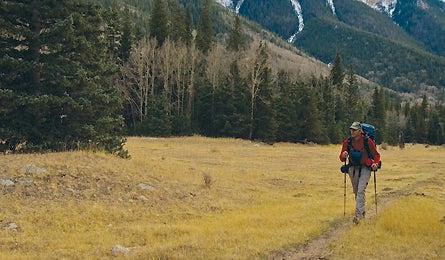 Trekking to 11,466-foot Music Pass
"Guys! Did you feel that?" Dennis is ahead of us, tiptoeing across a sandy knife-edge that drops away 200 feet on either side. He looks like he's just seen some sort of ghost. "This is nuts!"
Our trudging line, concerned, bumps to a stop like a halted mule train.
"Someone come up here. Someone needs to go first and hear this."
I step around Dennis–doing a do-se-do on the crumbling ridge–and continue walking. The sand spills down the faces on either side of my feet, cascading slowly, almost like syrup. It takes a few steps, but then it happens: When enough grains move, the whole ridge starts to vibrate, bark, and sing underfoot. It's like my steps are alive.
Good thing the ground didn't shake like this when we awoke this morning: We were camped amid 4.8 billion cubic meters of sand. I was sure at least a cup of it was in my oatmeal. And a pint in each of my boots. After a sip of coarse coffee, I wasn't exactly enamored of the stuff. But gritty oatmeal and grainy socks were a small price to pay for the rest of the scene: The November sun peered over 12,380-foot Carbonate Mountain to the east, melting the frost that crystallized over yesterday's footprints. Spiky shadows stretched across tawny slopes–our tents were pitched in the middle of a sea of dunes that extended to the base of the snow-capped Sangre de Cristo Mountains. The night before, we caught alpenglow on those same peaks and counted a dozen shooting stars in an onyx-black sky.
Colorado may be better known for its soaring fourteeners, but here in Great Sand Dunes National Park, in the south-central region of the state, the landscape looks like a Google mash-up of the Rockies and the Sahara, almost like you're standing on the bleakness of Mars and looking at Earth's deep blues and greens. Tent stakes don't work. I'm wearing a down jacket–despite the seaside vibe of sand and sun, the dunes sit at an elevation of 8,200 feet. And the terra is definitely not firma: You better bring gaiters. You better do calf raises to prepare. And on ascents, you should expect to take at least two steps backward for every step forward.
Our group of nine BACKPACKER editors have come to the park to test gear and explore a route from the sand to the top of the Sangre de Cristos, which hunker over the western and northern edges of the dunes. More specifically: We hoped to wend a few miles through the sand on the first day, camp, then continue all the way to the northern end of the park. There, the barren slopes give way to narrow-leaf cottonwoods and piñon pines, and the Tatooine-like drifts transition to solid ground.
But, as with all the best adventures, ours is easier said than done. The dune terrain is oddly featureless–which makes distances deceptive and navigation tricky. On the first day, our hike starts with a mile-long walk along Medano Creek, which pours out of the mountains but is eventually swallowed by the sand. Since there are no trails in the dunes, you just strike off when the slope seems right. We leave the streambed, and the first 10 steps are so steep, the sand so sugary, that I'm forced to crawl on hands and knees. The faster I push off, the more sand I drive out from under me. My 50-plus-pound pack, heavy with gallon-jugs of water, digs me in deeper still. I strain not to slide down all the way to the bottom. I try not to think of Sisyphus–or the skier I'd seen earlier skinning uphill as easily as he would on snow.
After the slowest 13-foot vertical gain of my life, the incline mellows and we make easier progress. We set our sights on the highest dune on the horizon and weave toward it. After another short climb, we take a break to pour sand from our boots–and hold a quick jib session, leaping from a perfect isosceles ridgeline onto a 30-degree slope.
Steve kneels into the pitch and hoists his Nikon. Tracy pushes off, jumps, and gains about 6 inches of air. "You can't get much of a running start!" she calls, executing a stunted spread eagle and a stop-drop-and-roll landing.
"I give it a 7. Next!" Steve signals to Elisabeth, who does her best airborne interpretation of Baryshnikov.
"9.5!"
I run off the end of the ridge, attempt a mute grab, land square on my hip, and learn an important dune fact: In some places, the sand is so inviting it feels Tempur-pedic; in others, it's so compact it feels like cement. My landing zone is more asphalt than mattress.
We continue meandering until the sun starts dipping toward Utah. We find the perfect place to camp–a ridge that flattens out into a bench with commanding views of dunes and mountains. That's when my calves begin to wail: A 1998 Belgian study showed that walking on sand requires 2.7 times more energy expenditure and 2.5 times more mechanical work than does walking on hard ground. Australian exercise physiologist (and sand-walking guru) Anthony Leicht later tells me that walking on sand is "like lifting weights at a gym–only this time you're 'working out' without working out." Translation: I'm wiped.
I slip into my sleeping bag and start to drift off, but not before realizing sand-camping's sweetest perk: Find a deep soft spot, and the bazillion grains hugging your spine are like nature's memory foam. I fall into a cradled, customized dream.
Great Sand Dunes sits on the eastern edge of the San Luis Valley, drifting against the 13,000-foot Sangre de Cristo Mountains like waves against a seawall. Some 5 million years ago, an enormous lake covered the valley floor; when it dried up–or, according to other theories, gushed through the Rio Grande Gorge–it left behind huge, flat deposits of sand. As prevailing winds out of the southwest funneled toward three nearby mountain passes (Mosca, Medano, and Music), the sand from the valley piled up against the steep slopes of the Sangres, some drifting to heights of more than 750 feet. Not only that, Medano Creek and Sand Creek carry sediment back down to the valley floor, which gets blown on top of existing sand.
Dunes look quiet and static, but they're not. They squeak and fart. They whoosh and swish. On our second day, we wobble along the top of a so-called Chinese wall–a feature formed from constantly reversing winds that pile a dune into knife-edge crests. That's when I feel that astonishing hum under my soles. The explanation, say scientists who study sand, is this: Avalanches of round specks rub against each other and form standing waves of grains, which make certain dunes vibrate like subwoofers. In fact, a few years ago, French physicists hauled home some Moroccan sand and recorded the music it produced–foghorns, galloping hooves, airplane roars. (Don't exhaust yourself trying to find it on iTunes. It's, umm, academic.) As I step aside to let Mike go past, we all forget our tired calves. Suddenly, walking on sand is like magic.
After another half a day of hiking on the dunes, we connect with the northern end of the Sand Ramp Trail, a marked path that traces the edge of the transition zone where piñon-juniper foothills meet sand. We head north toward a designated tent site at Sand Creek. That night, we camp under narrow-leaf cottonwoods, filter ice-cold water, and stick tent stakes into solid ground.
The next morning, we break into two groups so we can manage our car shuttle. Those going on will climb 3,700 feet and 13 miles along Upper Sand Creek Trail to Upper Sand Creek Lakes, which sit in a cliff-lined basin at 11,000 feet in the heart of the Sangre de Cristos. Along the way, they'll explore some old mining cabins, then wind through aspens that give way to spruce and grass-covered meadows turned a late-fall brown. They'll see an ermine and gray jays, and sunsets that flush the flaky schist and banded gneiss peach and gold. Finally, they'll climb over 11,380-foot Music Pass to reach the trailhead.
Meanwhile, my group hikes the 11 miles back to our vehicles via the Sand Ramp Trail, staying low and looping around and through the massive sandbox. On the aptly named trail, there's no relief for sore calves. We walk forward, we slide back, we slog on.
Four hours later, I realize that I've been staging a mental smackdown of sand-hiking pros and cons. Pro: The exotic landscape and extreme solitude (we see zero other campers on our trip) combine for a life-list experience. Con: My legs are screaming. Pro: You can walk around barefoot. Con: There's sand in my toothpaste. Pro: Because of strong ultraviolet light and lack of organic material in the sand, park officials say you shouldn't dig cat holes. Con: Rare but surprising turd encounters. Pro: Fine patterns left in the sand by wind-blown Indian rice grass and skittering kangaroo rats. Con: There's sand in my ears, armpits, and underwear. Pro: Shadows that look dark as spilled paint. Pro: Dune sledding. Pro: Dune Frisbee. Pro: Insane stars.
But the biggest pro doesn't hit me until I'm back home: The dunes stick with you. Maybe it's the memories of an alien, dynamic landscape. Maybe it's the grit I find on my Chapstick five weeks after the trip, or the grains I still feel in my jacket pockets. Either way, I'm transported, if just for a moment, straight back to the sands.
Plan It

Great Sand Dunes National Park, CO
Getting There

The park is about 150 miles southwest of Denver. Head south on I-25 to Walsenburg, then west on US 160 and north on CO 150.
Hiking

There are no trails in the dunes proper, but you can wander without restriction. The 11-mile Sand Ramp Trail skirts the transition zone between dunes and foothills. The Upper Sand Creek Trail leads 13 miles up into the Sangre de Cristos. Leave a shuttle at the Music Pass Trailhead or return the way you came. The one-way route is best done in four to five days.
Camping

You can camp anywhere in the dunes (pick up a free permit at the visitor's center). Six designated backcountry campsites are located along the Sand Ramp Trail (reservations and permits required). Backcountry camping in the Sangre de Cristos is unrestricted.
Water

It's bone-dry here. Pack all the water you need for the dunes (plan a gallon per person per day). On the Sand Ramp Trail, water is available from several creeks.
Season

Fall is the best time to visit, with mild days in the 60s and 70s. In summer, temps can hit the 80s–but on the surface of the sand it's a sole-scorching 140°F. Spring temps are mild, but high winds are common.Nights are chilly year-round.
Contact

(719) 378-6399; nps.gov/grsa