New Life List: Shoot a Wall-Worthy Photo
The only thing equal to a life-list trip? An image that brings it back to life.
Heading out the door? Read this article on the new Outside+ app available now on iOS devices for members! Download the app.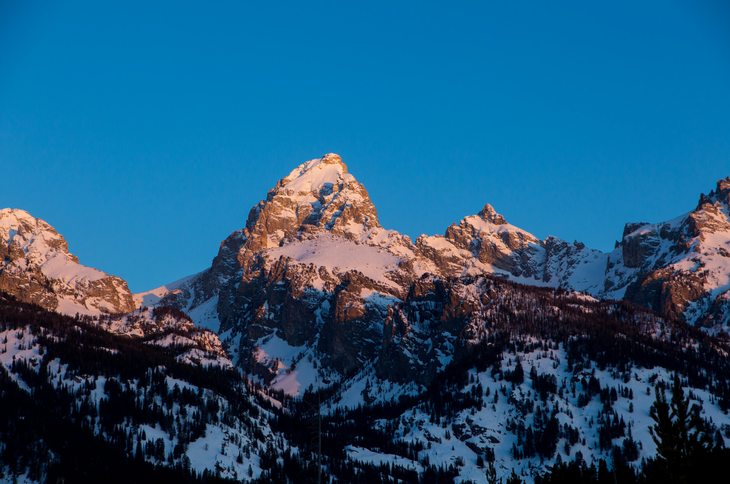 Payoff When I was 21 years old, on my first Himalayan trek, I camped high in the Annapurna Sanctuary, surrounded by 24,000-foot-plus peaks. Temperatures were freezing, and I was under-dressed and underprepared, but I shivered through three days and nights nonetheless. When would I return? More than 20 years later, the shot of my tent, enveloped by mist with the sharp pyramid of Machapuchare rising behind, transports me back to that moment—goose bumps and all. —Dennis Lewon
Do it There's a reason the iconic granite skyline of the Tetons graces countless ads, catalogs, magazines, and calendars—it's gorgeous. But even if you didn't have a camera, a trek here would be burned into your memory. That combination of photogenic peaks and life-list wilderness makes the Tetons a likely park to nail your best-ever trip and photo. The 36.5-mile, five-day traverse from Death Canyon trailhead north to Leigh Lake trailhead, much of it following the Teton Crest Trail, serves up a Tetons' highlight reel, with up-close views of the Grand, alpine wildflowers, and megafauna like moose. In summer, afternoon thunderstorms often produce rainbows and sunbeams that contrast spectacularly with the clouds.
Key Skill: Scouting Your Shot
You'll need planning for the best framing, light, and timing. Here's how to nail the perfect alpine shot:
» Find a high spot that overlooks a canyon or valley and has a dramatic backdrop, like a peak or waterfall. In the Tetons, for example, one perfect perch is 10,700-foot Paintbrush Divide, with North Fork Canyon and Lake Solitude below and the Grand Teton looming above. In the early morning (for the best light), position yourself at that spot, with a hiking partner just below; have him walk up the trail toward you but at a distance of 25 to 40 feet.

» Frame the picture vertically, with your partner in the bottom right or left quadrant, and the canyon walls or another feature framing the sides. Zoom in to make the backdrop appear larger, but keep your partner far enough away—so he looks small, to convey a sense of scale.

» Take several shots, manually adjusting the exposure until the sky is a vivid blue and your subject not too dark.
RESOURCES
Getting there Death Canyon trailhead: From Craig Thomas Discovery and Visitor Center, follow Teton Park Road .1 mile west. Turn south onto Moose-Wilson Rd., continue about 4.6 miles, turn right at a sign for the trailhead, and follow that dirt road to its end. Leigh Lake trailhead: From Craig Thomas Discovery and Visitor Center, follow Teton Park Rd. about 10 miles to North Jenny Lake Junction and turn left, following signs to the trailhead. MapTrails Illustrated Grand Teton #202 ($12; natgeomaps.com) Contact (307) 739-3300; nps.gov/grte
SEE TWO MORE
Fontana Dam to Davenport Gap
Hike 71 miles across the Smokies, from , on the AT. Shoot scenes of ridges fading into fog and wildflowers glowing in the mist. (865) 436-1200; nps.gov/grsm
In Mt. Rainier National Park, hike 45.4 miles from Mowich Lake to Stevens Canyon via the Spray Park and Wonderland Trails for shots of glaciers and flower-choked meadows—always with Rainier as background. (360) 569-2211; nps.gov/mora