New Life List: See a Grizzly
Coming face to face with the biggest predator in North America might just alter your worldview.
Heading out the door? Read this article on the new Outside+ app available now on iOS devices for members! Download the app.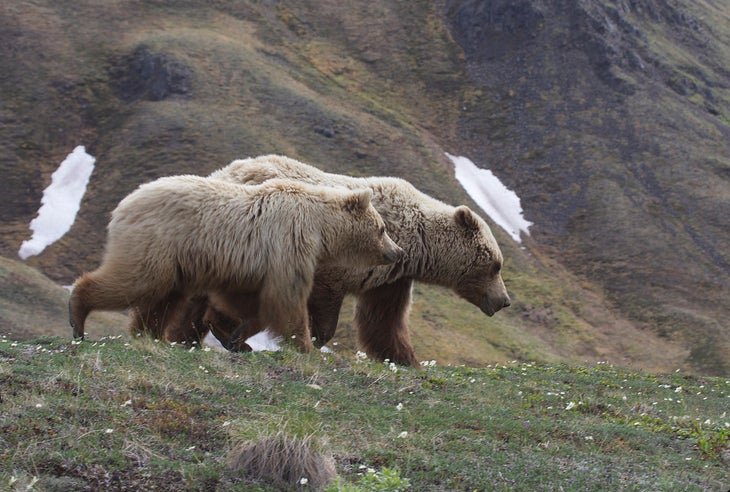 Payoff When the shaggy, silver-tipped behemoth materialized from around the willows and rose up on its haunches to sniff the air, the possibilities of this world expanded. I was in Denali, and the park was—all at once—more wild and less moved by my presence than I ever dared to dream. Was I scared? Hell yeah. But that was soon replaced by lifelong wonder. —J. Dorn
Do it God created Denali for backpackers to watch grizzlies, and the National Park Service created quotas to keep it special. Yes, the park's rules can be a pain for planning, but it's good conservation policy and part of the reason that every quadrant past the Sanctuary River (about 10 miles into the park on the camper bus) is virtually guaranteed bear-viewing habitat. Our advice: Don't waste potential backcountry days waiting for the "perfect" permit. Take the first and deepest drop-off you can get, and keep your binoculars handy. With Denali's incredible sightlines—there are no trees to obscure views—you're gonna see bears.
Key Skill: Bear-Watch Safely
» Always watch from a distance of at least 300 feet, and never approach bears.
» Go out at dawn or dusk. And ask land managers where bears are feeding, then find an overlook where you can watch from a distance (and preferably downwind). If you find fresh scat, make noise and leave the area, but then move to an overlook to observe that spot.
» If a grizzly stands on hind legs, sniffing, it's trying to identify you. Back away slowly, avoid eye contact, speak in a low voice, and slowly wave your arms. If it charges, stand your ground without making eye contact or acting aggressively. Hold pepper spray at ready. If it attacks, lie on stomach, legs spread, hands over neck.
Resources
Getting there From Anchorage, take AK 1 34.2 miles north to AK 3, which leads 204 miles to the park headquarters. Guidebook Denali National Park: Guide to Hiking, Photography and Camping, by Ike Watts ($22; denaliguidebook.com). Map Buy appropriate quads at the visitor center. Rip & Go Click here for a 14.6-mile Denali loop with turn-by-turn directions and tracklog. Contact (907) 683-9649; nps.gov/dena
See Two More
Take a float plane to a backcountry cabin in the Kodiak National Wildlife Refuge (there are nine; reserve at recreation.gov) and strike out on dayhikes. Nearly 3,000 Kodiak, a huge brown bear subspecies, roam the island. visitwildalaska.com
About 300 griz roam the backcountry of Glacier National Park. Tour its deepest corners on a 54.8-mile, six-day loop from Two Medicine Lake, linking the Continental Divide and Highline Trails. (406) 888-7800; nps.gov/glac