New Life List: Climb a Via Ferrata
Get a taste of the vertical alpine world--no experience required.
Heading out the door? Read this article on the new Outside+ app available now on iOS devices for members! Download the app.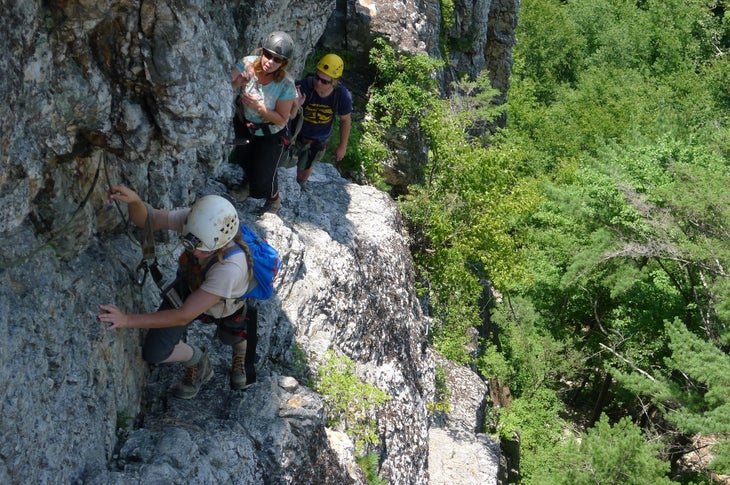 Payoff Want to live utterly in the moment? You could spend years learning to meditate, or you could spend seconds clinging to a rock face thousands of feet in the air. Up there, life is distilled to colors, scents, sounds—and the occasional joyous whoop. And even beginners can feel it on a via ferrata (iron cables and ladders bolted to rocks, which you clip into with a harness and 'biner). I've been climbing for 20 years, and thought it would be tame by comparison. Wrong. The exposure is real, but so is the safety. —Michael Lanza
Do it Italy's 75-mile Alta Via 1, which winds through the sky-stabbing spires of the Dolomites. The eight- to 10-day trip starts near Lago di Braies, then roller coasters south over pink limestone ridges—with about 2,500 feet of elevation change a day. Sleep in alpine huts called refugios. Highlight: the Via Ferrata del Marmol, a sheer, 2,000-foot scramble. Go late June to late September; avoid August's crowds.
Key Skill: Get Comfortable With Exposure
» Take 10 deep breaths from the belly. This stimulates the vagus nerve, in the diaphragm, which dampens the flood of adrenaline and lowers your heart rate. Focus your vision on just one spot, like a handhold or a flower growing from the rock, until your breathing slows.
» Check your equipment to reassure yourself that you're protected, and repeat a mantra to yourself, like "I am safe and in control."
» Make a plan. Look for all possible hand- and footholds, decide which order to use them in, and then focus simply on executing that sequence while also remembering to breathe.
Resources
Getting there Fly to Milan or Munich and take a bus, taxi, or rental car to Lago di Braies. Guideboooks Via Ferratas of the Italian Dolomites, Volume 2, by Graham Fletcher and John Smith ($17; cicerone.co.uk) and Dolomites Trekking, by Henry Stedman ($23; trailblazer-guides.com) Guide Want a guide? You can hire one in most local towns. Or book Distant Journeys (distantjourneys.com), based in Maine, which specializes in Alta Via 1 trips. Contact Reserve refugios at www1.dolomiti-altevie.it.
See Two More
Waterfall Canyon Climbing Park, OR Spiderman up 350-foot routes abutting a gushing cascade. (801) 550-1761
Nelson Rocks Preserve, Seneca Rocks, WV The half-mile route on airy quartzite includes a 200-foot-long, 150-foot-high swinging bridge. (304) 567-3169; nelsonrocks.org