New Life List: Bag a Remote Peak
Stand alone atop Washington's Glacier Peak--a summit that others rarely see, let alone climb.
Heading out the door? Read this article on the new Outside+ app available now on iOS devices for members! Download the app.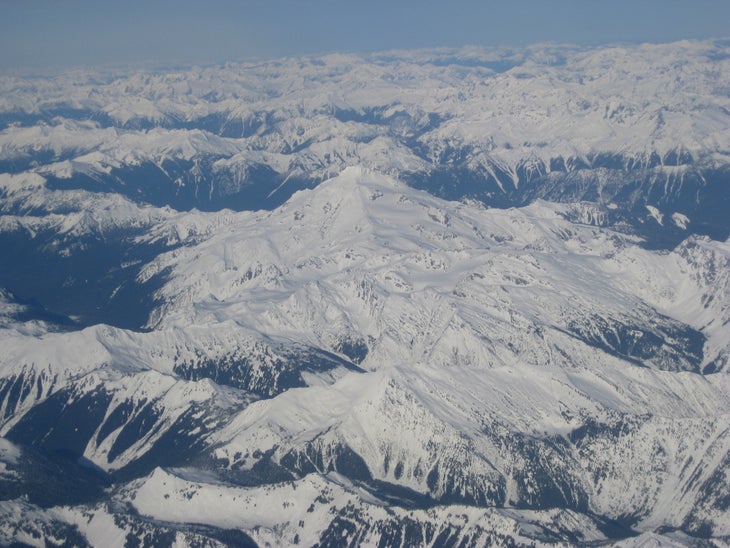 Payoff It's safe to say that most of us will never set foot on the summit of Mt. Everest, but that doesn't mean Ed Viesturs and company have a monopoly on alpine epics. I claimed my own top-of-the-world sensation deep in Wyoming. My partner and I hiked for two days to reach our basecamp—and we still couldn't see our objective, Gannet Peak, the most remote state highpoint. The climb itself was a rush, of course, but it was the approach that made it feel like a first ascent. —Shannon Davis
Do it Isolated in the middle of its 570,573-acre namesake wilderness area in Washington's North Cascades, 10,541-foot Glacier Peak lies a long day's hike from any road. Tagging it via the technically easiest route—Disappointment Peak Cleaver, no ropes required—combines a spectacular two-day, 16.5-mile (one-way) backpacking trip with a full day of off-trail hiking, rock scrambling, and snow climbing. Take the North Fork Sauk River Trail 649 and hike 12 miles and gain more than 4,000 feet to your basecamp, in a basin of lakes below the White Chuck Glacier on the mountain's south side. On your 10-hour summit day, avoid glacier travel by taking the Grade I Disappointment Peak Cleaver route. The White Chuck Glacier has receded so much that, contrary to what maps show, you can skirt it to reach Glacier Gap. Target mid to late summer for long, warm days.
Key Skill: Scrambling

Each of the three routes above requires good technique, sure hands and feet, and

a level head to scale exposed, class 3 or 4 terrain.
» Make slow moves, always maintaining three points of contact. Look at each foot and hand placement, and test holds by hitting them with the heel of your hand; a hollow sound indicates loose rock.
» When ascending, move your feet up first, so you can more easily reach higher handholds. And push upward using your leg muscles, rather than always pulling with your arms. When descending, face the rock, and move your hands to lower holds first, allowing you to then step your feet down.
» Resist the urge to hug the rock. Keep your hips back, directly above your feet, for optimum balance and friction.
» Stay within several feet of your partner, so any rocks accidentally sent tumbling don't gain velocity before reaching a companion. And wear a helmet.

RESOURCESGetting there From Darrington, Washington, follow the Mountain Loop Hwy. (FR 20) 16 miles, then turn left onto FR 49. Continue four miles to trailhead 649 at Sloan Creek Campground. Guidebook Cascade Alpine Guide Vol. 2, by Fred Beckey ($35; mountaineersbooks.org) Maps Green Trails Sloan Peak 111 and Glacier Peak 112 ($6; greentrailsmaps.com) Contact (425) 783-6000; fs.fed.us/r6/mbs/recreation/wilderness
SEE TWO MORE

The East Ridge of Montana's 12,799-foot Granite Peak entails class 4 scrambling. And just reaching the East Beartooth-Absaroka summit requires an 11.1-mile approach. (406) 446-2103; fs.fed.us/r1/custer
Top 13,745-foot Fremont Peak in Wyoming's Wind River Range on a class 3 climb up its west face. Camp in Indian Basin, 14 miles from Elkhart Park trailhead. (307) 739-5500; fs.fed.us/r4/btnf