Escape Into Nature With Our Favorite Livestreams
Even when you're stuck indoors, you can get a taste of the wild with one of these video feeds. Pick your favorite and embrace the chillout.
Photo: Photo by Sophia Becker on Unsplash
Heading out the door? Read this article on the new Outside+ app available now on iOS devices for members! Download the app.
Channel Islands Kelp Forest
This underwater camera off Anacapa Island in Channel Islands National Park shows a swaying patch of giant kelp (which averages 100 feet long and can grow 11 inches per day) and the passing marine fauna that call it home, including otters, seals, and moray eels. Over 1,000 species can be found within these offshore ecosystems in the Channel Islands, which make up a third of all the kelp forests in southern California, so you'll never get bored.
Orcas and Ocean in the Islands off the BC Coast
The 50-year-old whale research station on Hanson Island, in the Inside Passage between Vancouver Island and the mainland, monitors orcas and humpback whales via a network of hydrophones and cameras as well as researchers with spotting scopes. The researchers have identified every member of the resident orca families by spot pattern, and sometimes can even pick out individuals by their song. Watch for whales, sea lions, and bald eagles through one of their four livestreaming cameras.
Northern Lights in Manitoba
Keep an eye on the aurora forecast: With this live cam in Manitoba, even hikers on the equator can get a glimpse of the northern lights. Perched right at the border between open tundra and the krummholz trees of the taiga (coniferous forests at the edge of the polar treeline), this ecosystem meeting point is a favorite spot for elk and wolves.
Redwood Forest
Let the soothing rush of the river sweep you away on this livestream from the banks of Northern California's Smith River, one of the only major rivers in the US that isn't dammed. Coast redwoods crowd the banks, providing shade for the trout that linger in the pools along the water's edge.
Dumpling Mountain, Katmai National Park
Can't make it to Alaska quite yet? No worries—get a taste with this view of mountains, tundra, and Naknek Lake from the summit of Dumpling Mountain in Katmai National Park. The 103-year-old park is home to more than 2,000 brown bears, as well as more than a dozen active volcanoes.
California Condor Chicks
Getting close to critically endangered condors in the wild is a bad idea for hikers and birds alike, as it disturbs their natural routines and, for the hiker, can result in bodily harm. Watch them on the Cornell Bird Cam instead. You can follow the adventures of the incredibly fuzzy chicks from right in the nest, with no risk to either the birds or you.
California Condor | Cornell Lab Bird Cams Cornell Lab Bird Cams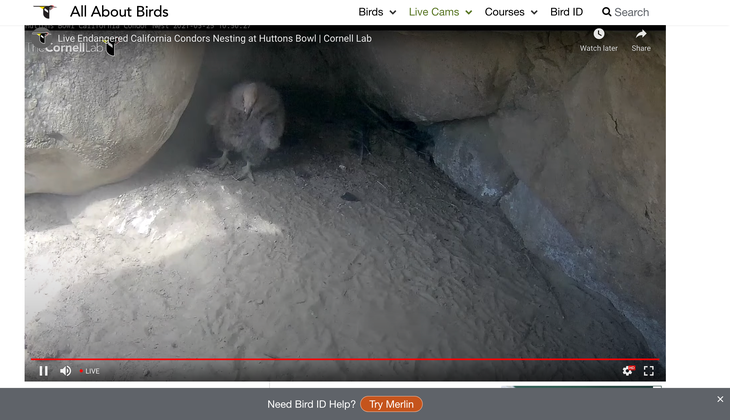 Puffin Loafing Ledge, Maine
Every summer, puffins return to Seal Island off the coast of Maine to breed. Watch them fish, nap, and hatch chicks with the Audobon Puffin Cam. See if you can catch one returning to the nest with a beakful of fish—the record fish-carry by one puffin is 62.
Yosemite Falls
Even if you don't get your park reservation, you can experience one of Yosemite's most iconic sights with Yosemite Conservancy's livestream of Yosemite Falls. Sunrises and sunsets are the best time to log on, and spring and early summer have the highest water flow.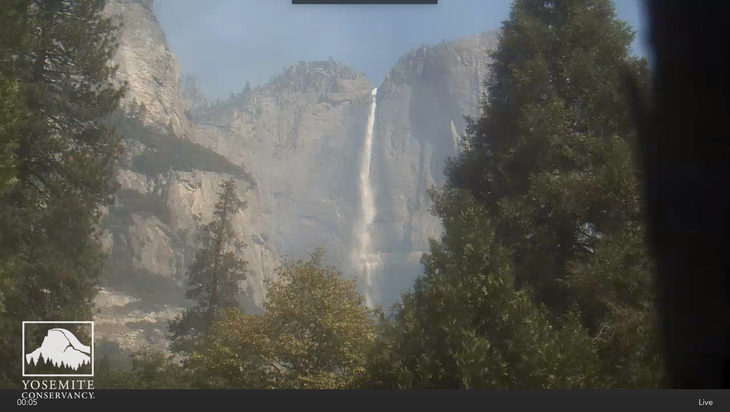 Tembe Elephant Park
This camera is trained on a watering hole in KwaZulu-Natal, South Africa, which has protected part of an important elephant migration route since 1983. The camera is night-vision-equipped to increase your chances of spotting lions, cheetahs, giraffes, wildebeests, and zebra—and, of course, elephants.
Katmai Bear Cam
You didn't think we forgot the bears, did you? Every summer and fall, Katmai National Park and Preserve and Explore.org stream all the action as dozens of brown bears crowd around the park's Brooks Falls to gorge on salmon. Tune in for the unintentional splashes, conflicts, and occasional visiting wolf.