Natural Wonders: World's Tallest Geyser, North America's Smallest Bird and Best Shade Tree
Discover the world's tallest geyser, North America's smallest bird, and the country's best shade tree on these three treks.
Heading out the door? Read this article on the new Outside+ app available now on iOS devices for members! Download the app.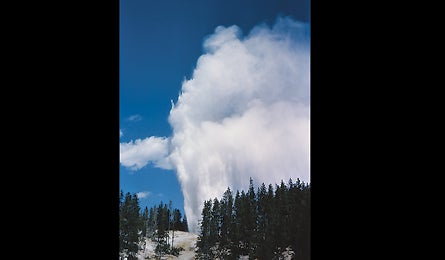 Steamboat Geyser (EE Mackin/NPS Photo)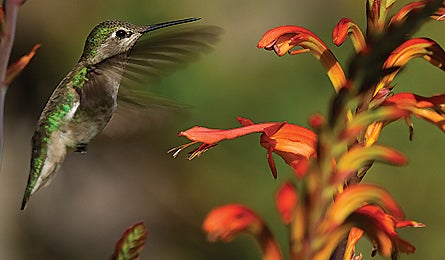 Calliope Hummingbird (Tomas Kaspar)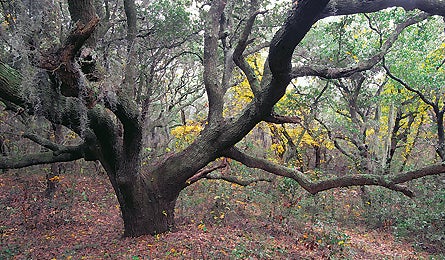 Live Oaks (www.kadamsphoto.com)
World's Tallest Geyser | North America's Smallest Bird | The Country's Best Shade Tree




The World's Tallest Geyser

Old Faithful is old news. This one spouts higher.



The Wonder

Steamboat Geyser's major eruptions gush a boiling column of water 30 stories above Yellowstone's Norris Geyser Basin, transforming nearby slopes into a muddy mess. After the three- to 40-minute spectacle, steam jets audible from a mile away roar from Steamboat's vents for up to 36 hours. Minor earthquakes sometimes precede major eruptions, but scientists haven't pinpointed a geologic trigger for this wildly unpredictable geyser: Historically, four days to 50 years separate mega-blasts. The most recent was in 2005.



The Way

From Norris Basin, take the boardwalk .25 mile to see Steamboat's minor eruptions—up to 20 feet high every few minutes. Turn left after Cistern Springs and follow the trail through the park's hottest and most active thermal region. Return past Steamboat to close the 1.5-mile loop. Want more? Take a .75-mile loop through Porcelain Basin's sulfur-scented moonscape.
World's Tallest Geyser | North America's Smallest Bird | The Country's Best Shade Tree


North America's Smallest Bird

Glimpse a pinkie-length hummingbird.



The Wonder

Grab a dime. That's the weight of the calliope hummingbird, a territorial sprite that migrates 6,000 miles round-trip on a four-inch wingspan. In spring, calliopes leave southern Mexico, heading for the Cascades and seeking insects and wildflowers emerging when spring hits the mountains. In the forests and meadows of their Northern Rockies breeding grounds, emerald-and-ruby males entice females with a diving, twittering display. By late August, these tiny migrants take wing again on the two-month return journey to Mexico.



The Way

In June, you're virtually guaranteed a calliope sighting on the 11-mile out-and-back Fourth of July Creek Trail in Washington's Okanogan-Wenatchee National Forest. From Leavenworth, take Icicle Creek Road south 9.4 miles to the trailhead. Look for calliopes near the creek in the first .5 mile, and watch them zip among Indian paintbrush, mock orange, and honeysuckle as you switchback for five miles to 7,000 feet. Catch your breath—and Chiwaukum Mountain vistas—at the burn zone on top of the ridge.
World's Tallest Geyser | North America's Smallest Bird | The Country's Best Shade Tree


The Country's Best Shade Tree

Lounge under pre-Civil War specimens of a Southern icon.
The Wonder

Live oaks' majesty rests not in height, but in spread: Their snakelike branches undulate from earth to sky and back to create a sun-stopping lattice. Though live oaks sprout across the southern U.S., north Florida's long growing season and clay- and shell-enriched soils create ideal conditions for large medusas, including the state champion, which could shade an Olympic-size swimming pool. Deep root systems and rot-resistant wood help live oaks survive numerous hurricanes during their several-century lifespan.
The Way

Pick up the 13.6-mile out-and-back Bulow Woods Trail outside the gate of Bulow Plantation Ruins Historic State Park, three miles west of Flagler Beach on CR 2001. Tunnel through one of eastern Florida's largest remaining old-growth live oak hammocks, where Spanish moss drips from a ceiling of gnarled branches. The orange-blazed trail is most spectacular from miles 1.5 to three, but don't miss the 500-plus-year-old Fairchild Oak near the ranger station at mile 6.8.