Natural Wonders: Tallest Hoodoo, Largest Gators, Lost Maples
These three treks to life-list phenomena will take you to Bryce Canyon, Florida gator land, and fall foliage in the Texas desert.
Heading out the door? Read this article on the new Outside+ app available now on iOS devices for members! Download the app.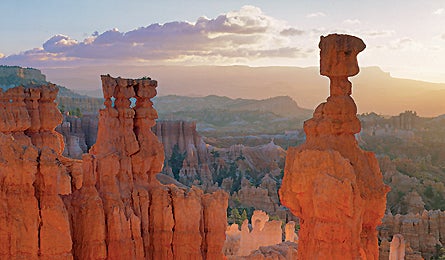 Bryce Canyon (Ed Callaert)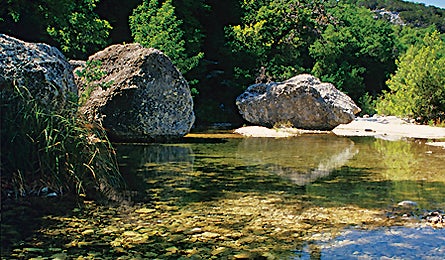 Texas's Lost Maples (Chuck Haney)
Tallest Hoodoo | Largest Gator | Lost Maples
Bryce Canyon's Tallest Hoodoo

Trek through redrock gardens to Thor's Hammer.
The Wonder Like Yao Ming at a preschool square dance, Bryce Canyon's tallest stone column, or hoodoo, stands out, way out (150 feet taller, to be exact), from the sea of hoodoos that surround it. Even more impressive is its structure: a tall, perilously skinny pillar of limestone supports a jumbo chunk of hardened, red mudstone. With an average erosion of two to four feet every 100 years, Thor's Hammer will one day come crashing down.
The Way From the visitor center (on UT 63 near the Sunset Point turnout), pick up the 1.3-mile Navajo Trail loop from Sunset Point to drop into the Bryce Amphitheater and the park's densest hoodoo concentration. The reds, yellows, and browns come from iron, while manganese lends pastel hues of lavender and purple. Thor's Hammer looms over the rest on the left, near the beginning of your descent. nps.gov/brca
Tallest Hoodoo | Largest Gator | Lost Maples
America's Largest Gators

Glimpse the only reptile that's survived 200 million years on Earth.
The Wonder These carryovers from the Age of Reptiles are notorious for their bone-crushing bite. They weigh up to 800 pounds and in lightning-fast bursts of speed lunge from the water to snatch prey from the bank. They're known to hunt Florida panthers and even black bears, but their main prey are smaller animals (like young whitetail deer) that they can kill and eat in a single bite. Native only to the United States and China (two species of alligators exist–American and Chinese), there are more than a million gators in Louisiana.
The Way The Nature Conservancy's Cypress Island Preserve, 45 miles west of Baton Rouge, is the local's choice for consistent gator-spotting. Here you'll find old-growth live oaks and cypress dripping with Spanish moss, and the warm water that gators depend on for hunting and nesting. Park in the small lot at the southwest corner of Lake Martin to access the 2.5-mile Levee Trail. Gators are most active at dusk when it's 70°F or warmer. Below that temperature they lose their appetite and are dormant below 55°F. nature.org
Tallest Hoodoo | Largest Gator | Lost Maples
Texas's Lost Maples

Search for brilliant fall foliage in the desert.
The Wonder Predecessors of the modern big-tooth maple thrived in Texas before the last Ice Age. Then came the deep freeze, when ice sheets advanced across North America and destroyed most living things in their path. Scattered stands of big-tooths–a drought-tolerant relative to the eastern sugar maple–survived in canyons in central and west Texas. Come mid-October, their yellow, red, and orange leaves can compete with any foliage display in Vermont.
The Way From the park entrance, take a right fork to the Bay Use Parking Area to pick up the one-mile out-and-back Maple Trail. The first maple–the state's biggest, a monster with an 85-inch trunk circumference and 45-foot crown-rises 40 feet from the canyon floor at the trailhead. tpwd.state.tx.usparks/lostmaples