National Parks: Yosemite
Enjoy this legendary park (without the legendary crowds) on a four-day trip through the Clark Range.
Heading out the door? Read this article on the new Outside+ app available now on iOS devices for members! Download the app.
Sunset Over Lower Ottoway Lake (Jeff Chow)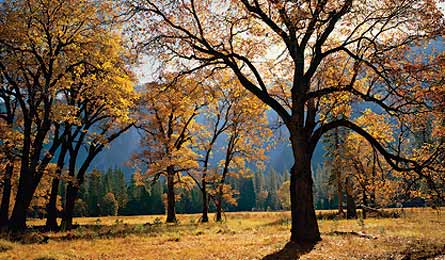 Fall Foliage In Yosemite Valley (Carr Clifton)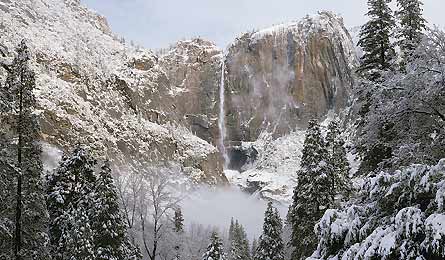 Yosemite In Winter (Kirkendall-Spring Photographers)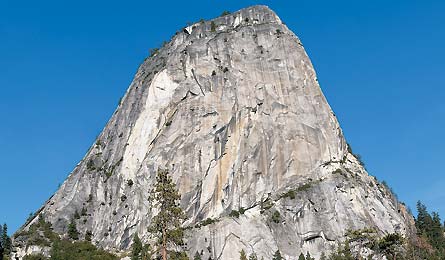 Liberrty Cap From The Top Of Nevada Falls (Rian Long)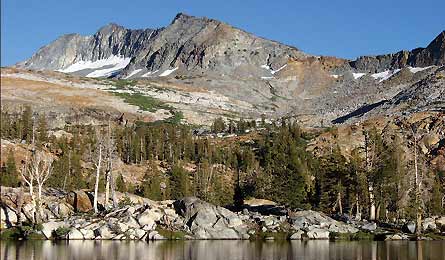 Lower Ottoway Lake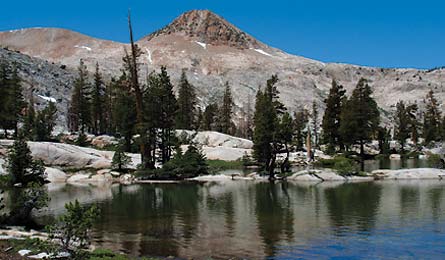 Red Devil Lake
TRIP PLANNER | ROUTE MAP | QUARTERLY REPORT
Yosemite Valley occupies less than one percent of the park's 761,268 acres, yet it attracts an estimated 95 percent of its 3.9 million annual visitors. And why not? The granite landmarks and waterfall-striped cliffs are so iconic that they literally inspired the creation of our national park system. But how can you see these classics and ditch the hordes on one efficient trip? I found the answer on this route in Yosemite's secret south: a 46-mile loop that links the Merced River's famous falls with the secluded Clark Range and high-alpine lakes and meadows rarely seen by Valley visitors.
Day one With 2,800 feet of gain in the first five miles and 2,300 more in the final 10, this 15-mile day provides an adequate barrier of entry. Hit Happy Isles trailhead by 8 a.m., and you'll nab the Valley views before the daytrippers arrive. Pause at Illilouette Falls Vista, one mile in, for a panorama of Yosemite, Illilouette, Vernal, and Nevada Falls. Then thigh-burn to the top of Vernal (tip: in hot weather, take the Mist Trail for some natural A/C). After clearing the lip of the falls, head uphill, away from the raging Merced River, on the Mono Meadow Trail through a burn zone where matchstick timbers frame the sky. At mile six, pass beneath the double-humped dome of Mt. Starr King (9,092 feet) before hopping Clark Fork to reach the Illilouette's main channel. After a series of falls near mile 12, ascend to Upper Merced Pass Lake (9,120 feet) to camp among Jeffrey pine on the granite-chunked northeast shore.
Day two Begin with a climb northeast up boulder-riddled slopes to Lower Ottoway Lake (9,653 feet). Take a breather; the next landmark is 11,180-foot Red Peak Pass, the park's highest, with views of the Minarets, Matterhorn Peak, and Ritter Range. Descend into the route's most isolated stretch, where smooth granite surrounds emerald pools lined by gnarled pines. Near mile 21, cross a shelf above Red Devil Lake. Camp on nearby slabs. 
Day three A mile below Red Devil Lake, detour onto a social trail for a scrambly 6.1-miler along the swimming-hole-rich Merced Peak Fork (a trail crew favorite). After dropping down a talus slope, rejoin the main trail and follow it to a footbridge spanning Merced Peak Fork. Continue a relatively easy six miles along the Merced River to Merced Lake High Sierra Camp. 
Day four The final 12 miles are all downhill. But don't rush. After you pass between granite cliffs to Echo Valley, the terrain opens up and the trail winds below waterfall-sprayed switchbacks around Bunnell Point. In late summer, stop in Lost Valley at slick-bottomed Bunnell Cascade—it becomes a natural waterslide. Drop into Little Yosemite Valley to meet the John Muir Trail. You'll pass dayhikers from here to Happy Isles, but your grin will stand out in that crowd.
TRIP PLANNER | ROUTE MAP | QUARTERLY REPORT

TRIP PLANNER
The way Yosemite is 195 miles northwest of San Francisco via I-580, I-205, and CA 120. From Reno, it's 218 miles via US 395 and CA 120. 
Permits Required (permit is $5, plus $5 per person). Reserve by trailhead 24 weeks in advance; limited number for day-of permits. (209) 372-0740, nps.gov/yose/planyourvisit
Trip data Download our route, print maps, and view a 3D version in Google Earth at backpacker.com/hikes/clark.


TRIP PLANNER | ROUTE MAP | QUARTERLY REPORT
CLARK RANGE LOOP

Highlights of Yosemite's best-kept secret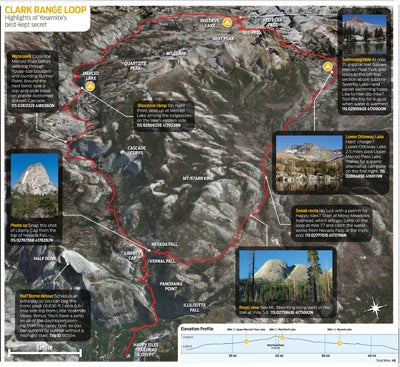 Waterpark Cross the Merced River before weaving through house-size boulders and rounding Bunnell Point. Around the next bend, take a slip-and-slide break on granite-bottomed Bunnell Cascade. 11S 0283122E 4180360N
Photo op Snap this shot of Liberty Cap from the top of Nevada Fall. 11S 0276756E 4178282N
Half Dome detour Schedule an extra day so you can bag this iconic peak (8,836 ft.) on a 6.6- mile side trip from Little Yosemite Valley. Bonus: You'll have a jump on all of the daytrippers coming from the Valley floor, so you can summit by sunrise without a midnight start. Trip ID 60564
Shoreline camp On night three, post up at Merced Lake among the lodgepoles on the lake's eastern side. 11S 0286920E 4179538N
Swimming hole At mile 21, a social trail follows Merced Peak Fork and leads to the off-trail section above sublime Serenity Lake—and secret swimming holes. Like to hike-dip-hike? Slot the trip for August when water is warmest. 11S 0291060E 4170900N
Lower Ottoway Lake Hard charger? Lower Ottoway Lake, 2.5 miles past Upper Merced Pass Lake, makes for a scenic alternative campsite on the first night. 11S 0286485E 4169119N
Sneak route No luck with a permit for Happy Isles? Start at Mono Meadows trailhead, which lets you jump on the loop at mile 7.7 and catch the waterworks from Nevada Falls at the trip's end. 11S 0277701E 4173796N



Royal view See Mt. Starr King rising west of the trail at mile 5.8. 11S 0275943E 4175692N
TRIP PLANNER | ROUTE MAP | QUARTERLY REPORT

QUARTERLY REPORT:Your seasonal guide to the Range of Light
Spring With high-elevation snowmelt ramping up in late April, the Valley's waterfalls (Yosemite, Vernal, Nevada, Bridalveil) surge in May. Start at Happy Isles and get rainbow-laced views of Vernal Falls' 320-foot drop on the 6.2-mile Nevada Fall Loop. Trip ID25989
Summer The land of milk and honey. That's the Sierra Nevada from late July to early September. You get moderate temps (highs in the 80s), reliable bluebird skies, and mild bugs most years. Head to Tuolumne Meadows for a 15.6-mile loop to secluded Young Lake. Trip ID1003471
Fall Starting in mid-October, big-leaf maples glow electric yellow on the Valley floor, while black oaks add Jackson Pollock slashes of red, orange, and brown. Top hike: an above-it-all 18-mile traverse of the South Rim using the Pohono and Four Mile Trails. Trip ID998351
Winter Snowshoe Yosemite and you may never visit in any other season again. On a 7.2-mile hike on Trail 18, you'll pass through open meadows framed by powder-blanketed firs. End at Dewey Point and a Valley-wide panorama that spans El Capitan to Half Dome. Trip ID51745