National Parks: Yellowstone
A forgotten explorer's route leads to off-trail, high-peak adventure and bona fide solitude.
Heading out the door? Read this article on the new Outside+ app available now on iOS devices for members! Download the app.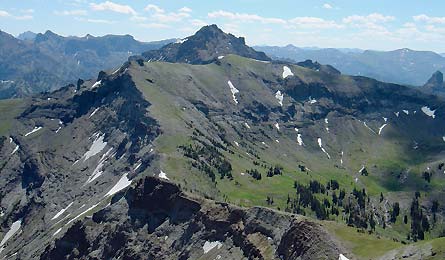 Unknown And Off-Trail (Thomas Turiano)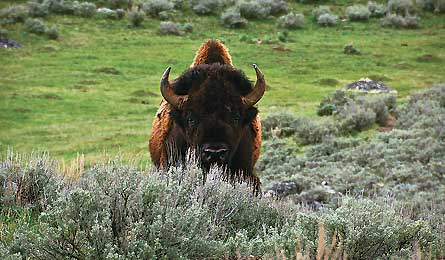 Garnet Hill Loop (Jason Kauffman)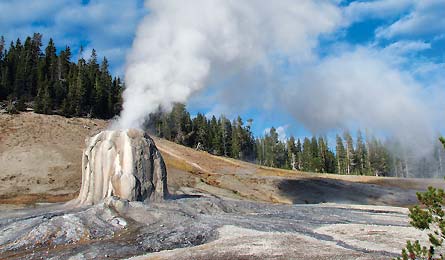 Lone Star Geyser (Jeff Chow)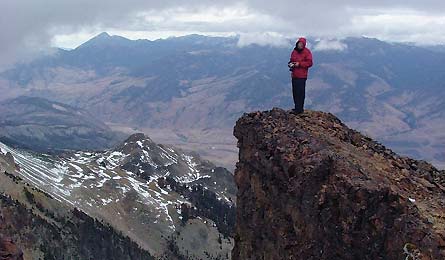 Electric Peak (Jeff Chow)
TRIP PLANNER | HIKE FINDER | ASK A WOLF
Here's a dirty secret about America's first national park: It's crowded. Campsites fill quickly, and geyser zones can feel like Walmart on a payday. Even the grizzly-packed, ultra-remote southeast corner of Yellowstone—the Thorofare Valley, famous as the farthest spot in the Lower 48 from a paved road—is brimming with horsepackers.
Granted, I'm a genuine solitude snob, given to Edenic places where wolf sightings outnumber footprints and fire rings. That's why—when my PTO and bank accounts fatten—I escape to Alaska or the Bob Marshall Wilderness, some of the last places on this continent where a dedicated crowd-hater like me can still play explorer.
Or so I thought until I ventured into a seldom-seen and almost-never-hiked mountain range on the eastern border of Yellowstone. The adventure started with a "!"-riddled email from Tom Turiano, an Exum guide and author of Select Peaks of Greater Yellowstone. Tracing a route he'd scouted across nine 10,000- to 11,000-foot-plus summits, he described a trek that would take us through some of the "most isolated country this side of the Yukon."
What snapped my skepticism and persuaded me to sign on was his book research. Turiano had unearthed the 1871 Hayden Survey of Yellowstone, the essential piece of research that convinced Congress to make the area a national park, and ultimately launch an unprecedented federal program to preserve the country's most spectacular natural places. The report contains notes from Army escort William Barlow, who recorded clues about peaks that are essentially unknown even today. One summit in particular captured our imagination: Barlow had scrawled the name "Watch Tower" next to the volcanic spire north of Turret Mountain. It looked like an innocuous circle on our USGS quads, and in all of our searching, we couldn't find a good picture of it—or evidence that it had ever been climbed.
A goal soon emerged: make the (likely) first ascent of Watch Tower, the second ascent of Turret Mountain (Turiano nabbed the first in 2010), then traverse a 20-mile ridgeline from Trappers Creek to Sylvan Pass, summiting another seven rarely climbed peaks along the way.
The trip starts with a 19-mile hike from Lake Butte trailhead to the Cabin Creek Patrol Station via the Thorofare Trail. (Note to the lazy or time-strapped: You can cut this leg by a day by hitching a ride across Yellowstone Lake from the Bridge Bay boat ramp.) The cabin is the last place our boots will touch a human-made trail until Sylvan Pass, four days and 25 miles later. It's so mountainous that we won't see any of Yellowstone's otherwise-plentiful bison and elk. However, we will spot multiple grizzlies, and park biologist Kerry Guenther tells us that the Watch Tower area is the only place in Yellowstone where they've found lynx.
From the cabin, we head cross-country over three miles of slow-going scree and fallen trees until we reach the southwest flank of 10,683-foot Colter Peak. We tag the summit via a class 3 scramble, then descend into upper Trappers Creek drainage to establish our first camp. There aren't any designated camping areas out here, but we'd spotted two primo spots on the map: at the head of Trappers Creek for the first two nights, and at the head of Beaverdam Creek for the third night. After a long first day, we cook beside a small tributary as clouds build, then bed down across the meadow (bear protocol: don't sleep where you eat) to enjoy a calming, all-night drizzle.
The next morning, we dayhike the eastern wall of Trappers Creek to a saddle connecting the Watch Tower and 11,063-foot Table Mountain, the highest peak entirely within park boundaries. Table's south face is a gently sloping plateau blanketed by open tundra, with nary a rock overturned. We ditch packs and coast to the top. On the descent, we size up our line on the Watch Tower and look back at yesterday's descent of Colter's east ridge, backdropped by Lake Yellowstone and Mt. Sheridan.
The Watch Tower is a 10,208-foot spire composed of sharp and angular breccia (pronounced bret'cha). Truth is, it's terrible for climbing: gritty and brittle. We ascend from the north, and Tom leads the only technical pitch (a 5.6) of the entire tour. When I reach him, we scramble the remaining 200 feet to the summit. Tufts of grass litter the tower, and blue skies backdrop the ridgelines, valleys, and sweeping cirques surround us. No footprints, no cairns. An explorer's dream.
The next day is even bigger. We climb out of Trappers to Mt. Humphreys' south ridge (10,920 feet) and follow a snaking, 11,000-foot contour connecting Mt. Schurz, Mt. Atkens, and Plenty Coups. Hiking ridgelines and game trails instead of man-made singletrack is taxing and demands constant routefinding. "Does it go?" we constantly ask each other. It does. But that doesn't mean no more surprises. At mile 14 on the sweeping east face of Plenty Coups, we spot a male grizzly digging in the tundra 300 feet away. We make noise. He saunters toward us. He disappears in the land's undulations and emerges just 150 feet away. I'm shaking—is this our Treadwell moment? Nowhere to escape, no one to help. At 100 feet, he stops, snorts, and jogs down the slope. I exhale fully in the deepest wilderness I've ever known.
TRIP PLANNER
TRIP PLANNER | HIKE FINDER | ASK A WOLF
The wayFrom the north, take US 191 and US 20 132 miles from Bozeman, MT. From the south, link US 191 and US 87 for an 82.7-mile drive from Jackson, WY. Access the west entrances from West Yellowstone, WY; and the east from Cody, WY.
Books/mapsSelect Peaks of Greater Yellowstone, by Tom Turiano ($45, indomitusbooks.com) and Hiking: Yellowstone National Park, by Bill Schneider ($17, falcon.com). USGS quads: Lake Butte, Frank Island, Sylvan Lake, Trail Lake, Plenty Coups, and Eagle Peak ($8 each, store.usgs.gov)
SeasonYou can easily do this hike between July and early September, but the last half of July and first half of August are your best bet for windows of reliable weather and blooming flowers.
PermitsRequired (free, $20 if reserved more than 48 hours in advance). Note: Getting approval for at-large camping in a spot this remote involves convincing skeptical rangers that you have what it takes to venture off the beaten track. Turiano recommends coming prepared with an annotated map and a trip resumé to establish your creds. He says, "If you can show the experience level to match the route—and this is not a beginner traverse—rangers will usually say, 'OK, just follow LNT ethics and bear protocols,' and send you on your way."



Contact(307) 344-7381, nps.gov/yell
Trip dataDownload this route at backpacker.com/hikes/mysterymountains.
TRIP PLANNER | HIKE FINDER | ASK A WOLF
HIKE FINDER

Easy access makes Yellowstone perfect for day and weekend trips. Here, our map scout's top five. Get 37 more at backpacker.com/yellowstone.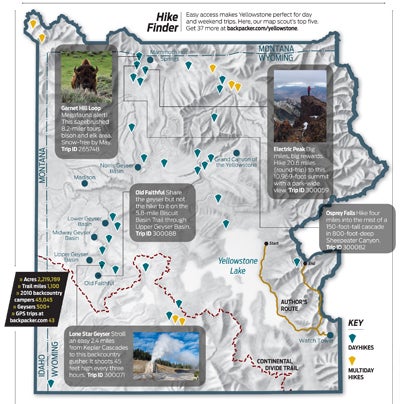 Garnet Hill Loop Megafauna alert! This sagebrushed 8.2-miler tours bison and elk area. Snow-free by May. Trip ID 265748
Electric Peak Big miles, big rewards. Hike 20.6 miles (round-trip) to this 10,969-foot summit with a park-wide view. Trip ID 300059
Old Faithful Share the geyser but not the hike to it on the 5.8-mile Biscuit Basin Trail through Upper Geyser Basin. Trip ID 300088
Osprey Falls Hike four miles into the mist of a 150-foot-tall cascade in 800-foot-deep Sheepeater Canyon. Trip ID 300082
Lone Star Geyser Stroll an easy 2.4 miles from Kepler Cascades to this backcountry gusher. It shoots 45 feet high every three hours. Trip ID 300071
TRIP PLANNER | HIKE FINDER | ASK A WOLF
ASK A WOLF

Q: How many packs in the park? Where do you hunt?



A: There are 91 wolves in 11 packs, according to the bean counters in the weird hats. Six more are "non-pack"—proverbial lone wolves, sad but badass. Hank Williams Jr. wrote a song about it. The Mollies Pack (16 members) is the biggest—seven are just year-old pups. They hunt north of Yellowstone Lake in the rolling terrain between the Howard Eaton and Astringent Creek Trails. Most of the other packs hunt the north and central sections (less mountainous). Eighty percent of our kills are elk; the rest are bison, deer, moose, pronghorn, bighorn, goose, eagle, coyote, fox, and even other wolves. But you didn't hear that from me.