National Parks: Grand Teton
Wade through wildflowers, listen to wolves, and escape the crowded trade routes in this secluded corner of the park.
Heading out the door? Read this article on the new Outside+ app available now on iOS devices for members! Download the app.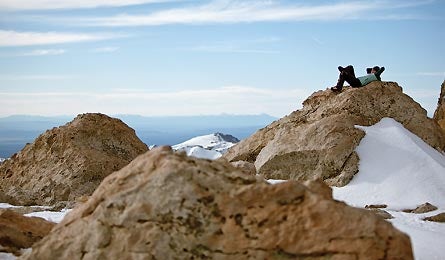 Put Your Head In The Clouds. (Mark Fischer)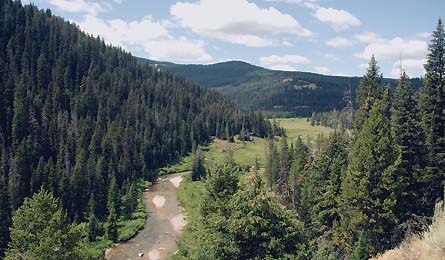 View From Berry Creck Trail. (George Wuerthner)
TRIP PLANNER | ASK A RANGER | PHOTO TIP | GRAND TETON


Grand Teton's northern region might lack the famous toothy peaks of the park's southern sector, but it makes up for that with profound solitude—grizzly bears, wolves, and bighorn sheep are often my only companions—and with wild, rugged trails often hidden by chest-high wildflowers, not to mention my all-time favorite view of the Tetons. Your ticket to this forgotten realm is a three- to 10-day (if you add side trips), 28-mile loop linking glacier-carved Owl and Webb Canyons. If you can spare more time, this circuit also offers ample opportunity for cross-country side hikes on the expansive limestone plateau that you top out on at the 9,840- foot intersection of the two canyons. It is a junction, by the way, that yields, on day two or three, one of this trip's many fine views of those famous toothy peaks. Elbow-to-elbow with vibrant bluebells, bistorts, and asters— and not another human—you'll stare south at 13,770-foot Grand Teton and the other Cathedral Peaks, taking in a vista that in 1905 inspired Theodore Roosevelt to urge the American people to preserve these unique mountains "for their children and their children's children forever, with their majestic beauty all unmarred."
To access the canyons, start at Glade Creek trailhead and hike 7.5 miles through rolling forest—or save yourself the walk by paddling .7 mile across Jackson Lake from Fonda Point at the Lizard Creek Campground. Moor your boat (and lock with a chain) near the Berry Canyon Patrol Cabin and head west on the Berry Creek Trail into Owl Canyon, thick with alpine fir, lodgepole pine, and Engelmann spruce standing over Monet-like fields of violet monkshood, fuschia fireweed, and snowy columbine. Be prepared for several (up to 18), mostly minor creek crossings, which swell with snowmelt thigh-deep in early summer. Roller coaster 3.8 miles along the canyon floor (gaining about 800 feet and losing 400) to the junction of Berry and Owl Creeks. Keep an eye out for bighorn sheep along the slopes of 9,772-foot Forellen Peak to the north. Geology buffs will enjoy a sight of the Forellen Fault running up and over the mountain—a geological contact point between the southern range's granite and the northern's limestone.
Find waterside camping on the benches above the creeks' confluence, or continue up another seven miles to Moose Basin Divide. You'll gain an additional 2,500 feet, most of which occurs in the last three miles. If you have the time, Moose Basin Divide warrants a layover day (or several). The wide-open plateau, spotted with sedimentary pinnacles towering skyward, abounds with off-trail options: Scramble up peaks like 11,355-foot Doane Peak, explore nearby canyons such as Waterfalls Canyon—home of several 250-plus- foot cascades—picnic at alpine lakes, or visit the limestone caves whittled deep by erosion into hillsides.
At Moose Basin Divide, the route begins descending the Webb Canyon Trail, losing approximately 1,500 vertical feet over three miles and traveling past sheer granite cliff faces down into thick fir, spruce, and pine forest. Just as you leave Webb Canyon, see if you can spot an old mine shaft dropping right into the creek—it is the source of much speculation about what the prospector was mining in this ore- scarce region. Less than a quarter mile from the Berry Canyon Patrol Cabin, the path reunites with the Berry Creek Trail. Retrace your steps back to your boat or around the lake to finish.
TRIP PLANNER | ASK A RANGER | PHOTO TIP | GRAND TETON
TRIP PLANNER
The Way Access the Glad Creek trailhead at the Flagg Ranch Information Station, 55 miles north of Jackson on US 89. To reach Lizard Creek Campground and the launch spot for crossing Jackson Lake, start at Colter Bay and drive north on US 89 for 8.7 miles, along the lake's shore.
Book and MapA Climber's Guide to the Teton Range, by Leigh Ortenburger and Reynold G. Jackson ($35, mountaineersbooks.org); Trails Illustrated Grand Teton NP ($12, natgeomaps.com)
Canoe rental Dornan's restaurant in Moose, (307) 733-2415; dornans.com
Permits Reserve free (and plentiful) backcountry permits at the Craig Thomas Discovery and Visitor Center, (307) 739-3399; the Jenny Lake Ranger Station, (307) 739-3343; or the Colter Bay Visitor Center, (307) 739-3594. nps.gov/grte
TRIP PLANNER | ASK A RANGER | PHOTO TIP | GRAND TETON
ASK A RANGER

Q: Who built the enigmatic palisade on the Enclosure's summit?



A: Atop the Tetons' second-highest point, the 13,280-foot Enclosure, sits a circle of daggerlike rocks about three feet tall. These dozen or so stones have been there since at least 1872, when a trapper attempting the Grand made note of them. Where they came from is a mystery. "Some scholars believe it was a site for vision quests or boyhood rites of passage for one of the tribes in the area," says Grand Teton Ranger Justin Walters. "Others say it was a rendezvous spot for traders, which seems impractical, or just a natural formation." Still others speculate it was an altar or a blind for catching raptors. One legend has it that a chief promised a maiden a herd of horses if she scaled the peak, so she left the circle as proof of her success. While the circle remains a riddle, the summit itself—a spur off the Grand—is sacred to the Eastern Shoshone. They believe the Sun Dance originated on it when two boys on lookout there had a vision of mice dancing in a buffalo skull. Their jig became the Sun Dance, symbolizing the link between all life.
Climb it From Lupine Meadows trailhead, hike seven miles to the Lower Saddle (11,692 feet), ascend to the Upper Saddle (13,160 feet), tackling one class 4 chimney section, then scramble up scree 120 feet to the top.
TRIP PLANNER | ASK A RANGER | PHOTO TIP | GRAND TETON
PHOTO TIP



Snap the Best Sunset Shot. Ever.

Two stupendous locations for extravagantly saturated photos
» Oxbow Bend

Sometimes an iconic image, like the one above, is just a few feet away from your car. For an alpenglow shot of the Tetons reflecting off lucent waters, head to Oxbow Bend, a U-shaped meander of the Snake River that got cut off from the main channel. Drive 2.5 miles east of Jackson Lake Junction on US 89. Pull off, and take in the surreal vista. To find sunrise and sunset times near Jackson, check the local newspaper or go to sunrisesunset.com, which also offers a smartphone feature that retrieves your current GPS position, then gives you two days' worth of times.
» Lower Saddle

The sweetest sunset image in the park—and maybe the whole region—takes some sweat equity. Backpack seven miles and 5,000 vertical feet on the Garnet Canyon Trail to the Lower Saddle, the popular high camp between the Grand and Middle Tetons. Start early to arrive by dusk, when the Grand's scepter shadow extends across the rosy plains—giving you a true sense of the Tetons' intimidating scale. If you didn't lug a tripod, improvise with rocks or your lap. (See page 92 for tips on shooting sunsets.)
TRIP PLANNER | ASK A RANGER | PHOTO TIP | GRAND TETON



GRAND TETON

Put Your Head in the Clouds
Want to summit the life-list "Big Tit" (the literal English translation of the French Grand Teton)? The classic Owen-Spalding route is the easiest way. Yes, it's busy on weekends, but that doesn't diminish its exhilarating exposure and airy views. After huffing 5,000 vertical feet to the Lower Saddle, you'll scramble about 2,000 more to the top, climbing a 600-foot section of 5.4 rock with fun chimney and slab moves. For beginner alpine climbers, hiring a guide is wise, since routefinding is tricky and ice can up the difficulty even in July. Check out Exum Mountain Guides (exumguides.com) and Jackson Hole Mountain Guides (jhmg.com); prices vary with group size and experience level.
The Stats:

6,732 feet

Elevation of Lupine Meadows trailhead
13,770 feet

Elevation of the Grand Teton
7,038 feet

Net vertical gain in about 8 miles to the summit