My Friend Max Died Trying to Cross a River. Now, His Parents Want to Build a Bridge.
A footbridge on this San Diego Trail would prevent more hikers from befalling a similar fate, and honor their son.
Heading out the door? Read this article on the new Outside+ app available now on iOS devices for members! Download the app.
On January 30, as I sat in the back seat of a car stuck in ski traffic, I tapped on an Instagram story from a college friend. It was a missing poster for my friend Max. Missing? I scrolled frantically for more information; a dozen of my friends had shared the same poster. Max had gone for a trail run in San Diego the day before, I learned, and he hadn't come home. 
As Backpacker's skills and survival editor, I've seen far too many tragic stories that start the same way, but I've also seen plenty end happily. Max was an athletic, capable outdoorsman. We'd rock climbed together often in college. He was the strongest climber I knew (and the most supportive partner), incredibly fit, and very, very smart. 
Max was new to the San Diego area; he and some friends had taken advantage of remote work during their last semester at Brown University and were bopping around to various cities throughout the west with the goal of maximizing their time climbing rock. I tried to quell my growing panic as I scrolled through the posts; if anyone could get himself out of a sticky situation in the backcountry, it was Max. I imagined hearing his story later on. 
But over the next hour, the posts grew pessimistic. I refreshed constantly in panic, following a thread of Facebook comments from people in the area. Hundreds of hikers, volunteers, and even some friends of mine were out searching for Max. Then, just before I got home, I read the post that made my heart sink: Max's body had been found.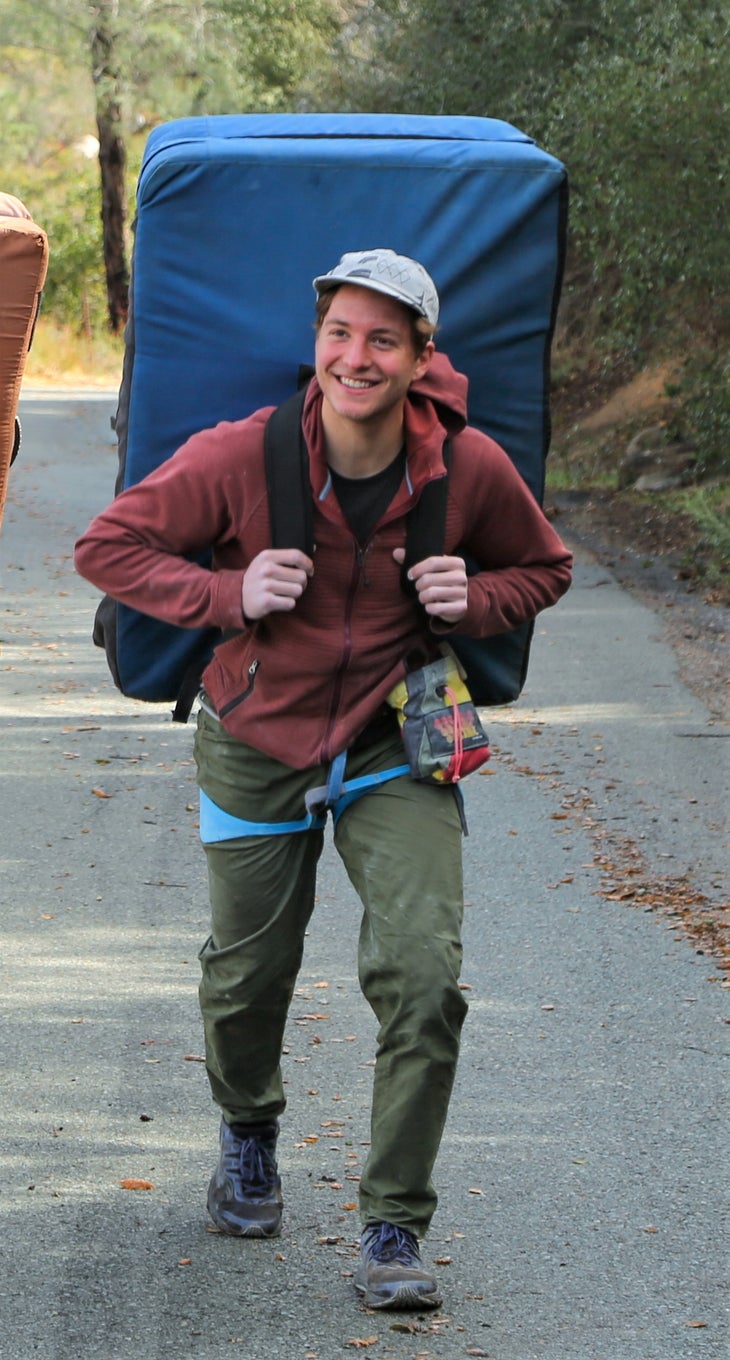 Max LeNail, 21, drowned while navigating a section of trail that crosses the San Diego River in California's Mission Trails Regional Park. Known as Jackson Crossing, it's a popular spot that sees hundreds of hikers, runners, and bikers every day, but requires precarious rock-hopping. There's a sign marking the crossing for hikers at the main trail, but during high water, it becomes treacherous. On January 29, heavy rainfall resulted in a flash flood warning in the region. Around the time Max would have reached the river—5.5 miles into his run—it had begun to hail. On the other side of the water, Max's car was just a few short minutes away. 
Given how popular—and risky—this river crossing is, it's hard to shake the feeling that Max's death was preventable. And even worse: It could happen again. Now, Max's parents, Ben LeNail and Laurie Yoler, are working to get a bridge built in the spot where their son died. 
Max's parents hope that the bridge will be an aesthetic tribute to their son and a gift to the outdoor community that he loved.
"It's an optimistic gesture and symbol—it's an homage to his tribe of fun-loving hikers and runners, and it's a service rendered to them so they can cross safely and not worry about sullying the river or falling and getting hurt," said LeNail.
On top of his athletic and academic prowess, Max was an incredibly kind person. He made those around him feel supported and valued; he was encouraging to all and had a rare gentleness about him. As an aspiring doctor, Max planned to dedicate his life to helping others. There's no doubt that he would have wanted to help keep other hikers safe.  
"[A bridge] will prevent another accident from happening. With extreme weather events becoming more of a regular occurrence, the river will become swollen and dangerous again and again, and people will try to cross at their own risk and peril," says LeNail. "Max was a very strong athlete and swimmer. It's a matter of time before someone else comes to harm there."
As it turns out, a bridge in this spot has long been written into the master plan for the park, and talk of construction has been going on for over a decade, but a series of roadblocks and red tape halted planning. The Mission Trails Regional Park Citizens Advisory Committee has shown support for a vehicle bridge to accommodate ranger and maintenance trucks, which would be far more costly and take longer to construct than a pedestrian bridge. According to one article, Max's parents were told that construction of a bridge could cost tens of millions of dollars.
Over the years, park management has diverted funds to other projects. Last February, a new ranger station opened at Mission Trails with a price tag upwards of $6 million. 
But Max's parents are determined. "The strong current of the river combined with slippery, mossy rocks makes for extremely dangerous conditions, especially during winter weather, for hikers of all levels. Max was an experienced outdoorsman and high-performance athlete. If this happened to him, it could really happen to anyone," the couple wrote on a website dedicated to the project. 
On March 18, they presented several design options to elected officials during a Mission Trails Regional Park Task Force meeting, with dozens of family and friends attending in support. The couple has been working with engineers to come up with feasible, practical plans and budgets. Whether or not the city and the park will support urgent action remains to be seen. 
This coming Tuesday, May 4, Max's parents will join a joint special meeting of the Mission Trails Regional Park Task force and the Citizens Advisory Committee, where they hope to garner support and make progress toward the bridge construction. In the meantime, they are gathering signatures on a petition urging the Citizens Advisory Committee and Task Force to take urgent action in the construction of a footbridge, and raising funds for the Max LeNail Memorial Bridge Fund to back the project. 
"We still need the park authorities to ratify the project, express a preference on a design, and seek community input and public comments," said LeNail. 
The couple remains cautiously optimistic, boosted by momentum in the wake of Max's tragic death and support from the San Diego hiking community. 
Max would have graduated from Brown University this past Sunday. I thought of him all weekend as his classmates posted joyful pictures in their caps and gowns. If a pedestrian bridge had been there this past January, his parents say, Max would be here today, smiling for the camera and ready for the next chapter of his life.
"We miss Max more than words can express. We miss his smile, the light in his eyes, his humor, his kindness, his energy, his optimism," says LeNail. "We have been lifted up by our friends in San Diego who have stood by our side and supported our vision for a bridge. In the midst of pain and sorrow, it reminds us that 'life is beautiful' as Max knew well."