Mountain Map: The Wasatch Front, UT
Minutes from Salt Lake City, The Wasatch Front is a gold mine for adventure. The 2.1-million-acre area includes 22 peaks above 11,000 feet and with at least 300 feet of prominence, houses 78 bikeable miles on 11 different bike trails, and boasts an average of 226 sunny days annually.
Heading out the door? Read this article on the new Outside+ app available now on iOS devices for members! Download the app.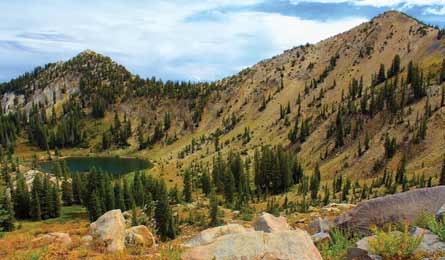 Sunset Peak (Photo by Trevor Dubock)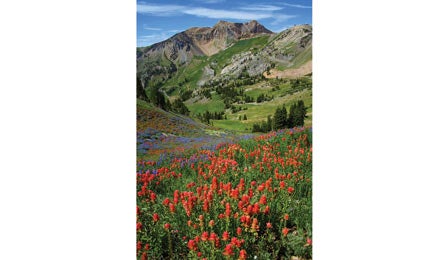 Twin Peaks (Photo by Trevor Dubock)
The Pfeifferhorn (Little Matterhorn Peak)

Find solitude at a lakeside campsite and bag an 11,000-plus-foot summit just 45 minutes from downtown. Day 1: From the White Pine trailhead, climb 1,900 feet in 3.2 miles to Red Pine Lake's azure expanse. Basecamp on the eastern fringe for front-row views of Thunder Mountain's crumbling cap. Day 2: Ascend .5 mile on a climber's trail to the bench containing Upper Red Pine Lakes (scan for mountain goats), then traverse .4 mile southwest over boulders and talus to a 10,897-foot false summit. From there, navigate west on the airy saddle for a final mile of climbing switchbacks to Pfeifferhorn's summit. Spectator sport: Look north for rock climbers on granite outcroppings. Trip ID*728169
Thayne Canyon

This 5.1-mile loop provides urban vistas of Salt Lake Valley through firs and aspens. Hit steep switchbacks at mile 2.4, and at mile 3.7, descend along a passage loaded with fossilized marine life. Trip ID5749
Twin Peaks

Tag three summits on this 14.6-mile dayhike. Ascend 2,400 feet in 4.6 miles through glacially scoured White Pine Canyon to spruce-rimmed White Pine Lake. Go .1 mile along the eastern shoreline to begin a .7-mile, 800-foot push to the ridge, where views open south over American Fork Canyon. Tiptoe 1.9 miles east to tag Red Baldy (11,171 ft.) and East (11,489 ft.) and West (11,433 ft.) Twin Peaks. Trip ID42326
Sunset Peak

Achieve serious quad burn on this 2.7-miler that climbs 5,000 feet up to Sunset Peak. At .8 mile, detour .1 mile south to the edge of Dog Lake. Another short climb, .3 mile later, leads to a dam between Phoebe Lake and Mary Lake, where moose tracks often dot the shore. Top out on Sunset's 10,650-foot cap and peer east over the Uinta Range and south to Mt. Timpanogos. Trip ID5746
Mineral Fork Trail

View the stream-cut valley of Big Cottonwood Canyon as you gain 3,500 feet over 4.9 miles on Mineral Fork Trail. At mile 2.9, peek into the gated entrance of the 4,000-foot-long Wasatch Mine built by Mormon settlers in the 1860s. At the apex of this 9.8-mile out-and-back, navigate a 200-foot scramble over dolomite and limestone scree to the ridgeline where vistas of Mt. Raymond await. Trip ID14784
Carry the best maps Our catalog of custom-printed, waterproof PRO Maps now has 100-plus titles. Check out nine classic trips in Utah, including a life-list hike in Paria Canyon, and a wall-worthy map of the Wasatch Front; backpacker.com/promaps