Meet the Artist: Nikki Frumkin
Frumkin's the kind of artist who shouts "Stop the car! I need to paint!"
Heading out the door? Read this article on the new Outside+ app available now on iOS devices for members! Download the app.
BACKPACKER and Merrell teamed up with eight artists to inspire others by sharing what the trail means to them, through their own unique vision and design. "Meet the Artist" shares the stories of each finalist and how art is an integral part of how they experience the outdoors. To see the gallery and vote for your favorite design, click here. In addition to receiving a cash prize, the winning artist's design will be printed on a t-shirt benefitting the conservation alliance and Merrell will donate to an outdoor non-profit of the winner's choice.
Here is Nikki Frumkin's story as told to Kassondra Cloos.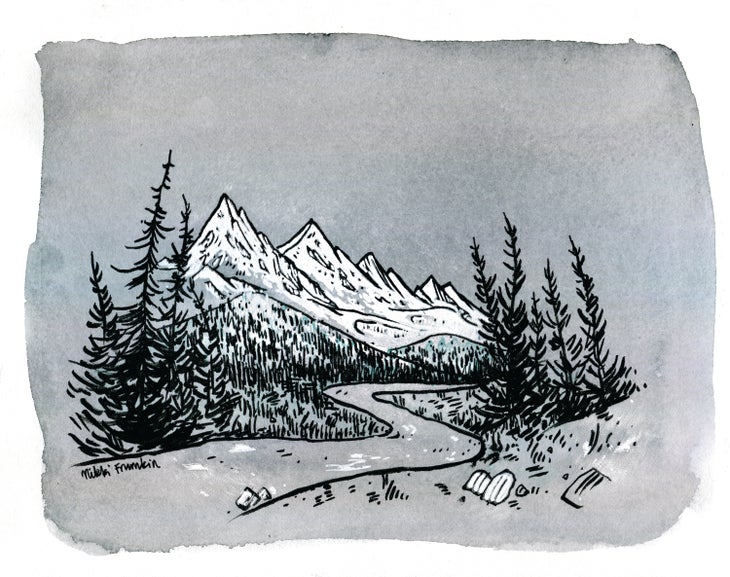 I got my degree in oil painting and art education. I was a teacher for a bit, and then I left that three years ago to pursue watercolor painting in the mountains.
It's not uncommon for me to suddenly get an urge to paint while I'm driving, or road tripping with friends or family. Usually I try to sketch it out quickly in the car as we're driving by the view. If we stopped every time I saw something beautiful that I wanted to paint, I'd never get anywhere. But recently, I was visiting family in Switzerland and we were taking a road trip to Italy. Somewhere near Lucerne, we passed through all of these gorgeous mountains, and I had to shout "We have to pull over! I want to paint!"
I made a quick sketch of the mountains and that's what turned into the inspiration for the design I made for this contest. I wanted to communicate the power the mountains can have to make you feel something. I also wanted this design to feel really accessible—you don't have to drive for hours or hike in for miles. You can be driving down the road and see something that speaks to you. You don't have to go far to experience this connection to nature.
The design has a trail because I wanted to show a clear way into the mountains. I wanted to communicate that going somewhere out of your comfort zone, or somewhere really beautiful in nature, is accessible to anyone if you have that way in.
I chose mountains that were along my path that day because often we can feel like everyone else is doing these big adventures, but we could never accomplish what they're doing. Like, that could never be me, because I'm not strong enough, or I don't have the right mentors, or that life wasn't meant for me, or whatever. I don't think that's true at all. I've been through that myself.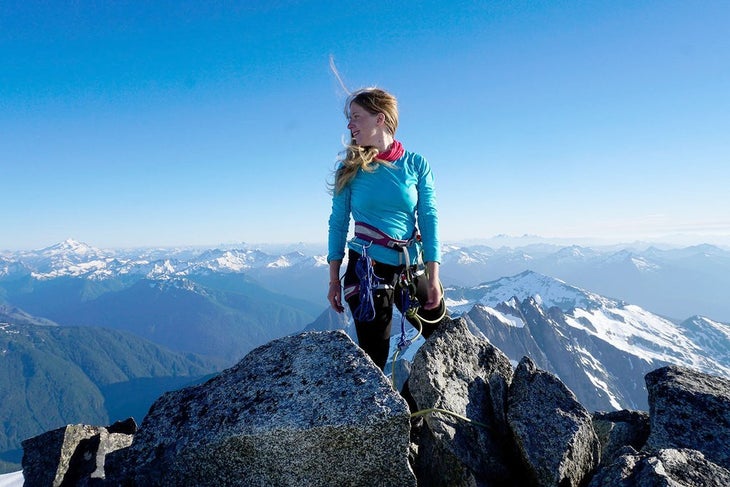 I moved to Washington about 6 years ago on a whim. It was sort of an accident, actually. I grew up in Westchester, New York, and a friend and I decided to take a road trip across the country. When we got to Seattle, we never went back. I was in awe of all the different ways you could be outside in Washington. There are the Cascade mountains, the Olympic Coast, the seastacks on the beach—I felt like there was so much to explore here, I couldn't leave.
I knew I wanted to play outside and explore everything, but I didn't have the tools to do it. It felt really overwhelming at first, like I could make a fatal mistake. I found an organization called Pacific Northwest Outdoor Women, and they taught me so much. I learned big things like when the snow starts to melt in the mountains, and smaller things like what parking pass I needed to park at trailheads. It was all so essential to giving me the confidence to start feeling like I could figure it out.
When people look at my design, I want them to be reminded of an experience they've had in a similar place or with similar people. I want them to feel connected with the natural world or the people in their lives who are a part of that.
If I end up winning this contest, I would choose She Jumps to receive the donation. They work hard to increase women's and girls' confidence and participation in the outdoors. I've volunteered with them for years and really believe in their mission.
Now, I host beginner hikes in Seattle and hike & draw events. We do all sorts of beginner events to get people confident in going outside, even without first meeting people face-to-face. I'm still learning all the time. I hope people are learning from me, too.    
Drawn To High Places
Shuksan NYE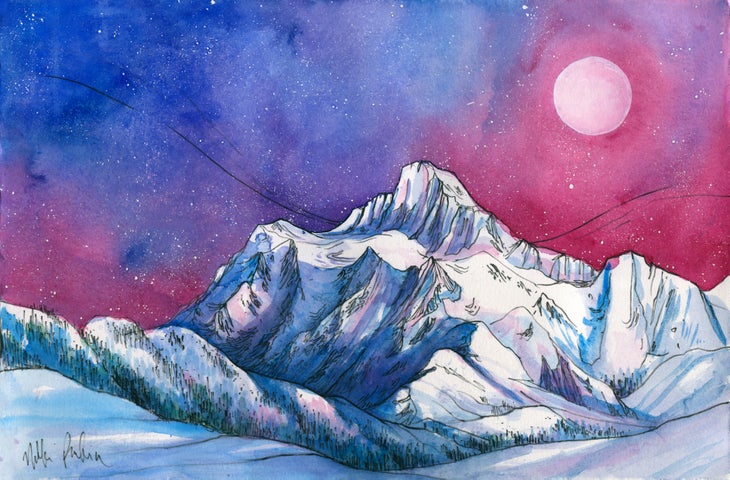 See more and purchase Nikki's work here. 
Snow camping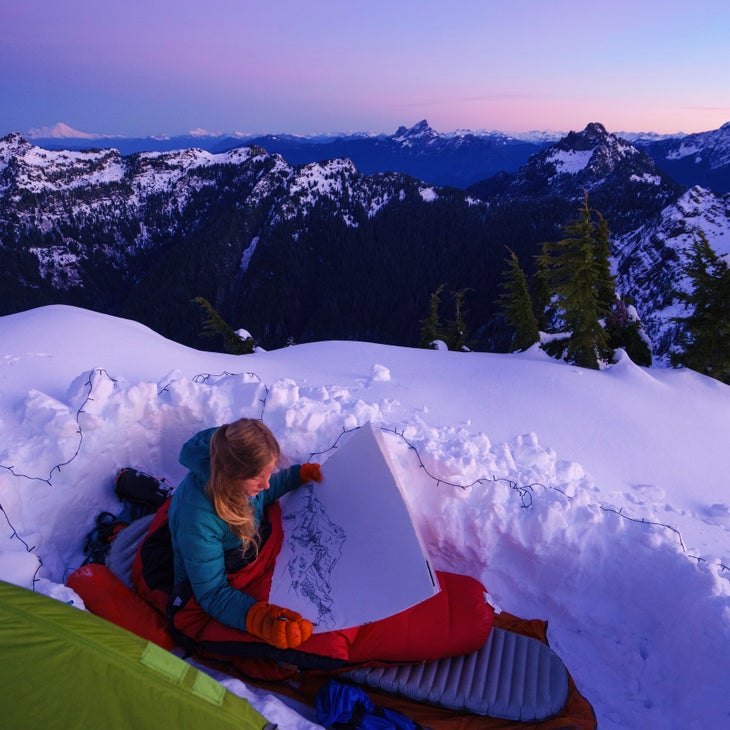 See more and purchase Nikki's work here. 
Black Peak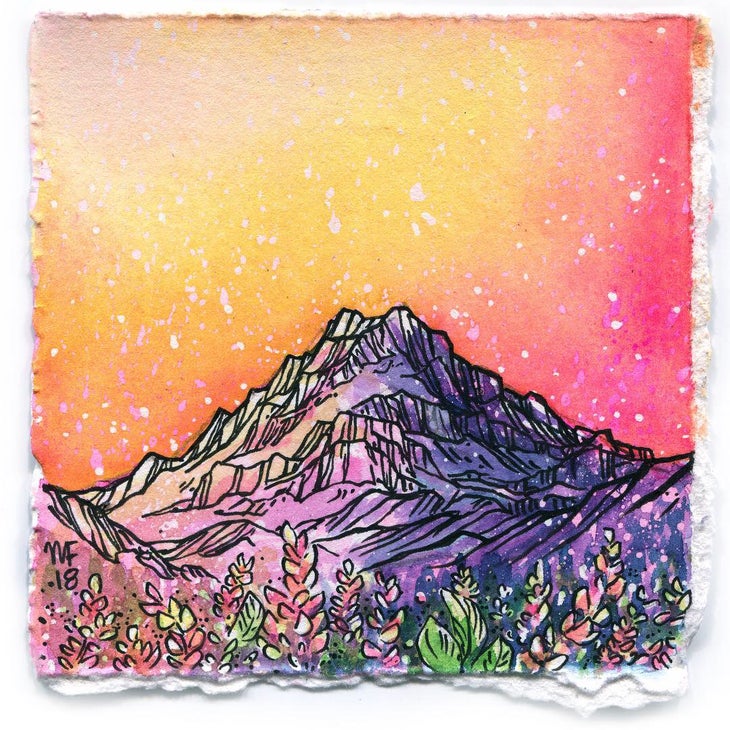 See more and purchase Nikki's work here. 
Artist Point Painting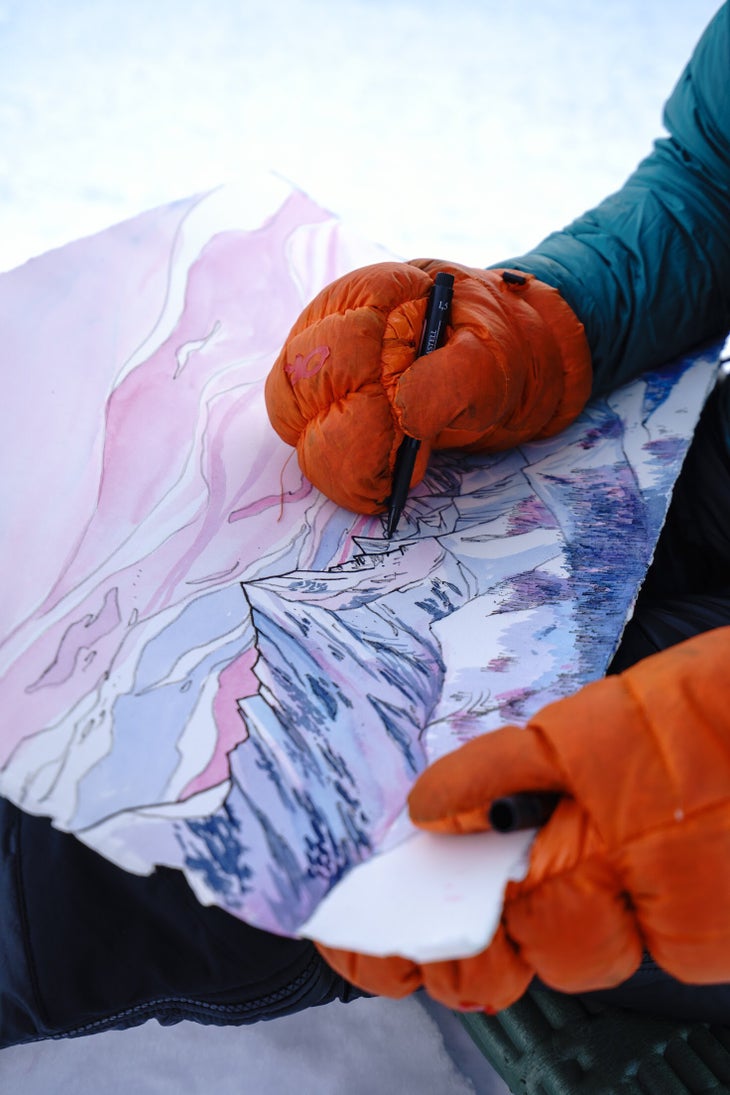 See more and purchase Nikki's work here. 
Mount Baker Painting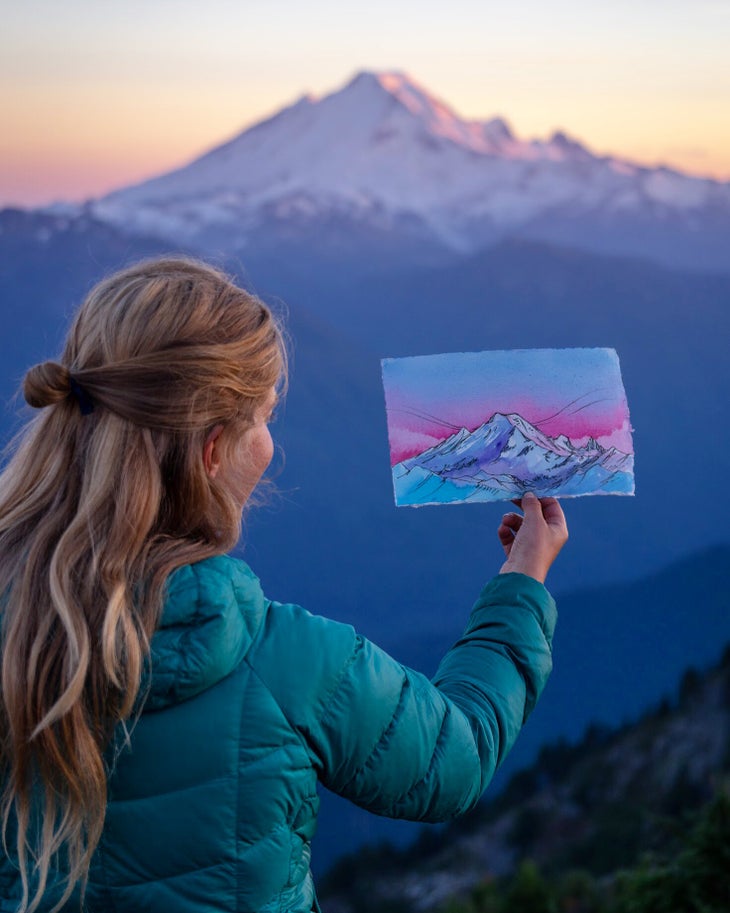 See more and purchase Nikki's work here. 
Forbidden Peak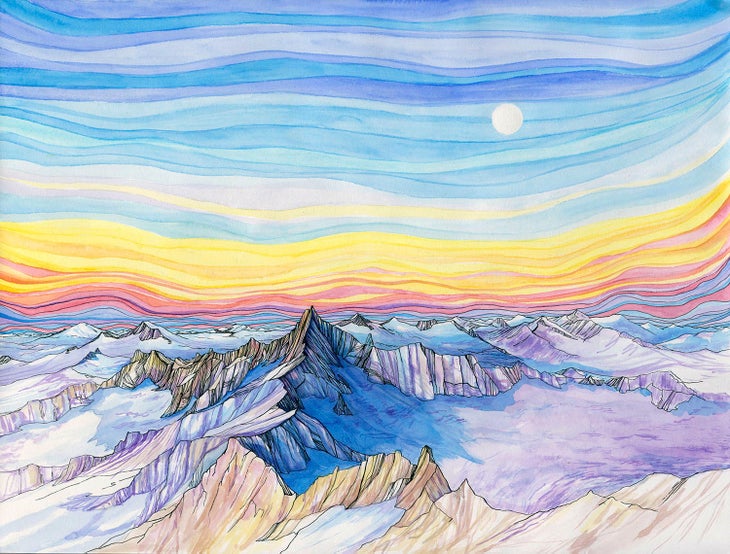 See more and purchase Nikki's work here.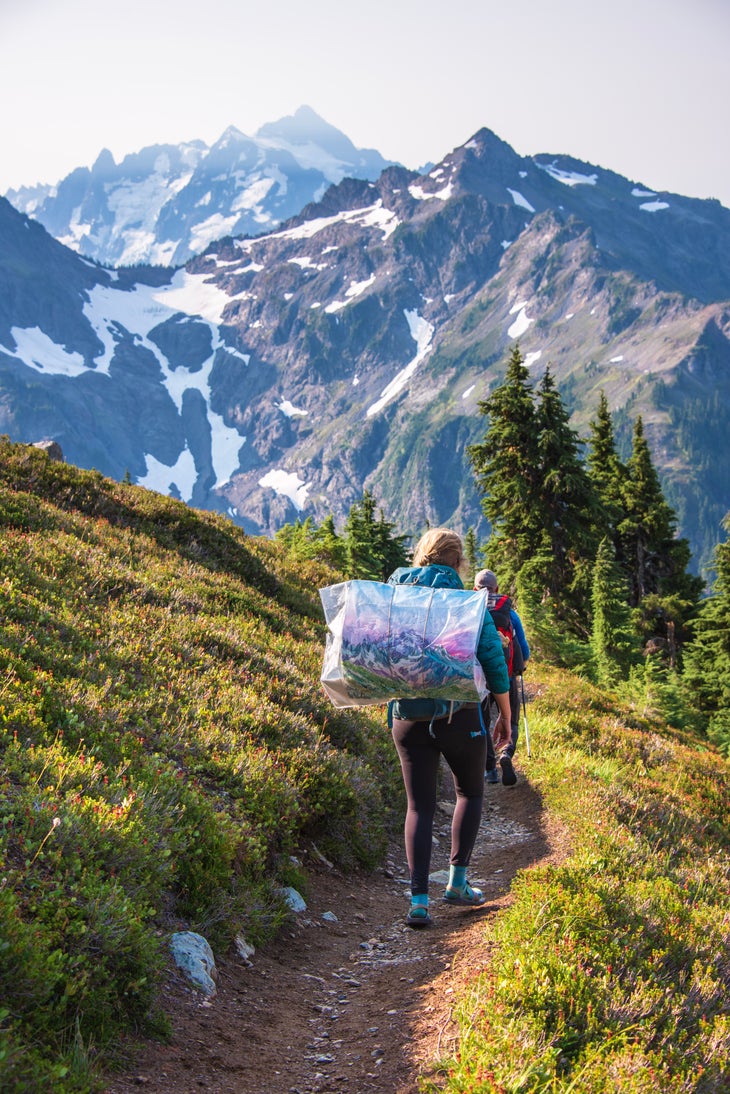 See more and purchase Nikki's work here. 
Home is Where I'm with You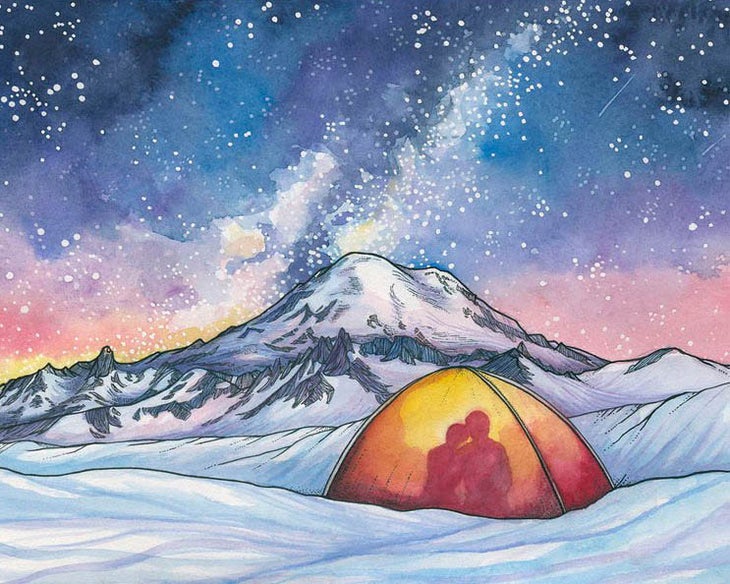 See more and purchase Nikki's work here. 
Prusik Peak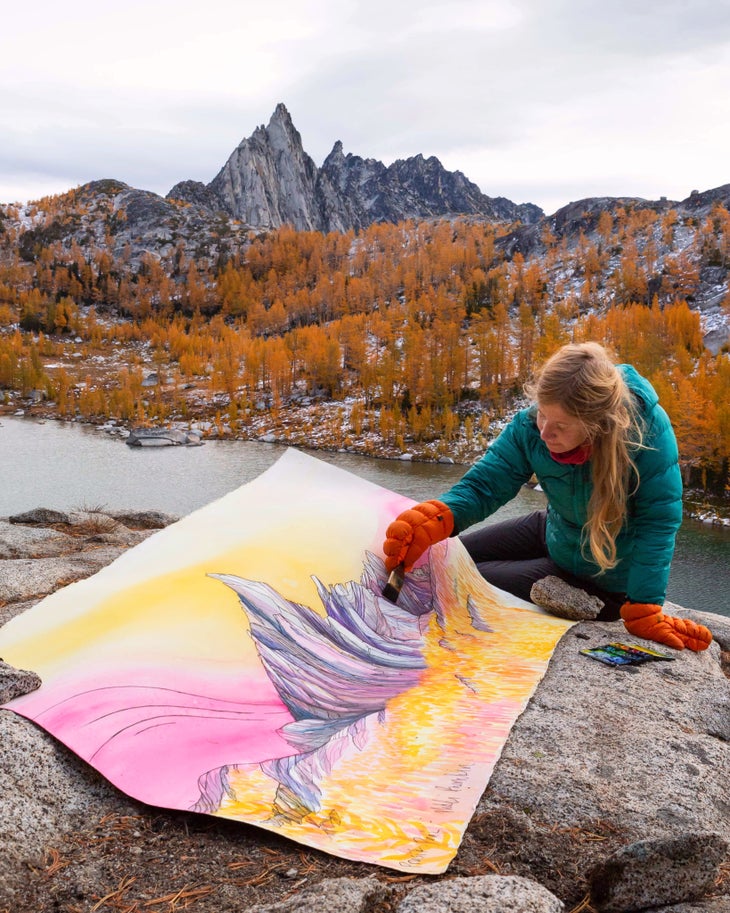 See more and purchase Nikki's work here. 
To vote for her design, check out the gallery. Voting closes August 30th and you can vote every 24 hours.
Check out more of her work: www.drawntohighplaces.com