Meet the Artist: Heidi Nisbett
As she thru-hiked the Appalachian Trail, Nisbett grew to love long stretches of hiking through green tunnels.
Heading out the door? Read this article on the new Outside+ app available now on iOS devices for members! Download the app.
BACKPACKER and Merrell teamed up with eight artists to inspire others by sharing what the trail means to them, through their own unique vision and design. "Meet the Artist" shares the stories of each finalist and how art is an integral part of how they experience the outdoors. To see the gallery and vote for your favorite design, click here. In addition to receiving a cash prize, the winning artist's design will be printed on a t-shirt benefitting the conservation alliance and Merrell will donate to an outdoor non-profit of the winner's choice.
Here is Heidi Nisbett's story as told to Kassondra Cloos.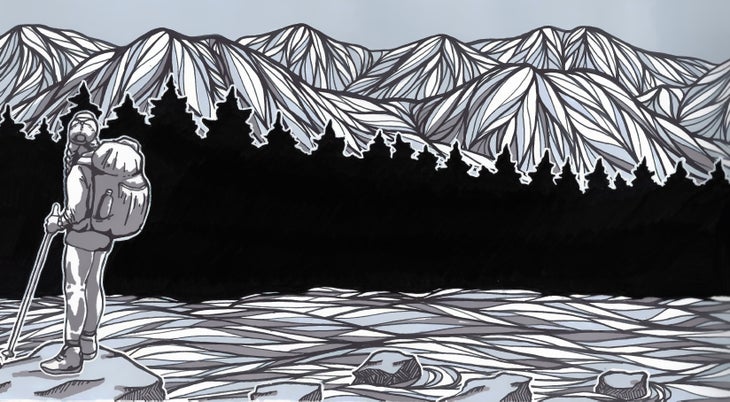 I grew up in Spartanburg, South Carolina, right in the foothills of the mountains. We went for hikes pretty often when I was a kid, but we never went camping. After I graduated college, I got a dog who had a ton of energy. We went on some pretty big hikes together, and I went hiking on my own for the first time. I fell in love with it.

When the idea of backpacking got into my head, I couldn't let it go. I was very intimidated by it, and that's what made me want to take on the challenge. I wanted to see what it would take for me to not be afraid of sleeping alone in the woods.


So, in 2018, I thru-hiked the Appalachian Trail with a sketchbook and a set of watercolors. Someone gave me the trail name "Picasso" because of that, and at first I wasn't super thrilled about it. But then I figured it might help me feel the need to sit down and paint, to live up to the trail name. Every day while I was living on the trail, living and breathing outside, I did a little sketch or a little painting.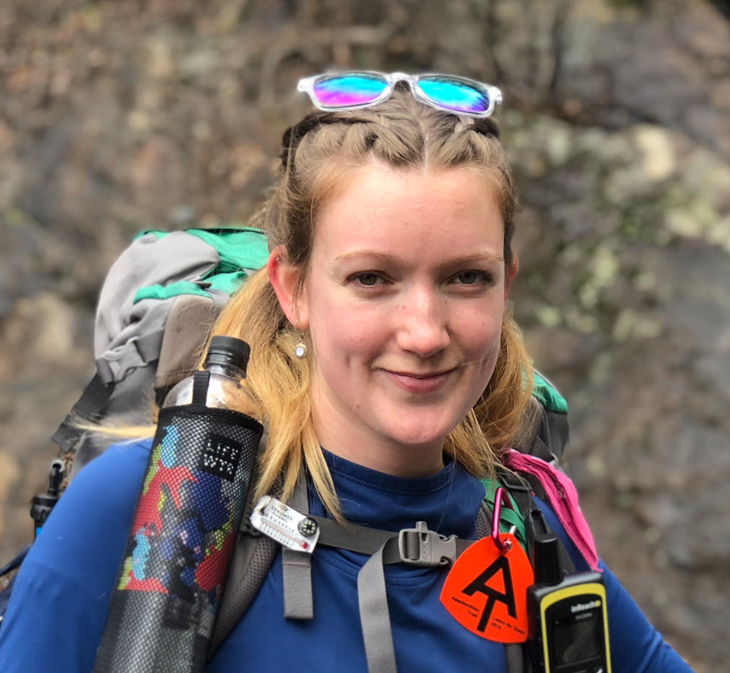 I became fixated on the patterns I was finding in nature and had fun exploring different ways to draw them. I started getting inventive, where I had previously been a more representational artist. It took a lot of creativity, but I was doing nothing but walking all day. It was very easy to sit in my surroundings and figure out how I could depict it in my own style.

Painting this way made me appreciate all the different elements of the trail. It's easy, especially as an artist, to focus on the viewpoints and rush to reach them. But on the Appalachian Trail, sometimes you have to hike through 12 miles of green tunnel just to get to one rocky overlook. A lot of people get bored with that kind of hiking because there aren't huge expansive views around you. But there are so many beautiful little things that are right in front of your face, too. I became obsessed with the Rhododendron bushes and the mountain laurel on the trail. I painted patterns in rocks and in the water. Focusing on these details helped me appreciate not only the mountain views, but also what I was looking at all day, every day. I found the beauty in that, as well.

I loved being able to look back and see what I'd just hiked, see the ridges I'd climbed over the previous few days and weeks. Some of those mountains looked like waves to me, waves frozen in time with trees growing out of them. They're beautiful and I spent a lot of time trying to illustrate them. 
If I win this contest, I'd donate the money to the Carolina Thread Trail, which is an organization that supports a network of trails in Charlotte and the surrounding areas. This organization does a great job of preserving trails and developing a trail system that is accessible and well maintained. I have worked with them both personally and professionally, and I want to support their cause.

In my design, I wanted to show the beauty of nature and the physical challenge and achievement of hiking. The figure in the drawing is anonymous, facing away, on purpose. I want people to be able to picture themselves in this position. What if you were standing there and looking back at this landscape you'd just walked over? I want it to spark that wonder. 
Sketching Summits
Day 171 – Kennebec River, Maine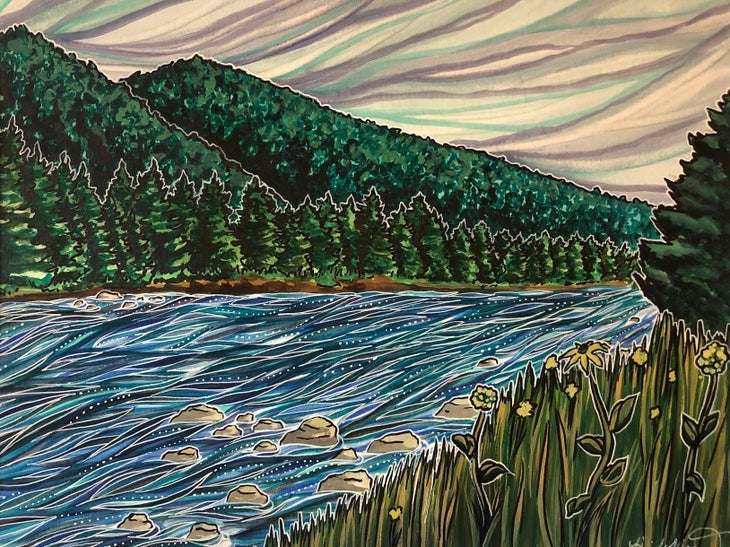 Purchase this painting here. 
Day 70- Bobblet's Shelter, Virgina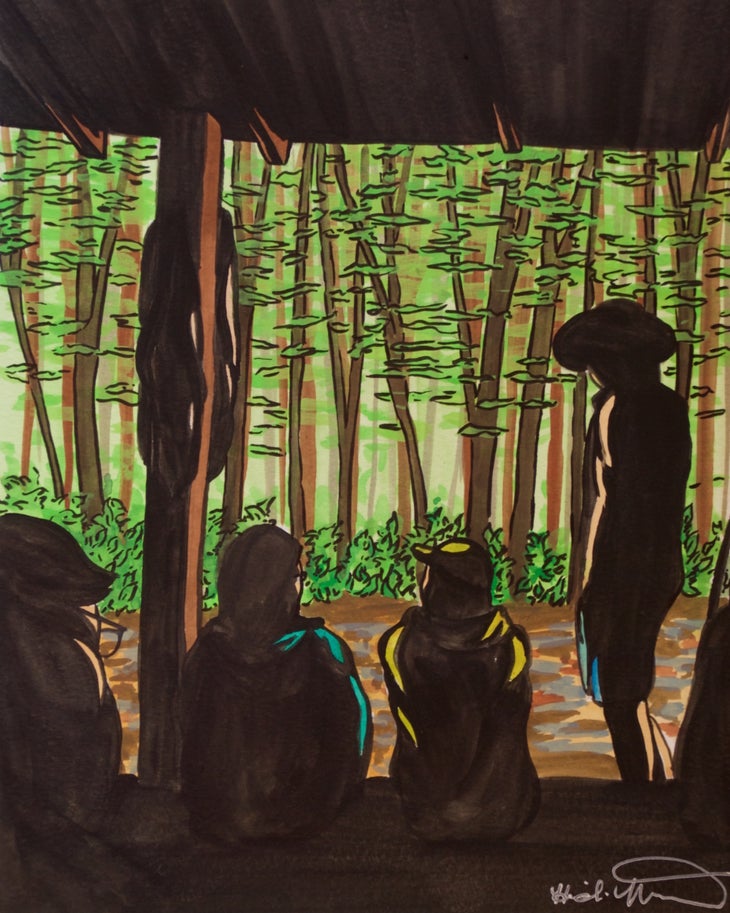 Purchase this painting here. 
Day 110- Mandar at Ten Mile River, New York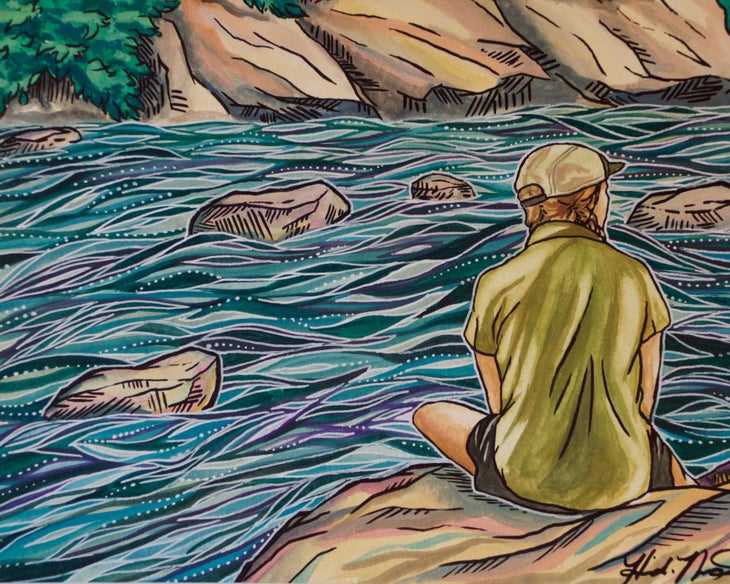 Purchase this painting here. 
Day 67- McAfee's Knob, Virginia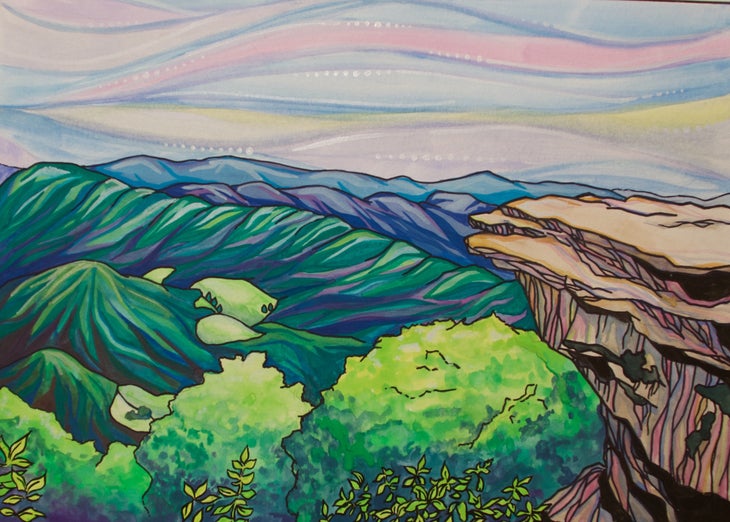 Purchase prints here. 
Zealand Falls – New Hampshire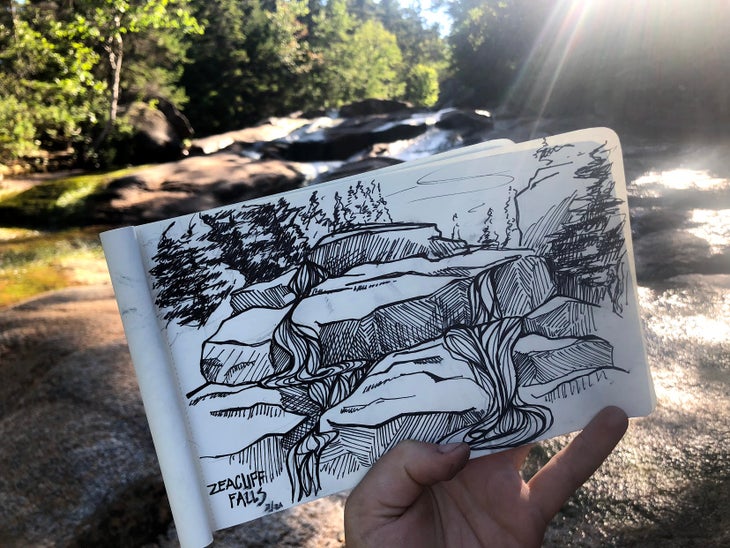 See the painted version here.
To vote for her design, check out the gallery. Voting closes August 30th and you can vote every 24 hours.
Check out more of her work: https://www.sketchingsummits.com/