Meet the Artist: Alex Rubio
What some might consider to be a disastrous backpacking trip shaped Rubio's art career—for the better.
Heading out the door? Read this article on the new Outside+ app available now on iOS devices for members! Download the app.
BACKPACKER and Merrell teamed up with eight artists to inspire others by sharing what the trail means to them, through their own unique vision and design. "Meet the Artist" shares the stories of each finalist and how art is an integral part of how they experience the outdoors. To see the gallery and vote for your favorite design, click here. In addition to receiving a cash prize, the winning artist's design will be printed on a t-shirt benefitting the conservation alliance and Merrell will donate to an outdoor non-profit of the winner's choice.
Here is Alexandra Rubio's story as told to Kassondra Cloos.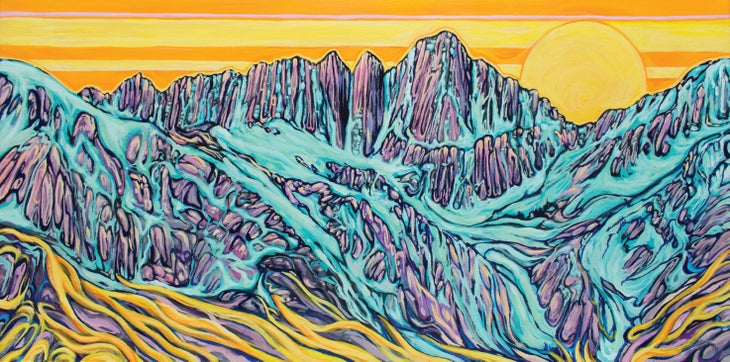 I didn't grow up playing outside. I grew up in the suburbs in northern California, in Sonoma County. My parents are immigrants from the Philippines, and they came from poverty—they would have to walk hours to get to school. My mom grew up in a mountain province with lots of nature all around her. But I think coming to America after growing up in a place where you need to walk really far to do basic things, hiking for fun doesn't really make sense. I started climbing about 9 years ago, and that's when I realized that going outside could be lots of fun.
The first backpacking trip I ever went on could have been a total disaster. In a way, I guess it kind of was—a lot went wrong. But the experience ended up shaping who I am as an artist.
My boyfriend and I went backpacking in the Ansel Adams Wilderness in California. We packed super-light, and we forgot things like sunscreen and bug spray. I had bought a super-nice, brand-new sleeping pad for the trip, but somewhere around the third day, I managed to lose it. I think we were taking pictures and I left it behind. It was a while before I realized I didn't have it anymore. We backtracked quite a ways and asked other hikers if they'd seen it, but no luck. Eventually we gave up. I was devastated.
We set up camp at Thousand Islands, a gorgeous area surrounded by a lake. The mosquitoes devoured us. We emptied our backpacks so I could sleep on top of them and use them for insulation. It wasn't exactly comfortable, and I barely slept. I woke up in the middle of the night and couldn't fall back asleep, so I snuck out of the tent to go for a little walk.
I looked up and was amazed at how gorgeous the sky was. The mountain backdrop was illuminated by countless stars. I immediately woke up my boyfriend and we sat outside for a while, talking and staring at the sky.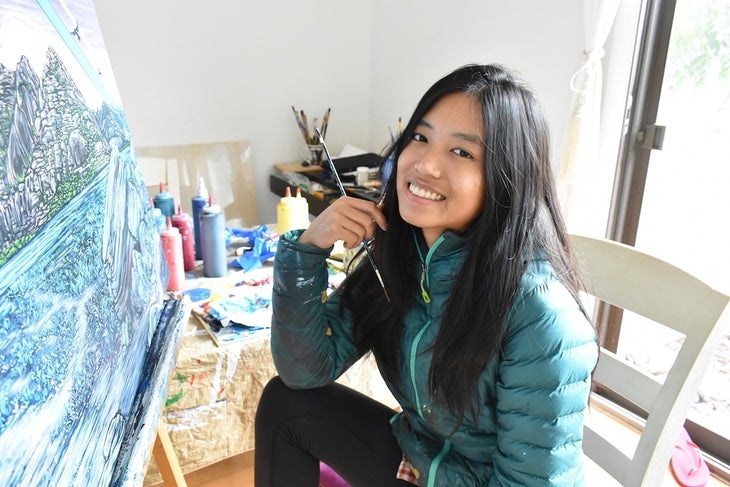 It was such a meaningful experience for me. I painted it when I got home, and that's when I realized that this is what I wanted to do for a career—I want to recreate memories like that. I want people to look at my artwork and understand that I care about what I make, and I'm really true to it. I hope it inspires people to do the same, to go outside and have really fun experiences.
My paintings are the way they are because they're stimulated by something. Sometimes just hiking on a popular trail doesn't do it for me—I have to be scrambling or backpacking or doing something else that challenges me in some way. The painting I chose to submit for this contest was inspired by the view of Mt. Whitney from Alabama Hills, in the Eastern Sierras. It's one of my favorite places to camp because you're surrounded by a lot of mountains, and so it's the prettiest place to wake up in the morning. I love going there and seeing the sun rise. I was out there painting a mural and living out of my van at the time. The photo I based this painting off of was actually taken from a McDonald's in Lone Pine, but it was inspired by a lot of trips I've taken there.
Going outside nowadays can be really expensive, or at least it's perceived that it is. If my design wins this contest, I'd want to choose the Sierra Club to receive the donation. They have a program called "Inspiring Connections Outdoors," which brings groups of kids from urban areas outside. I care a lot about educating kids from urban neighborhoods, kids from diverse backgrounds, about the outdoors. I used to be a high school teacher, and I had a lot of kids who had just immigrated from Mexico. Going outside was new to them—they didn't have the money for gear or the time for hiking, because many of them needed to work. I really want them to have the same experiences that other people are privileged to have. 
Alexandra Rubio Art
Half Dome: Golden Hour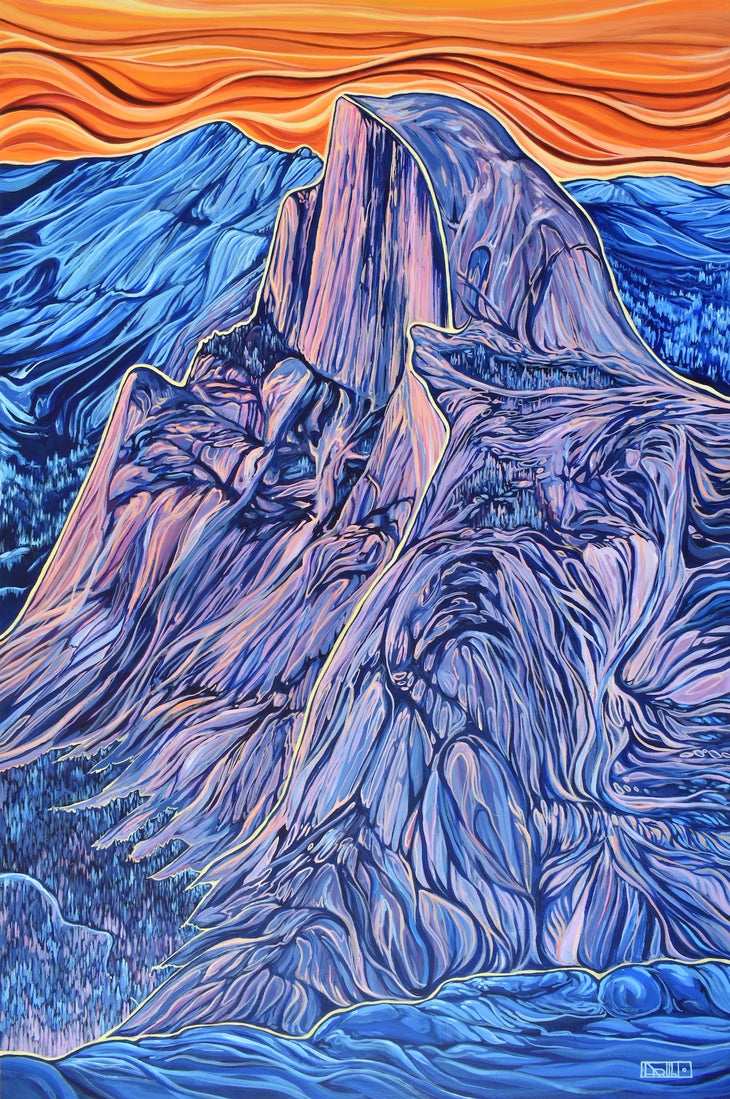 View more and purchase here. 
Thousand Islands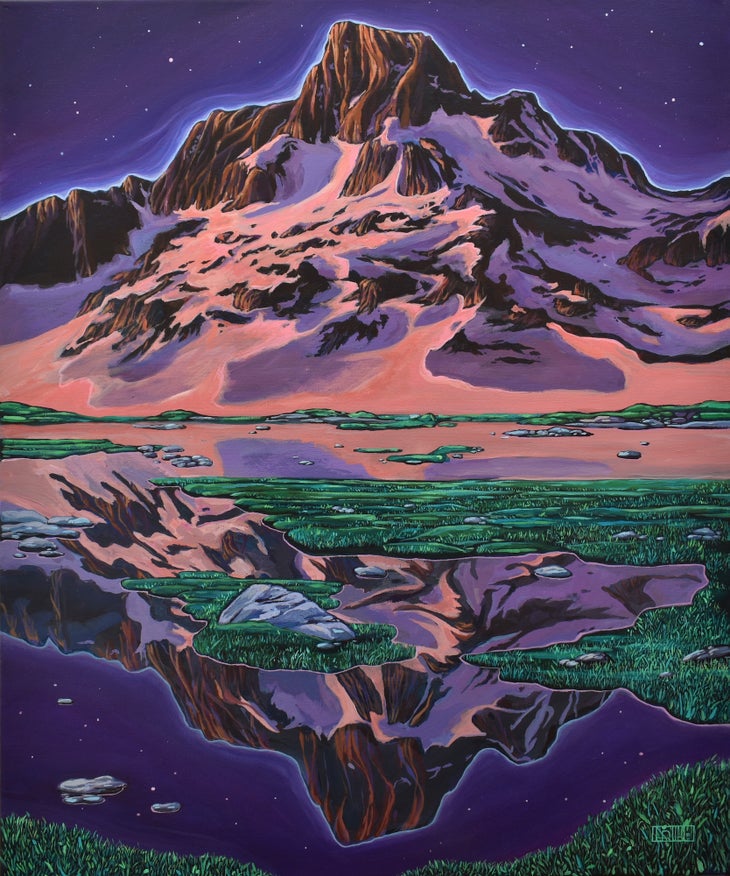 View more and purchase here. 
Owens River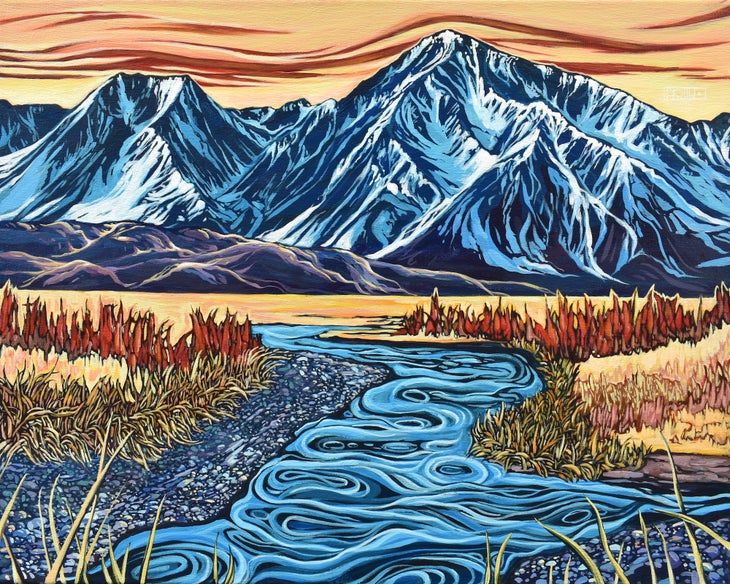 View more and purchase here. 
El Capitan Meadow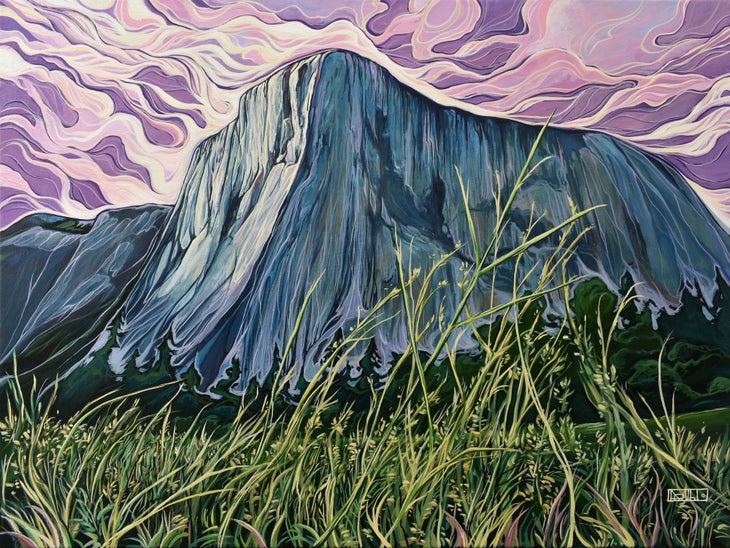 View more and purchase here.
Buttermilk Country

View more and purchase here. 
To vote for her design, check out the gallery. Voting closes August 30th and you can vote every 24 hours.
Check out more of her work: https://www.alexandrarubio.com/