A U.S. Representative Hits the (Hiking) Trail
Can a trail-loving conservative use public land to bridge the partisan divide? M. John Fayhee joins Representative Martha McSally on the Arizona Trail to find out.
Heading out the door? Read this article on the new Outside+ app available now on iOS devices for members! Download the app.
It did not take long for word to spread in the small, isolated town in New Mexico that I call home. Whether quaffing a Belgian ale in the brewpub, or sipping a fair-trade latte in the java emporium, or inspecting organic cabbages in the food co-op, members of my dirt-worshipping social circle would approach and ask, suspiciously, "So . . . I hear you're going hiking with a Republican?"
I'd brush off the blatant stereotyping. Besides, I argued, these are divisive times and here was a chance find out if trails can transcend politics.
At issue was my acceptance of an invitation to spend a day on the Arizona Trail (AZT) with Congresswoman Martha McSally, whose National Environmental Scorecard rating for 2016 from the League of Conservation Voters was an almost impossibly low 3 percent.
McSally represents Arizona's Second Congressional District—the southeastern part of the Grand Canyon State—which includes such world-class rough country as the Chiricahua Mountains, Cochise Stronghold, Saguaro National Park, and a significant portion of the AZT, including its southern terminus on the Mexican border.
Skeptical friends aside, my foray to visit McSally had perfectly understandable root causes.
First was my curiosity about McSally herself. After having been told by the Air Force that, at 5'3", she was too short to fill a cockpit, she became the first American woman to fly a fighter plane in combat, piloting an A-10 over Iraq in 1995 as part of Operation Southern Watch and over Afghanistan in 2004. She then worked her way up the military hierarchy until she became a squadron commander and retired as a full-bird colonel in 2011 at age 44. She sounded like the type of paradigm-shifting person with whom I'd like to share a day on the trail.
Second, McSally had very publicly stated her intention to section-hike the entire 800-mile AZT, an undertaking very near and dear to my heart, as, exactly 20 years prior, I had become one of the first people to complete a thru-hike. My interaction with the footpath over the intervening two decades had been infrequent and cursory. I wanted to see how it had evolved since its designation as a National Scenic Trail in 2009.
McSally decided to hike the AZT at least partially as a way to celebrate public land. "I'm hiking to show our district, our state, and our nation that these treasures matter, that outdoor recreation is important," she said in a statement at the outset. "Elected officials have a responsibility to help protect our lands for future generations. I'm willing to demonstrate that I take this responsibility seriously."
This kind of thinking puts her almost at total odds with current Republican orthodoxy.
A plank in the party's 2016 platform states, "It is absurd to think that all the [federal] acreage must remain under the absentee ownership or management of official Washington. Congress shall immediately pass universal legislation . . . requiring the federal government to convey certain federally controlled public lands to states."
But this comes at a time when the majority of all Americans, regardless of political party affiliation, support public lands, and they're voting with their feet. Public lands-based outdoor recreation is exploding in Arizona, which is home to 90 legally designated wilderness areas, three national parks, 18 national monuments, and a host of long-distance trails in varying stages of completion.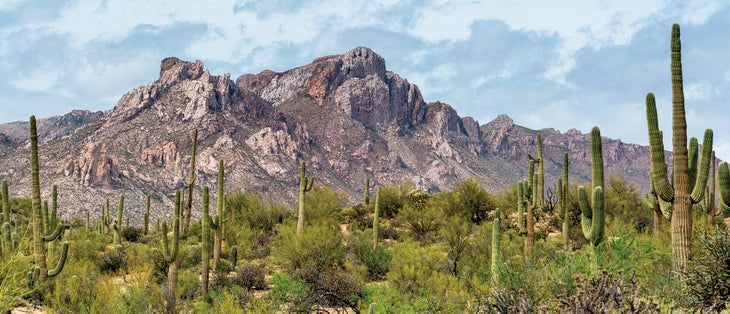 And, when former Utah Rep. Jason Chaffetz introduced a bill to transfer 3 million acres of public land to state ownership in the first days of the Trump administration, it prompted an immediate outcry, particularly from hunting and fishing groups, loud enough to make him withdraw the bill in days.
Even Donald Trump, when campaigning for president, said he couldn't get behind something like that: "I don't like the idea because I want to keep the lands great, and you don't know what the state is going to do," Trump told Field and Stream magazine. "I mean, are they going to sell if they get into a little bit of trouble? And I don't think it's something that should be sold. We have to be great stewards of this land."
The majority of people agree, regardless of political leaning. In 2017, Colorado College conducted a survey of residents of Western states and found that support for preserving public lands for recreation outweighs support for drilling and mining on them by a factor of 3 to 1. (In Arizona, it's 4 to 1.) And in a separate poll commissioned by the Center for American Progress, a progressive think tank, 75 percent of voters in the 2016 election said that protecting and maintaining national parks, public lands, and natural places should be a "very important" goal for the federal government.
I wanted to see if the national reverence for public land is perhaps the one thing—maybe the only thing—that Americans can agree on. In our polarized era of national politics, could public lands be a rare bit of common ground? And could McSally, a proud conservative and devoted trail lover, be the one to help reconcile a major political party with the fact that an overwhelming majority of Americans love to recreate on public lands?
Our contingent congregated at a McDonald's in northeast Tucson on an October morning and drove to Gordon Hirabayashi Campground, along the Catalina Highway. The road there is lined with sheer cliffs and one of the densest concentrations of saguaro cactuses in the Southwest as it ascends 7,000 vertical feet in 27 serpentine miles.
Our goal was to dayhike 13.2 miles to Redington Pass, at the base of the Rincon Mountains, which define the heart of Saguaro National Park. It's a moderate stretch of trail northeast of Tucson, where McSally lives and has one of her two district offices.
I had expressed a desire to McSally's staff to do more than an ornamental, photo op-type stroll along the AZT. I made this request out of concern that McSally's pronouncement that she intended to complete the entire trail was little more than a publicity stunt. At that point, she had hiked only one 1.7-mile section (out and back, so 3.4 miles total)—from the southern terminus in Coronado National Memorial to Montezuma Pass. That hike had been leveraged into a bona fide media event, with much in the way of TV and newspaper coverage. The last thing I wanted was to be a part of a dog-and-pony show.
When I mentioned that concern to McSally, she half-growled, half-grinned and said, "I don't say I'm gonna do something and not do it. Trust me, I'm gonna finish."
McSally told me that, given her tough schedule—spending Monday through Thursday in Washington, D.C., and weekends at home in Tucson—and given that the AZT consists of 43 sections covering between 9 and 35 miles each, it might take a few years, but she was determined to see the quest through. Not, she said, because she had committed to the journey in public and on the record but, rather, because it was something she really wanted to do.
Martha—she insisted everyone address her thus—stated that she intended to invite members of the community to join her on most of the AZT sections because it presented a perfect opportunity to mix with the people she represents in a non-traditional setting.
But why a trail? What attracted an Air Force fighter pilot to the decidedly subsonic world of hiking? Martha said her entrancement with Arizona's backcountry actually started in the air. "Since I was in pilot training [at Tucson's Davis-Monthan Air Force Base], I got to view the amazing variety of landscapes, mountains, canyons, diverse ecosystems, and breathtaking red sunsets from the air," she said, "as well as experience them on the ground, first on runs, bike rides, and camping, and later on hiking, once I got that bug."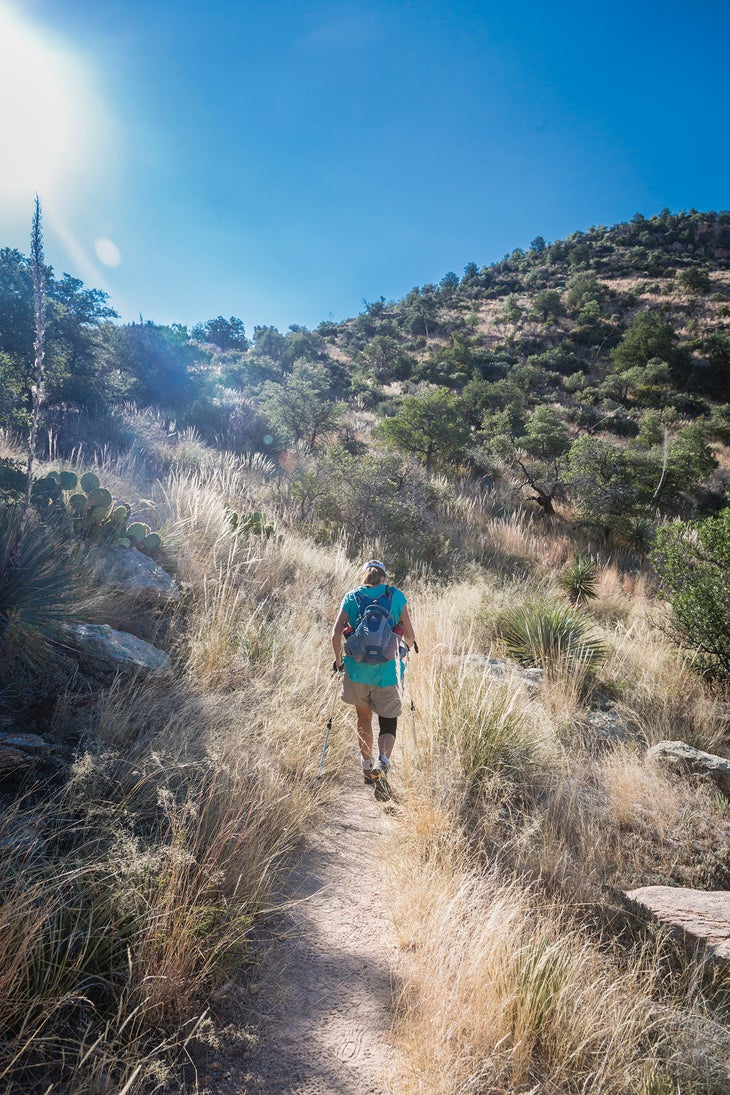 That led to regular hikes and a particular fondness for 9,456-foot Mt. Wrightson, where she'd climb to wraparound views of Arizona and Mexico after returning from campaigns, be they military or, later, political. When she's home in Tucson, she makes regular trail runs to decompress from "sleep-deprived deployments to D.C.," as she puts it. "I head out onto the trail with my golden retriever when I can and, each time, my body, mind, and soul feel refreshed."
Sounded like a trail person to me.
Our group was diverse: two professional Forest Service wildland firefighters, the dean of the University of Arizona's College of Education, a superintendent of a nearby school district, a wilderness and recreation manager for the Coronado National Forest—which housed this stretch of trail—a photographer, one of McSally's staffers and her fiancé, and, perhaps most interestingly, the father of one of the six people who had been killed during the 2011 assassination attempt on Congresswoman Gabrielle Giffords.
It was Giffords's seat, which she gave up because of health issues related to the shooting, that McSally eventually won. After McSally failed to win the Republican nomination in 2012 and the seat went to a Democrat, she returned in 2014 and won the general election by 167 votes. She was reelected in 2016 by a substantial margin. (Shortly after she and I hiked together, she announced that she would seek the Senate seat Jeff Flake is leaving.)
Martha and I brought up the rear, as the group strung out over perhaps a quarter-mile. I took the opportunity to ask about her story.
She was born in 1966, in Rhode Island, to a middle-class family. Her father, who worked his way up from humble beginnings to become an attorney, died when she was 12. They had been very close, and his death turned young Martha angry and resentful.
One day, her mother, who had spent the previous few years trying to hold together a single-parent home, suggested that Martha might as well join the Army.
"I had never given one second's thought to the military," Martha said. "I was obstinate. I thought, OK, if I am going to join the military, then I'll show her! I'll go to one of the service academies! I applied to the Air Force Academy and was accepted. It was quite a surprise."
Pretty much from day one, McSally had to overcome the boys'-club mentality that dominates the armed services. There have been women pilots for many years, but, for the most part, they have been restricted to flying tankers and cargo planes in situations officially defined as "non-combat." McSally butted heads with that policy and prevailed, opening the doors to an entire new generation of female pilots.
There was more to her legacy. Her stint over Afghanistan came three years after one of the most brazen legal moves in American military history: While stationed in the Kingdom of Saudi Arabia, McSally, like all American servicewomen, was required to wear a body-covering abaya while off base. Not surprisingly, this chafed the hide of America's first combat-certified female fighter pilot. So, she sued Defense Secretary Donald Rumsfeld. In 2002, the Department of Defense announced a "change in policy" regarding the abaya requirement, claiming McSally's lawsuit had nothing to do with the decision.
McSally's reputation among journalists is that she rarely answers questions directly. Regarding the hot-button issue of the day—Trump's threat to "re-size" several of the national monuments, which he ultimately did last December—she stressed that none of the parcels lie in her Congressional district, implying that her opinion on the matter was not relevant. But she said she had sent a letter to Secretary of the Interior Ryan Zinke asking that he take local input into account as he toured many of those threatened monuments last year.
When I asked about her views toward public lands in general, she talked about multiple use for recreationists, and how she favored the continuation of the federal Payment in Lieu of Taxes (PILT) program, which distributes money to states and counties with a high percentage of untaxable public land within their borders. In 2017, PILT delivered $34.4 million to Arizona, which is not exactly chump change. McSally's support signals a willingness to go her own way: The program passed the House with just nine Republican votes when it was attached to the 2014 Farm Bill (before McSally took office).
Looking at the notorious $11.9 billion in deferred maintenance at the national parks, she teamed up with Rep. Seth Moulton, Democrat of Massachusetts, in 2016 to introduce a bill that would formally aim service corps volunteers at the deficit. That bill died in committee, but she reintroduced it last July; it bounced between committees over the summer, then stalled again.
Between her voting record, legislative efforts, and genuine passion for the outdoors, it was hard to pin McSally down. The most I got in terms of a unifying philosophy was, "We need to make sure we protect these public lands for future generations to enjoy, while being responsible with taxpayer dollars." There was none of Thoreau's "in wilderness is the preservation of the world" springing forth from her lips.
Molino Campground, 3.5 miles into our hike, is located in the kind of geophysical splendor that attracts visitors from around the globe. Though there are numerous astounding mountain ranges in the Southwest—the Sandias, the Dragoons, and the Organs come to mind—none, in my opinion, match the massive Santa Catalina Range, which fills the northern horizon of Tucson, for rugged grandeur. With crazy rock formations, deep canyons, and views well down into Sonora, the range ranks among the most awesome in the country.
Martha started working her way toward the front of the line, mingling with her guests along the way, playing the part of trekking-pole politician. I took the time to reminisce a bit about my own 1997 thru-hike of the AZT.
Back then, it consisted of little more than a disorienting hodge-podge of unrelated existing tread, spliced-together forest roads, and cross-country navigation at a time when GPS was still in its infancy. Today, the trail is not only complete from end to end—it is marked, signed, guidebooked, waypointed, and coiffed as well as any long-distance trail in the West.
There was a part of me that missed the rawness of the AZT 20 years ago. Though I personally prefer solitude when I'm out in the woods, I am a reluctant adherent to the advocacy principle of outdoor recreation: The more people we have hiking on our trails, the more people we likely have advocating for our public lands. I hope that's the case for Martha, too.
We stopped for a snack at West Tank—more or less the day's halfway point. It was there that, as hikers do, we started swapping trail stories. Martha sat on the ground in a small patch of shade, eating a pack-smooshed PB&J and laughing at the tall tales. Like the rest of us, she was dirty, sweaty, and perfectly at home out there among the lizards and cacti. On the trail, it's easy to forget about political divides.
From then on, Martha led the way. It wasn't so much that people were showing deference to her, though I'm certain there was some of that. It was a combination of her level of fitness and the fact that she seemed like the type of person who considers the tip of the spear to be her native habitat. She is clearly a born leader, one who people seem instinctively inclined to follow. Whether by inspiration or intimidation, I could not tell.
As the temperature rose toward the upper 80s, I started feeling a bit lightheaded. Despite my ever-increasing decrepitude, I remain a fairly strong hiker, but I do not perform well when my cranium is sizzling. Shade was sparse. The group splintered, with Martha, the university dean, and the school administrator—trail runners all—leaving the rest of us behind. I ended up in the middle group with one of the Forest Service firefighters, who had recently returned from battling the massive conflagrations in northern California, and Ross Zimmerman, the man whose son, Gabe, had been murdered during the assassination attempt on Gabby Giffords.
Zimmerman developed a relationship with McSally after the incident. And he played a role in her decision to start hiking the AZT by introducing her the Arizona Trail Association's executive director.
Zimmerman, who leans left, admires McSally and genuinely likes her. But he said he does not know whether he is going to vote for her in the next election. Apparently, he has been upfront with her about his indecision.
He was of the opinion that McSally has the potential to become a new kind of Republican, one with a connection to the natural world that transcends her party's perceived tendency to view public lands as little more than resource-rich commodities. That would be a big deal, maybe enough to span the ideological canyon that sits between left and right and unite voters on recreational lines instead of dividing them along political ones.
There is clearly work to be done. Martha has cast votes that, according to the League of Conservation Voters, went against Mexican gray wolf reintroduction, against the Endangered Species Act, in favor of drilling in the Arctic National Wildlife Reserve, and against federal funding for research into renewable energy.
But then there's the fact that she sued the Secretary of Defense, during wartime, over an issue that even the most skeptical among us have to admit had less to do with fashion preference than it did with women's rights and a sense of justice and fairness.
"We were told that we were fighting against the Taliban at least partially to make it so women in Afghanistan did not have to wear Muslim dress," Martha said. "And here we were, in Saudi Arabia, having to wear abayas. It was crazy."
Martha said she never thought the lawsuit would benefit her. Quite the contrary. She assumed she would be kicked out of the Air Force the second Rumsfeld got served with the court papers. She wasn't. Instead, her suit became a law that passed with unanimous support in 2002, making the abaya explicitly optional. She ended up being promoted for her independent streak, not punished.
We arrived at Redington Pass in what members of our group familiar with the route called "very good time." Without Martha setting the pace, it's my guess there would have been more in the way of trailside lollygagging. But the second-term Congresswoman had several commitments scheduled that evening. Duty called.
During the trip home, I thought about what I'd tell my dirt-loving social circle. Is Martha McSally going to start channeling John Muir? Not a chance. But I still hold out hope for her. It's based to a large extent on her intention to hike the entire AZT, to spend weeks and weeks rubbing elbows in an intense fashion with the world-class natural beauty of her adopted state. I believe prolonged exposure to wild country can change the way people perceive our public-lands heritage. Change the way we perceive everything. Maybe even each other.
M. John Fayhee was the editor of the Mountain Gazette for 13 years and is the author of 12 books. In addition to the AZT, he has thru-hiked the Appalachian, and Colorado Trails.