Madman Walking?
Warren Doyle has hiked the Appalachian Trail 16 times, and he has a no-fee plan guaranteed to help others complete the 2,180-mile trek. The hardest part? Hiking with Warren Doyle.
Heading out the door? Read this article on the new Outside+ app available now on iOS devices for members! Download the app.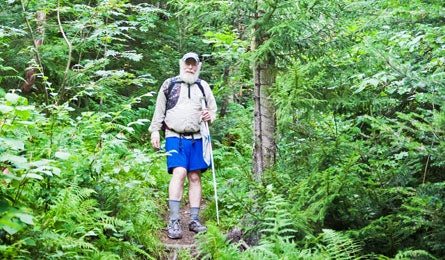 Warren Doyle has logged more than 30,000 miles on the AT. (Julia Vandenoever)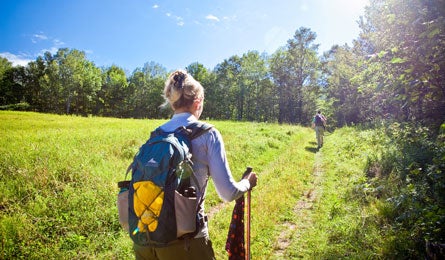 Big days, small packs. (Julia Vandenover)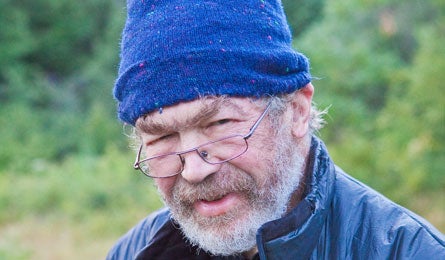 Dave. (Julia Vandenover)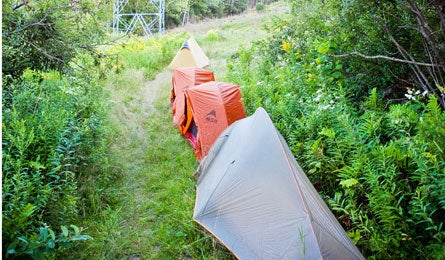 Convenient (not scenic) campsites. (Julia Vandenover)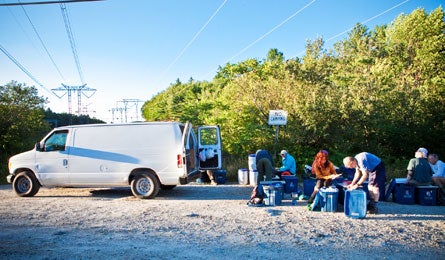 Van-supported camping. (Julia Vandenover)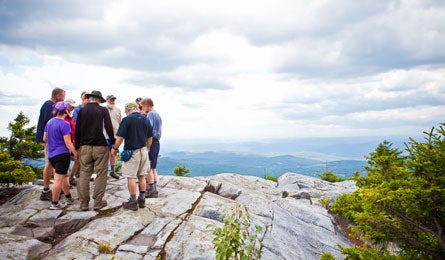 A circle ceremony on Mt. Cube. (Julia Vandenover)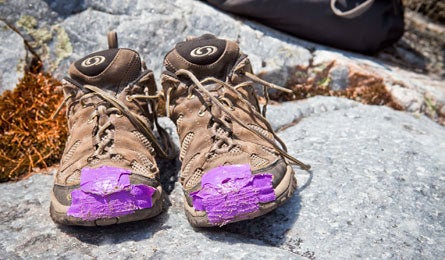 Duane's boots. (Julia Vandenover)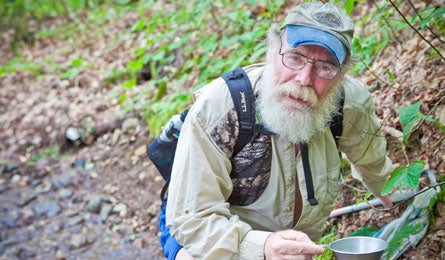 Doyle's water-treatment system. (Julia Vandenover)
They were walking into a hurricane, and they knew it.


But as anyone who has ever been involved in a doomed love affair can attest, there's a difference between what you know in your mind and what you feel in your heart. What you know you should do, and what you actually do. And on that late-summer evening in northern Maine, what they felt was warm and dry. But even though the sky was clear and the air perfectly still, the forecast was unambiguous: Hurricane Earl was churning up the Atlantic Coast, pushing masses of tropical moisture ahead of it, like snow before a snowplow. The weather report called for apocalyptic rains, beginning at midnight.


This information they chose to ignore. At sunset, they stuffed their packs and laced up their boots. All around in the campground, families gathered around charcoal fires, parents sipping beers while kids played beanbag horseshoes in the dirt. Like campers all over the country, they were settling in for the long Labor Day weekend, relaxing in the fresh air.
The 12 hikers were not here to relax. They were here to finish the Appalachian Trail. The journey had been long, beginning at Springer Mountain in Georgia four months earlier. They'd hiked more than 2,160 miles. It had been a painful journey at times; exhaustion had etched itself on every face. Now they had 15 miles to go, and one more mountain to climb: 5,267-foot Katahdin.


At dusk, they drifted to the bank of Abol Stream, where a break in the trees allowed a view of the hulking, flat-topped outline of Katahdin, rising almost a vertical mile from the northern woods. They wanted to stand on its summit so badly that nothing–not even a Category 4 hurricane–could dissuade them from pushing on. And why should it? They'd loyally followed the plan laid out by their leader, Warren Doyle, for every step of the AT, and he had delivered them as promised at the foot of Katahdin on September 3, the precise day specified in his mile-by-mile itinerary.


Beside the stream, the group gathered in a circle and joined hands. One at a time, each member of the group spoke simple words of thanks. They sang a song, then hugged each other, then returned to camp to prepare. At 10 p.m., they shouldered packs, flicked on headlamps, and trooped out of the campground to a chorus of barking dogs. The trail crossed a narrow bridge before entering the woods. They hiked in a line, boots crunching the dry leaves. Two hours later, they stopped in a clearing. "Hey," someone said hopefully, "I can see stars!"
A few minutes later, the first raindrops began to fall.


In a sense, the group had been hiking into a storm since May 1, when they had embarked on the 2010 AT Circle Expedition, a group thru-hike of the Appalachian Trail organized by Warren Doyle. Even back then, they knew that turbulence tended to follow him wherever he went.


Doyle has been a controversial figure on the trail since 1973, when he set the AT's first speed record. Since then, he has laid claim to a number of feats that are either truly impressive or outright bizarre, depending on one's point of view. He claims to have hiked some 34,000 miles on the Appalachian Trail, including nine thru-hikes–and to have completed two of those end-to-end journeys without taking a single shower. He is probably the only hiker to have been arrested on Katahdin for civil disobedience. And just last fall, he and a friend set another "speed record" that entailed hiking up Springer, then jumping in a car and speeding north to the foot of Mt. Katahdin, and trekking to the summit. (Totals: 30 hours; 4.7 miles of hiking; about 1,500 miles of driving).


In 1983, he helped found the Appalachian Long Distance Hikers' Association, but later was thrown off the group's board for reading an inflammatory poem in the raw weeks after 9/11. The trail is so entwined with the fabric of his life that he believes his only son, Forest, was conceived in a trailhead parking lot at Neel's Gap in Georgia.


But what sets Doyle apart from all other quirky thru-hikers is his personal mission to help others complete the AT. Several times a year, he leads something he calls the Appalachian Trail Institute, a five-day seminar for aspiring thru-hikers. There, they absorb practical advice about pack weight and hiking strategies, while pondering such Doylean koans as: "Don't fight the Trail. You have to flow with it."


It seems to work: While just a quarter of would-be thru-hikers make it to Katahdin, Doyle says that 75 percent of his "graduates" (about 500, to date) succeed. "I would not have finished if it weren't for Warren, and I'll always be grateful," wrote one Institute participant on Whiteblaze.net, a popular AT hikers website. "The number one thing I took away is that if you really want to finish, you have to realize that it's mostly a mental challenge."


But in terms of helping others with their thru-hike aspirations, nothing compares to Doyle's AT Circle Expeditions. Every five years, Doyle personally leads an organized group thru-hike–eight since 1975–and on these treks the success rate is close to 100 percent.


There are two main reasons for this astonishing track record. The first and most obvious is that Doyle's Expeditions use van support–which does not endear him to AT purists, who fear the possible commercialization of the trail (for-profit guiding is prohibited, and Doyle collects money only to cover group expenses), or who simply feel that using a van is cheating.
But to Doyle's mind, the van isn't important anyway. What really matters–what makes these hikes so powerfully unique–is the "Circle," a vow his hikers make to complete the trail together. For those who join the Circle, three "expectations" apply. First, everybody must follow every white blaze (AT markers). Second, everyone will start and finish the trail at the same time. Third and most important, everybody who starts must finish. In other words, there is no quitting, except due to a family emergency or "unavoidable injury." Anything short of finishing together, on top of Katahdin, will be considered a failure for all.


Critics decry the use of a van as slackpacking and call the Circle a cult, with Doyle at its center. As a member of the 2000 Expedition puts it, "You know that saying, 'hike your own hike'? Well, when you hike with Warren, you hike his hike." His fans see him differently. "Who else would devote so much time to helping you realize your dream?" asks Cindy Bertothy, 59, from Texas, a member of his latest Expedition.


But Doyle's method raises deeper questions about what, exactly, constitutes a "true" thru-hike. Is it just about completing the 5 million steps between Springer and Katahdin? Or is it about something more–some transcendent sense of self-reliance that is either learned or enhanced along the way? Or do his Circle Expeditions–and their all-for-one, one-for-all pact–offer a more ineffable reward? Could his method teach us all something about working together, and finishing what we start?


To answer these questions–and learn what it's like to hike with a guy who doesn't pack a toothbrush for a four-month trek–I joined Doyle's 2010 AT Circle Expedition for parts of the journey from Georgia to Maine.




We convene at Three Forks, at the base of Springer Mountain, at two in the afternoon on the first of May. The 12 hikers greet each other like long-lost family. They've already formed strong bonds during several arduous "preparation hikes"–three-day, 60-mile backpacking trips. Out of 24 hopefuls who attended the first prep hike, the process yielded the dozen committed souls who showed up today (nobody was turned away). We move to a small clearing in the rhododendrons as a light rain begins to fall.


Doyle begins by handing out the expedition schedule, which everyone already knows by heart: The group will hike the trail in 127 days, averaging 15 to 20 miles daily. Most nights, they'll meet the van at a road crossing, and camp there. He notes with approval that we have set up our tents in view of several "No Camping" signs; he's not much for following rules.
"If all goes well," he continues, "I can assure you that on September 4, we will end our relationship on a high point, on top of Katahdin. When do you get to end a relationship at its highest point? Think about marriages, think about jobs."


If all goes well. It's an appropriate caveat, given the schedule Doyle has laid out. The average thru-hiker takes about six months to complete the AT; Doyle's group is doing it two months faster. (The grueling pace–with zero scheduled rest days for the first 1,600 miles–refutes any suggestion that Doyle's method is "easy.") Moreover, the typical thru-hiker is in his or her 20s, while the average age of this crew is 55. Doyle himself is 60. The oldest member is James, 66, a laconic retiree from a small town in South Carolina, who looks like Ted Turner gone feral. The youngest (apart from Terry, Doyle's 35-year-old wife) is Jessica, 38, an ex-journalist who attempted to hike the trail on her own a few years ago. She made it to Vermont before boredom and fatigue caused her to stop and go home to Boston. She's back to finish the job. "I knew if I did it on my own, I'd be out there for six months," she says. Her trail name is "Pokey," because she likes to sleep late.


The others are an eclectic bunch, and most of them don't have trail names yet. There's Duane, a 45-year-old pharmacist who happens to hail from the same small town as James–but had never met him; Carol, a kindly retired nurse in her 60s who lives not far from Springer; Dave, 61, a musician and orchestra director from Philadelphia, who knows Doyle through contra-dancing (a type of folk dancing, Doyle's other passion); Eddie, a long-haired free spirit from Florida and also a contra-dancer; Greg and Lauren, from northern Virginia, the only married couple; a quiet, bespectacled woman named Debbie, from upstate New York; and Cindy and Hazel, two wisecracking cousins from Texas.


For everyone, the hike represents the result of more than a year of planning: Vacation days have been hoarded, jobs have been quit or put on hold, and spouses have been at least somewhat appeased. Even so, they're at an age when they can't be gone indefinitely. Doyle's compressed, four-month schedule–and near-guarantee of completion–makes the impossible seem possible.
There's only one problem to deal with before starting, and his name is Jimmy. Hazel and Cindy's 58-year-old cousin and best friend, Jimmy decided to join the Expedition too late to make the last preparation hike. Doyle is clearly not pleased that he has shown up today. "Every decision I make will have one goal in mind," he says. "An unbroken circle on top of Katahdin."
Jimmy–untested, unknown, with thinning blond hair, a pink face, and a comfortable belly–is a potential wrench in the works. "I don't want to have to deal with beginners!" Doyle barks. Does Jimmy have anything to say for himself?


He does. "I didn't mean to crash y'all's party or nothing," he begins, in a sheepish drawl. "But I've been hearing about this hike from my cousins for the last two years. And there was no way I could have gone. Then all of a sudden my situation changed–and then there was no way I wasn't gonna come."


Doyle decrees that Jimmy will have to carry all of his gear in a backpack for the first 13 days of the hike, to make up for the preparation hikes that he missed. After that, if he's still with the group–emphasis on "if"–he will be entitled to use the van, where the other hikers have stashed their gear. Jimmy nods, accepting Doyle's judgment.


Later, Jimmy tells me, "To come on this hike I would have had to get divorced, sell my house, and quit my job. As it turned out, all three of those things did happen." His divorce was final last Friday. "So here I am."




Despite the mandatory preparation trips, it's not clear that this group is even going to make it to North Carolina, much less Maine. Take Hazel: Tall and blonde and pretty, but a good bit overweight, she seems hopelessly out of shape.


But after four days and 51 miles, many of them in pouring rain, it becomes clear that her soft exterior masks an inner toughness. At 49, she's a former competitive jet-ski racer who once rafted the Grand Canyon with a broken ankle wrapped in duct tape. But then she got divorced four years ago, and she's been in a rut ever since. She became less active, gained weight, and lost her zest for life. "I used to run marathons and stay in shape," she says wistfully. "This is kind of like an extreme makeover for me. I even took a 'before' picture." She credits Doyle's preparation regime for getting her here at all. "You really learn to strip it all down," she says. "Not only your pack, but your mind."


Doyle's hiking philosophy is unique, to say the least. Lesson one: It's better to "hike smart" than to hike fast. As summarized in his AT "book"–which consists of a single online page–hiking smart boils down to common sense merged with an aggressive thriftiness: The less gear you carry, the lighter your pack will be, thus making your hike easier and reducing your chance of a trip-ending injury. Comfort is unnecessary: You can do without extra underwear, hot meals, a tent. Doyle himself is content to sleep in a rolled-up poncho, even in driving rain. He hikes in Walmart sneakers, and uses an old ski pole that he bought for $1 at a yard sale. He disdains water treatment or filtering of any kind, drinking directly from springs, streams, and puddles–and even brags about getting giardia. ("It helps with my constipation.")


He regards my CamelBak bladder and water-filter system with special scorn. "Your pack weight will be directly proportional to the sum of your fears," he likes to say.
The most important element, though, is attitude: "Expect the worst. If after one week on the trail you can say that it is easier than you expected, then you will probably finish your journey."


It's hard to imagine anyone having a worse first week than Doyle himself. Physically, he appears less prepared than anyone; his round belly strains against the buttons of his khaki-colored hiking shirt. Likewise, the contents of his food bin do not inspire hope: He proudly pulls back the lid to reveal a dozen boxes of Little Debbies Cosmic Brownies. "This way, I don't have to think about what I eat, and I can concentrate on the beauty of nature," he explains. Like many things Doyle says, this makes sense in theory.


On the fifth day, I join Doyle on the trail. This itself is strange, because he walks southbound each day, while everyone else hikes north (he has his own car for this purpose). That makes his hike a disjointed, leapfrogging affair, but it also allows him to see every member of the group at least once per day. He needs to spend the morning grading his last batch of papers (from his final semester as a professor of education at Lees-McRae College, in North Carolina), in a local library. We stop first at McDonald's, where Doyle is a big fan of the dollar menu–and also what he calls the "leftover menu," food left behind by other diners, even in trash cans. By the time we begin our 17-mile hike, it's past two.


On the trail, Doyle's apparent lack of fitness vanishes. He moves with a quickness and grace that are astonishing for a guy of his age, size, and Little Debbies intake. On the downhills, he breaks into a kind of trot, letting gravity pull him down the trail. Indeed, one companion from a past hike recalls Doyle dancing down the infamous rocky descent from Mt. Madison, leaping into the air and clicking his heels together.


As we hike, Doyle explains his history with the AT. He grew up in Connecticut, the son of a toll collector, and is proud of his blue-collar roots. His idyllic and, as he puts it, "mediocre" childhood was shattered at age 14, when his older sister, almost 16, died suddenly of meningitis. He became an A student and a bulwark for his grieving parents. As his wife Terry explains, "Warren decided he was going to do the work of two children, to replace the one they'd lost."


During college he was a theater major, and spent an eye-opening stint volunteering in a community development project in West Virginia. There he met the Appalachian poet and activist Don West, whose teachings on rural poverty radicalized Doyle. When he went back to grad school at the University of Connecticut, he couldn't reconcile what he had seen and what he was studying. Like many others faced with real-world conundrums, he decided to work it out on a long hike. "I needed to find out who I really was," he says.


But while most would have been content with just completing the AT, Doyle decided to put his own stamp on it, by attempting to set a speed record. "I had to make it an achievement," he says.


In the spring of 1973, he set off from Springer with a heavy backpack and a two-quart canteen. He hiked in blue jeans and built a fire every night, but still averaged more than 30 miles a day. (During the latter half, when his energy flagged, his dad met him and transported his gear–Doyle's introduction to vehicle support.) He reached the summit of Katahdin just over 66 days after he started. His record made the papers, but the trail-as-racetrack milestone prompted a backlash from the traditional hiking community, including a stinging rebuke from AT founder Benton MacKaye.


Despite the fallout, the experience was so powerful that he decided he had to share it. Two years later, in 1975, he recruited 18 UConn students to hike the AT as a group. It was his inaugural "Circle" experiment, an idea borrowed from West. The Circle made the group's welfare paramount. "Either we all get there, or none of us gets there," Doyle says.
It worked. They all completed the hike. "Most of us were very green and had no experience backpacking," says Don Pelletier, a member of the 1975 group, now an outdoor educator for at-risk youth. "But it changed my life. I think it changed a lot of people's lives."


It certainly changed Doyle's life. The trek formed the basis of his doctoral thesis and laid the foundation for his life's work. He staged another Circle Expedition two years later, in 1977, and then again in 1980. He took time off to get married, raise kids, and "get a real job" (as a college professor), then organized subsequent Circle hikes every five years, starting in 1990. "This is my calling," he says. Doyle considers himself a "social change educator," and the AT his classroom: "People who are able to realize their dreams are happier people. And happier people are less fearful."


But the very notion of a group hike–especially one kept on a rigid schedule–appalls many conventional thru-hikers, who tend to see themselves as Thoreauvian individualists. "He's not making their dreams come true. He's crushing their dreams," charges Jack Tarlin, who completed seven consecutive annual thru-hikes from 1997 through 2003. "In convincing these poor sheep to participate in a hike that is essentially his, and in convincing them that their only hope for a successful thru-hike is to follow his leadership, what he actually does is prevent these poor souls from finding out what they're capable of achieving on their own."


Achievement, of course, can be measured in various ways. Over the years, Doyle's hikers have completed the trail while suffering ailments from severe food poisoning to fractured bones. Miraculously, the Circle has only been "broken" once, in 1977, when a female hiker stopped in Vermont, suffering from severe blisters. "Her feet were like raw meat," says Don Pelletier.
She eventually completed the trail on her own, but Doyle still regards the episode as a personal betrayal. "I had no idea there was anything wrong," he says. "It's like you're married for 30 years with no problems, and all of a sudden your wife leaves a note on the pillow that says, 'Honey, it's not working out.'"


Which is why he reacted so harshly to Jimmy's arrival. Could this unknown hiker be a weak link?


In mid-June, I catch up with the group again in Virginia, where they're camped by a roadside deep in the Blue Ridge Mountains. In the six weeks since I've seen them last, the Expedition members have hiked 800 miles. Today, they roll in at dusk, exhausted by a 27-mile day that took them over several big mountains. Nevertheless, they're right on schedule: It's June 15, and they're camped by the Tye River, just like the schedule says.


The distance has not come easily. Hazel walked for a month with painful shin splints that turned her lower legs black and blue, while Carol is tending cadaverous-looking blisters on one foot. And the day I arrive, Greg is suffering from debilitating knee pain. "I took two aspirin," he says in his Tennessee twang, "but it was like pissing into a forest fire."


Amazingly, Jimmy is still here, having survived his trial by backpack. As soon as it ended, he bought two Rubbermaid bins for his food and gear, like the others. He seems at home on the trail now, relaxed and jovial, with a bushy beard. Even Doyle is starting to like him.


Everyone looks much thinner, especially Hazel, who has easily lost 35 pounds. Duane has also shed his middle-aged middle, and James, who started out thin, is now rail thin. But something different has happened to Dave. He's lost weight like the rest, but his posture has changed: His whole body sags on his hiking poles, as if without them he might just collapse. He's so hunched over, so lost in his own world, that when the trail passed under the Guillotine–a famous overhanging rock in Virginia–he didn't even see it.


By this point, they've all acquired trail names: Eddie is "Eddie Bear." Duane is "The Calculator," because he always knows exactly how far it is to the next road crossing, overlook, or landmark. Hazel is "Hazelnut," while her cackling cousin Cindy is "Sideshow." Jimmy is "Stickman," because of his attachment to an awkward, hand-whittled staff. (Doyle himself has never had a trail name.)


Only one person has quit: Debbie went home after two weeks. "She couldn't handle the comfort level," someone says. Or rather, lack of comfort: Tonight's campsite is a lumpy roadside parking lot that smells distinctly of poop. (Only Greg and Lauren make the 100-yard hike to set up camp beside the lovely Tye River.)


Debbie's departure isn't a problem: Unsure of her commitment from the beginning, she hadn't joined the Circle. The decision is voluntary. So while all of the hikers (except Jimmy) have been "eligible" to join the Circle since the the first couple of weeks, not all of them have. This morning, on top of Cold Mountain, James became the tenth person to join. The group hiked up in predawn darkness, with headlamps, and held a small ceremony on the peak, joining hands and sharing their thoughts, just after sunrise. Jimmy could be next. "I probably will join, to support my cousins," he says.


That leaves only Eddie Bear. Though he's one of the stronger hikers in the group, he has opted not to join the Circle. "I'm opposed to the concept," he confides. "It makes the end result more important than the journey." He says he'd still help out, by carrying an injured hiker's pack, for example. "But this way, I have my freedom. I don't want to be the one who gets hurt and ruins it for everybody."


Nobody wants to be that person. As Doyle often reminds the group, "It takes all of us to succeed, but only one of us to fail."


That's one way to look at it. But a friend of Pokey's who visited the group had a somewhat different take: "This isn't a hike," he'd said. "It's a psychology experiment."


In many ways, every thru-hiker undergoes his or her own psychology experiment: How will you adapt to the rigors of the trail? Will your motivation sustain you in the face of horrific weather, cranky companions, or injury? Do your relationships at home help or hurt your chances of success?


The mental challenges can transform a hiker in unexpected ways. When Duane had started walking, he'd treated it almost as a race, hurrying to knock off each day's mileage. (Hence his trail name, "Calculator.") But over time he's learned to slow down and enjoy the trail. He follows side paths to waterfalls and overlooks. Still, he admits feeling guilty that his wife is working overtime and taking care of their 13-year-old son. "She'll call and say, 'Are you about ready to come home yet?'" he says. He isn't, not by a long shot. He's dreamed about hiking the AT since he was a Boy Scout, more than three decades ago. "I'm gonna owe her big-time," he says. "But at my age, I feel like this is my one shot."


He isn't the only one whose cell phone pulled at his or her heart from time to time. "Each of us has someone at home who's enabling us to quit," Jimmy says.


Yet no one does quit. They had promised not to. "Every time we formed the Circle we renewed our agreement," says Carol. "Pulling together gave everyone strength."


They hike on, each week bringing them closer to their goal. Sometimes, toward the end of a long day, Jimmy whistles a tune to keep everybody going. At one rest stop, the over-50-year-olds play "duck-duck-goose." They swim naked in ponds and streams.


After the rocky unpleasantness of the mid-Atlantic states, they're relieved to reach cooler, greener Vermont, which they enter on July 27. That, plus their hard-won fitness, makes them feel so strong that in Hanover, New Hampshire, they hike an extra six miles rather than take the first rest day of the entire trip.
That is, all but one hiker feels strong. Dave has been getting slower with every passing week. Back in Pennsylvania, he had fallen into a rocky crevice that left him with a gashed forehead and a fear of hiking on rocks. He no longer trusts his balance. Crossing the White Mountains nearly does him in. At sunset on August 13, he's still on Mt. Carter, several miles out from the trailhead, hiking with Doyle. He sits down on a rock in despair, ready to give up. "I can't do this!" he says. "My legs don't work."


"You can do it, Dave!" Doyle urges. But Doyle knows that there's no way Dave can make it down before dawn. And the next day they're supposed to begin the Mahoosuc Range, which is perhaps the most deceptively difficult section of the entire trail. So he makes a snap decision: Dave will spend the night out on the mountain, and the following day will be an unscheduled rest day for the whole group. He gives Dave his extra clothing, wraps him in a space blanket, and hands him three Snickers bars. Dave will hike down at first light.


That night Doyle is more tense and anxious than I've seen him; the Circle is in danger of falling apart. "It's the most difficult moment of the trip," he tells me.


For most of the hike, Doyle has kept his distance from the group, hiking at night and sleeping mostly in his car. But now, all of a sudden, he is in their faces. He needs to know where everyone is, all the time; he locks horns with Pokey over her late starts. In the coming days, I'll watch him get in an argument with a trip member over whether that person is going to use a shelter privy, or go in the woods. "He thinks he has to babysit us," Jimmy complains.


The level of grumbling increases. A particular point of contention is his car, which the hikers are often forced to ride in if they want to get to town. It smells like a hunk of prime rib has been rotting in the trunk for a month. Eddie, the only hiker who has not joined the Circle, grows particularly embittered. Yet while he could easily leave at any moment and hike on his own–he even went out and bought a full-size backpack–he stays. "These are my friends," he says simply. The power of the Circle is so strong, apparently, that it even keeps dissidents in its orbit.


But can it keep Dave hiking? More to the point, should it?


It would be clear to any rational person that Dave needs to stop and rest for at least a week, maybe more. His knees are swollen, and his equilibrium is off. Not the kind of shape you want to be in for hiking the almost 300 miles of rugged, rocky terrain ahead. He'll be better off, and so will the group, freed from the burden of looking after him. As Claire, the van driver, notes in her blog, "The thought crossed my mind that [Dave] might just sit down and die on the trail if he didn't have the group to take care of him."


Dying might be an option, but quitting is not. If Dave leaves, the Circle will be broken. But would that really render the whole effort meaningless? "I think it would have been a failure in Warren's mind, but I wouldn't have taken that as a failure for the group," says Hazel.


The episode becomes a defining moment of the trip. "When Dave started having trouble, Warren stepped up as a leader," says Carol later. "He brought us all together to help Dave. Before that, we were on autopilot." Keeping the Circle together becomes Doyle's sole concern–just as he held his family together after his sister's death. And unlike the others, he knows the purifying power of physical suffering, and why it's worth embracing. He's known it ever since that first AT trek in 1973, one hot July day on a Pennsylvania ridge, when a pack of Girl Scouts–young women his dead sister's age–trooped past. He broke down sobbing. "I had lost all my emotional fat," he says.


That place, to him, is the true destination of a long-distance hike. It's something you find way beyond the boundaries of how much you think you can take. As I'd heard him ask a group of aspiring thru-hikers: "How long can you walk putting on wet socks every day? How long can you walk while sick? How much can you give?"


At a little before four in the morning, after six hours on the trail, we reach the Katahdin Stream campground. In its last throes, Hurricane Earl has unburdened itself of staggering amounts of rain–four inches in 14 hours, we later learn. We're soaked; I can feel water trickling down inside my underwear. Dave is still hiking, but slowly. We huddle under the campground's shelters, grateful for a break, and wait for three stragglers. As they often did, Pokey and Duane and Eddie had left Abol Stream later than everyone else, knowing they could catch up. But the gap has made Doyle agitated, and when the trio appears–after all of 15 minutes–he chastises them for being "irresponsible." Pokey stomps away, and for a few long moments it's unclear if she's coming back.




At this point, it's an open question whether we'll finish the trail together because of Doyle–or in spite of him. He'd been behaving strangely since we arrived at the edge of Baxter State Park (where Katahdin is located). He'd insisted on hiking into the park by night, and made a point of refusing to register. During our rest stop at the campground, he shooshes us so the rangers won't hear. "It's like he's on the run from the law," someone says.


Indeed, Doyle has a legal history with the park, dating back to his first Expedition. When they reached Katahdin on September 2, the mountain was closed due to weather. Devastated, they had to drive back to Connecticut in time for classes the next day. (They returned to summit a month later.) Then, in 1978, Doyle and a friend again found the peak closed because of bad weather. They hiked anyway. It was a harrowing climb: His friend fell on the icy rocks and broke his arm, and they ended up getting arrested. Doyle chose to go to jail rather than pay the $25 fine.


The mountain isn't closed today, but perhaps it should be. We leave the shelter of the campground, and the rain continues, harder than ever. We hike parallel to a rushing stream. Dave slips and falls in, twice. After a couple miles, the trail turns upward; this is the climb proper, the long, steep ascent to the summit. Almost immediately, Dave falls on the slick rocks.
As we wait for him to right himself, Doyle says, "I offer this option reluctantly, but I feel as if I should because of the weather. We could, if we wanted to, return to the campground and come back to hike the last five miles tomorrow." He pauses to let it sink in. There's an extra day penciled into the schedule, in case of bad weather on Katahdin. "But as I said, I offer the option reluctantly," he continues. "Because we don't know what will happen–there's a chance they could close the mountain tomorrow."


The next day's forecast calls for sunny skies and temperatures in the 70s. But not everyone knows this.


"I think we should take the bad weather day," says Pokey, to a round of agreeable murmuring. She's the most experienced hiker besides Doyle, and also the most independent member of the Circle.


"I'm going so slowly," Dave adds, "and I've already fallen four times."


Then James steps forward: "Come on, Dave!" he says passionately. "You can do it! You've hiked 2,000 miles! There's only four more miles to go–four miles!"


Everyone looks at each other, stunned. James has barely raised his voice the entire trip. "I didn't come all this way to have you quit now, Dave," James continues. "We'll drag you up the mountain if we have to."


And just like that, the mood shifts. They're almost done. The summit is close. They have hiked for 126 days, through rain and cold and heat and pain. They will keep hiking.
The trail climbs brutally, straight up the fall line, in a series of steep scrambles up slippery rocks. Above treeline, the trail snakes around, up, and over a seemingly endless jumble of huge, gray boulders, like the gnarled backbone of some fallen giant. Cold wind rakes across the ridge, driving rain and sleet sideways, stinging our faces.


It soon dawns on us that we might have made a mistake. With his shredded knees and 26-inch inseam, Dave can't handle the terrain on his own. Greg and Jimmy guide him, pointing out hand- and footholds and, sometimes, literally hauling him up. Eddie volunteers to carry his pack. While Dave struggles, the rest of us wait–in order to finish together–freezing in our wet clothes, huddling together behind rocks for warmth.


Despite the very real risk of hypothermia or injury–Dave falls yet again, cutting open his shin–we've long passed the point of no return. Going down would be as dangerous as continuing. "It's just not an option," says Duane. Luckily, nobody else falls or gets hurt. One by one, the hikers crest the top of the ridge, even Dave, and stumble across the tablelands toward the famous sign at the summit, marking the end of the Appalachian Trail, the end of the adventure, the end of the Circle.


They've come a long way, and not just in terms of the miles they walked or the pounds they lost. The weight will come back, sooner than they think. But the true impact of the hike will continue to ripple through their lives. "It's been a resurrection," Hazel says a few months later.


Together, they'll share a bond no solo hiker knows. Even Pokey, who had appeared on the verge of breaking the Circle, later reflects, "I have found myself doing more to go out of my way to help others around me."


But right now, on the very top of Katahdin, the hikers' hands are frozen, their legs and minds numb. They join hands, quickly, one last time, then gather around the sign while somebody extracts a camera from a pocket and grabs a foggy snapshot. Nobody is inclined to linger. The hike is done. It's time to go. They grab their packs, and exchange quick hugs, icy rain mixing with the tears on their cheeks.


"Whether or not we should have done it doesn't matter," Dave tells me months later, recalling that epic night. "We did it. Eleven people joined the Circle, and we finished the trail. And it's a memory now. I think about it every day."


I have a memory I'll take with me as well–something I saw just an hour before we reached the summit. It seemed odd then, but makes sense now. As we'd scratched and clawed our way up the mountain, with Duane and Jimmy almost literally carrying Dave, I'd looked back and spotted Doyle, on the rocks far below. He'd stopped to watch as the group pressed on, through the worst moment of the climb. He had his hands on his hips, and a faint smile on his face. The Circle was working.


Bill Gifford, the author of Ledyard, aspires to hike every mile of the AT. Once.