Local Hikes: Northwest
See five volcanoes, camp at secluded lakes, and hike through a swarm of butterflies. (Click linked trips for GPS waypoints, photos, and more.)
Heading out the door? Read this article on the new Outside+ app available now on iOS devices for members! Download the app.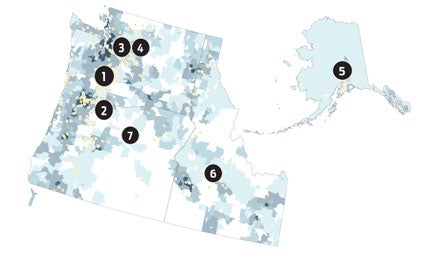 (Map by Andrew Matranga.)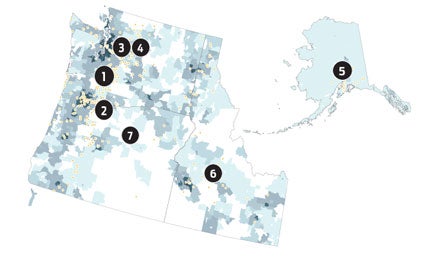 (Map by Andrew Matranga.)
1. Best view: From Mt. St. Helens

The 10.6-mile Worm Flow Trail leads to a crater rim vista of Mts. Rainier, Adams, Hood, and Baker.
2. Best falls hike: Eagle Creek Trail

See seven falls in seven miles (tallest: 140-foot Twister Falls) on this cliffside trek.
3. Top basecamp: Middle Fork Campground

Easy access to Mt. Baker-Snoqualmie NF trails, like Snoqualmie Lake Trail (11 miles)
4. Favorite weekend: Alpine Lakes Wilderness

Day one: Climb to 7,800-foot Aasgard Pass from Stuart Lake trailhead. Camp on a spit on Leprechaun Lake. Day two: Hike to Prusik Peak; camp at Snow Lakes. End at Snow Creek trailhead. (22.2 miles)
5. Top dream trip: Denali NP

Do the 14.6-mile loop around Mt. Eielson for mind-melting Alaska Range views.



6. Best week: Grand Loop, Sawtooth NF

Gain almost 64,000 feet on a 65-mile loop through the jagged heart of one of America's biggest (and least traveled) wildernesses. You'll see 33 peaks higher than 10,000 feet, camp by quiet lakes, and finish with a Sun Valley Ale in Stanley.
7. Wildlife: Strawberry Mountain Wilderness

In summer, butterflies mob the milkweed that lines the trails here. Link Slide Basin and Skyline Trails in July for a 17.8-mile blizzard of monarchs.


Quick City Escapes

Amazon's best-selling guidebook authors choose killer dayhikes near…
Boise from Steve Stuebner

Boise Trail Guide: 75 Hiking & Running Routes Close to Home, Boise Front Adventures, $17

> Hulls-Freeway Loop, Hulls Gulch/Camel's Back Reserve

> Five Mile Trail, Bruneau Dunes SP

> Bogus Basin Contour Special route, Bogus Basin SP
Portland from Paul Gerald

60 Hikes Within 60 Miles: Portland, Menasha Ridge Press, $17

> Siouxon Creek Trail, Gifford Pinchot NF

> Vista Ridge Trail, Mt. Hood NF

> Opal Creek Trail, Opal Creek Wilderness
Seattle from Peter Stekel

Best Hikes Near Seattle, Falcon, $19

> Barclay Lake Trail, Mt. Baker-Snoqualmie NF

> Iron Goat Trail, Mt. Baker-Snoqualmie NF

> Tiger Mountain Trail, Tiger Mountain State Forest