Local Hikes: Northeast
Hike across a state, gain the country's best foliage view, and top alpine balds. (Click linked trips for GPS waypoints, photos, and more.)
Heading out the door? Read this article on the new Outside+ app available now on iOS devices for members! Download the app.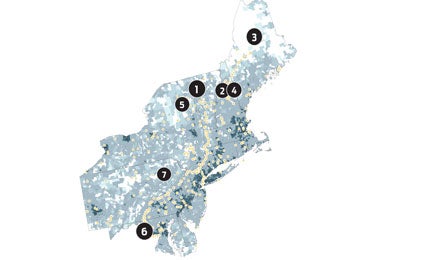 (Map by Andrew Matranga.)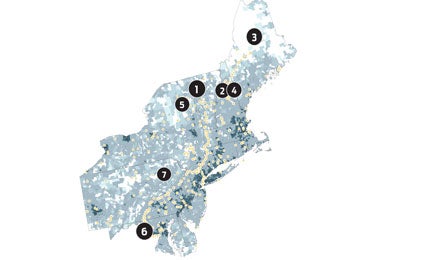 (Map by Andrew Matranga.)
1. Best foliage: Camel's Hump

Vermont's third highest peak has 10 acres of tundra on top, a nice pad to scan the kaleidoscope of turning maples and oaks below. Hit the 2.4-mile Burrows Trail in October's second week.
2. Alpine day: Bonds-Twins linkup

Top six 4,000-footers (the Bonds, Twins, and Mt. Guyot) on a 16.6-mile point-to-point from NH 112 to US 3.
3. Mega megafauna: Baxter SP

"If you don't see a moose on this hike, then your guide dog will," jokes Roy. Leave Roaring Brook Campground for a seven-mile hike to Bullwinkle-infested Russell Pond.
4. Favorite basecamp: Wild River Campground

Five trails meet near the entrance, and trout rise within walking distance. Its 12 sites are first-come, first-served.
5. Favorite weekend: The Great Range

Some do this 25-mile greatest-hits loop through Adirondack Park's High Peaks region in a day. Blasphemy. Savor it. Day one is huge: You'll hit seven peaks higher than 4,000 feet, then top 5,344-foot Mt. Marcy, the highest point in the state, before camping in Panther Gorge. Hike out on day two.
6. Best mini thru-hike: Maryland section of the AT

Hike the Appalachian Trail 41 miles across Maryland. Start in Harpers Ferry, West Virginia. Camp at Pine Knob Shelter.
7. Best falls hike: Ricketts Glen

See nearly three cascades per mile on this 6.2-mile lollipop.

Quick City Escapes

Amazon's bestselling guidebook authors choose killer dayhikes near…
Boston from Michael Tougias

AMC's Best Day Hikes Near Boston, AMC Books, $17

> Fernwood Lake Trail, Ravenswood Park

> Carriage Path, World's End Reserve

> Noanet Peak Trail, Noanet Woodlands
New York City from Rhonda and George Ostertag

Hiking New York, Falcon, $19

> Pine Meadow Lake Loop, Harriman SP

> Breakneck Ridge Trail, Hudson Highlands SP

> Three Lakes Trail, Clarence Fahnestock Memorial SP
Philadelphia from Susan Charkes

AMC's Best Day Hikes Near Philadelphia, AMC Books, $19

> White/Blue Trail, Ridley Creek SP

> Indian Springs/Hidden Pond Trail, Brandywine Creek SP

> Summit Trail, Ted Stiles Preserve at Baldpate Mountain