Local Hikes: Extend Your Season
Cooler days mean fewer crowds and bugs—and riots of leafy color. Here are 38 fall-weekend classics near you.
Heading out the door? Read this article on the new Outside+ app available now on iOS devices for members! Download the app.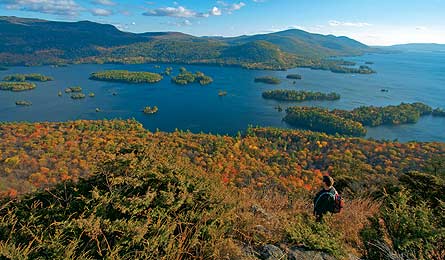 View from First Peak one hour from Albany (Tim Seaver)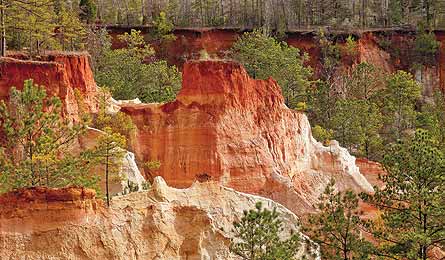 Providence Canyon near Atlanta (Paul Rezendes)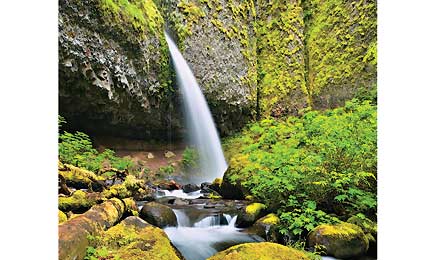 Columbia River Gorge near Portland, OR (Tomas Kaspar)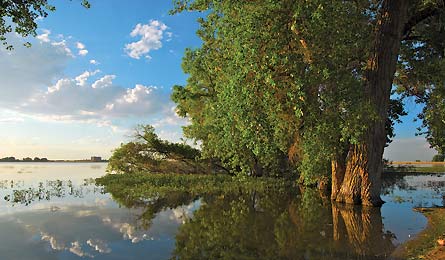 Bring bug spray to Barr Lake near Denver. (Eric Tyler)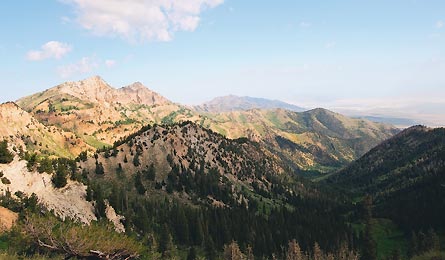 Views from the Deseret Peak hike near SLC (Austin Cronnelly)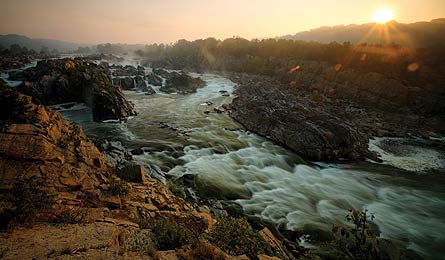 Potomac River outside Washington, D.C. (Scott Mansfield)
Albany, NY

Tongue Mountain Loop

Traverse three 1,500-foot Adirondack peaks on this 11.5-mile peninsula loop above Lake George. En route, you'll dabble along an evergreen-lined lakeshore and glimpse cobalt waters from the heights. Trip ID 8346
Asheville, NC

Guion Farm Loop

Cascading mountain streams and migrating bluebirds, chickadees, goldfinch, and other songbirds on layover serenade this mellow 7.5-mile route. You'll also see a fern-laced Civil War-era cemetery deep in 10,400-acre DuPont State Forest. Trip ID 262247
Atlanta, GA

Red & White Blaze Loop

Hike 6.7 miles through Georgia's "Little Grand Canyon," a network of 150-foot-deep red-clay gullies. Trip ID 20782
Atlanta, GA

Cohutta Mountain Loop

Trace some of Georgia's highest ridges in its second-largest wilderness on this 15.5-mile loop, topping out on 4,151-foot Cowpen Mountain. It's a roller coaster with 6,000 feet of elevation change through kaleidoscopic groves of oak, hickory, and hemlock en route to a riverside campsite. Trip ID 36478
Boise, ID

Watchman Trail Loop

Climb into the sagebrush foothills just northeast of downtown on this 9.4-mile circuit with views of the state capitol dome and the 5,000-plus-foot Danskin Mountains—30 miles southeast—as an enticing backdrop. Trip ID 343031
Boston, MA

Ponkapoag Pond Loop

Circumnavigate a white cedar bog lined with carnivorous pitcher plants on this 4.2-mile path; it's just 15 miles south of downtown. Trip ID 23149
Boston, MA

Skyline Trail to Cross Fells Loop

Gain Atlantic views—and 2,600 feet of elevation—on a 12.1-miler through the rumpled hills and reservoir shores of Middlesex Fells Reservation. Hike from oak forests to wetlands in this 2,575-acre pocket wilderness. Trip ID 7747
Chicago, IL

Deer Grove Forest Preserve

Just 30 miles from Wrigley Field, this 9.3-mile figure eight meanders through 1,800 acres of limestone ravines, meadows, hardwoods, and wetlands. Listen up: 300 species of birds live or pass through here. Trip ID 459627



Chicago, IL

Shabbona Lake

Cross gently rolling meadows on a 4.8-mile lap around this renowned Illinois muskie fishing hole. Trip ID 342901
Dallas, TX

Cleburne State Park Loop

Circle bright blue, spring-fed Cedar Lake on this wooded, 5.5-miler featuring fall yellows. Trip ID 58510
Denver, CO

Barr Lake

Close to 350 bird species and a 200-nest rookery make this 9.3-mile trip around a buffalo wallow-turned-wildlife refuge one of Colorado's best birding hikes. One local celebrity pair of bald eagles has nested in the large cottonwoods lining the 1,900-acre reservoir since 1989, successfully raising at least 40 young. Trip ID 452659
Denver, CO

Apex Loop

Follow a 150-year-old gold miners' route up Denver's grassy, conifer-topped foothills to city skyline views on this 4.3-mile circuit. Trip ID 23833
*Trip ID: Get free maps and GPS data by adding the Trip ID to backpacker.com/hikes/_______.
Indianapolis, IN

Lincoln Loop

Roam the hills and flaming hardwood forests where Abraham Lincoln grew up on this 8.2-mile route leading to the gravesite of his sister, Sarah, who died at age 20. Trip ID 43669



Las Vegas, NV

White Rock Hills Loop

See ancient roasting pits and walls of rock art along this challenging 7.5-mile loop in the rugged Red Rock Canyon Conservation Area, minutes from The Strip. Trip ID 40811



Lincoln, NH

Kinsman Pond Loop

A lush, mossy understory, two pine-laced ponds, and Presidential Range views reward the 2,300-foot ascent of this 9.9-mile White Mountain route, with two heated backcountry huts to ease your transition to winter (reserve at amc.com). Trip ID 14631
Little Rock, AR

White Rock-Shores Lake Loop

Summit lichen-covered, 2,260-foot White Rock Mountain, follow two cascade-laden creeks through a hardwood-pine forest, and sleep in a restored CCC-era stone cabin ($70/two people, whiterockmountain.com) on this 11.8-mile overnight. Trip ID 7737
Los Angeles, CA

Bell Canyon-East Ridge Loop

This casual 5.4-mile loop wends through a live oak canyon with leaves glowing a deep orange to a ridgeline with 360-degree views. Set out in the late afternoon to catch the sun sinking into the Pacific. Trip ID 8566
Los Angeles, CA

Malibu Creek State Park Loop

Hike into Hollywood's past in this 7,000-acre park in the Santa Monica Mountains. The 14.2-mile loop passes volcanic outcroppings and chaparral slopes going yellow. Plus: Hike through the filming sites for M*A*S*H, Planet of the Apes (Heston's, not Franco's), and Tarzan. Trip ID 27871
Minneapolis, MN

Ice Age Circle

Spy kettle lakes and cotton candy-like knolls on this rolling, 4.8-mile loop. The glacial relics formed some 10,000 years ago, when a two-mile-thick ice sheet piled with sand and rock melted away. Trip ID 27541
New York, NY

Stony Brook-Ramapo Torne Loop

The Big Apple skyline spikes 30 miles from Harriman State Park's rocky ridges, but you'll be a world away on this 6.8-mile loop. Trip ID 5708
New York, NY

Central Park South Loop

Skirt four ponds and see a 142-year-old castle on a 4.1-mile loop in Manhattan. Trip ID 39449
Nashville, TN

Mossy Ridge Trail at Percy Warner Park

Shady hollows provide a peaceful respite nine miles from downtown Nashville on this 4.7-mile route in a 2,058-acre city park. Highlights: stone chimney remnants from an abandoned 1930s-era cabin and a mossy trailside spring. Trip ID 427501
Nashville, TN

Harpeth Woods Loop

Follow the Natchez Trace, an ancientNative American footpath, on this three-mile loop through mature cedar, oak, and beech. Trip ID 44937
*Trip ID: Get free maps and GPS data by adding the Trip ID to backpacker.com/hikes/_______.
Oklahoma City, OK

Watonga Lake North Loop

Eastern red cedar, prickly pear cactus, and knee-high prairie grasses line this 4.9-mile circuit around a 55-acre trout and bass-filled lake in Roman Nose State Park. Trip ID 26451
Portland, OR

Rock of Ages

The massive flood that carved the Columbia River Gorge 15,000 years ago left behind one of the world's highest concentrations of waterfalls. This 8.8-mile loop showcases four (each more than 100 feet tall).

Trip ID 251760
Portland, OR

Champoeg Park Loop

Watch for Western bluebirds hunting insects from their tree-cavity nests on this 6.6-mile Willamette River trek. Bonus: See Champoeg, a 19th-century ghost town. An 1861 flood destroyed all but two saloons. Trip ID 8289
Salt Lake City, UT

Deseret Peak Loop

The summit of this 11,031-foot alpine island offers 100-mile views across northern Utah—payoff for a 4.3-mile, 3,600-foot ascent. Trip ID 31797



Santa Fe, NM

Valle Vidal

Spend a long weekend looping 28.4 miles among the creeks, peaks, and meadows of this remote, 100,000-acre home to black bear and the state's largest elk herd. Trip ID 409902
Seattle, WA

Naneum Creek Meadows Loop

Savor evergreen-dotted meadows, grizzled basalt cliffs, and rushing creeks on this 9.6-mile route on the eastern edge of the Cascades. The seldom-steep trail never tops 5,800 feet, yet it yields impressive mountain and canyon views and ample opportunity to spot bear, elk, and hawks. Trip ID 334921
Seattle, WA

River Delta Loop

Ducks, herons, and dozens of bald eagles thrive along this 5.6-mile stroll in a marshy Puget Sound wildlife refuge. Trip ID 8379
St. Louis, MO

Walkers Island

Hike 3.8 miles around this narrow peninsula jutting into Horseshoe Lake—an abandoned oxbow of the Mississippi River—to visit an unlikely haven for white-tailed deer just 10 miles from the Gateway Arch. Trip ID 330391
Tallahassee, FL

Marsh Island Trail to Sandhill Trail

Venture into Florida's salt marshes, palmetto-oak hammocks, and pristine Gulf coastline on this 9.5-mile loop through Econfina River State Park, a 4,543-acre sanctuary for black bears, bobcats, and manatees. Trip ID 7757



Washington, D.C.

Great Falls Loop

Half-day special: On this 4.6-mile jaunt, you'll parallel the Potomac as it plunges through a rocky gorge cut into the Virginia-Maryland border 10,000 years ago. Trip ID 47070
*Trip ID: Get free maps and GPS data by adding the Trip ID to backpacker.com/hikes/_______.