Record-Breaking Kids of 2018 and Beyond
From big fish caught to big mountains summited, kids can do the darndest things.
Heading out the door? Read this article on the new Outside+ app available now on iOS devices for members! Download the app.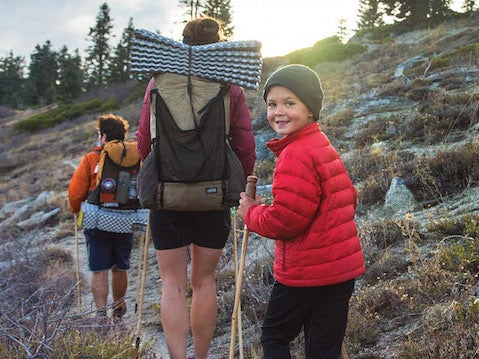 It's that time again, when roundups of epic feats, chart-topping songs, and best-of lists (like our 6 Favorite Hikes of 2018) fill your inbox as another year draws to a close.  
For adventure-loving families, we pulled together a different sort of roundup: Cool record-setting things kids did in the outdoors in 2018.
Seven-year-old Montannah Kenney from Texas became the youngest female to summit Kenya's 19,341-foot Mount Kilimanjaro in March.
That same month, 7-year-old Semanyu Pothuraju from India became the youngest male to top Kilimanjaro.
In June, 11-year-old Katie Borka from Virginia nabbed the Guinness World Record for finding the most four-leaf clovers in an hour (166). And 17-year-old Matthew Swanson caught the biggest northern pike on record in the state of Minnesota last May. 
We've always saluted kids in the great outdoors, record or no record. But topping the chart of amazing feats—albeit, not in 2018—is Buddy Backpacker (Christian Thomas). In 2017, he completed, with his parents, the Triple Crown of hiking: the 3,100-mile Continental Divide Trail, the 2,650-mile Pacific Crest Trail, and the 2,181-mile Appalachian Trail. For a fun, in-depth look at Christian's unorthodox kindergarten year clicking off miles of the AT, read here.
As parents, it's hard to find the balance between encouraging your kids to do things and pushing them too much…a challenge reflected in this story of Jordan Romero completing the seven summits at age 15 in 2011. But the next time you're considering whether or not kids can manage on a hike, or even spend more time than usual outside (looking for four-leaf clovers, for instance), think of all these cool kids and know this: they can probably do a lot more than they think.
Get more tips, trips, and stories about family outdoor adventures on BACKPACKER's Families Gone Wild.